Dal Ja's Spring
Lately I'm watching a new kdrama that's currently airing in Korea, called Dal Ja's Spring, starring Chae Rim and Lee Minki. At first, I wasn't planning on watching the show, because it sounded fun but forgettable. But I heard good things about it, and as its timeslot competitor Goong S hasn't been as captivating as hoped, I gave it a shot — and I'm very glad I did.
Dal Ja is proving to be very, very winning.
Its closest comparison is probably the "Korean Bridget Jones" series, My Name Is Kim Sam Soon, but I don't think it's all that similar, although the thought did flash across my mind in the first episode. Since then, though, Dal Ja has managed to take the potential for cliched and overused plots, and cleverly twisted them. If you've seen a lot of kdramas, you'll notice certain similarities — one might call them conventions if we're being nice, or overused tired plot elements if you're not. In any case, both series share similarities to Bridget Jones, but while Sam Soon was more a literal adaptation of the character, my one-liner description for Dal Ja's Spring is more Bridget Jones in an existential crisis.
Although there's a substantial focus on romance (what would a kdrama be without that?) there's also a refreshing additional focus on themes of pride, self-worth, respect… It's almost certain that Dal Ja will end up happily coupled with Tae Bong, but as the series has explored Dal Ja's own development into an adult, you're left with the sense that this is a series that could possibly have a happy resolution with the female lead being single (imagine that!). There are a few episodes that have focused on Dal Ja learning to respect herself and finally realize that she is a person of value, rather than allowing herself to be pushed onto the sidelines all the time.
Of course, there IS the requisite love geometry at play (sometimes triangles, sometimes more amply-sided), but given that there are other themes at work, Dal Ja's Spring seems more meaningful and resonant than most other dramas. Maybe it's since I fall into the prime demographic (20- and 30-something single females), given that it's particularly relevant thematically. Or maybe it's because the show is just very well-written, well-shot, and well-acted. And just as entertaining and hysterical as the best of 'em.
Plus, it manages to be all of those things while working in some pretty timely pop-culture references. And while some of them are predictably Hollywood-related, it's the home-grown, Korean pop-culture references that are the sharpest and amusing: Viewers familiar with typical Korean news programming will recognize the telltale theme music when Dal Ja lapses into fantasy mode as an anchorwoman narrating the developments of her own love life, Greek chorus-style. And the parody of the hit drama Hwang Jini was cheeky and sly, playing on the sexual innuendo (Hwang Jini = famous historical gisaeng) and twisting it comedically instead.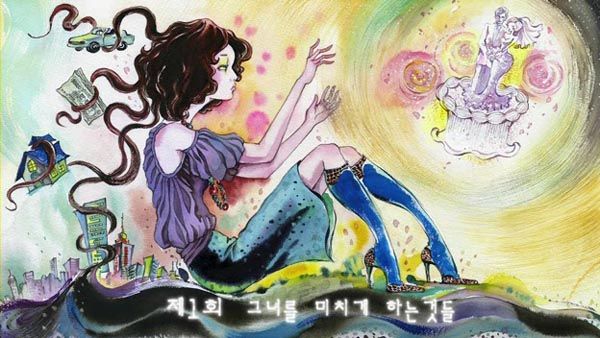 Tags: Chae Rim, Dal Ja's Spring, Lee Min-ki