Insoon Is Pretty: Episode 2
Huh. Well now, this is unexpected: I did not like Episode 2.
I'm used to finding second episodes to be a marked improvement from the first, but rarely the opposite. It's strange for me to find an episode 1 to be good and the following markedly less so.
Episode 1 was subtly moving, understated and poignant. Insoon's pain, shame, hope, and fear came through in all their delicate layers; I understood her predicament and was rooting for her to pull through. I find Kim Hyun Joo playing Insoon to be the best thing about this series and also the only thing I cared for in the second episode, which just seemed… plain and typical.
I was disappointed with the acting too, because it seems everyone (minus Kim Hyun Joo) is just a hair too act-y. Too conscious, obvious. You know when you're watching something and the reactions always come just a touch too early or a touch too late, throwing everything into slight imbalance? You don't realize what skill it takes to perfect timing until you've seen it badly done. And in Episode 2, it felt like everyone was just a bit off. The acting wasn't BAD, or overtly melodramatic, but it did remind me of soap acting in its lack of subtlety.
Oh, and I don't care for the music/score either. It makes the series seem so… ordinary.
SONG OF THE DAY
Insoon Is Pretty OST – "언제까지나" by Chae Dong Hwa (SG Wannabe). The title translates to "However long it takes" or "Until when." [ zShare download ]
Audio clip: Adobe Flash Player (version 9 or above) is required to play this audio clip. Download the latest version here. You also need to have JavaScript enabled in your browser.
All right, now that I've made the episode sound sufficiently un-entertaining…
EPISODE 2 SUMMARY
Insoon comes face to face with her famous actress mother, but can't summon the courage to identify herself. Instead, she asks for an autograph, posing as a fan. Her mother politely asks her name, and Insoon tells her, her breath caught in her throat, waiting for her mother to recognize her name… but she doesn't. She merely comments that Insoon must be a good singer (it's a recurring bit that she shares a name with a famous singer — the real-life Insoon was popular in the '80s and '90s, although I think she's still around, and is noted for her very strong voice as well as her half-black, half-Korean parentage).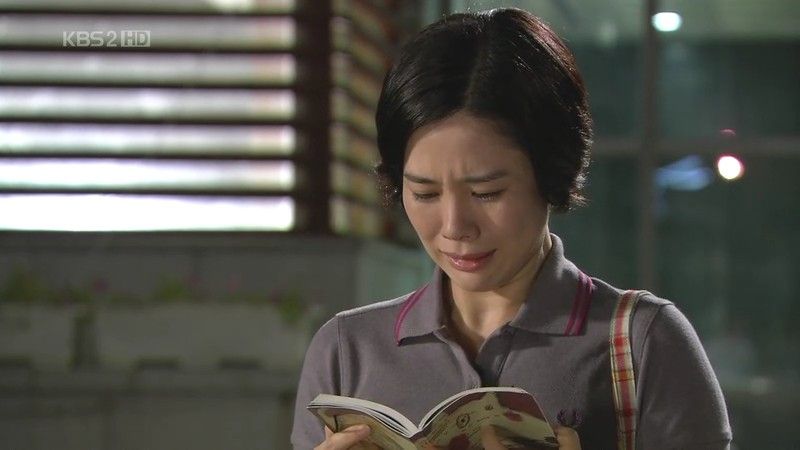 Insoon reads what her mother wrote ("To Insoon. Live happily") and breaks down. She then consoles herself with soju before stumbling to Teacher Seo's house.
Insoon works up her courage and tells him she wants to make Eun Seok (his son) a good mother. She wants to do her best and be worthy of him — "I love you, Teacher."
He displays a brief flash of surprise, but he's stoic by nature so he doesn't show much reaction before telling her that a person isn't supposed to make a love confession while drunk. Insoon insists she's not drunk, or rather that her feelings aren't born from drunkenness. She's in earnest. He scolds her for using him as an excuse to escape, and dismisses her by telling her to wash up and go to sleep.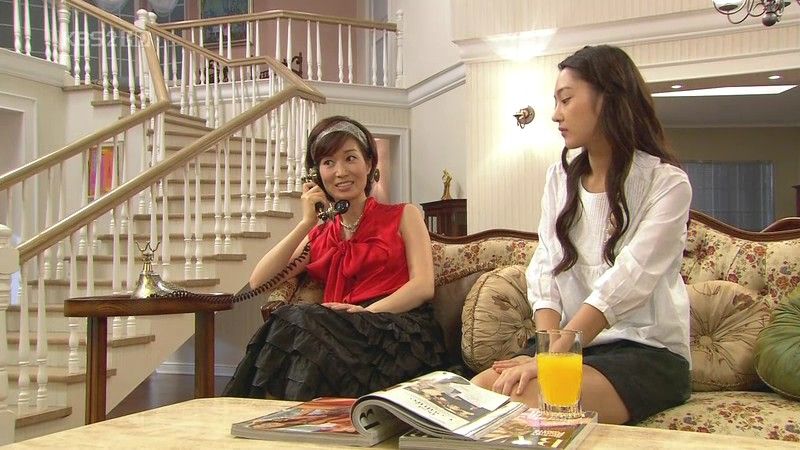 Sang Woo, who's been anxiously trying to call Insoon, gets a call from Lee Sun Young, Insoon's mother. Sun Young thanks him for his kindness in interviewing her and invites him to dinner sometime. She may be thinking of setting up the handsome reporter with her daughter, if I'm reading these preliminary matchmaking signs correctly.
Feeling bad about avoiding Sang Woo's repeated calls, Insoon goes to his workplace to talk to him. He's thrilled and relieved to see her, and takes her out to lunch, chattering on, inviting her to a magic show the next day and mentioning her job as a teacher several times. Insoon feels too guilty to continue letting him believe her lie, so she 'fesses up and tells him the truth: She's not actually a teacher. That stalls the mood a bit, and Sang Woo's enthusiasm deflates before he pretends he's fine with it. (You get the sense that he wants to be the bigger man who doesn't care about things like this, but he just can't not care.)
But when Insoon asks him tentatively, "You're disappointed in me, huh?" Sang Woo lies — No way, why would she be embarrassed about not being a teacher? He insists he's not that small-minded (even though he is), and Insoon relaxes and thanks him, and Sang Woo feels proud of himself.
When Insoon mentions working in a bakery "there," he picks up on it and asks where that is. Insoon hesitantly confides that when she was in high school, she accidentally killed someone, and Sang Woo chokes in surprise. Obviously flustered, Sang Woo tries to recover but it's clear he's uncomfortable, and Insoon thinks to herself that she spoke too soon.
She worries that he'll think of her strangely now. Sang Woo, still trying to act the role of The Good Guy, assures her he doesn't. He gives her a speech about how everyone makes mistakes and how she's still his friend, no matter what. Insoon takes his words to heart, cheering up. Sang Woo, on the other hand, immediately distances himself from her.
(I like his reaction, because it's so realistic. He wants to be a good guy, but his knee-jerk response shows he's just a human. But because he likes to fancy himself The Hero of the story, he doesn't admit his misgivings to himself, much less Insoon. In that way, Sang Woo's fooling himself as much as he's misleading her. I don't, however, love his acting, which is too bad since I thought he was better in Episode 1. Everyone was.)
Insoon's aunt calls Lee Sun Young for a talk. This is their first meeting in years (probably since Insoon was an infant); the last time they saw each other, things ended on bad terms. Insoon's aunt says she didn't want to say anything but felt she had to step in, seeing that Insoon has decided not to approach her mother. Sun Young, who wasn't even aware of her daughter's name, maintains her composure while asking how Insoon is doing, but it does provide a shock to her nerves. Insoon's aunt answers that Insoon has had a rough life, but it's probably best that she hear the details from Insoon herself. Sun Young gives in to her tears on her drive home.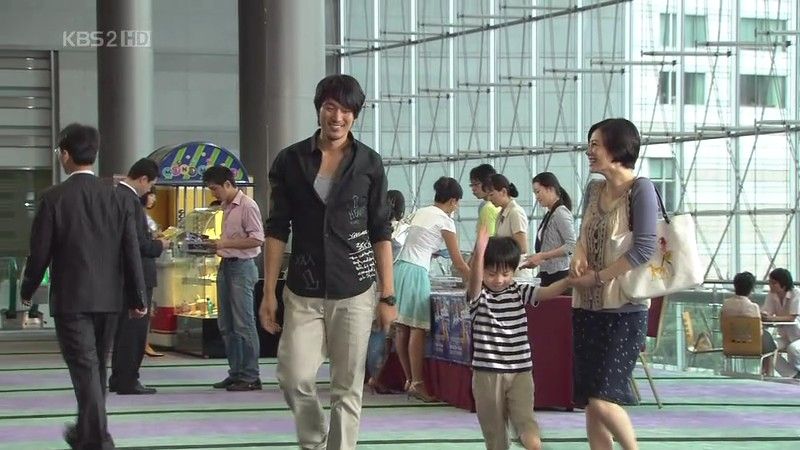 Sang Woo broods, mulling over the news that Insoon killed someone, and seriously contemplates canceling their meeting/date the next day. But he keeps the date, and meets her at the magic show — where he's surprised to see that she's brought along Eun Seok.
Insoon watches the show with her full attention, and Sang Woo flashes back to their youth, when they'd gone to watch Jurassic Park together. (Btw, doesn't young Insoon have an uncanny resemblance to Kim Hyun Joo?)
Still unable to shake his uneasiness, Sang Woo makes up an excuse that he's swamped with work and won't be able to see much of Insoon for the time being. He lies about needing to pull all-nighters every day, and suggests they get in touch after his current work situation calms down. Insoon believes him and cheerfully agrees, cautioning him to take care of himself.
Because of his compulsion to pull away, he's also relieved when he asks Insoon about her relationship with Eun Seok, and she cautiously admits that she likes Eun Seok's father and is hoping he'll come around to the idea of accepting her. (His reasoning is that if Insoon's interested in another man, Sang Woo will be off the hook.)
Still, despite being the one to withdraw, Sang Woo does feel a flash of jealousy when he drops the two of them off and sees them greeting Teacher Seo outside his home.
Teacher Seo tells Insoon that he's talked to his school, and she can start working there again. Insoon declines the offer, though; she has no desire to put herself in that position again. Even if she were to go back, she'd be fired within three days anyway. She has pride too; she can't take being fired again. Despite his protests, Insoon argues, getting progressively more agitated, that she's not naive — she knows she'll just get hurt again.
Upset, Insoon accuses him of not seeing her as a woman, and runs out of his place to head back to her friend's apartment. But when she arrives at the door, she overhears her friend talking with her boyfriend — they both can't wait for Insoon to move out, and grumble how Insoon doesn't pick up on their feelings.
So, Insoon wanders the streets aimlessly……
…and ends up at the theater, where her mother is in the middle of a performance. Still reeling from the news about her daughter, Sun Young actually forgets her lines, to the surprise of her co-star and the murmuring audience.
After the show, Sun Young starts to feel unwell, looking pained and sickly. Although, the pic below makes it look like she's just got a bad case of gas. (This is an example of what I mean by unsubtle. Remember that Friends episode where Joey gives his friends "acting advice" when pretending Rachel's beef-jam-custard trifle is tasty by patting their stomachs and saying, "Mmm"? It's like that.)
Sun Young makes her way to the parking garage, not noticing Insoon following behind. Insoon tells herself, "Just once more. I'll just see her one more time before going, since I'm here anyway…"
Sun Young collapses by her car, and with nobody else around to help, Insoon rushes to her side. Sun Young won't wake up, so Insoon carries her on her back and rushes her unconscious mother to the hospital. I know it's an emotional beat, but she looks so funny carrying her mother, I couldn't help but laugh. Giddyap!
The doctors assure Insoon that it's not serious, and she sits by her mother's side until she hears someone approaching. It's Jung Ah, her half-sister, and Insoon quickly rushes out before she's seen.
Sun Young wakes up and asks the doctors about the girl who brought her in, and the doctor tells her she just left. She must've been a devoted fan; she was so worried about her condition that the doctors assumed at first that the fan was her daughter.
Realizing who her helper was, Sun Young bolts up from her bed, rushing outside, trying to find her daughter. She sees Insoon walking away, and calls out, "Excuse me," but gets no response. She then calls out, "Insoon!" which stops her in her tracks instantly.
Insoon thinks back to all the times in her life she'd wanted someone to call her name, in a motherly way. For instance, she could've used a mother's comfort upon release from the prison where she'd been a mere number. (Sing with me now: "Two-four-six-oh-onnnnnne!") And now, finally, her mother is actually calling her.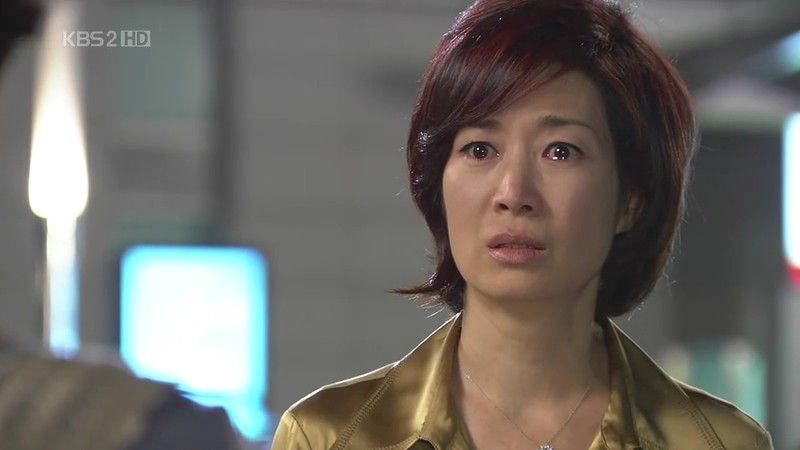 With tears in their eyes, the women face each other, and Sun Young whispers, "Insoon… you're Insoon, aren't you? It's Mom."
She steps forward to hug her daughter, both overwhelmed with their emotions. Sun Young: "I'm sorry. You must've hated me a lot, didn't you? My baby. My poor Insoon. I'm sorry."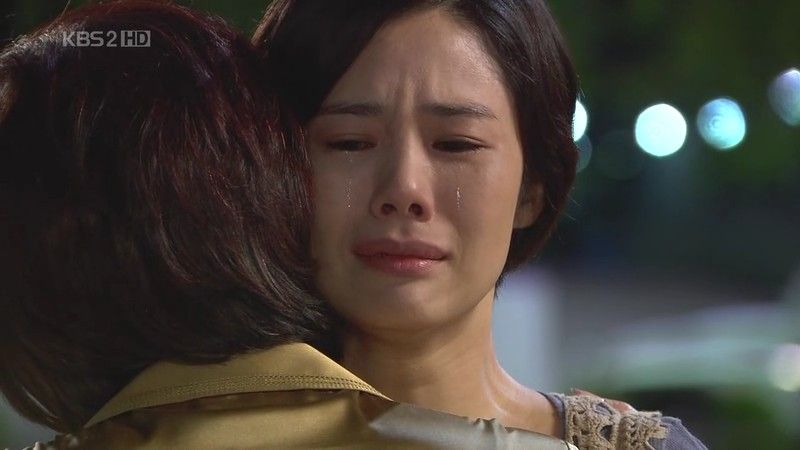 Additional thoughts:
I was expecting Episode 2 to maintain the level set in Episode 1, but in my opinion, it sunk into ordinariness. Which must sound odd given the dramatic end to the episode. It's not that anything was BADLY done, because there's a base level of competence in all quarters (acting, directing, writing). It's just that it wasn't very interesting. The hour held no tension or drama for me. Normally, one bad hour after one good one isn't enough to derail my interest in a series, but as this one comes so early, I'm not sure I'm invested enough to continue watching. I'll probably catch another episode before deciding. Too bad, since I was all set to stick with this drama.
Anyone disagree with me? Let me know what I'm missing. (Spoiler-free, preferably!)

RELATED POSTS
Tags: Insoon Is Pretty, Kim Hyun-joo, Kim Min-joon, Seo Hyo-rim