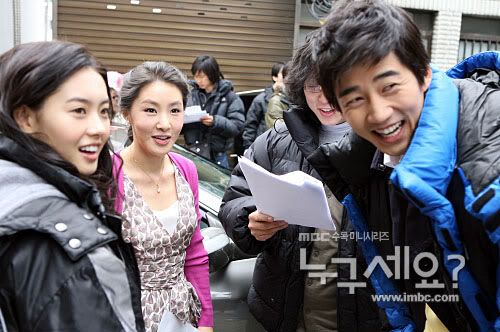 Okay, NOW I can relax — Who Are You's one-episode extension is officially confirmed. I'd been expecting this, but didn't want to jump the gun — usually when a drama goes off-schedule due to some kind of programming issue (in this case, election coverage), the station does something to even out the broadcasts, whether by adding an episode or a special. That's because most Korean miniseries air twice a week, and when the schedule is disrupted, that solution is preferable to throwing the next drama off.
In any case, Who Are You? now ends with its 17th episode on May 1. Over on SBS, On Air also gets extra episodes, but because of its high popularity, theirs is a three-episode extension. After Who Are You? concludes its run, MBC will air the series Spotlight starring Sohn Ye Jin and Ji Jin Hee in its timeslot.
Via Star News
SONG OF THE DAY
Who Are You? OST – "눈물나는 사람 너야…" (You're the one who's crying) by Woo Mi Jin.
[ Download ]
Audio clip: Adobe Flash Player (version 9 or above) is required to play this audio clip. Download the latest version here. You also need to have JavaScript enabled in your browser.
RELATED POSTS
Go Ara
,
Who Are You?
,
Yoon Kye-sang