"I am SO glad Yi San is finally ending!" "Tell me about it."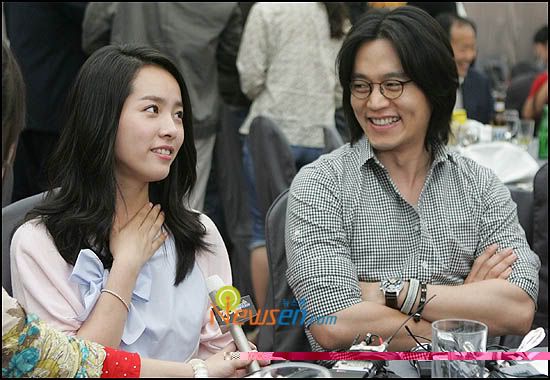 Anyone else confused about the weird, constantly changing drama-programming schedule these days? Well, blame it all on Monday-Tuesday's sageuk juggernaut drama Yi San.
MBC's extremely popular long-running historical hit (which began airing last September) was originally set to air, I believe, something around 50 episodes. But because of its popularity, the series was extended, and extended again — and then retracted its extension, only to then extend it again. Finally, they'd set today (June 10th, that is) as its finale airdate — until President Lee Myung Bak announced his intention to have a "Talk with the Nation" to air the 9th, which would push Yi San's finale to the following Monday (June 16). However, then the talk was canceled, bringing the finale back to the 10th, but then MBC decided to reschedule it to the 16th anyway.
As a result, KBS and SBS have likewise scrambled to avoid butting heads with the competition with their new dramas. That explains why Strongest Chil Woo, which was originally planning to premiere yesterday (June 9), moved to next Tuesday (June 17), with SBS's Gourmet following suit. Tuesday is a strange day to premiere a new Monday-Tuesday show (I wonder if both series will then extend their runs by one episode to even out their broadcast schedule), but with Yi San ending Monday, they aren't taking chances.
You might wonder why the other two stations would so obviously show their fear of MBC's drama, but we're talking brand-new series here. If a minor schedule reshuffling can start the new drama on a clean slate, it's a small price to pay rather than jinxing its schedule by handicapping its premiere episode knowingly. And MBC's constant extensions may have frustrated some fans — story always suffers with last-minute tinkering — but MBC's had a rather lackluster ratings year. Nothing else has matched, or even come near, Yi San's 30% ratings numbers, which is why they've been so reluctant to relinquish it. (MBC follows Yi San with the Kim Sun Ah series When Night Comes.)
In any case, with their finale still to air, the cast and crew of Yi San gathered at Seoul's 63 Building on the 10th to pre-emptively raise a toast to the end of their drama (maybe they had no time to shift their location reservation with all this last-minute schedule reshuffling?). Stars Lee Seo Jin and Han Ji Min were naturally present, as was MBC president Eom Ki Young.
Who wants to lay bets on how long it takes Lee Seo Jin to announce his wedding plans now that he's free from filming?
SONG OF THE DAY
Ibadi – "끝나지 않은 이야기" (Unending story) [ Download ]
Audio clip: Adobe Flash Player (version 9 or above) is required to play this audio clip. Download the latest version here. You also need to have JavaScript enabled in your browser.
RELATED POSTS
Tags: Han Ji-min, Lee Seo-jin, Yi San