My Sweet Seoul: Episode 9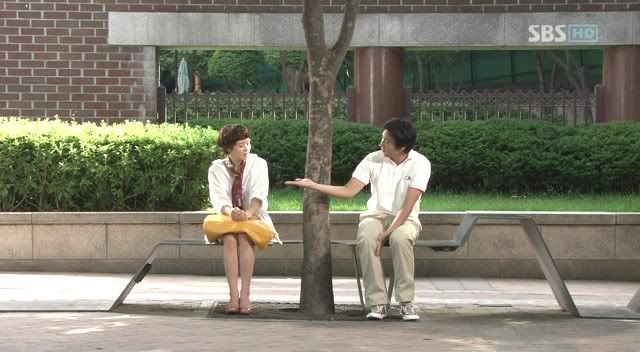 This episode both exasperated me and provided some satisfaction. Warning: long rant ahead.
SONG OF THE DAY
Lee Ji Hoon – "Goodbye" [ Download ]
Audio clip: Adobe Flash Player (version 9 or above) is required to play this audio clip. Download the latest version here. You also need to have JavaScript enabled in your browser.
EPISODE 9 RECAP
At Tae-oh's presence in her apartment, Eun-soo is anxious and silent, as though she wants to say something but is afraid to talk. Tae-oh tells her, "I'm sorry," and cradles Eun-soo to him when she starts crying.
Their mood is subdued but tentatively positive as they sit down for some small talk. He asks for a favor, for her to think about him and their relationship. She agrees, and he gets up to leave, at which point she grabs him and begs him not to leave. But Tae-oh's in that phase where he knows it's best to remain distant, despite wanting otherwise.
Tae-oh: "You don't know how much I like it here, how much I like you. Or how much I want to hold you right now. But I can't."
Eun-soo thinks to herself: "I couldn't hold him any further. Looking into his eyes, I realized, 'Ah, this kid must see my insufficient feelings now. He knows everything. I've been found out.' So I couldn't keep holding on."
Yoo-hee has an awkward date with Chan-seok, where she calls him out for being avoidant and uncomfortable after her meeting with his daughter. She wants to talk about the issues, whereas he'd rather keep the mood pleasant. Ironically, Yoo-hee tells her friends, the inconsiderate ex is now cautious around her, as if worried he'll displease her. (I don't know the extent of his dastardly former deeds, but I have to respect Chan-seok for actually changing and trying his best this time around with Yoo-hee, which is why I don't dislike him.)
Yoo-hee and Eun-soo get together to commiserate about their relationship problems. Eun-soo explains she and Tae-oh have resumed dating, and while things look the same on the outside (they go on walks, go out for coffee), he no longer comes up to her room.
Yoo-hee explains meeting Chan-seok's daughter. She's not particularly articulate, but the experience seems to have hit her more on a visceral, emotional level in any case. She was struck with how pretty the girl was, and I think it gave her something of a reality check, making her think of the big picture, and she briefly resented Chan-seok for it.
Meanwhile, Eun-soo is put on temporary probation at work (for the previous booklet snafu, which she took the blame for despite it only being partially her idea). The situation fills her with indignation as she feels unjustly blamed, and she even thinks of resigning. In the end she considers the alternative of going off with one of the mid-level managers instead, who is rumored to be breaking off to form his own company, but that idea fizzles when his vision is not at all what she was hoping for.
Thus she feels down when she meets with Tae-oh, but before she's able to confide in him for some moral support, he receives multiple calls regarding work. He assures her he can stay a bit longer, but Eun-soo can see his anxiety about work and tells him it's okay to cut the date short. As they walk out together and pass the motel where they'd gone when they first met, she's struck with the memory, but Tae-oh walks by, unnoticing.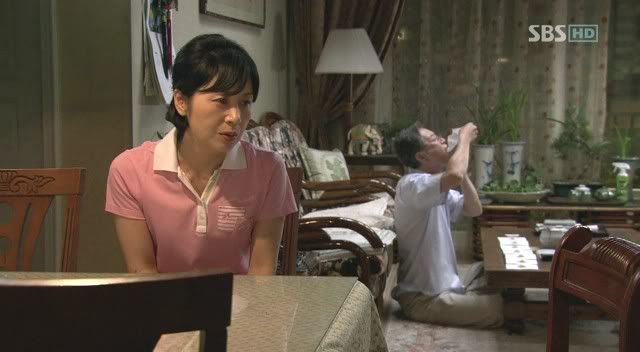 Eun-soo's mother brings up her wish to divorce, but again Eun-soo's father silently ignores her. She persists more adamantly, trying to get her husband to listen to her for once in his life, but he just grows irritated, and gets on the phone as she's trying to talk to him. He calls Eun-soo and grumbles, "What the heck is your mother rambling about?" as though Eun-soo would know (and as though he can't understand his wife's simple words, "Let's divorce"). Poor, poor wife. The father's type is familiar to me (I know enough people like him to see how painfully realistic the portrayal is), but it still gets my blood boiling every time.
Feeling dejected, Eun-soo calls Tae-oh, but he's in the middle of a work meeting and tells her he'll call back. So she texts Young-soo instead, telling him simply, "I want to laugh," and he comes by to do his best to cheer her up.
Without prying into what's bothering her, he grabs her hands and leads Eun-soo (with her eyes closed) along the sidewalk, narrating to her all the details of life around her and the people passing by. I'd probably find this scene a lot more endearing if I hadn't seen it done (and better) in Amelie.
They take the cable cars up to the top of a mountain (Eun-soo delights when she opens her eyes to find herself in the cable car, and Young-soo notes with satisfaction, "You laughed"). Once at the top, Young-soo tells her he waited for her to call him, and she reminisces about coming here as a kid — it was after a fight between her parents, so she and her brother had been nervously gripping each other's hands, afraid they were being led to a place where they'd be left behind. She laughs now, and muses that Young-soo must think she's odd for saying such random things, but he tells her it's okay, because he's a wall. And then he tells her a corny joke ("What did the wall say to the other wall? Let's meet at the corner.")
All is well until Young-soo walks Eun-soo home, only to find Tae-oh waiting for her outside. Registering that she's with another man, Tae-oh walks by wordlessly. Feeling guilty, Eun-soo calls after Tae-oh, while Young-soo reads the situation and excuses himself.
Eun-soo readies to defend herself, but Tae-oh tells her it's okay, that she doesn't have to explain. But he's hurt, and excuses himself to go home (although he says this in his typical gentle and understanding way).
It's really sad to see Young-soo thinking this over alone, telling his cat soothingly (as if to soothe himself), "It'll be okay… right?"
Yoo-hee drops by in a bad mood, having had a good date go sour. Initially, she and Chan-seok had been having a pleasant dinner as she explains that her mother found out about her quitting her job to train to be a musical actor (interestingly, her mother seemed hurt not about the quitting but that Yoo-hee didn't tell her about it). Yoo-hee had suggested that while they were at it, why didn't they reveal their relationship, too? But Chan-seok withdrew at the suggestion, so now Yoo-hee's irritated, telling Eun-soo she'd better not be like him and always run away.
Yoo-hee sees a sealed envelope and asks if it's a love letter. Eun-soo answers that it's her decision (between the two men).
(Interlude: Auditions are coming up for Fiddler on the Roof, which Yoo-hee's preparing for. So is this guy, who hasn't had much of a part so far but is one of the more amusing members of Yoo-hee's class. He's got a great, cheerful personality and laughs on cue whenever Yoo-hee commands him to. I wish she'd hook up with HIM instead of her ex.)
It's with a somber mood that Eun-soo meets Young-soo at a café and tells him, "I can't accept your feelings. Because there's someone else I like." She feels guilty and tells him, "You may tell me it's all right for me not to feel sorry. But I wanted to apologize."
Young-soo takes this in with pained silence, letting it sink in. He's obviously very hurt, but he's also got a generous spirit, and tells her, "It's okay for you to feel sorry. But I hope you won't. Thank you. You may wonder what I would feel thankful for, but I wanted to tell you, 'Thank you.'" Then, put that knife through my heart already, because he adds, "If my feelings make things painful for you and that… other person, I'll forget them."
He wants to end this cordially, but Eun-soo remains silent (in her guilt), so he amends his statement: "I'll let go of feeling thankful, so you can let go of feeling sorry."
As Young-soo walks away, Eun-soo thinks, "He's a really good person. But I'm still sorry. And thankful."
With that, Eun-soo feels free to launch herself into her relationship with Tae-soo, throwing herself into his arms in a giddy hug the next time they meet. Tae-oh's surprised at her enthusiasm but happy nonetheless.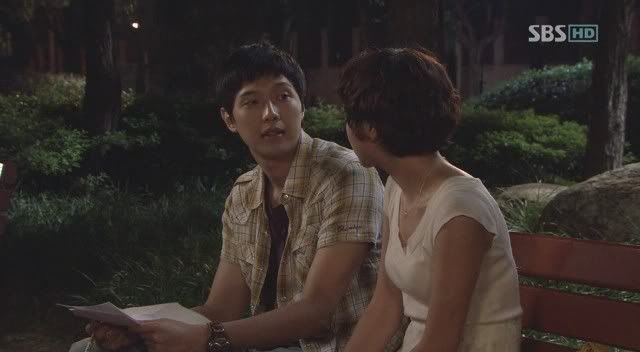 Unfortunately, the feeling is short-lived. Eun-soo presents Tae-oh with her "letter," which he opens to find blank sheets of paper. She tells him to write up a life plan: "You told me to think. I've been doing a lot of thinking. I'm not going to oppose your movie career anymore. But it's so vague and unstable." Ergo, life plan.
Taken aback, Tae-oh finds her move disappointing: "What you've been thinking about… is this?" Eun-soo senses his feelings and starts backpedaling, saying he doesn't actually have to write them down, he can tell her instead. No, he can just tell himself internally, and think it over himself.
Tae-oh tells Eun-soo he quit school (to pursue work), to which Eun-soo's immediate reaction is that he made a mistake. She tells him he shouldn't have quit, that he never knows what may happen and that he'll need a diploma. Tae-oh once again gets to the heart of the matter, asking, "Is it that hard for you to believe in me?" She argues that that isn't what she meant, but it kinda really is, because Tae-oh continues:
Tae-oh: "Are you some kind of insurance agent? How could you think of this?"
Eun-soo: "Why are you taking this so negatively? I've thought so hard about things…"
Tae-oh: "Are you only going to believe in me after I've become something? Just once, couldn't you believe in me now, as I am?"
Eun-soo: "Do you understand what I felt in running here to you? What I did to run here? Have you thought of me? How old I am, what it means for me to be dating you?"
Tae-oh: "No, you were thinking of you, not me. Of what you had to do to fit me into your life. Isn't that so? What I want… what I want isn't being fussed over like a kid. It's being loved as a man. Not as a cute kid, but as a man. I've waited too long. I've been lonely for too long. Let's break up."
Eun-soo goes home and cries.
In the following days, she still has to work with Young-soo, but he treats her with indifferent civility. He's not impolite, just distant, but it's enough of a change that the other Green Cat employees notice the change.
Then, she's woken up in one morning by a pounding on her door, which turns out to be a morose Jane, who tells her, "Come with me."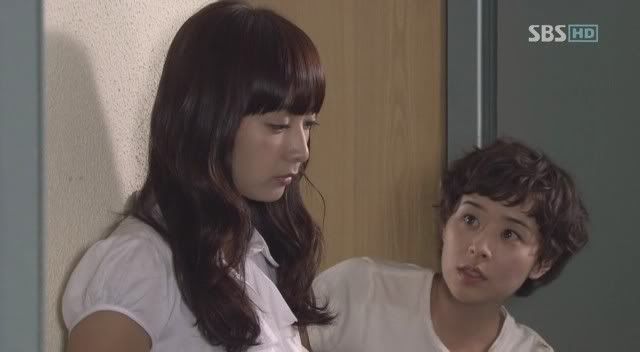 COMMENTS
I said I'd refrain from the Eun-soo ranting unless I had a new complaint. Well, this whole episode was a new complaint.
I was so frustrated for almost the entire episode that I almost considered giving up the series (which is otherwise so good) completely — that's how much Eun-soo irritated me. I get that she made a mistake. I get that she's not intentionally hurting people with her myopic worldview. I don't even think she's aware of how selfish she is (unlike Jane, who's unabashed about her materialism).
I was trying to think of why I disliked Eun-soo so much when she's hardly the only flawed character here. Everyone else has their own issues too, but I like all the other characters. I'm not asking that anyone be perfect: I LIKE flawed characters. They're more relatable, more realistic, more human. But why does Eun-soo keep grating?
I think I narrowed it down to two things: (1) Eun-soo wants to have her cake and eat it too. She doesn't feel ready to commit to Tae-oh but she doesn't want to lose him. She doesn't intend to date Young-soo but she calls him out on dates and encourages their relationship even after she knows he has feelings for her. Perhaps she was going to eventually maybe in the end come up with a decision — but she doesn't actually do so until she's caught and is forced to deal with her situation.
She has such double standards, holding her friends and family to standards she doesn't bother to meet for herself. Consider how strenuously she objected to Yoo-hee's boyfriend, how she argued for Jane to stay with her wedding plans, how surly she was to her mother for meeting with someone else. And yet she lives her own life with no introspection into how her actions hurt other people. She's so insightful and witty and observant about little details in her life, but she doesn't really think about other people's feelings much (other than how they affect HER), does she?
(2) Eun-soo gets away with everything. When someone else makes a mistake, be it Yoo-hee, or Jane, they deal with the consequences. That's why I actually like Jane now (I had no use for her in the first few episodes), because although she made her mistake knowingly, at least she's paying for it. Her character has to live with her decision, so I don't have to hate her for being silly in the first place — she's being punished enough already. But Eun-soo… there are very few real consequences for her actions and it drives me insane. Yes, she does hurt people's feelings, and yes, she does have depressed days. I'm not saying she's blithely going through life causing disaster after disaster. But even when she's the one in the wrong, Tae-oh and Young-soo are so damn nice that it's like Eun-soo believes she's as good as the glorified image of her that they both harbor.
How much did it piss me off when Tae-oh returned to her apartment at the top of the episode only to be the one to tell HER, "I'm sorry"?! Okay, we can't blame Eun-soo for something Tae-oh said — but she doesn't apologize back. I'm sure she thinks it's understood, but this is just another example of how Eun-soo takes everything — and everyone — for granted. Sometimes you have to muck through the crap you dig yourself into, and she doesn't. She gets a free ride each time, the easy way out. She takes, but never gives.
I know, I know. But My Sweet Seoul is supposed to be more realistic! And sometimes this happens in real life! Well, let me tell you, a drama is a drama, and I expect actions to have appropriate consequences. I don't care to watch metafiction or cinema verite or whatever other bullshit reason we get for letting our main character skate by acting cutesy and ten years younger than she is, hurting people around her and getting by with a simple, "Oops, sorry!" Eun-soo needs to SUFFER, dammit.
This is also the reason I can't feel sympathy for her. When a character is wronged in a drama, usually I'm fully on their side, pulling for them. I don't like it when it's taken too far and characters get mired in tragedy (I can't stomach endless scenes of wailing and dreariness), but a little bit of suffering is usually enough to get me emoting with them, invested in their eventual triumph. But with Eun-soo, even when she IS crying to herself, I don't feel that tug of sympathy for her pain because I'm thinking instead, "Well duh, that's what you get, you reap what you sow."
And! I couldn't believe how gracious Young-soo was at the café, wishing her goodwill even after her shabby treatment of his feelings.
Side note: My problem with Eun-soo's treatment of Young-soo isn't because I think she was cheating. It's because she never gave him full respect for his feelings. A person doesn't go on a mat-seon blind date when they're in a committed relationship — a mat-seon is a clear signal that not only are you looking to date, you're looking for a serious relationship that may end in marriage. I can understand being roped into the first date, but she continued to string him along, never once mentioning that she was dating someone else. It's like using a dating service, meeting a guy, and finding out on your tenth date that he's married. If he wasn't looking for a relationship, what the hell was he doing all along?
So when he was so lovely to her at the café, I was annoyed with BOTH of them. But — and this is the part that kept me from giving up in a fit of exasperation — I liked his coolness to her at the work meeting, because he may have been incredibly nice to let her off the hook (again!), but at least he wasn't going to be a doormat about it from this point on.
I've never connected with Tae-oh, but I really felt for him when he realized that after all their relationship had gone through, they were reuniting because Eun-soo had figured out a way to justify dating him by making him draw up a life plan, as though she were his mother, or his boss. She tells him so "generously" that she "won't oppose your career choice anymore" and that she's given up so much to be with him at her age. Wow, what a martyr. When he realizes what being with Eun-soo is going to be like, he is hurt and disappointed but calm when he tells her, "Let's break up," and walks off with dignity. I'll admit it. I clapped.
I hope Eun-soo winds up alone and miserable, because she's shown she's not capable of having a balanced, caring relationship or thinking of anyone but herself.

RELATED POSTS
Tags: Choi Kang-hee, Lee Seon-kyun, My Sweet Seoul