It's the same old, same old for Andre Kim in Bali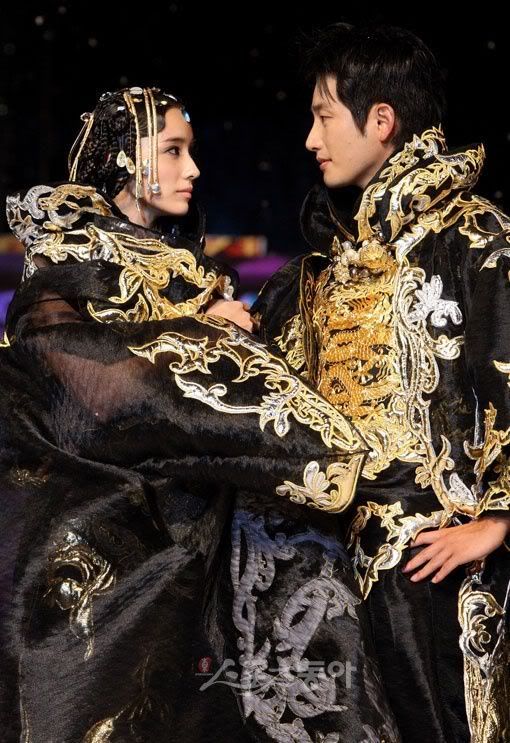 Fashion designer Andre Kim must be feeling secure in his "veteran" status as an old eccentric, because he keeps trotting out the exact same show, year after year. He may swap out his main models but not his actual clothing.
Each show has his leading lady (this time "Barbie Doll" Han Chae-young) dressed up in voluminous dresses of similar silhouette and varying shades of color, with a teardrop-headdress reminiscent of nothing so much as a Bedazzled hairnet. The male (Park Shi-hoo) is decked out in stiff multilayers in a cross between a business suit and a suit of armor, except for the purple outfit where he looks like a woodland fairy nymph. Both look like they come from a Star Wars acid dream.
And you can't forget the piece de resistance: In the middle of the stage, there's always a pose with the lady running — with anguish! and emotion! — into her man's arms, and the man dropping a kiss on her forehead.
Yup. Sums it up for the "new" Andre Kim Fashion Art Collection which showed in Bali on August 25 for the International Bali Fashion Week '08.
Pretty much the same thing in any Andre Kim show: Pretty models, familiar everything else.
Tags: Andre Kim, Han Chae-young, Park Shi-hoo