Open Thread #54
First, and most importantly…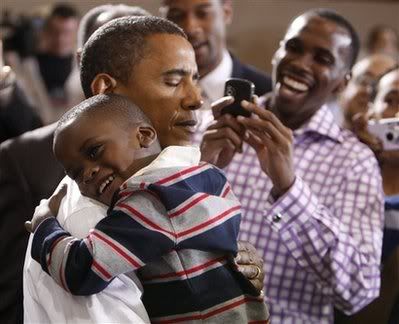 Courtesy of Yes We Can (Hold Babies)
Voting is (finally) upon us! I cannot wait for Tuesday. I predict I will be hungover Wednesday. (I just hope it's the happy kind, not the wailing and gnashing of teeth kind.)

Second, speaking of self-damage inflicted upon teeth: Happy Halloween!

Third: Anyone doing NaNoWriMo (aka National Novel Writing Month) this year? Sevenses and I are both planning on giving it a shot, and it should be an interesting experience. Writing starts tomorrow!
I think I'll be keeping my progress off this site, but I've revived the old wordpress one (that's javabeans.wordpress.com for those who may not have been around when this site kicked off) to be my NaNo companion (like I need more procrastinatory enablers). For those who've done NaNoWriMo in the past, how has it been for you? Does it help having people spurring you onward? Are you doing it this year?
SONG OF THE DAY
Jem – "Got It Good" [ Download ]
Audio clip: Adobe Flash Player (version 9 or above) is required to play this audio clip. Download the latest version here. You also need to have JavaScript enabled in your browser.
RELATED POSTS