On SBS, A Star's Lover will be taking over from Wednesday-Thursday's Painter of the Wind come December, and held its production press conference on November 25.
From the producer's description of the tone they're striving to hit ("a warm love story"), it looks like the drama will be attempting more of a romantic feel than a comedic one, although it won't be a tragic tearjerker like writer Oh Soo-yeon's previous Autumn Fairy Tale (or an action flop like director Bu Sung-chul's Lobbyist). Speaking of whom, Bu states his hope that the series conveys "both pain and sweetness."
The Notting Hill-esque drama stars Choi Ji-woo returning to television a year and a half after her last project, Air City, Yoo Ji-tae in (surprisingly) his television drama debut, and Lee Ki-woo (Rude Women) playing the second leg of the love triangle. Co-stars include Cha Ye-ryun (Working Mom), Jung Woon-taek (Lobbyist), and Sung Ji-ru (Forever the Moment).
A Star's Lover begins airing on December 10.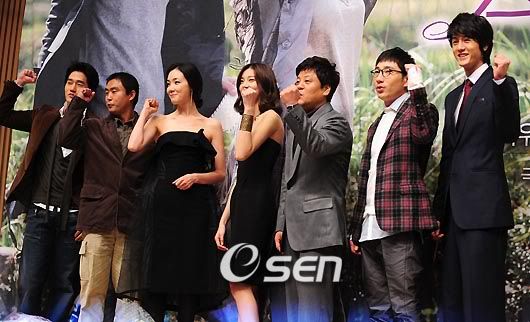 In the plot, top actress Mari (Choi) travels to Japan and runs into Chul-soo (Yoo), a part-time university instructor who's in Japan as a travel ghostwriter but aspires to be a novelist. They fall in love, naturally, but not without added complications in the form of the many other men who also love Mari (is her name a nod to Something about Mary, perhaps?): Lee Ki-woo is one, along with Jung Woon-taek and, in a cameo, Choi's Stairway to Heaven co-star Shin Hyun-joon.
Asked about her views on romance, Choi answered that she prefers to keep her dating life out of the public eye, saying that at her age (she's 33), "I've become very cautious." Because she's playing essentially a version of herself (a successful, sought-after, single top actress), she feels an affinity with parts of Mari's character: "Because I'm still single, there were times when I really felt with my character in wanting to be with one person and have a true love."
On to the pictures.
This right here is my favorite set of pics from the press conference — Yoo Ji-tae comparing heights with Lee Ki-woo (and coming up short for once, unusual given Yoo's own 186cm height), then going on his tippy-toes in retaliation:

Here the cast poses together: Yoo Ji-tae, Choi Ji-woo, Lee-ki-woo in the top row. In the bottom, they're joined by Sung Ji-ru and Cha Ye-ryun. Regarding the fourth pic, it's got to be weird standing in front of a ceiling-high photo of yourself that's been blown up to about three times your normal size, no?

I know diehard Ji-woo fans would never dare speak a word against their dear Ji-woo-hime… but how about her dress? It's stiff and weirdly textured and has a bustle-like thing shooting out the back. From a distance, it may just seem an innocuous strapless black dress, but on closer look, the thing looks like something Molly Ringwald sewed together after tearing apart two different funeral gowns. I also think black stockings negate the effect of black Mary Janes (which, as a matter of course, I love), but whatever.

I wonder if the ladies conferred upon dressing. And if they didn't, how they felt to see both wearing strapless, just-below-the-knee black dresses. On the other hand, Cha Ye-ryun may have the upper hand; her dress looks like the before picture of Choi Ji-woo's dress just prior to sprouting organza wings.
Jung Woon-taek (plaid blazer) keeps up his goofy image with pants that make him resemble Dr. Evil. And Sung Ji-ru dresses up a plain gray suit with a black dress shirt.
Finally! A man who dresses with style but doesn't look like a weird alien monarch, or a hausfrau, or a badass gangsta poseur (or Liza Minnelli, or a witchy hag, or a boy who raided Mommy's fancy closet, or the metrosexual going for biker butch, or the pajama brigade). Yoo Ji-tae just looks like a stylishly dressed man.
Lee Ki-woo, on the other hand, is frankly a little dull in his business suit, but I'll give him a pass since it's probably in keeping with his businessman character.
Via Now News
RELATED POSTS
A Star's Lover
,
Choi Ji-woo
,
Lee Ki-woo
,
Yoo Ji-tae