In the musical "Notre Dame de Paris"
SES lead singer Bada is dropping the stage name Bada and taking on a different moniker — her real name, Choi Sung-hee — as she embarks upon a second career as musical actress.
The first musical on her resume is 2003′s Peppermint, but her stage career didn't really take off until she appeared earlier this year in Notre Dame de Paris, which she'll follow with the upcoming 200 Pound Beauty adaptation. She follows fellow SES member Shoo in ditching the names they'd used as kpop stars in the '90s (Shoo is using her real name, Yoo Soo-young, in her acting career as well.)
Bada — er, sorry, Choi Sung-hee — was recently awarded with the Best New Actress award at the 14th Korea Musical Awards, but she doesn't think this means she's earned recognition as an actress yet: "I think of it as merely an acknowledgment of my passion."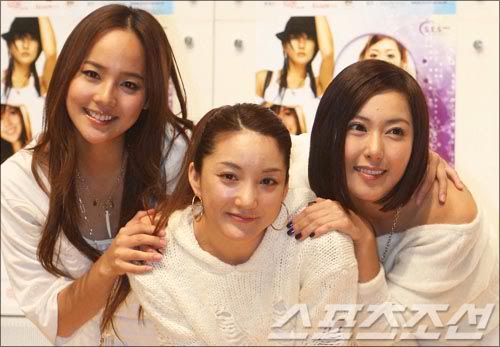 SES (Eugene, Bada, Shoo) at their ten-year anniversary
Bada/Choi also likened musicals to a second marriage… which is an analogy that confuses me, since it's not exactly like her first career failed.
She calls Ok Joo-hyun her rival, but "in a good way." (If musicals are a second marriage, does that make Ok a second Other Woman?) As the lead singer of the girl group Fin.K.L. (with co-members Hyori and Sung Yuri), Ok was often pitted against Bada back in their kpop days. Nowadays, she is also doing well for herself in musical theater, starring in such productions as Cats and Chicago.
Perhaps Bada is being modest, or perhaps very honest, saying that it's hard to compare her directly with Ok, because "Joo-hyun started her career in musicals firmly based on her skills, and I'm still lacking in many things but started in musicals because I've wanted to for a long time."
While SES may no longer be performing together, she insists that they're not broken up: "We may be walking separate paths now, but I've never once felt that we were separated." When recently promoting her new movie, Eugene expressed a similar sentiment: "SES may not be together but I've never once thought in my heart that we were disbanded." To the members of SES, they'll always have their memories, "and just as before, Choi Sung-hee is their leader Bada."
Via Sports Chosun
RELATED POSTS
Bada
,
musicals