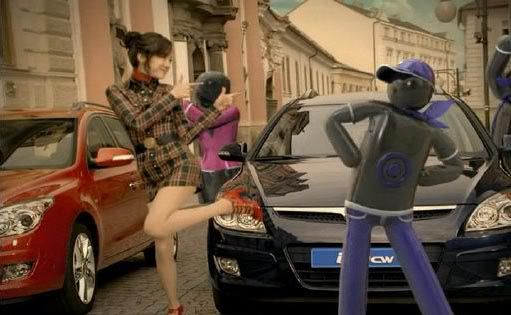 Im Soo-jung (Happiness) has a new CF out, and it prominently features a catchy jingle, the 달라송. (This is also why I should listen to the lyrics more carefully before translating: Hearing the chorus refrain the words "달라, 달라" over and over, I assumed she was saying "gimme," as in, gimme that car. Turns out it's singing, "I'm different.")
In the CF (watch below the cut), which just premiered last week, Im drives around and dances to the song while promoting the i30cw, a car model for Hyundai. Well, apparently the song is a hit with viewers, and is so popular that the producers of the jingle have revealed that the song — sung by Clazziquai's Horan and pop singer Park Ki-young — will be sold as a digital single.
Producer Park Shi-hyuk actually explained that they'd been keeping the singers' identities a secret to cultivate interest, but those speedy netizens beat them to the punch and one-upped their own reveal.
The single goes on sale November 11.


Like Yoon Eun-hye's Salad Song (based on an original song by Humming Urban Stereo) and Han Ga-in's Bubble Song (song by Winterplay), this "Gimme Song" is based on an already released pop tune. It was put out by female group Big Mama last year, and also remade by the group 8eight. The original versions will be included in the digital single.
The lyrics go: "I always dream things my way, on days like this everyone takes notice, I'm different, I'm different, I'm different. I'm gonna live the way I wanna live. I'm different, I'm different, I'm different. The car I drive is an i30cw." Talk about subtle, eh?
This version is obviously ripped from the television ad, but here it is in case you can't watch the videos.
Horan & Park Ki-young – "달라송"
Audio clip: Adobe Flash Player (version 9 or above) is required to play this audio clip. Download the latest version here. You also need to have JavaScript enabled in your browser.
Here's the CF featuring Im Soo-jung:
And here's the behind-the-scenes footage with singers Horan and Park Ki-young:
Via Hankyung
RELATED POSTS
CFs
,
Horan
,
Im Soo-jung