Go Soo puts on a show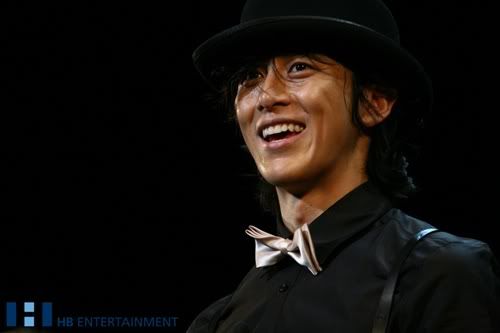 Remember how I complained that all the photos sucked from Go Soo's recent Japan fanmeeting? I don't know if Yonhap was the only news outlet who cared to cover the event, but now his management company has released official stills from the fanmeeting. Why they waited so long, I have no idea.
The actor (Green Rose, Age of Innocence) held his first Japanese fanmeeting in Tokyo on the 1st with 2,000 attendees. It also offered the chance for Go Soo to show off his dance skills for, apparently, the first time evah: He spent the past two months preparing a performance from the musical Chicago.

In addition to the dance show (aided with the help of two backup dancers), he answered questions in Japanese, shook hands, and took pictures: the usual fanmeeting drill. Afterward, Go Soo spent a couple days doing press work with Japanese media.
Although he chose the play The Return of President Eom as his comeback project after finishing military service earlier this year, Go Soo is now considering film and drama prospects for his onscreen comeback.
Via Newsen
RELATED POSTS
Tags: fanmeetings, Go Soo