Jang Yoon-ju's Dream showcase
Jang Yoon-ju has been one of Korea's top fashion and runway models for the past eleven years, appearing in all the big name magazines and doing some international work as well.
She's also releasing her first album as a singer. She's not a complete newb; she's expressed her love of music before, and contributed to tracks of other singers' songs, like the one below for rocker Jung Jae-hyung. She also recently duetted with Lee Hana while recording a cable show, Jang Yoon-ju's 29.
In conjunction with the album launch, Jang performed at a showcase on November 26; more pictures below the jump.
SONG OF THE DAY
Jung Jae-hyung featuring Jang Yoon-ju – "지붕 위의 고양이" (Rooftop cat), reposted from a prior post. [ Download ]
Audio clip: Adobe Flash Player (version 9 or above) is required to play this audio clip. Download the latest version here. You also need to have JavaScript enabled in your browser.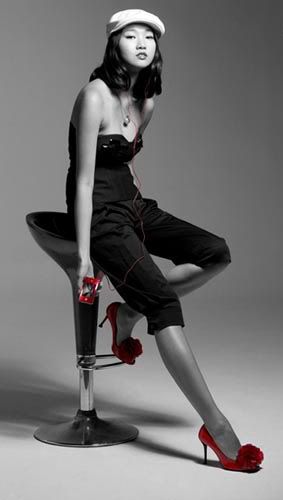 I suppose Jang Yoon-ju isn't so well-known in the English-speaking part of k-entertainment fandom, and I probably wouldn't know much about her had I not caught the modeling reality show I Am A Model that she hosted.
I admit to not thinking she looked very modelesque at first — she's a bit shorter than the average runway walker with her 174cm height — but she's probably the most famous model in Korea.
Jang's debut album is titled Dream and features collaborations with jazz musicians for a "realistic, acoustic sound."
Via Newsen
RELATED POSTS