It's been a while since I've seen Lee Jung-jae in a comic role — much of his recent stuff (Typhoon, Air City) has him playing strong, in-command characters — so it's welcome to see him embracing his goofball side in Disturbance in Her Barroom.
The cast gathered on November 6 for the production press conference, with stars Lee Jung-jae and Kim Ok-bin at the focus of the event.
The movie is a comic action fusion sageuk, and Lee's character is described as a Joseon-era fighter — a goofy hero who goes up against the rich and powerful. It sounds a bit like a larger-scale Hong Gil Dong, except more farcical and with higher production values.
The following isn't an official trailer, but is billed as a "character introduction":
Above, the cast takes questions at the press conference: Lee Jung-jae, Kim Ok-bin (Thirst), Kim Seok-hoon (Magang Hotel), Lee Won-jong (Gourmet), and director Yeo Kyun-dong (Silk Shoes).
In Disturbance in Her Barroom, Lee Jung-jae plays "Joseon's greatest hero" (who happens to have escaped the history books) who leads a nationwide rebellion. Kim Ok-bin plays a gisaeng in her first sageuk role, and explained that she'd put a lot of time into studying for the role — musical instruments, classical dance — to pull off her character.
The movie opens in theaters on December 4.

With all the fusion sageuks out recently, the concept of this movie doesn't appear to be particularly novel, but looking at the stills, I do like the director's interesting cinematic choices — the extreme angles, the gorgeous but exaggerated background landcapes. I particularly dig the pop-art aesthetic of the posters.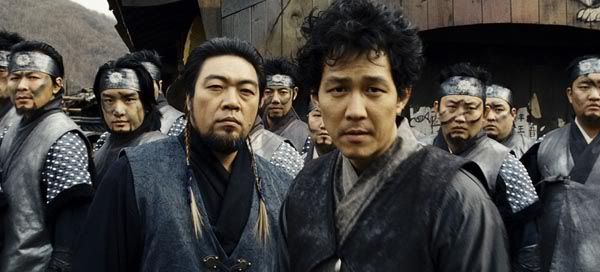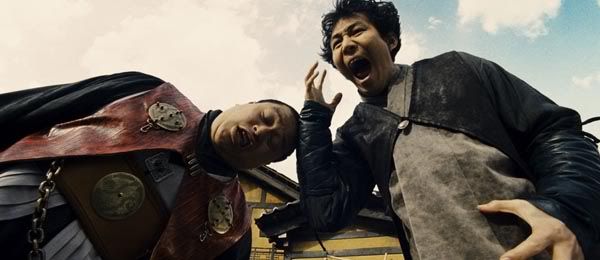 Via Asia Economy
RELATED POSTS
Kim Ok-bin
,
Lee Jung-jae
,
press conferences