KBS nominates (practically everyone) for acting awards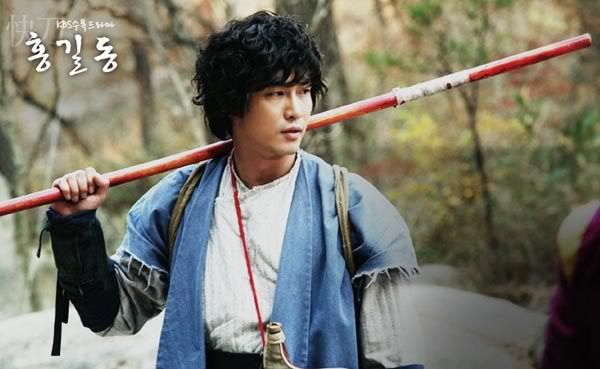 Like MBC before it, KBS has also released its list of year-end acting award nominees.
And while Hong Gil Dong (above) wasn't the most prominent drama featured among the contenders (that would have to be the daily drama Mom's Dead Upset, which brought in a whopping four nominations just in the Daesang category), it's the one I watched and enjoyed in what I thought was a rather lackluster list. (Also! Kang! Ji! Hwan!)
The (very long) list of KBS actors is topped by a subset of nine Daesang contenders, which includes the aforementioned crowd of Mom's Dead Upset veterans as well as Song Il-kook in the sageuk Kingdom of the Wind, Kim Sang-kyung in the sageuk Great King Sejong, and Kang Ji-hwan in the fusion-sageuk Hong Gil Dong. (A big sageuk year, no?)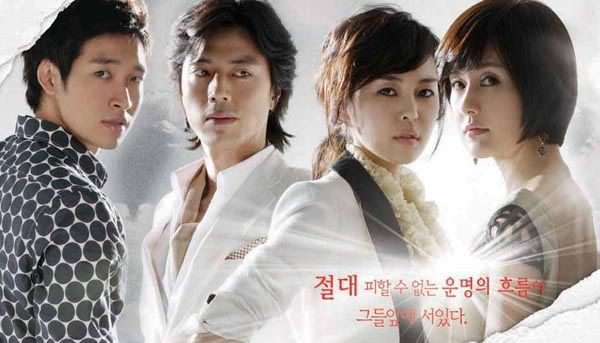 Women in the Sun

Daesang contenders comprised five men, four ladies (non-winners are awarded Top Excellence honors):
Daesang (Actor)
Kang Ji-hwan (Hong Gil Dong)
Kim Sang-kyung (Great King Sejong)
Baek Il-seob (Mom's Dead Upset)
Song Il-kook (Kingdom of the Wind)
Lee Soon-jae (Mom's Dead Upset)
Daesang (Actress)
Kim Ji-soo (Women in the Sun)
Kim Hye-ja (Mom's Dead Upset)
Jang Mi-hee (Mom's Dead Upset)
Choi Myung-gil (Great King Sejong)

Kingdom of the Wind
Excellence Award nominees, on the other hand, were divided into separate categories for Miniseries, Weekly, and Daily series.
And, as you can see from the full roster of candidates below, it's like everyone got nominated for something.
Excellence (Miniseries, Actor)
Lee Jong-hyuk (Rivals)
Jang Geun-seok (Hong Gil Dong)
Jung Jin-young (Kingdom of the Wind)
Han Jae-seok (Women in the Sun)
Hyun Bin (The World They Live In)
Excellence (Miniseries, Actress)
Sung Yuri (Hong Gil Dong)
Song Hye-gyo (The World They Live In)
Lee Hana (Women in the Sun)
Jung Ae-ri (Women in the Sun)
Choi Jung-won (Kingdom of the Wind)

Mom's Dead Upset
Weekly Drama (Actor)
Kim Sung-soo (My Precious Child)
Ryu Jin (Mom's Dead Upset)
Park Sang-min (Great King Sejong)
Lee Won-jong (Great King Sejong)
Weekly Drama (Actress)
Park Hae-mi (My Precious Child)
Shin Eun-kyung (Mom's Dead Upset)
Lee Yoon-ji (Great King Sejong)
Lee Tae-ran (My Precious Child)
Daily Drama (Actor)
Kim Young-chul (Returned Earthen Bowl)
Lee Ji-hoon (You're My Destiny)
Lee Pil-mo (You're My Destiny)
Yoon Hee-seok (I Like You)
Daily Drama (Actress)
Kim Sung-eun (Returned Earthen Bowl)
Kim Jung-nan (You're My Destiny)
Gong Hyun-joo (You're My Destiny)
Park Da-ahn (I Like You)
Park So-hyun (Good Woman Park Il-hong)

You're My Destiny
Supporting Actor
Kang Ji-sub (Women in the Sun)
Kim Yong-gun (Mom's Dead Upset)
Park Joon-kyu (My Precious Child)
Eom Ki-joon (The World They Live In)
Jo Hee-bong (Hong Gil Dong)
Supporting Actress
Kim Na-woon (Mom's Dead Upset)
Kim Sung-ryung (Great King Sejong)
Bae Jong-ok (Beautiful Woman Park Jung-geum)
Lee Hye-sook (You're My Destiny)
Choi Soo-rin (My Precious Child)
New Actor
Kim Tae-young (Mom's Dead Upset)
Park Jae-jung (You're My Destiny)
Lee Chun-hee (Great King Sejong)
Jung Kyeo-woon (Women in the Sun)
New Actress
Seo Hyo-rim (The World They Live In)
Lee Hana (Women in the Sun)
Oh Yeon-seo (Returned Earthen Bowl)
Yoon-ah (You're My Destiny)
Hong Ah-reum (My Precious Child)

Hong Gil Dong
Popularity Award (Actor)
Kang Ji-hwan (Hong Gil Dong)
Song Il-kook (Kingdom of the Wind)
Jang Geun-seok (Hong Gil Dong)
Ji Hyun-woo (My Precious Child)
Hyun Bin (The World They Live In)
Popularity Award (Actress)
Kim Ji-soo (Women in the Sun)
Sung Yuri (Hong Gil Dong)
Song Hye-gyo (The World They Live In)
Lee Hana (Women in the Sun)
Yoon-ah (You're My Destiny)
Young Actor
Kim Dong-hyun
Maeng Se-chang (Hong Gil Dong)
Ahn Do-kyu (Single Papa in Love)
Lee Hyun-woo (Great King Sejong)
Young Actress
Kim So-hyun
Shin Eun-kyung
Yeo Min-joo (Great King Sejong)
Han Bo-bae (Big Sister)
Special Drama/One-Act Drama (Actor)
Kim Ho-jin
Lee Won-jong (Hometown of Legends)
Yoon Hee-seok (Things That You Know You'll Regret)
Jo Hee-bong (Drama City)
Special Drama/One-Act Drama (Actress)
Kim Jung-hwa (Things That You Know You'll Regret)
Park Min-young (Hometown of Legends)
Lee Yoon-ji (Great King Sejong)
Jo Eun-sook (Hometown of Legends)
Jang Hee-jin (Drama City)
Via DongA
RELATED POSTS
Tags: awards, Hometown of Legends, Hong Gil Dong, Jang Geun-seok, Kang Ji-hwan, Kim Ji-soo, Lee Hana, Lee Jong-hyuk, Park Min-young, Rivals, Sung Yuri, Women in the Sun, You're My Destiny