Beethoven Virus: Episode 17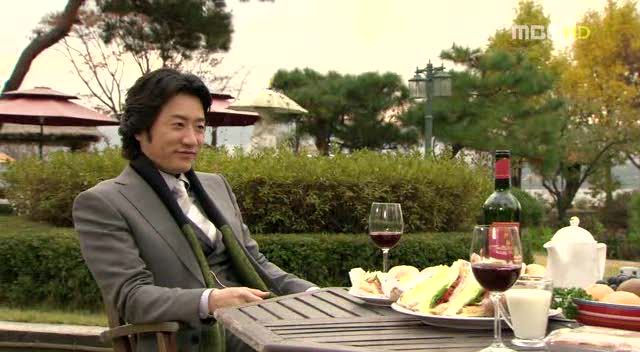 Mea culpa, guys. For a multitude of reasons, I couldn't bring myself to finish the series – and when I'd decide to finally get on with the recaps, something would inevitably come up. Many, many apologies to the people who expected this sooner.
So, er, in case you don't remember what happened previously, click for episode 16.
SONG OF THE DAY
Alison Krauss – "If I Didn't Know Any Better" [ Download ]
Audio clip: Adobe Flash Player (version 9 or above) is required to play this audio clip. Download the latest version here. You also need to have JavaScript enabled in your browser.
Episode 17
Unfortunately, the orchestra get to the performance hall too late. As Kang drives out, the Irregulars stop to thank him for his help anyway. A chagrined Gun Woo is unable to convince their sponsor to give them one more chance.
However, everyone puts their game faces on, and sets up a stage to perform for free in public. Gun Woo feels guilty for making everyone wait and thus miss their chance, but everyone approves of the way he handled the day's events.
Mouse's street performance gathers lots of attention. It's nice to see Hee Yun smiling all the way through, since her husband is finally here.
Gun Woo comes home and finds Beethoven exiled to the yard. He reads into things and decides that Kang is annoyed at him, and apologizes. He promises to continue trying with the orchestra. Though Kang's tongue is as sharp as ever in reprimanding Gun Woo, he falters when he tells Junior that he will be leaving for good in a week, or whenever Jung Evilface finishes the paperwork.
Junior walks away all sad while Kang looks (with what could possibly be some regret) at his retreating figure.
Grandpa Kim is being sent away to a nursing home on the day of Yi Deun's scholarship contest. She runs the risk of being late just so he can leave in comfort, with all the things he likes (and how much time she must have spent taking care of him, and noticing little details, to be able to know every one of his preferences).
It's no use, because Yi Deun has to leave, and she does so in tears.
The undersecretary visits Kang with the news that instead of being an official conductor, he is now a 'consultant'. This has the nifty advantage of using Kang's fame while humiliating him with no control over the orchestra at all. Methinks Evilface has been reading his Machiavelli.
The new conductor probably got here by virtue of being good friends with Evilface, though no one's saying anything. He's very thickskinned too. HIs CV is full of jobs heading committee stuff for Evilface, and only one instance of actual conducting – and it was for an amateur choir.
It seems that the city orchestra has formed a bond with Kang Mae also, and are doing their level best to drive the newcomer away. They switched partitions around and um, sadly, the new conductor, Lee, didn't even notice. After practice, Kang meet with the four main instigators – he doesn't agree with their methods, but does agree to stay on as an observer for their sake.
At the competition, Yi Deun is so depressed she can hardly eat the lunch Hee Yun cooked for her. Her turn
onstage comes, and everyone cheers her on.
Even if she's a bit subdued, the orchestra members all agree that Yi Deun did a great job.
Yi Deun's playing continues on as we switch scenes to Grandpa Kim's house, where he is getting ready to leave.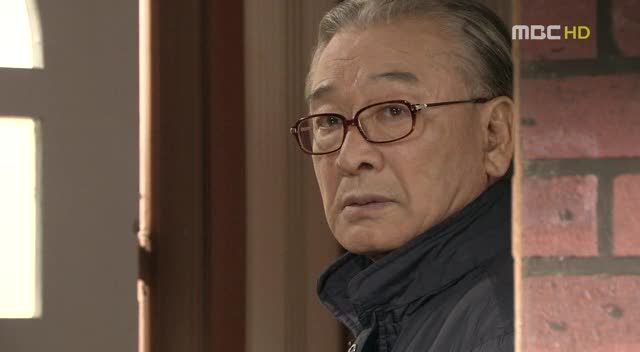 He looks back at the house from his the doorway, seeming to sense something missing. Yi Deun dashes out of the changing room, bypassing her shocked fellow orchestra members.
Ru Mi drives her to the bus station, where we see grandpa Kim's son and daughter-in-law escorting him onto a bus. Even on the bus, grandpa Kim is worried and keeps looking around, but when Yi Deun catches up, he doesn't look outside. (Classic kdrama missing-each-other-at-the-bus/train-station scenario, but it's touching nonetheless.)
Yi Deun stands outside in the bus station as the coach drives away, crying. Ru Mi runs up with the news that she placed second, which entitles her to a scholarship, but Yi Deun can't enjoy this small victory at the moment.
The city orchestra is playing merry shenanigans with the new conductor (by locking him out, lol), which enrages him to new heights of fury, and I feel ever so sorry for the door he's pounding on. Well, in the end the power is in his hands, and announcements for another round of auditions go out – which means that the current musicians could be out of a job. (Outright sabotage is apparently the thing in this episode.)
Kang Mae calls Evilface over for dinner with a challenge. If he can name five emotions from a classical piece of Kang's choice, the maestro will do anything Jung demands. Not very surprisingly, Evilface fails (he barely names two: good, polished and haha, does it matter, he's obviously musically challenged – and in BV apparently that means without a soul).
Without skipping a beat, Kang Mae goes ahead and describes five scenarios (not just feelings) that the music gives, with accompanying storylines. He finishes with a politely worded request to not let other people with the potential for feeling the music let their talents die like the mayor has done. As intended, Kang manages to provoke a very strong reaction in Evilface, for good or ill, I don't know. Yet. I'm sure they'll show me very soon, and probably in technicolour fireworks too.
Good lord, they've spawned an entire underground movement. The thought of classical music and underground culture in one sentence boggles, but there it is. Kang looks up at the defiant protest posters his orchestra's made, and sighs.
Despite not having talked to each other since the Night of the Almost Couple-y Spat, Kang is very much concerned with Gun Woo's efforts, and quizzes Park on their status. It's not a very good one, I'm afraid, what with Gun Woo and co struggling for funding every which way and not finding it.
Kang Mae tells Park to play the messenger and send along his firm disapproval. Park refuses, because he knows that the two Kang Gun Woos need to communicate too.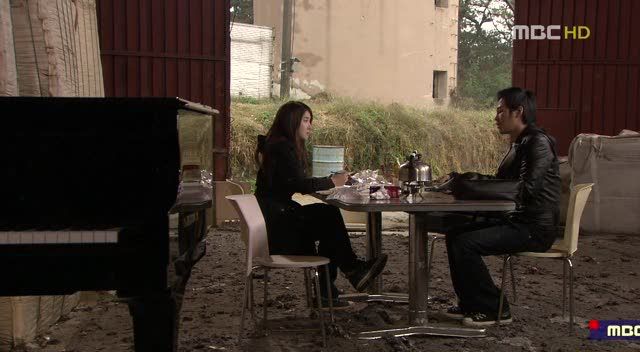 At the warehouse, Ru Mi and Gun Woo are holding the orchestra together with ramen and shoelaces and very little else. Seriously, to quote Gun Woo, "When people hear the 'f' of 'funding', they run away." Yi Deun, as a soon-to-be full-time music student, has no time to spare for future performances and practices, though she stubbornly refuses to miss the Dream of the Swan performance. (Well, she's the soloist, it might be a bit hard without her, even if Ru Mi is morphing into super composer girl…)
At least Ru Mi's composition classes are going well.
Gun Woo, as usual, returns home after dark, only to find a note from Kang on the couch, giving him the directions to a fancy restaurant. Upon arrival, the poor guy is totally out of his element. Kang is just warming up with his life-is-futile rant when he finds out that 'Dreams of a Swan' is actually adapted from a folk song. He totally loses it, though Junior talks him into keeping his temper under control – by mentioning that Ru Mi is the person who adapted it.
True to form, Kang Mae flounces off and snidely tells Gun Woo to finish the leftovers. Ouch.
The next day, musicians in the city orchestra meet up in their practice hall and paint insults to Evilface on banners meant for public display. Mr. Long-Suffering undersecretary relays the astonishing (to the orchestra members anyway) news that Evilface has decided to abolish the city orchestra altogether.
At the moment, the situation isn't too dire, since many city councillors disagree.
Since Park is at the music hall all day, he doesn't know that his family is being asked to move out of their apartment complex. His wife is finally fed up, and vents her frustrations on him. He agrees quietly to leave and find a job to support his family.
Surprisingly, Kang Mae lets Park resign the next day without a fuss, because he understands the needs of daily life. (Now, he would have never done that in the beginning, so yay character development!) Kang Mae looks down at the notice for him to move his office elsewhere, and goes to the meeting that will decide the fate of the city orchestra.
Ru Mi still apparently has contacts within the mayor's office, and rushes off right away to see Kang Mae when she hears that even the official orchestra is being disbanded.
The meeting is a bit awkward, but the emotions are still there, and pretty raw too. Ru Mi wants Kang Mae to give up fighting the mayor, since even she can see that this is like butting into a brick wall.
KANGMI MOMENT. AHHHHH. But they pull away and Kang Mae leaves.
The city council meeting goes pretty much like student union meetings – far too many people talking at the same time about issues that aren't really related. Table banging and incoherency also feature. (Surprising, the amount of noise seven men can make, no?) And Evilface enjoys this sort of thing.
Kang goes to a corner of the room and puts on some earphones to enjoy music, imagining an outdoor lunch with the members of Mouse orchestra. Everyone chatted and teased each other, with a general air of goodwill. Dream Ru Mi walks up to Kang Mae, who is looking out toward the sea, and comments that a day like this may never come.
He tells her that it's time for them (I think he means the orchestra, and not just Ru Mi) to part ways, even as the music fades off.
Switch abruptly to Kang, writing out and signing his letter of resignation at night.
At the same time, Mouse is also falling apart, reluctantly perhaps, but falling apart nonetheless. Gun Woo sees the slow demoralization, and tells everyone that the official breakup of their orchestra will occur after their last performance.
Okay, as if this isn't bad enough – apparently the people who agreed to fund Mouse's concert were under the impression that the elder Kang Gun Woo is the conductor of the orchestra, and are now reneging on their offer.
Kang Mae finds out at the last moment, and contacts the person in charge, agreeing to conduct for an exorbitant sum. (Ha, someone just got served.)
He's being awfully difficult on purpose, demanding all possible information on the company's superiors in order to delay the paperwork enough for Mouse to be able to still perform. Then Kang Mae throws down his phone and mutters about the audacity of some people, daring to pick on his student.
Later that evening, Kang awaits Gun Woo with badly concealed impatience. As it happens, Gun Woo is moping outside the house, full of misery and self-pity. Kang decides that he's not going to wait, and meets Gun Woo on his way in.
Junior drags his feet and tells Kang Mae what happened with the performance, crying all the while. Aww. Gun Woo feels like a failure of a student, but Kang tells him (what he's always thought), that Gun Woo did an excellent job.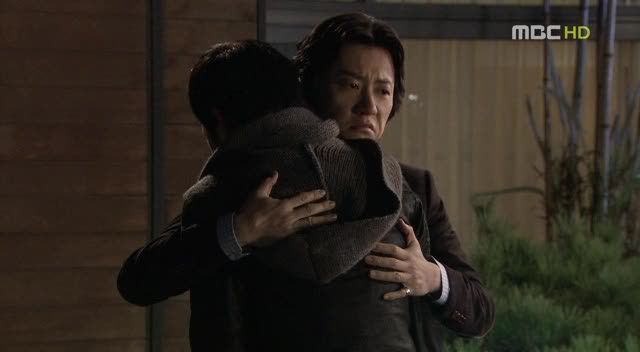 Kang Mae hugs Gun Woo and pats his back to comfort him.
End episode.
Commentary/Rambling:
– I think this would have been much more effective as an ending/climax effect if, oh, it hasn't happened like five times already.
– The best part of this episode (and arguably this show) centres around the people of the orchestra, their lives, and the bonds they've built up with each other. What a shame that the show instead chooses to focus on the melodramatic breaking up process.
Sevenses
Tags: Beethoven Virus, Jang Geun-seok, Kim Myung-min, Lee Jia