Failing Ja Myung Go may call it quits early
News is starting to leak that SBS's Ja Myung Go [자명고] is hurrying to wrap up and will very likely end early, falling short of its initial 50-episode plan to sign off at Episode 39.
Ouch. I actually feel sorry for the drama production, because it's like they've essentially given up on their grand historical series.
Ja Myung Go got off to a weak start, and was soundly beaten by Queen of Housewives, unable to pull itself out of single-digit ratings. It was banking on improving once the adult characters replaced the children about 12 episodes in. After all, the series was heavily promoted with its pretty lead stars, Jung Ryeo-won (My Name Is Kim Sam-soon) and Park Min-young (I Am Sam), playing rival sisters.
However, ratings didn't pick up much, and now, with 19 episodes broadcast, the drama is pretty much toast.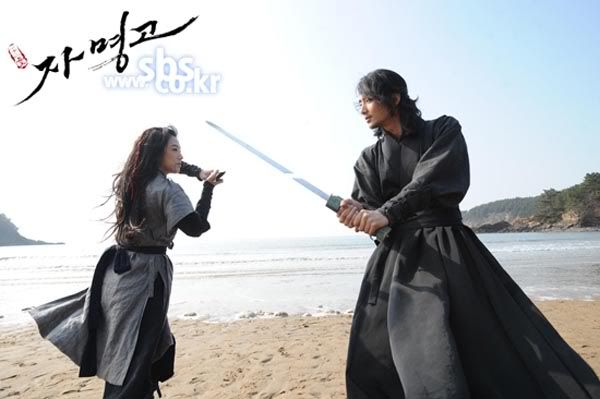 A representative from SBS's drama department said, "It's true that because the ratings are lower than we'd thought, we're looking at cutting down the drama. However, the reduction is only one of many possible plans. We could continue with all 50, or we could cut it to 39. We have not confirmed it yet."
However, a different source within SBS says that internally, the station is considering Ja Myung Go's fate to hinge upon the performance of their new competitor, MBC's new series Queen Seon-deok. They're waiting — and hoping — that things will improve after the current competition, Queen of Housewives, ends its 30% ratings run. Queen Seon-deok starts May 25 and shares genres with Ja Myung Go in that it's a long-running epic historical series, but boasts bigger stars (Go Hyun-jung, Uhm Tae-woong, Lee Yo-won) and a fresh start, so I'm thinking, get ready to send Ja Myung Go off.
While dramas are often extended when performing well, cutting a series short mid-run seems like a drastic move. Korean dramas, unlike American series, don't cancel dramas because of poor performance. Furthermore, there are many dramas that have even lower ratings than Ja Myung Go, and they're not considered failures.
For instance, its timeslot competitor, Story of a Man, has even lower numbers, yet is considered more of a mania drama. (Ja Myung Go's hovering around 10%, while Story of a Man is in the 7%-8% range.) It does help that Story of a Man is being lauded for its tight writing and strong storytelling, while Ja Myung Go routinely gets complaints even from its fans that it moves too slowly.
One tangential point SBS must consider is that the series to follow Ja Myung Go is the recently announced Kim Bum—Joo Jin-mo vehicle Dream, which will enter filming in early June for a September premiere. An early send-off here would likely also affect Dream.
RELATED POSTS
Tags: drama ratings, Ja Myung Go, Jung Ryeo-won, Park Min-young