Han Ji-hye sings on Chocolate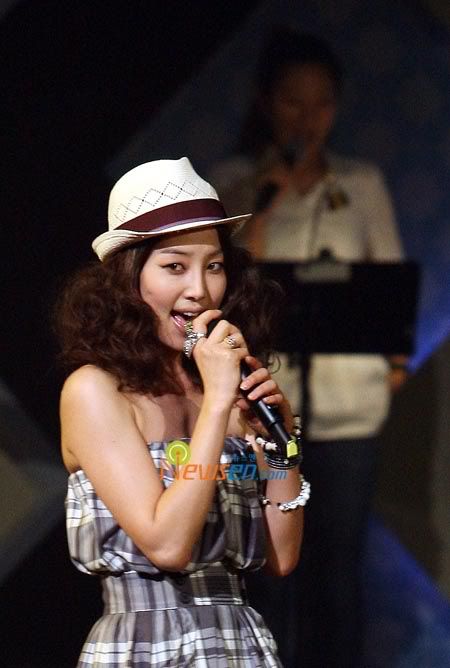 Television actress Han Ji-hye's latest two projects are a digital single and shoe designing, both of which she demonstrated at the May 16 recording of talk show Kim Jung-eun's Chocolate (which will broadcast on the 23rd).
On the program, Han drew some designs, showed off her shoes, and sang the peppy single "Luv Luv" (listen below), which is also being featured on her cable special Shoes! My Dream!
Personally, I think Han Ji-hye is a much better actress than she is a singer or designer. You be the judge.
SONG OF THE DAY
Han Ji-hye – "Luv Luv." Her vocals are a little weak, but the song is cute. [ Download ]
Audio clip: Adobe Flash Player (version 9 or above) is required to play this audio clip. Download the latest version here. You also need to have JavaScript enabled in your browser.
Here's one example of a "design" Han drew on the program. I'll just say, if that's what it takes to be a shoe designer, I could be an architect! I have the dinner napkins to prove it.
Asked what her next project will be, she answered, "While filming Likable or Not and East of Eden, I didn't take a break, and it feels like I'll be going without rest for some time still."
Han also talked about a recent segment she filmed, saying, "I like to dance, so I thought I was pretty good at it, so I agreed to dance for Sohn Dam-bi's 'Saturday Night.' I went to dance school for three days, and I wondered if I was really a bad dancer." She confesses that on the second day, exhausted, she'd thought, "This must not be for me. I must be an idiot to think I could do it." The broadcast date for this is not yet set.
Via Asia Economy
RELATED POSTS
Tags: Han Ji-hye, Kim Jung-eun, singers, star extracurricular activities, variety shows