Song Yoon-ah to marry Sol Kyung-gu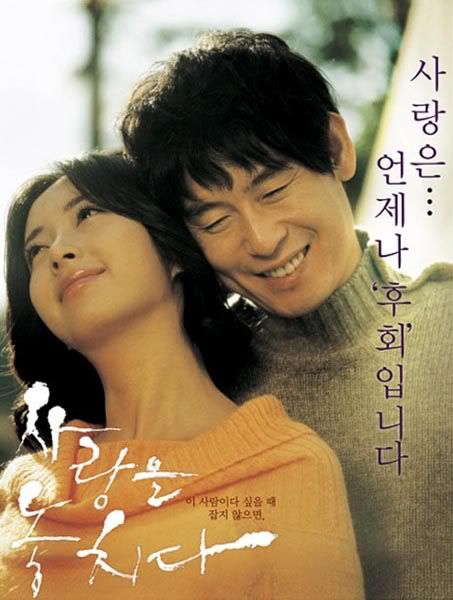 Song Yoon-ah and Sol Kyung-gu in "Lost in Love"
Another A-list celebrity couple ties the knot! Song Yoon-ah (On Air) and Sol Kyung-gu (Public Enemy Returns, Voice of a Murder, Silmido) — who have starred together in two movies — have just announced that they are getting married on May 28.
The couple met in 2002 when starring in Jail Breakers [광복절 특사], then re-teamed for 2006's Lost in Love [사랑을 놓치다]. However, they weren't dating at that time, as Song Yoon-ah explains: "We acted in two films together, but at that time, we didn't call each other on a personal level. By some fate, we met again much later and started dating then."
The two haven't yet picked (or announced, at least) their wedding locale or time, but they're thinking of bucking the celebrity trend and opting not to hold the ceremony at a hotel. "We want a simple wedding," Song said.
May is a busy marrying month — Ricky Kim just got hitched, Jung Tae-woo held his ceremony today, and Lee Seon-kyun will be marrying long-time girlfriend Jeon Hye-jin in two weeks. Congrats to the couples.
Via Yonhap News
Tags: Sol Kyung-gu, Song Yoon-ah, star romances, weddings