Eugene
Like I said, summer is the time for horror. First we had the high school-set Suicide Pact; then Lee Seo-jin's high school-set drama Soul. Now it's (the very unhorror-ly titled) Yoga School [요가학원] — although you wouldn't know it from these photos from the film's open set day, would you?
The story centers around five beautiful women who harbor different insecurities and seek out a mysterious yoga school that promises undying beauty. The film is directed by Yoon Jae-yeon, who directed the third Memento Mori film Wishing Stairs.
Yoga School features seven actresses, led by Eugene (Romantic Island) and Park Han-byul (Fantasy Couple), as well as Jo Eun-ji (Forever the Moment), Cha Soo-yeon (The World They Live In), Kim Hye-na (Unstoppable Wedding), Lee Young-jin (Antique Bakery), and Hwang Seung-eon.
Yoga School opens this summer.
The film held a press conference and opened its set to reporters on June 2 at its filming location in Kyeonggi Province, which featured its stars in a yoga session: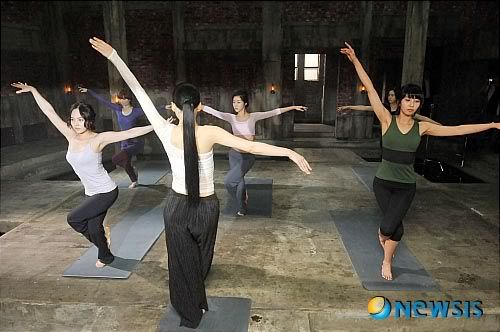 Eugene plays a television shopping network host with a "Superwoman" complex:

Park Han-byul:

Kim Hye-na:

Jo Eun-ji:

Cha Soo-yeon plays the yoga instructor:

Hwang Seung-eon:

Lee Young-jin:

The cast:
RELATED POSTS
Cha Soo-yeon
,
Eugene
,
horror movies
,
Jo Eun-ji
,
Kim Hye-na
,
Park Han-byul