November release for Into the White Night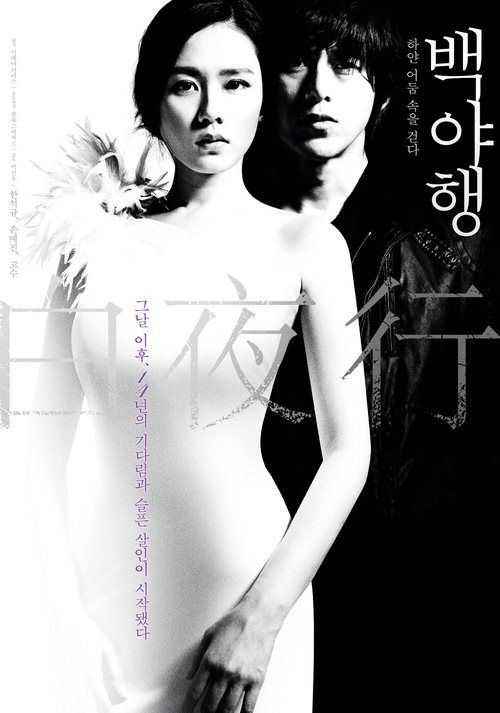 This is the poster for Sohn Ye-jin and Go Soo's latest film, a dark thriller called Baekyahaeng: Walk Into the White Night [백야행 — 하얀 어둠 속을 걷다] or simply Into the White Night, which now has a theatrical release date set for November. It has also released a teaser video (watch below).
With this role, Sohn Ye-jin (Alone in Love) is again raising eyebrows at the news that the film contains a full-nude bed scene. (The actress had previously shown partial rear nudity in her previous films April Snow and My Wife Got Married.) A source explained that the production had offered Sohn a body double, but she turned it down: "The bed scene we shot is a higher standard than in her previous work. She displayed professionalism in her acting, and took on the scene herself without a body double."
Bed scene or no, I have been really looking forward to this film, as my curiosity had been piqued by its story when it was first announced. (Plus: Go Soo!) Based on a Japanese novel, Byakuyako, which was turned into a Japanese drama, the film tells the fateful love story of a man and woman who committed a murder 14 years prior (in self-defense), who decide to separate until the statute of limitations expires. Han Seok-kyu (Quiz King) plays a detective who pursues the two. Lee Min-jung (Boys Before Flowers) also stars.
Via Sports Chosun
RELATED POSTS
Tags: Go Soo, Han Seok-kyu, Lee Min-jung, Sohn Ye-jin