Jeon Do-yeon returns with a remake of a classic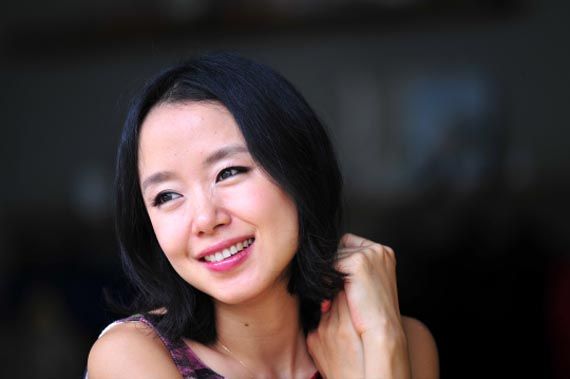 One of Korea's top actresses, "Cannes Queen" Jeon Do-yeon, is returning to film her next project following a yearlong break (during which she'd given birth to her first child). She'll take on a remake of the highly regarded 1960 film The Housemaid [하녀], which gets updated with a modern take.
The original sounds pretty fascinating: a housemaid moves in with a family of four and things take a dark turn. Seducing the husband is only the beginning of the trouble, as the maid's bizarre behavior escalates and the wife tries to assert her place. Although its themes may seem familiar today — adultery, murder, twisted ambition — the provocative thriller was made in the "Golden Age" of Korean cinema, back before the censorship code descended upon the film industry. Jeon will play the maid character.
The Housemaid, widely seen as one of the top Korean movies of all time, is noted for its solid structure, shocking and erotic storyline, and the casting of top actors of the day (Kim Jin-kyu, Joo Jeung-nyeo — and even a young Ahn Sung-ki as the son, who is now a respected veteran actor).
The original was directed by Kim Ki-young, who directed numerous films in his long career from the fifties through his death in the nineties; the new version will be taken on by Im Sang-soo (A Good Lawyer's Wife).
I think the tricky part of remaking the film is probably in setting it apart from so many similarly-themed contemporary works, and in finding what made the original so great while being able to update it for modern times. As we know, many a Hitchcock remake has failed to do justice to its source material. But I have to say that I'm intrigued by the idea, and you can count on Jeon Do-yeon to knock it out of the park. (You can read more about and/or buy The Housemaid from Hanbooks.)
The husband and wife characters will be younger in the remake (what a surprise), and the roles are currently in the process of casting. The film will begin shooting in January 2010. Jeon's last film was the 2008 My Dear Enemy (with Ha Jung-woo); prior to that was the film that won her Best Actress at Cannes, Secret Sunshine.
Via Star News
RELATED POSTS
Tags: Jeon Do-yeon, remakes