Triple: Episode 15
I admit I approached Triple recaps with a bit of a "Let's get this over with, sigh" attitude, but rewatching this episode reminded me of all the little touches that I enjoyed about it. I've been meaning to finish off this drama for ages, and never entertained the idea of dropping it. (Whereas, in contrast, I had to actively throw up my hands in frustration with My Sweet Seoul and A Star's Lover because I just couldn't keep going.) I feel bad about the delay because Triple is such an inoffensive show, and there are things I quite like about it, but I do think there are some fundamental issues that hindered it from being more — more memorable, more substantial, just more.
SONG OF THE DAY
Triple OST – "사랑은 지고 달빛은 빛나고" by Low-End Project [ Download ]
Audio clip: Adobe Flash Player (version 9 or above) is required to play this audio clip. Download the latest version here. You also need to have JavaScript enabled in your browser.

EPISODE 15: "4 Minutes"
Haru's knee starts to bother her again in practice, which makes her ponder the theme of the day: those key four minutes of a long program, the culmination of all the hard work a skater puts in. Can she handle it when it's go time?
Su-in takes Haru to the hospital to get her knee checked out, and the answer doesn't make her happy. Haru insists that she can handle the pain, going against the doctor's suggestion that she undergo surgery. She asks Su-in not to tell Hwal, because he'll be sure to push for the surgery.
The "go time" metaphor extends to the Bond Factory guys, who give their ad presentation in a competition against their former supervisor. Hwal leads the presentation, which uses as its theme a child being guided in the way of life by a father. (These ads are so precious that they're a little embarrassing.) He wraps up, saying that Dad always made the wise, right decision: "So I'll follow Dad and go with K Energy. Because we never know what happens."
They win the K Energy account, and even manage a word of respect from their former boss.
That night, the Bond Factory family celebrates, and afterward, Hyun-tae, who's in a great mood, calls Su-in to share about his good day.
He tells her, "I'm glad I could call you. I'm glad I could call and talk about my life, that I can hear your voice congratulating me. It's nice."
Their relationship has progressed to the point where, while they're not explicitly dating or doing anything overtly romantic, they're more comfortable with each other. Su-in's guard is starting to come down, and that makes Hyun-tae more secure and happy. Now when they talk, often it's Hyun-tae who keeps a respectful distance and Su-in who prolongs the interaction.
For instance, she's eager to keep him on the phone, so she blurts out the first thing she can think — a lame joke. She grimaces in embarrassment afterward, but Hyun-tae laughs.
We add to the slices of happy home life with a scene between Hae-yoon and Sang-hee as he pricks her finger (because she has indigestion). The small gesture makes Sang-hee marvel that it's nice to be part of a pair — there's always someone to prick your finger when you're sick and to be by your side.
Hwal and Haru have regained something of their old camaraderie. As often happens when Hwal stops thinking too hard about how he should act, he ends up having fun with Haru as they have a dishwashing fight. She has said a few times that she wishes she were born earlier so she would have known him for more of his life, but on the flipside, it also seems like she brings the kid in Hwal.
The Sang-hee and Hae-yoon relationship hits a bump when she takes a pregnancy test, which comes out positive. Immediately spooked, she brushes Hae-yoon off and heads to work, where she broods with Jae-wook (without disclosing the source of her dilemma). Life is already complicated enough!
Later, she asks Hae-yoon for some space for the night — she wants to spend the night alone and momentarily return to singlehood. This behavior naturally worries him, since he can't understand why she's suddenly acting so strangely. Hyun-tae tells him to beg forgiveness, but Hae-yoon can't even see that he did anything wrong.
Haru had asked Su-in not to tell Hwal about her knee, but she feels it's too important to keep secret, and calls him. Basically, Haru is facing a decisive moment in her career — if she gets surgery, it would put her out of commission for up to a year, which means her life as a competitive athlete is over.
Hwal tells Haru to get the surgery, and says that if she doesn't, she won't be able to go to Canada. Haru pleads with him — she can't quit now. She'll endure through the pain, but she has already rested for the past five years.
Unfortunately for adorable Poong-ho, it's at this point that he arrives at the rink to witness this scene as Hwal comforts a saddened Haru. Just before he'd walks in, there's a cute moment when he pulls up to the rink on his bicycle. Seeing Haru's bike propped up on a tree next to Hwal's car, he takes her bike and moves it next to his instead. But now he leaves silently, and as he heads out, he takes his bicycle and rides away. What remains (as in the image above) is a rather literal representation of the triangle between the three.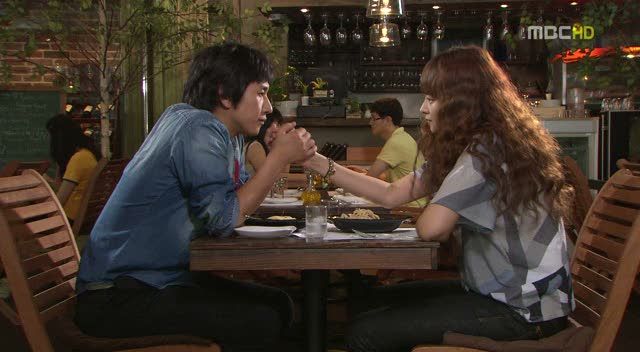 After having a night to wrestle with the issue on her own, Sang-hee tells the truth to Hae-yoon, that she's pregnant. After getting over the initial shock, Hae-yoon is glad over the news, although conflicted over what to do. Sang-hee is afraid of what this means for her life, and theirs — up until now, she's had the option of choosing to quit, whether it's work, relationships, or whatnot. But being a parent isn't something she can quit. Trying to alleviate her anxieties, Hae-yoon assures her not to worry.
Poong-ho finds Haru at the rink later, telling her wistfully that he wishes that she would approach him first just once. The lovely thing about Poong-ho is, even when he's being honest about his dissatisfactions, he says them without recrimination and still provides Haru with a supportive sounding board as she wonders over her dilemma with her knee. What would she do if she can't skate? She knows that Hwal isn't going to let her go to Canada without the surgery.
Poong-ho answers philosophically that this could be the time for her to say bye, to figure she's had a good run with all the years of enjoyment she's put into it so far. But seeing that she's not ready to let go just yet, he says with a sigh that she should take it as far as she is prepared to — she can say goodbye when she's ready.
In a similar vein, Hwal also (half) concedes, telling Haru that they can reconsider things after her next competition. They'll check with the doctor again, and she will keep up her physical therapy.
With Sang-hee still uncertain about her pregnancy, Hae-yoon cheers her up with some lighthearted joking. Is she afraid of breastfeeding? (No problem, he'll beg neighborhood ajummas to nurse the baby.) Of letting her figure go? (She can afford to let herself go a little — having a perfect body is an inconvenience to others.)
His words do help her get over her fears, although she warns him that she's not going to marry him. They'll have the kid together, but that's as far as she's going to concede right now.
Su-in and Hyun-tae's relationship takes another step forward when he drops by again, poised to jump the fence as usual, and Su-in opens the gate for him. He's touched at the gesture, and even more so when she presents him with a gift — he had previously given her some freshly plucked berries when he'd gone on a solo trip to forget her. Instead of throwing out the fruit, as he had expected, she returns it to him in the form of jam. He's surprised and moved at the meaning behind the gift.
He asks for a wish — which is then to grant her a wish. Su-in asks for him to cook her ramen, as he once did, and he makes good on that promise by taking her for a seaside outing so they can have ramen on the beach.
As they enjoy their day, Su-in wonders if it's okay for her to be happy now, with him. (She's still feeling uncertain and guilty since her recent split with Hwal.) Hyun-tae, for once, doesn't push — instead, he says that he's happy in the moment, and he's not hoping for more. They can take their time.
When they arrive home, she again prolongs their goodbye, hugging him good night.
Later, they both settle in to sleep with their phones next to them. They trade short texts: "Good night." "I don't think I'll be able to sleep, what to do?" "You have to sleep so tomorrow will come." "Go on and sleep."
As Haru prepares for her competition, she finds the bracelet Poong-ho had given her as a good-luck charm. When she drops by the rink to see him, he's overjoyed. He tells her with some disappointment that he won't be able to see her upcoming competition, because he has an event of his own. She knows, which is why she's here — she wants to wear his bracelet in place of having him there. That's okay, right?
Poong-ho is touched by her question, and tells her good luck.
And then, competition day.
Haru: "When the music starts, the competition clock races on for four minutes, and you carry on until you're out of breath. I can tell how those four minutes have passed, whether they've been filled with high praise or with disappointed tears. Those four minutes don't come back. All I can do is race toward another four minutes."

COMMENTS
As I said, this is an inoffensive show, but it's got a paradox: I don't know why I find this drama so boring at times when it's also so delightful at others. The music is wonderful and refreshing, there are some really cute characters (Poong-ho, Haru), and we have some strong performances (Lee Jung-jae) — so why is the overall drama actually less than the sum of its parts? Individual scenes make me smile, but they leave no impression whatsoever. Like drawing a picture in the sand.
The problem is, then, that it's pleasant on the surface, but it doesn't sprout any deep roots. I actually watched this episode recently to write this recap, and it wasn't until I was done that I realized that I'd already seen the episode. Watching Triple is like watching neighbors live their lives — interesting for the moment, but then you turn away and live your own life and forget all about it for the rest of the day.
That doesn't have to be a bad thing, but it doesn't make for an exciting drama, certainly.
RELATED POSTS
Tags: Lee Hana, Lee Jung-jae, Lee Seon-kyun, Min Hyo-rin, Song Joong-ki, Triple, Yoon Kye-sang