Chuno: Episode 11
No, no, noooooooo! The ink on the Episode 7 recap (where we saw Un-Nyun dropping her beloved Choco) is barely dry when Un-Nyun has moved onto stroking Jagger, the zhanmadao saber favored by Song Tae-Ha. Well, that answers the question of how long "true love" lasts these days in epic sa-geuks – ohhhh, about 3 episodes. Grrr. Apparently, Choco is something that Koreans call 찬밥 (chan-bap) or, cold leftover rice. Hey, Un-Nyun! 찬밥 is food too! I write the rest of this recap under OTP protest. Still, if there was a doubt as to the awesome-sauce that is Chuno, then Episode 10 put it to rest. An absolutely BRILLIANT episode, recapped wonderfully by Dahee. So many powerful scenes, tour de force acting.
SONG OF THE DAY
"Pictures Of You" – The Cure [ Download ]
Audio clip: Adobe Flash Player (version 9 or above) is required to play this audio clip. Download the latest version here. You also need to have JavaScript enabled in your browser.
We start Episode 11 with a drunk Dae-Gil babbling on about how he has the reputation of being the very worst man in all of Korea to Seol-Hwa, who tries to humor him despite her own issues. Seol-Hwa has already told Dae-Gil that she likes him, and Dae-Gil has pretty much ignored this confession as he stares into the abyss of unrequited love. Seol-Hwa has got nothing but mixed feelings about all of this end-of-the world "Un-Nyun is married to Song Tae-Ha" kind of sob story. Dae-Gil is both a sad drunk and a mean drunk, lashing out rather loudly at Seol-Hwa for urging him to forget Un-Nyun. Seol-Hwa then tells Dae-Gil to cry, to let it all out, but Dae-Gil can't do that, and especially not in front of a woman. But Seol-Hwa, true to form, isn't one to let Dae-Gil have the last word in anything.
Seol-Hwa: Do you think that I've never held back my tears before? But holding yourself out to be defiant doesn't help either.
Dae-Gil: …
Seol-Hwa: A mountain… the higher you climb the steeper it gets. And water, the further you wade in, the deeper it gets. That's just life what is.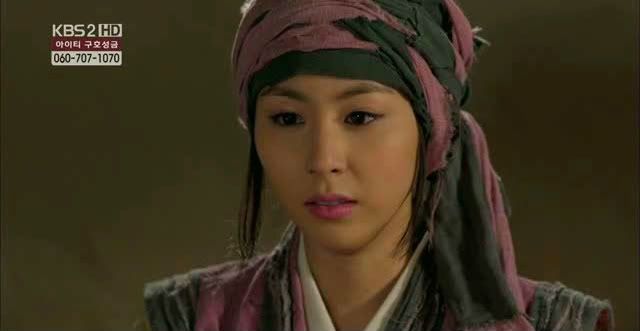 It is a rather bleak attitude to take, one that turns a person to mush, because what difference does it make whether one tries hard or not at all? Despite Seol-Hwa's worldly knowledge, it appears that all of her wisdom comes from negative history, and that has colored her perspective on things. Dae-Gil collapses in a drunken stupor with Seol-Hwa looking on.
Seol Hwa drags Dae-Gil under the covers and is about to let him sleep off his drunken stupor, but Dae-Gil grabs her and holds on tight, just not wanting to feel so alone. Seol-Hwa struggles to free herself initially, but as she hears the depair in Dae-Gil's voice, she stops trying to free herself and takes Dae-Gil's hand. As smart as Seol-Hwa is, she knows that all she is at this point is a talking electric blanket. And even as Dae-Gil hugs Seol-Hwa tight in his arms, Seol-Hwa knows that this mysterious Un-Nyun woman is closer still to Dae-Gil's heart.
In a humble barn miles and miles away, where Hye-Won, Song Tae-Ha, his lieutenant Kwok Han-Seom, and the last surviving son of the late Crown Prince are spending the night. They have made it back from Jeju Island, and are on their way to meet more of Song Tae-Ha's men, activated by the same secret messages that were sent by the late Left State Minister Im. Hye-Won (known as Un-Nyun to Dae-Gil, but Tae-Ha only knows her as Hye-Won) has taken over caring for the toddler son of the late Crown Prince.
Kwok Han-Seom stands guard outside the makeshift royal chamber, on his knees. Sort of like how any US Air Force plane that carries the U.S. President is known as "Air Force One," even a barn becomes a royal chamber if a crown prince is sleeping inside, and so Kwok won't stand guard on his feet.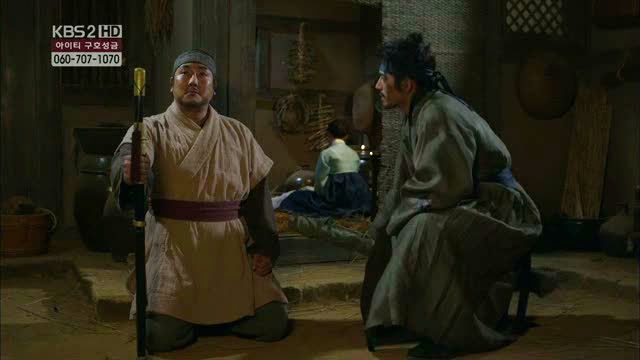 More than just maintaining proper discipline though, it is obvious from the look on Kwok's face that there isn't enough penance that he can do to make up for living while the body of the woman he loved lies cold and unburied in some grassy field while he fled, and there isn't enough penance that he can do to make up for living as a free man while his comrades-in-arms and his superior officer became forever branded as slaves. Without Kwok focus on maintaining discipline, there's no doubt that he would have fallen apart.
Tae-Ha recognizes that Kwok bears a special burden, but not the extent of it. Yet, who can say whether Kwok's burden is any heavier than the one that Tae-Ha has had to bear? Being branded forever as an honorless no-bi, everywhere his picture is being reproduced and shown to people as a kill or capture on sight runaway slave, and worst of all, failing to protect his master, the late Crown Prince, and failing to stop the conspiracy that claimed the lives of two of the late Crown Prince's young sons.
Tae-Ha enters the inner "room" of the barn, and makes his case to Hye-Won, promising never to leave her. He takes her hand and Hye-Won can see the earnestness in Tae-Ha. Still, rather than responding in-kind, Hye-Won's playfulness begins to appear. She gently chastises Tae-Ha for his lack of romantic ability and takes back her hand from a befuddled Tae-Ha. Hye-Won smiles briefly to herself, and finally we are starting to see the alluring woman that made Dae-Gil search with single-minded devotion for 10 years all over Korea. But if this is the start of a romantic journey between Hye-Won and Tae-Ha, I am unable to send blessings to this ill-fated couple.
Back in Han-Yang (Korea's capital city, to be known as Seoul a few hundred years later), it is another late night for the yang-ban (noble) revelers in the brothel club. Minister Lee's favored gi-saeng, Chan, is enticing some nobles to stay a bit longer when suddenly a shot rings out and one of the nobles falls to the ground, shot in the head!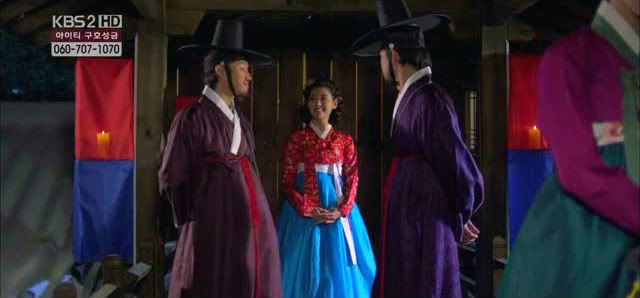 Chan screams in horror. Then another shot, and a second noble is shot and killed. Eop Bok has sniped two more in the moonlight from across the way. Now he has to get away! With constables running this way and that way, Eop Bok rushes to find his hiding place.
Eop Bok makes it over to his accomplice Cho-Bok, who helps hide the smoking gun. Eop Bok looks at Cho-Bok with eyes of wonderment, in awe at her intelligence and her internal fortitude. But there is also a hesitation in Eop Bok as well – might it be because Eop Bok is now a murderer and every time he kills another human being, he is that much further away from a being who can love and be loved? Or could it be that Eop Bok wonders whether he could ever grow to love a woman like Cho-Bok, who is as cold-blooded as they come when it's time to kill?
The next morning, in an entirely different world than the one occupied by Eop Bok and Cho-Bok, the Left State Minister Lee Gyeong Shik is having a breakfast meeting the gi-saeng, Chan. Chan informs Minister Lee that the two yang-ban nobles who were shot and killed were none other than the subordinates of the Vice Minister who is Minister Lee's right-hand man.
Some facts are dropped by the wily Chan: that makes three nobles murdered by gun, and all three nobles are connected to Minister Lee and his attempts to corner the water buffalo horn market. Minister Lee, the second highest ranking noble in all of Korea other than the Royal Family, is stunned by this ominous development – somebody is trying to block Minister Lee's grab for more power.
(Note: I'm not sure what's going on. After the first assassination, I thought Minister Lee was the mastermind. But it seems that Minister Lee has no clue. And so that leaves the Vice-Minister and Chan (since only those 3 knew abouit the 1,000 nyang draft note), but Chan appeared genuinely shocked at the deaths in front of her. And why would Vice-Minister Park shoot his own guys, using a slave marksman to do it? That leaves… nobody. I guess Chan is only pretending, but if so, I have no idea why.)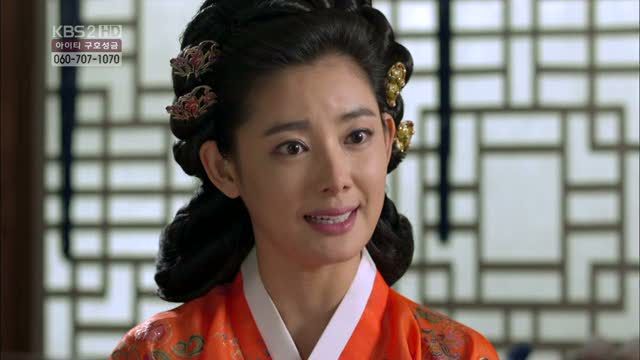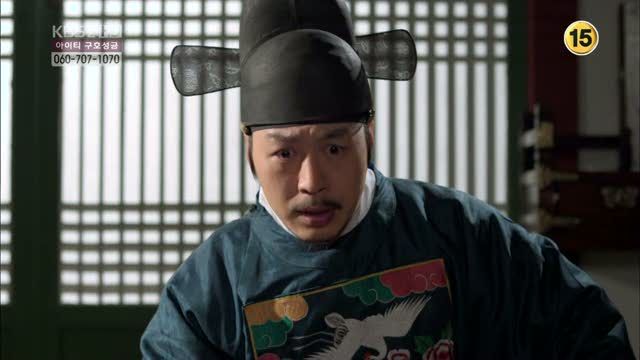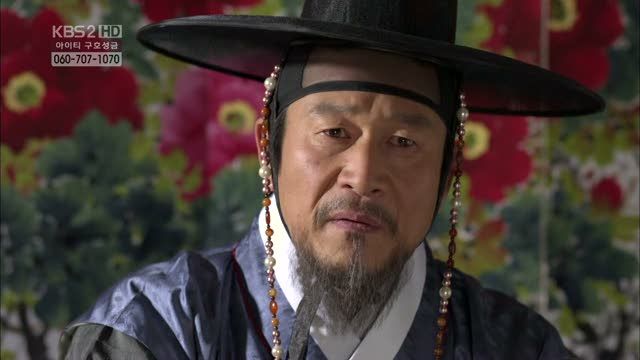 Which one is the mastermind behind the assassinations?
Morning comes in the early winter snow, and Tae-Ha, Han-Seom, Hye-Won and the baby Prince are on the move. Hye-Won seems to have fully embraced this "Save the Prince, Save the World" operation, and she advises Han-Seom to let her hold baby Prince to her and to stop calling Tae-Ha "General," as it attracts attention that they don't need. Han-Seom is bemused at taking orders from… who is this person again? But Tae-Ha sees the wisdom in Hye-Won's words.
Dae-Gil and Seol-Hwa are also on the move. Dae-Gil has gotten over his rough night rather remarkably, given the incredibly tragic occurrences and revelations of the day before. Seol-Hwa wants to eat, but Dae-Gil is fairly driven for a guy who keeps finding new reasons to be even sadder than he was the day before. The pestering of Seol-Hwa though, leads him to reminisce about how he came to partner up with Choi and Wang-Son.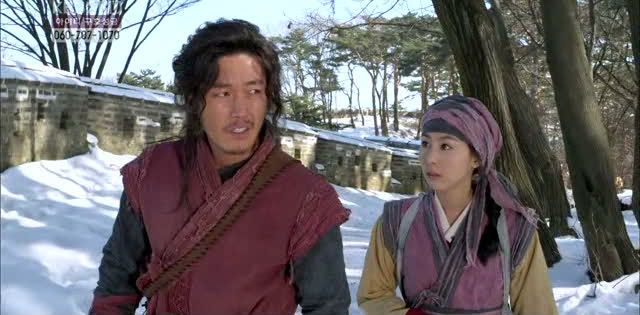 Five or six years ago, Wang-Son was but a common thief making his living by pick-pocketing. His "mark" on that fateful day was Choi, a hopeful military applicant studying to take military service exam. Wang-Son grabs Choi's money bag by bumping into Choi (seems to be about 100 nyang) and is off to find ways to spend it.
Of course, Wang-Son's crowing about "found" wealth only attracts bigger fish, and Dae-Gil is one such bigger fish. Dae-Gil pulls his "let me see some Ho-Pae / ID" scam, but Wang-Son isn't an idiot and knows full well that he's being shaken down by Dae-Gil.
Wang-Son throws snow in Dae-Gil's face and makes a break for it. Dae-Gil sighs but gives chase. Parkour skills abound as both Wang-Son and Dae-Gil exhibit some pretty nifty free-running skills through the narrow alleys and up and over buildings.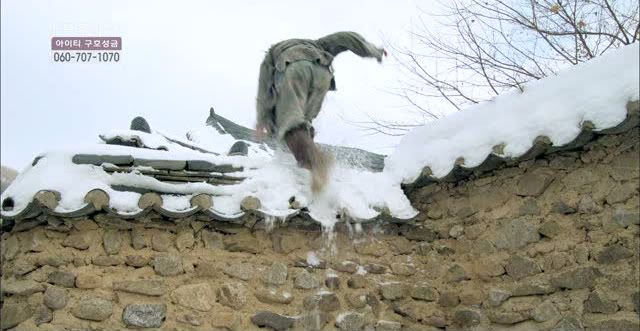 At the end of the chase, Wang-Son finally ends up…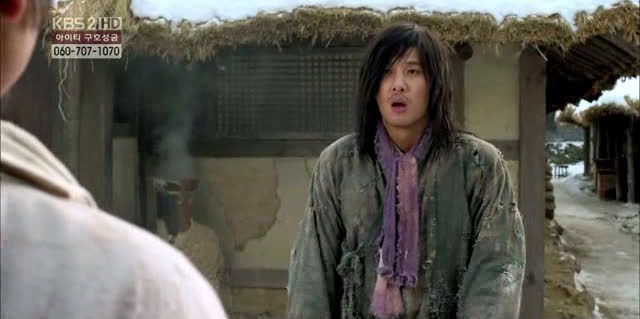 … in front of a very mad Choi, who strips off his gear and gives Wang-Son an ass-whupping.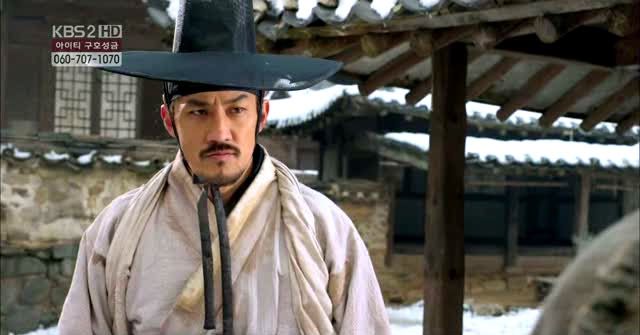 But as Choi gets back his money bag, Dae-Gil appears and takes it away, thinking that Choi was taking from Wang-Son what Dae-Gil rightfully tried to steal first. Hehe! It's a three-way fight in the snow! Actually, it's more of a two-way fight, with Wang-Son just getting pummeled every time he tries to escape with the money bag.
Dae-Gil has got the martial skills to keep this fight going a long time, and bargains for half of the money bag. Choi is incensed, since it really is his money and he needs it for his military examination application fee, but Dae-Gil responds that he has "worked" for it as well. Choi the Pragmatist gives in and gives Dae-Gil half. Dae-Gil isn't quite finished though, and offers both street wisdom and opportunity to Choi – would he want to partner up with Dae-Gil? Choi isn't quite ready to take on the life of Dae-Gil, who exhibits extraordinary martial skills for a guy who just goes around and beats up people for money. Dae-Gil calls out to Choi though, with one last offer:
Dae-Gil: Oy! Virtuous Man! If you get the desire later, come down to Dong-Dae-Moon in Han-Yang. I'll even refer to you as General-nim.
Aha! So Choi isn't a real General after all… and you can really see Chun Ji-Ho's influence over Dae-Gil of 5 or 6 years ago, who even has Chun Ji-Ho's sneer. Even if Choi will take further convincing, the street smart Wang-Son knows a good thing when he sees it. Wang-Son immediately refers to Dae-Gil as "unni" and Dae-Gil takes him under his wing.
Back to the present, Seol-Hwa is happy now, exclaiming that she knew all along that Wang-Son was a "bad guy" from the start. Dae-Gil has a slightly different perspective, asking why Wang-Son is a "bad guy," when all he did was turn his back on the law.
Dae-Gil: Are all laws worthy of being respected?
Seol-Hwa: Of course! If you break the law, you're a bad guy!
Not that we are talking about legal nullification, but Dae-Gil brings up an important point here. In this world of slavery co-existing with Neo-Confucian ideals of virtue, Good and Evil don't really have meaning. In this world, maintenance of relationship integrity (Ruler to Ruled, Father to Son, Husband to Wife, Elder Brother to Younger Brother, Friend to Friend) is the highest virtue. Dae-Gil's slightly twisted perspective is that some laws that don't necessarily feed into one's focus of maintaining certain relationships, and so not following those laws might not matter so much on the grand scheme of things.
Putting such perspective into practice is Wang-Son, who longs to create some relationship integrity with a lonely rich ahjumma. Sick of staying in taverns and hostels, Wang-Son instructs Choi on the art of seduction. They find a rich house where the Lord is away on business with all the men, leaving only women inside. Choi gets half-naked to play his part and Wang-Son goes all astrological to entice the Lady of the house.
Much like with the big and little jumo's back in Han-Yang, Choi is an instant hit after revealing his sculpted body by chopping wood. Hehe! And Wang-Son, well, he gets what he is looking for.
Of course, it doesn't last, however, as the Lord of the House returns and Wang-Son and Choi must make an early exit!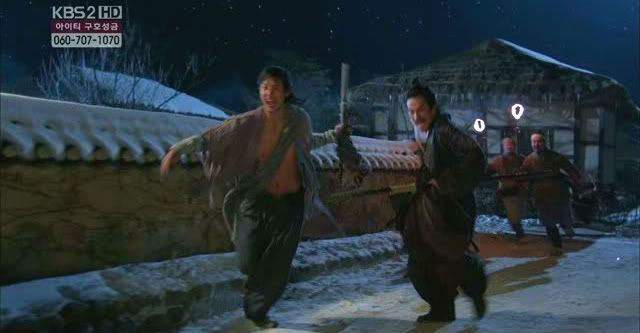 Back to Dae-Gil and Seol-Hwa, the latter of which is hungry and a little annoyed that Dae-Gil's plan is to walk along until they meet up with Choi and Wang-Son. What kind of a plan is that? Of course, it turns out to be a great plan since Choi and Wang-Son are headed right toward them and they meet in a really happy reunion.
Seol-Hwa: Oh?! Orabeoni's!
Wang-Son: Oh?! Unni!
Seol-Hwa is overjoyed and runs over to an equally happy Wang-Son and Choi. The cool Dae-Gil merely smirks, but he has got to be happy after the last few days. They converge on the screen. Dae-Gil is the leader, and he speaks first.
Dae-Gil: You guys free of trouble?
Choi (beaming): Free as ever.
Dae-Gil: What about you?
Wang-Son (gesturing): What is life, anyway? Last night we had bit of excitement! Haha!
Dae-Gil: With this guy, what else but that you guys went to some lady's house and caused an incident!
Seol-Hwa (interjecting): Orabeoni's, didn't you guys miss me?
Wang-Son (joking): No.
Choi (very oppa-ly): Did you take care of yourself in a discrete manner this time around?
Seol-Hwa: Naturally!! In this whole world who is better at being discrete than me?!
Wang-Son: Aigoo, is that right?
Seol-Hwa: That's right!
Oh, what a fun scene! Chuno takes a break from all the heaviness and lightens the mood considerable with this mid-series reunion. This is about as close to a nuclear family as you can get, for four odd-balls like them; Seol-Hwa is now part of the Dae-Gil family!
Choi passes to Dae-Gil the secret note that was found at Minister Im's home. Dae-Gil reads it outloud:
Dae-Gil: "For a man whose path couldn't be opened, his poor ability lies dormant."
Choi: It seems to be some kind of code that only they can interpret…
Dae-Gil: "his poor ability lies dormant"… Wah-Bool…
That's some fancy detective work, Dae-Gil! From that simple statement, Dae-Gil has interpreted "dormant" to mean "sleeping," and "sleeping" to then mean "Wah-Bool." By the by, Wah-Bool is a gigantic stone sculpture of a Buddhist who is portrayed lying down as if sleeping. The famous Sleeping Buddha statue… which appears in only one place in Korea: Un-Joo Buddhist Temple! It is a stretch and a half, but this is a drama series, and I am willing to suspend disbelief for Encyclopedia Lee.
Dae-Gil starts calculating time and distance, and knows that they are 2 days away on foot – a day and a half at best if they hurry. Still, that's about 30 miles away! For whatever reason, Dae-Gil understands that even taking a full day would be too late to catch up. Dae-Gil has that look in his eyes, and Choi grabs him to stop him before Dae-Gil does something dangerously stupid. But Dae-Gil smacks Choi in the solar plexus and takes off running back towards an Army Guard post where he saw horses. Dae-Gil immediately takes on ten soldiers at once and beats them all without a weapon! More fantastic Matrix-like fight scenes, complete with musical score.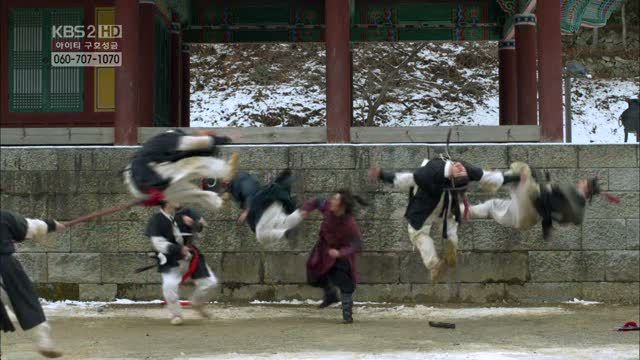 Dae-Gil then grabs a horse and he is off! Choi, Wang-Son and Seol-Hwa run after Dae-Gil, reach the soldiers lying on the ground. Wang-Son and Choi cannot believe the risks that Dae-Gil is taking now, and think that he's gone crazy until Seol-Hwa lets them know that they found out Un-Nyun got married, and her newly-wed husband is some guy called Song Tae-Ha… Wang-Son and Choi look at each other and immediately grab the remaining horses and follow after Dae-Gil.
And 30 miles away, at Wah-Bool, the giant Sleeping Buddha statue at Un-Joo Temple, Song Tae-Ha and company have indeed arrived and are waiting for Song Tae-Ha's men to arrive. And sure enough, they come. (Again, you really have to suspend disbelief that Song Tae-Ha, with toddler Prince and helpless Hye-Won in tow, coming all the way from Jeju Island, would arrive on foot at Un-Joo Temple within hours of Tae-Ha's men, also arriving by foot).
It is a happy reunion for Kwok Han-Seom, who is finally reunited with his brothers-in-arms, but also emotional, as they reveal their no-bi tattoos on their faces just like Tae-Ha. Every one of them has given up his life for the sake of the little boy Prince who is in Hye-Won's arms. Tae-Ha, even knowing what they are now, is still stunned to actually see his fellow soldiers disfigured for life, with huge no-bi tattoos on their foreheads. The shame alone would have made them kill themselves, if not for the higher purpose that they took oaths to keep.
Less than 10 miles away now, Dae-Gil and his band get off their horses and discard them. It would do no good to get this far and get caught riding stolen military horses.
And after trail-running for miles, Dae-Gil, Choi and Wang-Son finally arrive at the base of Un-Joo mountain where the temple is set at the top. They set their compasses and their plans of attack. They will approach Un-Joo Temple from three directions to maximize their chances of finding Song Tae-Ha and Un-Nyun.
At that moment, Tae-Ha and his men now give formal greetings to the toddler Prince. For Song Tae-Ha and his men, this is their sole raison d'être. This is why they did not continue to deny being thieves, and this is why they did not willingly go to their deaths to avoid the stain of dishonor. This toddler Prince is the reason they accepted sub-human living, and with that understanding, they bow to their Prince.
And now, maybe minutes away, Dae-Gil is running at full speed, his head full of memories of his love, and yet he pulls out his dagger…
Comments:
For good and for bad, Chuno has sucked me in good now. After an absolultely brilliant Episode 10, this episode is the set-up for some pretty angsty moments to follow, I'm sure.
Un-Nyun has become Hye-Won, and has taken up the cause of living for something other than just trying not to be a slave. And with that, she has come to appreciate and admire and love Song Tae-Ha.  No, I won't say it's love, but certainly Hye-Won has got no better options and with slave hunters and assassins out to kill or capture her, she really doesn't have much of a choice right now. She is opening her eyes to the possibility of a life post Dae-Gil, and with that life, comes the hope for happiness with another man.
Of course, Dae-Gil isn't dead, and is about 10 mins away, running hard for them!
RELATED POSTS
Tags: Chuno, Jang Hyuk, Lee Da-hae, Oh Ji-ho