Candid photos from the set of Fox Child
I haven't covered Gumiho: Tale of the Fox's Child much since it began airing, which is mostly a factor of not having enough time. But the drama has attracted a steady, if smallish, fanbase who are drawn to the drama's fresh take on a familiar genre of summer horror fare.
Here are some candid photos capturing comic moments between the cast, taken between shoots, and the lighthearted feel here contrasts with the darker mood of the series. Above is Han Eun-jung as a gumiho, while young Kim Yoo-jung plays her daughter.
I did watch the first episode and thought the premise was intriguing, although I haven't been able to squeeze in the time to continue watching. The drama takes the gumiho concept in an interesting direction by setting up Han Eun-jung's character as a reluctant, almost tortured, gumiho. She wants to turn human and the loss of that opportunity is a crushing blow for her. While the gumiho traditionally feeds on human organs, she has enough compassion to resist that urge, which is sort of like the morality conflict you'd get with the "vampire with a soul" construct in the Western horror canon.
Gumiho: Tale of the Fox's Child has been pulling in constant but lowish ratings on Mondays and Tuesdays, and is approximately halfway done with its run.
(Humorous though it may be, I find the photo below of the two girls — Kim and her co-star Seo Shin-ae — creepy even though they're clearly joking. Something about ghostly little girls just unnerves me.)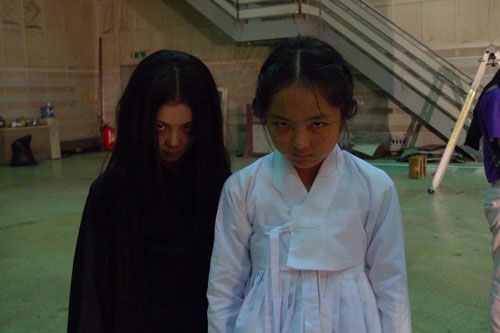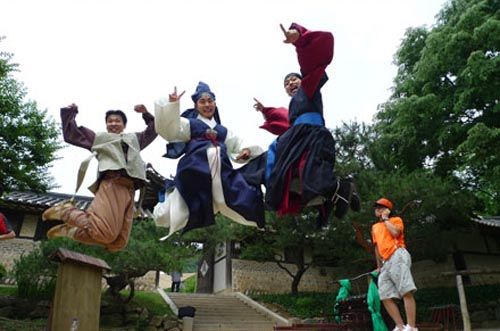 Via OSEN
RELATED POSTS
Tags: Gumiho: Tale of the Fox's Child, Han Eun-jung, Kim Yoo-jung, Seo Shin-ae