My Princess is on for January premiere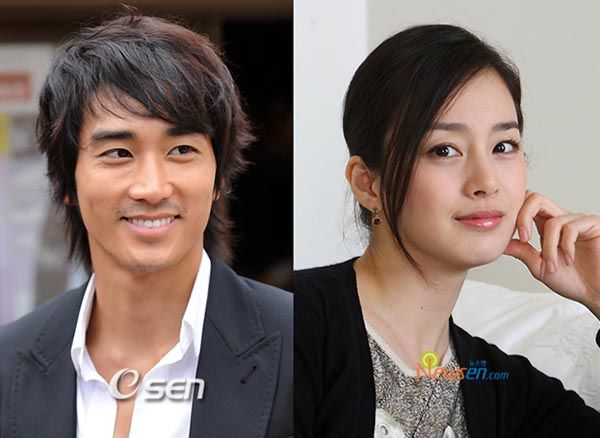 Finally, some movement on My Princess. The upcoming romantic-comedy series has already cast its lead stars in Song Seung-heon (East of Eden) and Kim Tae-hee (IRIS), but we haven't heard about this in months. Now it has a tentative airdate and a broadcaster: My Princess will aim for a January 2011 premiere on MBC.
I'd been wondering if My Princess was still on, because its writer Kim Eun-sook (City Hall, On Air) had announced yet another new series to air later this year, Jang Hyuk and Ha Ji-won's anticipated Secret Garden. Looks like writer Kim will still be doing both dramas, one after the other.
The story of My Princess features Song as a diplomat and the sole heir to Korea's top chaebol corporation. Kim Tae-hee's character is described as a sly, lively, and thrifty woman — an interesting combination — who is a late student (as in, older than the norm) at a women's university. One day, she becomes a princess. There are no details describing how this happens, but I'm anticipating some sort of high-concept meet-cute.
Directing will be PD Kim Sang-ho of Fantasy Couple, Story of Hyang Dan, and Hon. I'm conflicted, because I am looking forward to some aspects of this project but greatly discouraged by others. Example: I like all of director Kim's abovementioned series, and he's gotten better with each one (in fact, I think the directing on Fantasy Couple was weak, but he changed my mind with the eerie and suspenseful Hon). Casting Song Seung-heon and Kim Tae-hee could be great for laughs — either intentional, since this is a rom-com, or unintentional, because these two leads are famous for their mediocre acting. Either way I'm interested.
But the writer? Haaate. I don't think she's a horrible writer; it's a case of her style just not working for me. I'm willing to concede that City Hall might possibly be a good drama, even if I couldn't get into it. But I hated On Air. Was turned off by the WTF ending of Lovers in Paris. HATED Lovers. Hate her super-slick dialogue that uses so very many words to say so very little.
The drama is still casting and will begin filming in October.
Via Star News
RELATED POSTS
Tags: Kim Tae-hee, My Princess, Song Seung-heon