Dr. Champ: Episode 6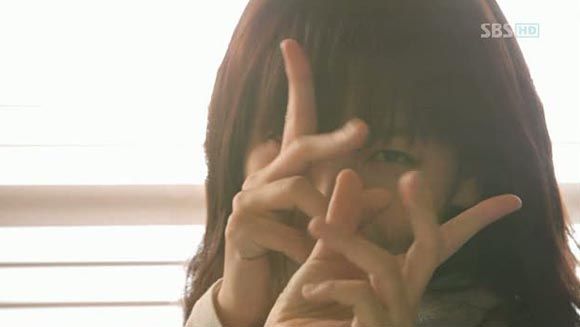 This was just insane.
It seems that it isn't springtime only at home; in dramaland I'm experiencing similar weather conditions. When I watch this drama, I'm not exhausted by the heat of intricate, full of heart-tugging events or the coldness of puzzling characters who show no emotion at all. Dr. Champ is shaping up to be that squee-free relaxing drama that won't kill you with the suspense, but that is extremely easy to get fond of.
That, if they don't mess up.
SONG OF THE DAY
Standing egg – 사랑한다는말 (Today is) [Download]
Audio clip: Adobe Flash Player (version 9 or above) is required to play this audio clip. Download the latest version here. You also need to have JavaScript enabled in your browser.
Episode 6 recap
Our (my?) Ji Heon watches from the sidelines how, after complimenting her, Do Wook is suggesting going out to have dinner with Yeon Woo (although he's not paying LOL). The problem is that he's just by the elevators, so it's a matter of time before the doctors go towards him. He has to improvise something – anything – in order not to be seen as an awkward stalker, so he chooses to fake an intense stomach pain. Oh, you're so smart… Not.
Yeon Woo is trying to move as fast as possible to solve the guy's stomach pain, she has to return to Do Wook and have dinner, but Ji Heon won't let her: after telling that his pain was all an act, he plays the jealous type cornering her against the door – why doesn't she see him as a man? She rolls her eyes in frustration, she just doesn't see him as one. He moves closer, but an upset Yeon Woo uses her magic personal move – kick in the leg – to free herself. They go out the medical center only to find out that Do Wook has already left.
Good move, Ji Heon, now the lady thinks you're a freak. At least her dinner has been cancelled. Yay?
At a yoga class (back in Taereung), Yeok Woo fails to concentrate because he's staring at Yoo Ri, who laughs at his incompetence behavior. He wants to approach her, but all of her attentions are directed to Ji Heon (aka "Cute Butt").
Moving onto them, Ji Heon is still shocked by Yeon Woo's statement, so he asks Yoo Ri if she sees him as a man. She takes his hands, puts them in between hers and says that she just feels it, following it with a hug. With his mood on the floor, he leaves her and goes for some angsty solo-training, remembering Yeon Woo's words over and over again. Meanwhile, her thoughts are full of Do Wook.
Next day comes, and Do Wook gives Yeon Woo a yogurt as a replacement for their cancelled dinner. He then puts her in charge of some athletes' cases – they've been checked up and their conditions need to be followed. Yeon Woo proves that her reputation, after Go Eun Mi's case, is in between horrible and pathetic when they refuse to go and see her.
In an attempt to release some tension, Ji Heon wakes up early in order to train alone, but this time in full judo attire. He imagines that he's against Sang Bong and everything goes fine until his rival transforms into… Yeon Woo, who talks to him awkwardly sexy while I can't stop laughing. This scene was completely unexpected and insanely hilarious. Suddenly, the real Sang Bong comes, putting an end to this crazy fantasy.
Seems like yoga isn't for just anybody, Taek Woo is experiencing an acute pain from his new hobby. Do Wook gives him an ultimatum: he can't continue with both yoga and judo, he has to decide for one. As he receives another patient, Do Wook notices that the amount of consults have increased lately, only to be informed that no one wants to be checked up by Yeon Woo.
Judo team is going to the beach for off season training, so everyone's excited. Well, maybe not everyone, you can't count Ji Heon in when you're talking about positive feelings – he can't shake off the crappy mood. Depressed, he goes to rest a bit, and finds Fantasy Yeon Woo, looking at him with sexy eyes and telling him not to lie – he's been thinking of her. Definitely, he has to go to the beach to wash out this strange fantasizing person he's become.
While doing her laundry, Hee Young can't take Do Wook's words out of her head. Thankfully, Yoo Ri arrives and gives her something else to think about. She confesses that her crush is completely uninterested in her; he hasn't even told her that he'd go to the beach. Hee Young reminds her that dating within the national village is forbidden, but Yoo Ri knows best – her husband was a national team swimmer, didn't they date there? Hee Young denies it quite mysteriously (at least for me, what was the situation then?). They can't keep on chatting; Do Wook is here to ask about Chae Eun Suk, the snotty kid who refuses to get his check up. She doesn't show any concern, she's not planning on sending him, therefore he can fire her or Eun Suk if he's so serious about his previous threat. We know that the truth is that she can't control Eun Suk, but in front of Do Wook, she's being plain rude.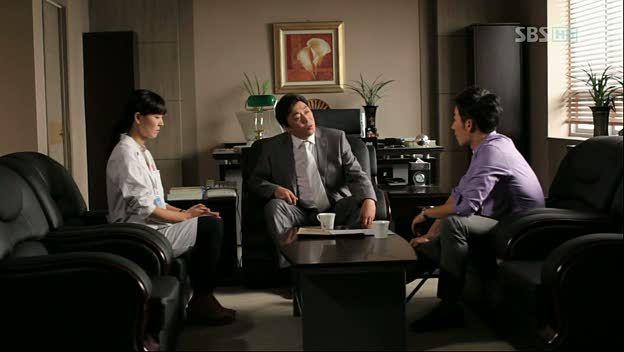 Yeon Woo's issues with her lack of love from the athletes are now a hot topic, and Manager Bom is curious as to what they'll do with her. Do Wook is also curious, but for a slightly different thing: "All you can say is "I'm sorry"? Instead, shouldn't you be saying that this is unfair? Still, you can't say it's syphilis and that you did nothing wrong and reveal everything." Oh, the disjunctive. Do Wook buys time playing with Manager Bom and his evident wig.
After Manager Bom leaves, Do Wook tries to encourage Yeon Woo – she has to win everyone back. They're interrupted by a nurse; an athlete has fainted and Yeon Woo takes this as her chance to start earning points. When she arrives, the athlete has apparently dislocated her arm, but the coach won't let Yeon Woo treat her – they ask for the medical director to do it. Yeon Woo refuses – this is a pretty easy (albeit painful) procedure, they can do it without worries. The coach won't give in. Thankfully for them, Do Wook arrives to save the day, leaving Yeon Woo confused and once again, humiliated. Just why did he come? Why did he push her away and did it all by himself? Wasn't he by her side? He corrects her: he isn't one that takes anyone's side.
That same night, Do Wook plus the nurses are going out for dinner, so he invites Yeon Woo too. One of the nurses is curious about Yeon Woo's job choice – since she doesn't love sports, why is she here? Yeon Woo is honest (she has nothing to lose at this point, right?), she admits not liking sports, but athletes are patients as anyone else, so she takes them as that. The Head Nurse interrupts her: "Athletes are different". OUCH. Yeon Woo, feeling like plankton in the food chain, abandons herself to alcohol.
Aaaaaaaaaand that leads us to a drunken confession. When everyone leaves, Yeon Woo is free to say everything that's in her mind. No filter. No restrictions. So, she openly confesses that she wanted to be a professor; she worked hard hoping that some hospital would make her a fellow but, since she has to repay her brother's debt, she's in Taereung because of the money. That doesn't mean that she would be mediocre, she wanted to work hard and gain his approval (eh).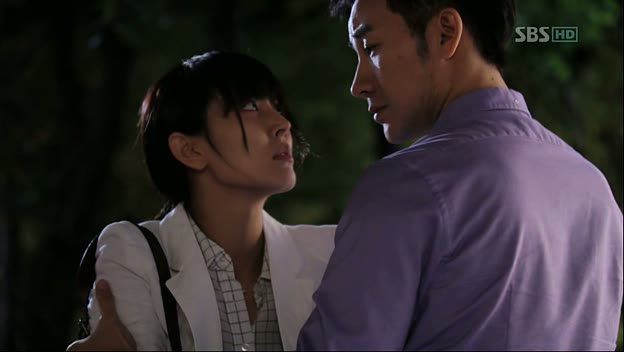 Long story short, while trying to go away and have more drinks, she stumbles and ends up in his arms. His cane falls, her world suddenly stops spinning.
Yeon Woo: Director, you're strange. You're very, very strange.
And she loses conscience.
They both take a cab home, but passed out Yeon Woo leans her head on his shoulder only to trigger his memories with his ex: at a park, her head on his shoulder. It's not cool to compete with an idealized vision of a happy (not drunk *ehem*) couple promising to love each other. Even if they ended their relation tragically.
When they arrive, she invites him for some tea, but he refuses, emphasizing the confuse situation she's creating – inviting a man, at night, to your house, can be misleading. They'll be going on a 1 night, 2 days trip, she better pack up.
Talking about surprising events, Eun Suk announces that he'll be leaving Taereung (!).
Yeon Woo wants to create a confidential bubble to do as if nothing had happened the previous day. You don't remember, I don't remember, everyone's happy. Not so much, smart girl! Do Wook wasn't drunk and he's cranky by definition, so he won't let you slide.
Do Wook: Why wouldn't I remember? I wasn't drunk.
Heh.
By the way, now Do Wook has more important matters to handle. Eun Suk has said that his mandatory check up is the reason why he's leaving, and Hee Young is backing him up. Since this issue has reached this level, he has to give in, but he won't take responsibility if something happens to this guy (he already smells future trouble, methinks).
Meanwhile, Yeon Woo is waiting and meets Eun Mi who finally discloses the reason behind her decision to tell the truth in front of the committee. That reason has a name: Park Ji Heon. Too bad that he's on that off season training trip.
The judo team is actually doing really fine, training regularly and playing afterwards. Taek Woo takes this opportunity to ask Ji Heon why Yoo Ri calls him "Butt". It's simple, she says she fell in love with his butt. Then, that must mean she saw his butt somehow, right? Time to check how's that butt of yours, must've thought Taek Woo as he lowered Ji Heon pants (!!!!!!!!!!!!!!)… only to confirm it's nothing special. That was all sorts of wrong, but it was so natural and (again) unexpected that I couldn't help thinking that this drama is awesome, even when it drives me crazy.
At the same time, Yeon Woo and Do Wook are arriving at the very same beach area to attend a doping seminar. They take a walk by the seaside, talking about diverse stuff (she finds out his leg wasn't always like that), until they're seen by a small group of judokas that includes both Sang Bong and Ji Heon. The latter, visibly upset, leaves the scene.
Sang Bong has caught up Ji Heon's attitude towards Yeon Woo, and wonders what has happened. Ji Heon says nothing – first, he has to take the shower of angst. But hey, this one is the shower of real angsty angst, since he doesn't even take his clothes off. Anyway, when he comes out, Yeon Woo has just called saying she had something important to tell him. He tries to seem uninterested, but he's like a clean glass to his friend, it's obvious that he cares about her. Therefore, he pushes him to meet her.
Doctor and athlete meet by the seaside – don't worry, nothing tragic will happen. Quite the contrary, in fact. Ji Heon, out of nowhere, tells her that he won't care if she now sees him as a man, he's an athlete and he-has-to-train. I adore that you're so adorkably cute, Ji Heon, but where the hell did you find the face to say this?! Needless to say, Yeon Woo listens quietly and then she simply says: "Thank you, sincerely".
Big boy's heart just melted. And melted again.
Ji Heon is left in a doped zombie state, not able to elaborate a single sentence. When he returns to his room, Sang Bong can totally sense how bewitched his friend is, and encourages him to follow his heart. After all, everyone dates, why should an athlete focus only on training? He could do both! Sang Bong will cover for his absence at tonight's dinner, go and fight for your love, kiddo! (their new-found friendship is killing me with the oh-so-cute bromance).
Ack, why they have to pair Yeon Woo with Hee Young in their rooms? Officially, they're the only females in the group that went to the seminar, so they had to share rooms. Unofficially, the drama is creating artificial tension. I'm glad they didn't drag the "we were acquaintances in the past" plot line, as Hee Young said it herself after barely greeting Yeon Woo. What she didn't say was what kind of relationship they had. Hm.
It really doesn't matter, though, as the electric sparks between them are almost visible when he comes for Yeon Woo, and Hee Young opens the door. So, now they'll take the elevator together, venting their frustration through Eun Suk's case. Honestly, they should just get a room or engage into bare-knuckle fighting, peepz.
At the seminar, the trio is invited by judo's coaches to have dinner together (how many dinner invitations have we had today?). What's more important, Yeon Woo finally remembers Do Wook's photo from his book (episode 5) – so they had that kind of relationship.
When the seminar's done, Ji Heon approaches Yeon Woo to ask her out but she can't, she'll have dinner with the coaches. That's okay, he'll wait for her outside, he has something to say and something to give (you're now going for the mysterious type, huh?).
The dinner is a disaster of mini awkward moments. Do Wook reveals that Yeon Woo got drunk the other night, she should be careful with wine now. Hee Young takes a step further, finally admitting that she had a divorce, and then leaves the party. Not contented with that, when Do Wook goes after her, she asks him to return to USA – it must be uncomfortable being around the girl that left him when he was paralyzed, right? Apparently not.
Do Wook: I still haven't forgotten you.
Without their knowledge, Yeon Woo has left the gathering too and is near enough to listen.
How broken is her heart, kaedejun?
Personal comments
Okay then, we have our love rectangle quite established. At least from Yeon Woo's side, because honestly, she might be the only one that ends differently from what she wishes right now. At this rate, I find it pretty difficult to foresee a future in which Do Wook and Hee Young are not together or at least separated but alone. After witnessing that scene in the park, a future for the doctors' ship seems unrealistic – he has no interest, she's just blinded by respect.
Now Yeon Woo knows for sure who Do Wook's heart owner is (unless he wanted to take revenge on her, but Yeon Woo doesn't really suspect that – and even that wouldn't change things actually, the guy's still obsessed with Hee Young), and I'd be somewhat disappointed if she didn't stop it a little with her puppy act when around Dr. Lee. Yeon Woo is the weakest leg of my Dr. Champ table at the moment, and I'm working really hard in order not to let everything end up on the floor. Her crankiness is starting to annoy me, but what might be worst is how unprofessional she is. I know, I know, this is coming from the person who loved Ma Hye Ri, probably one of the worst professionals this year. I won't compare, because I simply hate that, but Yeon Woo's sloppy, uninterested behavior is out of character. She's a hard working person who wanted to be a professor. Therefore, even if she's at Taereung because of the money or if she considered this job as a temporal one until she can go back to her previous path, she should have a little more respect for the others and her profession.
Strictly talking about Ji Heon/Yeon Woo's dynamic, I had a perfectly fine theory in which she was a bitch for treating him as crap, but then I tried to see it from her point of view. He's almost the male version of the clingy good leading girl, who wanders around the male lead until she wins his heart – and that's one of the female leads I hate the most. However, I won't be too hard on him (for now), since he truly has a goal of his own (an individuality if you want) and his current relation isn't one of worship but one of honest concern and friendship. He wants to be acknowledged by her as a man, nothing more, nothing less. And he's totally cute to boot – big dorky guys with big hearts are a big soft spot of mine.
On a shallow note, I'm impressed at how much I'm liking Jung Suk Won here. In Shining Inheritance he had a small part and I didn't care much about him, his character was an uninteresting plot device (and his hairstyle/clothing didn't help). But here, he oozes charisma and has a strong chemistry with Jung Kyeo-woon. I think I might ship them.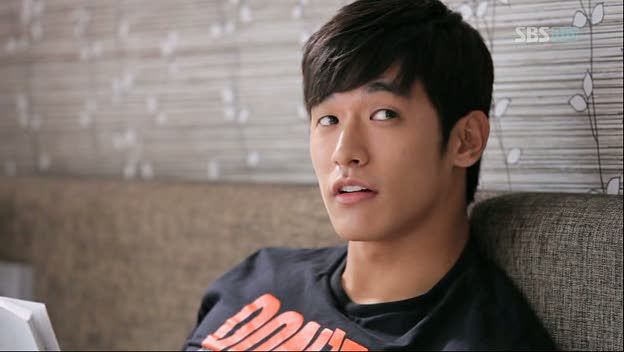 Our unexpected eyelined-pshychologist-fairy-godmother.
RELATED POSTS
Tags: Cha Ye-ryun, Dr. Champ, featured, Jung Kyeo-woon, Kim So-yeon, Uhm Tae-woong