Dr. Champ: Episode 7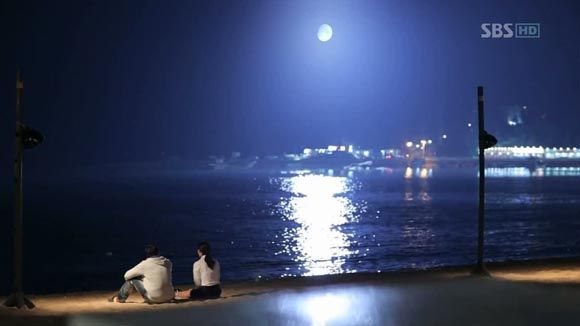 Terribly sorry for the delay. While I have been slow with this recap, this episode has been moving fast. I love that this drama keeps moving along with the plot points, and while there are certain things that keep getting reused as obstacles, they're not so unbelievable that I'm getting tired of the trope.
So without further ado…
So…just what did Do Wook mean exactly when he said "I couldn't forget you?" Will it ease Yeon Woo's aching heart? Either way, Yeon Woo isn't interested in hearing anymore, and she leaves before the BIG EXPLANATION. As she goes across the hotel lobby she finds herself being greeted by Ji Heon, who's totally ready for his "date."
The BIG EXPLANATION is that Do Wook couldn't forget her because he resented her. He hated her so much he wanted to kill her, and if he could have his revenge by coming back to Taereung then more power to him. But then, he realized revenge was not really interesting – "Your life is too boring for me to ruin." Ouch.
Yeon Woo and Ji Heon end up at the beach, which isn't really where Ji Heon wanted to take her, but I think sadness wouldn't let Yeon Woo walk any further. She hesitates, but eventually confesses to Ji Heon that she's bummed about Do Wook liking someone else. Ji Heon gulps down his excitement, blinks in nonchalance, and says, "Oh really? (I'm cooooooool as a cucumber…)" Yeon Woo convinces herself that it's good she found out early enough so that she can move on, and Ji Heon says loving someone who likes someone else is just plain stupid. (I hope you practice what you preach, buddy.) Yeon Woo agrees. Ji Heon does a silent fist pump by his side. 😀
Yeon Woo beats herself up for being so pathetic and falling in love when she can't even do well at work. None of the athletes come visit her and so she can't be a doctor. This sparks an idea in Ji Heon, and he goes off to get a yellow balloon lantern. This time, she should make a wish all on her own balloon. Because she had to use Yi Reum's balloon before, her wish might not have come true. He tells her to think of her wish (since he doesn't have a pen) and lights it up. It's about to fly away when a torrential downpour begins. Aaaand the balloon sputters, and dies.
Ji Heon blames her wish – did she wish for her and Do Wook to work out? Maybe because she wished for something so weird it got jinxed! (LOL – I love his logic.)
They can't just stand out there in the rain, so Ji Heon jogs off for shelter. Yeon Woo stupidly stands in the rain, so Ji Heon runs back, grabs her wrist, and drags her to a tent. I accept this wrist-grab; it's not the one that screams "I'M ALPHA MALE! YOU FOLLOW!"
Under the tent they shiver from the cold, and Yeon Woo wails that perhaps because she's 29, everything just seems to go wrong for her. Ji Heon's surprised they're the same age so he immediately lowers his speech, even though she's not comfortable with doing that with "strangers." He also notices that she's wearing a white shirt…and a white camisole…
Off with his sweater! Yeon Woo covers herself with her arms, saying that no one will see her anyways (because she oh-so-doesn't see him as a man.) But he insists, saying that he can see it, and she puts the sweater on.
When the rain stops, Yeon Woo goes back to her room and sees a sleeping Hee Young. She sighs and smiles half-heartedly, conceding Do Wook to Hee Young. However, Hee Young's faking her sleep, clearly uncomfortable to be sharing a room with a woman now close to Do Wook.
Ji Heon on the other hand is friggin' excited. Sang Bong is already asleep and just wants Ji Heon to shut it – they have training tomorrow. Ji Heon smiles – and remembers Yeon Woo – and her white shirt – and how see-through it was… up he goes for a round of sit-ups on the bed!
Ji Heon: (doing sit-ups) *one…two…three…four…five…*
Sang Bong: (sits up in bed, hand to forehead) Park Ji Heon…
Ji Heon: *…six…seven…eight…*
Sang Bong: You just thought of something dirty, didn't you?
Ji Heon: *…ni-* (stops sit-ups) No!
Sang Bong throws a pillow right at Ji Heon's face.
As a way of trying to forget Do Wook, Yeon Woo spends the next day cleaning out her apartment and returning the books to Do Wook. However, when she drives up to his home, she finds that Hee Young has beaten her to the punch. Again.
Standing just outside the gate, Hee Young forces him to remember the circumstances surrounding his accident: she was not even 20, and to be saddled with the responsibility of taking care of a possible invalid for life was something she was not ready for. She doubts that if the situation were reversed, he would have stayed with her. "Don't treat me like a sinner, and forget about what happened in the past." Wise words Hee Young – because Do Wook got no answer.
And now we have the return of Yi Reum! Ji Heon feeds his nephew some barbecued meat, and in exchange hears all about his sister in law's new job as an insurance saleswoman. She works all the time, sometimes leaving Yi Reum alone, and doesn't get much results out of her hard work. When they return home, Ji Heon scans through the brochures that his sister in law has in her room.
Yeon Woo returns home to find Ji Heon waiting for her outside her door. He came all the way for his sweater (yeah, right), and his excuse is that if she handed it back to him at Taereung more rumors would spread. Seeing his logic, she tells him to wait outside and comes back with a freshly washed sweater. (That's the only sign of Yeon Woo's budding feelings for him – she cares just enough to wash his clothes.) Then she sends him off.
Ji Heon grumbles that he came all the way for almost nothing ('cept the shirt) and so stalks down the steps. Yeon Woo, feeling slightly bad for him, asks if he ate yet.
He says no – despite having had three servings of meat before with his nephew.
They go to a nearby restaurant and Yeon Woo cheerfully starts stuffing her face. Ji Heon – still full – asks, "Do you – by chance – relieve your stress through eating?" HA – sounds like Ma Hye Ri. Yeon Woo even has the same guilty face that confirms Ji Heon's guess. He's so perceptive that he knows she's not fully over Do Wook just yet. Just what did she ask for with the yellow balloon?
Yeon Woo admits that she wished for the athletes to like her. No one ever visits her, and she wants to retain her job at the medical center. She is so focused on her work that there is no way that she can think about love. She becomes increasingly defensive as she continues to stuff her mouth – and then barks at Ji Heon: why isn't he eating?! He quickly spoons up some soup and eats the egg that she puts on his plate like an obedient little boy.
The next day, Do Wook drives to work (!!) and he sees Yeon Woo sitting in her car. She's already parked, but looks to be psyching herself up for another day. When she finally comes out, she bumps into Do Wook casually waiting beside his car. He notes that she must be worried about having no patients and yet still having to come to work.
Yeon Woo thinks he's making fun of her, but he says he wasn't – he was just worried about her. A spark of hope shows in Yeon Woo's eyes, but it disappears quickly.
Back in the dorms, Ji Heon is proposing to Woo Ram about a health insurance plan. Woo Ram is easy to convince and agrees to meet the sister in law about getting a plan. Dae Seob mutters about their budding bromance (though it clearly can't beat Sang-Ji) and has Woo Ram apply patches around his back. Looks like this judo athlete is gettin' ooooooold.
Ji Heon has another request – he asks Woo Ram and Yoo Ri to go see Yeon Woo. While Woo Ram agrees, Yoo Ri is kinda pissed. She doesn't want to go herself, or recommend anyone to go, because there are too many rumors surrounding Yeon Woo. She's also mad that Ji Heon called her out a few days before her upcoming competition just to help another lady. She had hoped that he would be wishing her luck instead.
After a good beating, Ji Heon says in a low voice that he wanted to wish her luck too. Though he doesn't have a gold medal to give her, he'll give her his lucky black belt. Yoo Ri petulantly takes it and stubbornly refuses to heed his request about seeing Yeon Woo.
The president of the board comes with Director Jung to take a photo with the swimming team, and then meets with the medical staff. Since Do Wook will be away at the competition with the Head Nurse, what will happen to the medical center? Both board members are not too keen on leaving it in the hands of Yeon Woo, but when they exit the meeting room they all overhear Woo Ram insisting that he see Yeon Woo.
Do Wook suggests that they give her a chance – her luck may be turning with the athletes.
Yeon Woo examines Woo Ram and notices that despite a slightly pulled ligament, there is nothing that would cause his overall pain in random parts of his body. She notices that he's part of the judo team and suspects Ji Heon of sending him over. But Woo Ram denies it fervently and says that he really is feeling sick. Falling for his earnest behavior ( I would too), and desperate to prove herself, Yeon Woo tells him she will figure out his problem.
As the judo boys travel to their local competition, Ji Heon texts Yeon Woo and finds out that she's suddenly busy with a lot of patients. (It helps that Do Wook's not around.) He's so happy for her that Sang Bong has to reprimand him to not make it so obvious that he's dating.
Suddenly a motorcyclist comes up to them from behind and a quick move by Ji Heon saves Sang Bong from injury. Ji Heon yells at the guy for not being careful, and the new "bad boy" takes off the helmet, observes that Sang Bong is OK, and then drives off.
This impertinent motorcyclist is also on the opposing judo team that they're going up against. Ji Heon, who can't let go of the incident, approaches him and tells him to apologize to Sang Bong (who is chilling and stretching). Since Ji Heon is older despite his self-proclaimed "baby face," bad boy Go Bum has to bow to them in respect. Go Bum does it – even if unwillingly – which is enough for Sang Bong but still enrages Ji Heon.
The judo boys all start doing practice spars, and a coach tells Oh and his assistant that Go is talented, even if his personality is a little lacking. To test his skills, Coach Oh sets Go Bum up against Ji Heon. The two of them go at it and Ji Heon manages to win the first round. Go Bum starts playing dirty, and kicks Ji Heon in the back of the leg. Ji Heon reacts, and Go Bum realizes that he's hit a weak spot. He takes advantage of it and brings Ji Heon down. When the match ends, Go Bum mutters, "There's nothing special about the national team."
Meanwhile Eun Suk informs Hee Young that he moved to a hotel closer to the competition site. He doesn't want to shuttle back and forth from the village with the rest of the team. Hee Young is flabbergasted, but she can't control this rebellious youth, and so reminds him of the practice time. However, just as he's about to leave, a couple of investigators approach him – he is being randomly tested for doping.
When they return to Taereung, Ji Heon immediately visits Yeon Woo for his leg. He makes up the excuse that he feels fine – he just visited so that Yeon Woo can seem busy. Turns out he sprained his tendon though, and therefore would need 6 weeks rest and wear a brace. Ji Heon's face falls, and when he goes back to Sang Bong, he worriedly asks if they will kick him out because he needs additional six weeks' rest.
But lo and behold – just then Ji Heon is called into the coach's room. Coach asks how he's feeling, and Ji Heon lies that he's in great shape. The coach tells him that he's going to send him to the East Asia Competition in Macau, which is in two weeks. He'll be replacing Sang Bong, and this will give him an opportunity to get some experience.
This competition is the coaches way of determining how good Ji Heon is, and also a one in a chance lifetime. Guess Ji Heon's going to disobey Yeon Woo again! Despite her warnings, Ji Heon goes to the head nurse and asks her to tape up his leg real well so that his tendon doesn't get sprained further.
Do Wook visits Yeon Woo's office where she's doing research on Woo Ram's condition. She asks what could possibly cause pain around the body but have the X-ray only show problems in the ankle. Do Wook can tell she's thrilled with having patients again, but he also says he doesn't help other doctors. Heh. He invites her to dinner to celebrate the patients returning to her again, and though Yeon Woo smiles at first, she gets the better of her senses and rejects him. Do Wook leaves, and Yeon Woo belatedly runs after him as if to change her mind. She stops right at the door, gets a hold of herself, and goes back to research. Atta girl.
At the swimming pool, Hee Young gets the call that no coach ever wants to hear about her athlete: Chae Eun Suk tested positive for doping. She tells him to get out – his training is suspended effective immediately and they need to go see Do Wook. Eun Suk – the entire time – is all "I didn't do it" with that smarmy look on his face. I almost wish he truly were guilty.
The board gathers asking Do Wook to please stand in at the hearing as Eun Suk's doctor. His real doctor claims to know nothing about the urine test, and is leaving the country to avoid any trouble. Do Wook doesn't want to – he never examined Eun Suk, and, didn't Hee Young say that he never had to worry about Eun Suk? Director Jung freaks – if they don't have a differing opinion then Eun Suk won't be able to compete! And Eun Suk needs to compete because he's the pride and glory of Korea!
Outside, Hee Young chases him down and asks if Do Wook is really not going to help. She asks him to understand, having once been an athlete – it's heartbreaking to just get disqualified. Do Wook doesn't care – even though Hee Young is pleading him sincerely to separate his personal feelings towards her with the case, he won't budge.
Ha – unfortunately for Do Wook he doesn't really believe in what he just said, because that night he gets himself so drunk that that the bartender calls Yeon Woo to pick him up. She drives him home, and helps him out of the car. Superbly tipsy, he stumbles and so Yeon Woo grabs his arm and becomes his support. It also looks like Yeon Woo is convincing herself that she is just helping him – nothing more – so that her feelings don't go out of hand.
She hands him a glass of water. Do Wook ends up spilling to her:
"Do you know how pathetic I am? I'm so pathetic that I rejected her when she asked for help. I did it immaturely…to take revenge on her. I don't know why I waited for this moment for ten years, but now it's all over. From the day of the accident time stood still for me. Why can't I forget? Why do I keep holding on to the past!?"
And with that he throws his glass of water across the room.
Yeon Woo leaves him crying about his sorrows. Do Wook broods all day the next day, wondering what the best thing to do is.
Distracting herself with work, Yeon Woo visits Woo Ram in the weight training room and says that she can treat his ankles. She bumps into Ji Heon and reprimands him for not listening to her. He insists that he can do it – he knows his body better than anyone else. However, Yeon Woo warns him that if he continues with training, he won't be able to compete in the future. He can't just think about now – he has to think ahead.
At the cafeteria, Yeon Woo spots Coach Oh and his assistant, and requests to speak to the coach alone. Uh Oh…
The coach calls Ji Heon to his room and informs him that from tomorrow on, he is dismissed from Taereung. He hands Ji Heon a note from the doctor that details Yeon Woo's order of rest for 6 weeks, which means he wouldn't be able to compete in Macau. Ji Heon insists that he can still do it, but Coach Oh says that Ji Heon is also carrying the name of Korea when he competes. He brought him to Taereung to train him and put him in competitions. But because of all his injuries, Ji Heon can't do any of that.
Heartbroken and angry, Ji Heon walks out with the note and crumples it in his fist. He spots Yeon Woo leaving the medical center, strides forward, and grabs her.
"What exactly did you do?!"
Yes Yeon Woo, just what did you do?!
Comments:
OK, first off Yeon Woo: Can I just say how proud I am of her? Though she's been kind of pathetic lately in that she doesn't have that same commanding presence as she did in Hankook Medical Center, she did take control of her own life when it came to Do Wook. It's difficult to excise a budding "tumor" in her heart, but she's doing a good job in stopping herself from falling any further. Those moments gave cause for a little victory dance while I watched because that's when I saw her no-nonsense attitude from before reappear.
Now Do Wook: gosh this guy is an ass. He is the most retarded, grouchy, human being ever. He's not even House – Dr. House would take pain from the past and make it amusing for himself. When he tortures people, he sticks to it all the way until he pushes too far. Do Wook is weak – he can't even do that! Every time I see him with Hee Young I can't erase Choi Han Sung from my mind. Cha Ye Ryun is getting a little better with the material now given (clearly a complex history and complex breakup was involved) so kudos to her. Still no kudos for her "sincere" stare – which didn't move me at all.
And last but not least – I'm so glad for the laughs that this drama provides. Of course I'm talking about the "thinking dirty" scene between Sang Bong and Ji Heon. If it weren't for their bromance, I would have been exhausted by the constant doping scandals (are there no other scandals that can happen for these athletes who are also like celebrities?) and the injuries (Ji Heon – seriously man, you're not even the oldest team member!). Clearly these troubles are only serving to bring Do Wook and Hee Young, and Yeon Woo and Ji Heon, in constant contact with each other.
Oh and this is my favorite shot thanks to this AWESOME camera – Ji Heon is out of focus in Yeon Woo's eyes, but as he runs toward her, he comes into focus. He provides her a moment of clarity…
Halfway through the series, Yeon Woo is starting to warm up to Ji Heon though. So aberdeen_angus, enlighten us – just what did Yeon Woo do!?!?!? Don't break my Ji Heon's heart!
RELATED POSTS
Tags: Cha Ye-ryun, Dr. Champ, featured, Jung Kyeo-woon, Kim So-yeon, Uhm Tae-woong