Dr. Champ: Episode 9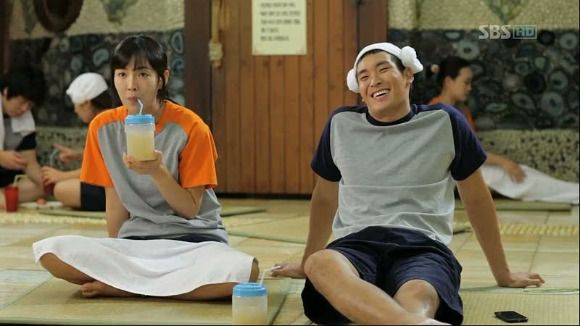 Let's all relive this moment, shall we?
Ji Heon: I don't like being this way (forgiving Yeon Woo), but I like you. Crazily.
I just realized, I almost always have the bad luck of recapping the episode AFTER a squee-worthy moment (like here and here). Lucky you aberdeen!! OK – on to episode 9.

SONG OF THE DAY
Dr. Champ OST – "My All" by Bae Da Hae [download]
Audio clip: Adobe Flash Player (version 9 or above) is required to play this audio clip. Download the latest version here. You also need to have JavaScript enabled in your browser.
Tears stream down Yeon Woo's cheeks, as she is touched by Ji Heon's faith in her. She protests: "Liking someone who likes someone else is the stupidest thing you could do," but he says, "Do you want to do my rehab treatment or not!?" That shuts her up. I'm already a puddle of goo, but Ji Heon isn't done yet: "Just wait for me. I'll go to you."
ACK.
Sitting by Do Wook's side, Hee Young notices the photo of the two of them on the table. Of course, Do Wook chooses that perfect moment to wake up. He was pretty sure that he was with Yeon Woo, so what is Hee Young doing here instead? He gets out of bed, and she holds out his cane ready for him. The kind gesture startles the two of them, as it appears that Hee Young is sorta ready take care of him.
Hee Young wants to know why he kept that photo. Do Wook: "I didn't keep it. I just didn't throw it away." He sends her off, and tells her it'd be best if she never came over again.
Hee Young: You mean that right?
Do Wook: What if I didn't? What if that's not the truth, what will you do?
Do Wook is clearly trying to leave a door open for her, but his own stubbornness won't let him admit it. Hee Young chooses to just leave.
Meanwhile, Yeon Woo can't sleep. (Who could, after a confession like that!?) She receives a text from Ji Heon: "You can't sleep. It's because of me you can't." (Not even a question – Ji Heon, you're not presumptuous at all…) He orders her to put down the phone and lay down, and then close her eyes. She does just that, but her eyes don't close.
He sends another text: "Close your eyes!!" And then he wishes her sweet dreams. Guys – what is up with you and your mixed signals? Do Wook with his "Please don't come back, but I am lying when I say that," and Ji Heon with his "Put the cell down and close your eyes," but by texting her, she can't really do that!
The next morning, Yeon Woo sees Do Wook pull up in his car, and immediately drops her seat back down to hide. She realizes the ridiculousness of hiding and gets back up…to see Do Wook standing outside her car looking at her. I love how she turns her head away to compose her face before greeting him.
Do Wook knows she's avoiding him, and Yeon Woo knows she's in trouble for getting Hee Young involved. He then asks about her kicked out athlete, and realizes that it's actually Ji Heon that she's helping.
Manager Bom-Jung (I realize aberdeen and I are calling him two different names, so I'm just gonna combine the two) watches as Do Wook treats another athlete and gushes about how wonderful their medical center is turning out to be. Do Wook brings up the budget to purchase new MRI machines and that sends cheapskate Bom-Jung out the door.
Taek Woo and Lackey are carrying boxes of uniforms to the center when a speeding jeep drives right up to them. It's Go Bum, wanting to know how to get to the dorms. Taek Woo is miffed by the presence of such an arrogant man in an expensive car and doesn't help him at all. They belatedly realize that he's also the one who went up against Ji Heon before. Aaand I think we know why Ji Heon was kicked out in the first place…
Go Bum is Sang Bong's new roomie (who isn't too happy to see the dude wear his gold medal without permission) and also Ji Heon's replacement. Go Bum is faster and stronger than Sang Bong, but everyone believes that Ji Heon was the better athlete (even Taek Woo).
At the very same time, Ji Heon is training with his old coach. During his break, he gets a call from Yoo Ri, who's very. pissed. off. He wasn't answering her calls or texts (uhm, he's not your boyfriend), and she was worried about him. Ji Heon on the other hand congratulates her for getting fifth place – his good luck belt really worked! Yoo Ri thinks he's shameless for going back to Yeon Woo for rehab when she's the one who got him kicked out in the first place. She offers to have her doctor dad treat him instead, but Ji Heon just ignores her.
Do Wook wants to see Ji Heon privately first, and invites him to sit down. Ji Heon chooses to stand, not wanting to be in an inferior position. The doc tells the athlete to work hard, so that he can come back to Taereung without any more incidents. That's all he had to say, but Ji Heon isn't done with the conversation. He wants to know what Do Wook thinks of Yeon Woo.
Do Wook: Do you like her?
Ji Heon: I asked you first.
Do Wook: Kim Yeon Woo… she's honest to a fault and inflexible. She has no sense of humor, bad taste in clothes, and doesn't know how to wear make-up.
Ji Heon: Right!? That woman's got those sides to her. A woman should know how to adorn herself… she doesn't seem to be the type many men go for.
Do Wook: She's my type.
Ji Heon: EH?!
Do Wook: I hate a doctor who's so into looking pretty that she doesn't do her job right.
Ji Heon: So are you saying you see her as a woman?
Do Wook: I'm a very good doctor – but I don't have the ability to see a woman as a man. Kim Yeon Woo's gender is female, isn't it?
Ji Heon just got owned! When Do Wook leaves the center he gives a knowing smile towards Ji Heon and Yeon Woo, but Ji Heon gives him the evil eye.
He starts his rehabilitation training with the head nurse, who makes him do leg stretches and squats, while Yeon Woo supervises. As Ji Heon trains, Yeon Woo is surprised to find out that athletes can get better in shorter periods of time than prescribed, or can will themselves to recover. Ji Heon scolds her for being so ignorant, and she barks back that he should raise his leg higher and work harder. He yells at her to stop talking to him and making his training more difficult. And the head nurse just smiles…
Leaving the center, Ji Heon bumps into some of his former teammates and his coaches. Everyone greets him warmly, except Coach Oh, and it's an uncomfortable sight for Yeon Woo to accidentally spy on. She offers to drive him home; since his knee is injured, she'll help him so that he doesn't strain it further.
Yeon Woo suggests that Ji Heon participate in the following competition instead of the upcoming one. Again, he is amazed at her ignorance. There are three rounds of competition for athletes to qualify for the Asia Games. He must win first place in two of them to get in. He lost in the first round because she had made an incision in his leg, so he can't lose the next two rounds. She wonders if he's worried about the future, where his leg may never heal, but Ji Heon's can only think of the present. The future is too scary.
During a fashion show for new swimwear, Do Wook and Bom-Jung hold an interview with a couple of reporters regarding Eun Suk's doping incident. However, Do Wook's sarcasm and forthright attitude don't really go well with the reporters, and Bom-Jung is left to smooth things over. When Do Wook tries to ask about the MRI, Bom-Jung deflects by calling Hee Young to their table. Do Wook then notices that her jerk ex-husband has also arrived.
Both Do Wook and Hee Young give frosty stares at the ex, but he just smiles back, amused.
Yoo Ri and Eun Suk are the two final models wearing swimsuits specially designed for the Asia Games. They hold a press conference afterward, and that is when jerk ex comes up to Do Wook and Hee Young. He's recently started a swim wear business (which hopefully won't fail), and asks if they're getting back together.
Hee Young says it's all business, but Do Wook says they are. Jerk ex had suggested they start over, so they're doing that right now. Hee Young is aghast, but she doesn't say anything contrary. When they leave, Hee Young tells him that he just embarrassed her in front of the one person she didn't seem pathetic to. Do Wook thought he was kinda cool, then seriously says, "I think I can make you a million times happier than that loser ever could."
Hee Young has no time to respond, as Do Wook is called away for another interview.
Yeon Woo is eating with her mother when Do Wook calls. Her mother thinks that they're dating, but Yeon Woo dispels the notion. She picks him up, and it turns out they're going to do check-ups on budding soccer athletes that Do Wook's old friend now teaches. (That friend is played by Yoo Sang Cheol, a retired soccer player.) It's also an opportunity for Yeon Woo to learn.
One kid complains of sore thighs and legs, and it's because he needs to stretch properly before playing. Another kid complains of his foot falling asleep after the second half. Do Wook asks what Yeon Woo thinks, and she wonders if it's a lack in magnesium. Do Wook prescribes the kid a banana at half time – "Have you ever seen a monkey that had a foot fall asleep?" The kid laughs, and I guess Do Wook does have great bedside manner with kids!
While waiting for Do Wook to finish up his conversation with his friend, a soccer ball hits Yeon Woo in the head. Yeon Woo kicks it back into the field, taking the opportunity to play alongside the kids. Do Wook smiles as Yeon Woo runs around in a field of kids half her size.
During their drive back, Do Wook notes that they should go exercise – Yeon Woo runs kinda funny. But at that moment, Hee Young calls to speak to him. Do Wook says that he's busy – with Yeon Woo. He tells her to go to the office any time to "talk." Yeon Woo knows that Do Wook mentioned her name just to make Hee Young misunderstand their relationship. She pulls over and gets out of the car; Do Wook can drive his own car and go anywhere he wants to – or should – go.
He really does leave her to walk home, but Yeon Woo's OK with that – she's given him food for thought.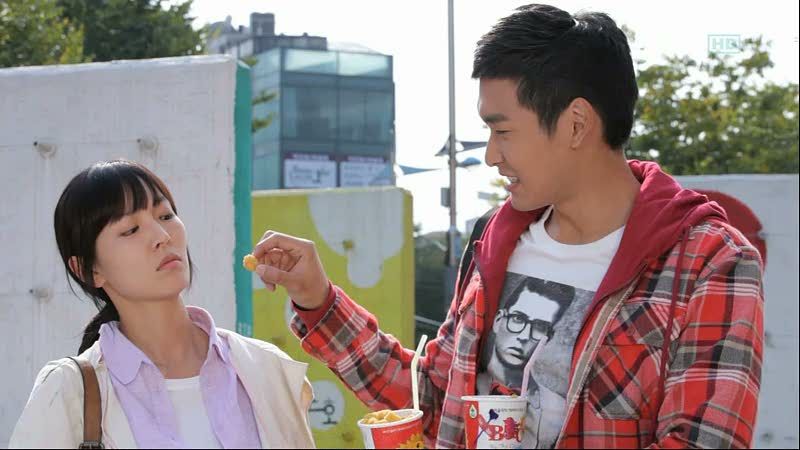 Ji Heon is waiting outside her home (pretending that he was in the neighborhood) and has a special request. She notes that he's not training, and he replies that today is a special day. He wants to spend the next seven hours with her, until midnight.
Yeon Woo wonders if it's his birthday, because if it is, she wants to go home now. He assures her it isn't, and offers her some popcorn chicken. She doesn't bite, so Ji Heon says he'll eat the two servings by himself. Yeon Woo grabs one away from him.
Date time! They spend the next seven hours going to a 4D theater (going "AAAAAAAAH" then "ooooh…" then "AAAAAAAH!"), and singing at a noraebang (Ji Heon loud pop songs, Yeon Woo slow ballads that make him fall asleep). When it's evening, Ji Heon says that he wants to go to all different kinds of "rooms" – they've been to a 4D room and a karaoke room, so up next is… Yeon Woo's room?
But Yeon Woo isn't paying attention – she spots a guitar that looks exactly like the one her father used to have. She tells Ji Heon that she used to imitate her father playing guitar. She always thought it was cool, and wishes she learned properly.
They go to a sauna, where Yeon Woo notes that Ji Heon is being really strange – what's so special about today that he, the most diligent athlete, won't even go to training? He deflects by getting some eggs, and that's when his cell phone rings.
Yeon Woo picks it up, and when Ji Heon returns, she's really annoyed with him. Yi Reum had just called asking why Ji Heon didn't go to the cemetery for the memorial. It's his brother's death anniversary. Yeon Woo is angry that he dragged her out, and thinks that Ji Heon forgot his brother's death anniversary.
Ji Heon says he didn't – he skipped out on purpose. It's all his fault that his brother his dead, and his sister-in-law hates him so much for it that he's afraid it'll come up in a conversation, and then Yi Reum will know the truth. He never sees his family on that day, to protect Yi Reum. He thanks Yeon Woo for spending the day with him, and Yeon Woo feels doubly worse now.
Ji Heon goes home, but it's not yet 12 midnight, so he sits outside the house and waits.
The next day, Yeon Woo is outside his door. She tells him to wear hiking boots – they're going to go mountain climbing. Ji Heon thinks this is her way of apologizing for yesterday, but she says it's not. It's her way of determining whether he has finished his treatment or not – it's the last check-up. If Ji Heon can't make it to the top, she's not clearing him.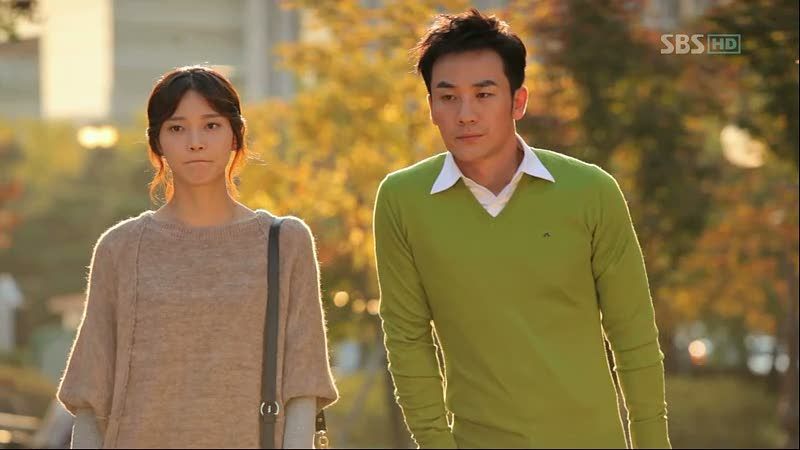 Meanwhile, since it's the weekend Hee Young goes to Do Wook's home – will he go on a "date" with her? She takes him to a park that they used to visit. Everything has changed – there's a concrete road rather than a trail; her favorite playground is gone; the restaurant they always went to is also gone. Her point is that in fourteen years, a lot has changed and disappeared. She simply wants them to be more comfortable around each other, and begs him to be rid of his hate or resentment towards her.
Do Wook assures her that the hostile feelings are gone, but he's still trying to work through his feelings for her.
Ji Heon and Yeon Woo reach the top of the mountain, and he confides in her. The first time he got kicked out of Taereung due to an injury, he was always in and out of hospitals. He gave up on judo and got in a lot of trouble working at clubs. One particular time, his brother was on his way to bail him out of jail when he got into a car accident. He lost consciousness due to loss of blood, but when he woke up, he said that he dreamed Ji Heon won the gold medal. He didn't say he loved his wife, or ask Ji Heon to take care of Yi Reum. That single minded love and dream for his little brother was enough to spur Ji Heon to get back into training.
Yeon Woo checks if his knee is OK, and then declares him fit once again. Ji Heon has one special request for her: until the competition he will not look her way, but in return, she cannot do anything with Do Wook. HA! So cute.
True to his word, he trains harder than ever, and Wheesung's song comes back on. Yay!
One day at work, Woo Ram comes running up to Yeon Woo and Do Wook outside the center. He gives her a small plant as a way of thanks for treating his ankle. Because she cured him, he was able to win a bronze medal recently. And then he skips away!
Do Wook can't help but be impressed. He then asks after Ji Heon, and she informs him of his competition tomorrow. Do Wook lets her go – she can be the attending physician for the match. After all, sitting around in an office doesn't make a doctor a doctor.
Ji Heon is busy wrapping a gift for Yeon Woo, with Yi Reum watching. Yi Reum wants to cheer for his uncle, but Ji Heon won't let the boy skip school. Will Balloon Noona be going then? Ji Heon says that no one will be there, but he'll be fine.
Outside Ji Heon peps himself up for tomorrow, but he's still feeling uneasy. He calls up Yeon Woo – how could she not wish him luck or call him even once before his competition!? But he said he wouldn't see her! Does that include phone calls?! Doctors should always cheer on their athlete patients! But that would mean she'd be on the phone all day at work!
Ji Heon is frustrated so he gets ready to hang up, but Yeon Woo simply says, "See you tomorrow." She's going to cheer for him; "Do well, because I'll be watching." And she hangs up.
Poor boy is love struck.
Carrying the gift – a guitar – he runs over to her place and catches her just as she goes out the door.
Breathlessly, Ji Heon holds up the guitar for her to take. She thinks that he ran all the way over just to give that to her, but he wanted her to repeat what she said on the phone. "See you tomorrow?" No – the other line.
Yeon Woo: Do well?
Ji Heon: Too quiet – louder!
Yeon Woo: Do Well!
Ji Heon: LOUDER!
Yeon Woo: DO WELL!
Kaedejun: RUN UP THE FREAKIN' STAIRS AND KISS HER!!!
And Ji Heon and Yeon Woo smile at each other.
Comments:
FINE! Be like that – DON'T kiss her. And here I was, totally hoping to recap a kiss! But then again – them just smiling at each other sent warm fuzzies up and down my body that I'm superbly happy at the way this episode ended. I enjoy that their love is growing slowly – particularly for Yeon Woo. The two of them are like pseudo-friends, but with the knowledge that one side has stronger feelings than the other. They both like to hang out with each other, and it's nice to see that Yeon Woo is quickly warming up to Ji Heon. I particularly loved the part where Ji Heon addresses her as "Dr. Yeon Woo" and then "Yeon Woo-ssi" during the mountain climbing scene, because it's as if he thinks she will take him more seriously if he addresses her in a way that reflects their budding closeness. Squee.
As for Coach Oh – I am liking how his character is being drawn. This coach could have easily been a two-dimensional character who just doesn't like or care for Ji Heon and that's why he kicked him out. However, he doesn't just have a grudge against the guy, he also schemed to get Ji Heon out just so he could bring Go Bum in. I didn't expect that, and I like that I now have a "villain" to hate after Doctor Terror.
And FINALLY! We get the background to Ji Heon's brother's death, and we see how much Hee Young has matured. She's truly moved on – which I think is a good thing. I don't see her as needing to end up with Do Wook, and it disappoints that Do Wook is so clingy. I almost hoped that he would be charmed by Yeon Woo in this episode, because though the triangle is officially done, this episode could have restarted it. However, he's too stuck on Hee Young to really pay attention to anyone else. I don't mind Uhm Tae Woong's portrayal of it, though he lacks chemistry with any of the ladies in my opinion, but I think his character is falling flat. Hee Young got fleshed out a bit more here, and so I'm sure Do Wook will have his turn soon. Until then, I wish he'd stop being so pathetic.
And now I will take a fork and spoon in each of my hand, bang my fists on the dinner table, and yell, "KISS! KISS! KISS!" 😀 (I don't usually advocate for frozen k-drama kisses, but I'll be damned if Dr. Champ doesn't hurry it up a bit! Whether it be between the Sang-Ji couple, or the Ji-Yeon couple).
Yaaaahhhh!
RELATED POSTS
Tags: Cha Ye-ryun, Dr. Champ, featured, Jung Kyeo-woon, Kim So-yeon, Uhm Tae-woong