Sungkyunkwan Scandal: Episode 16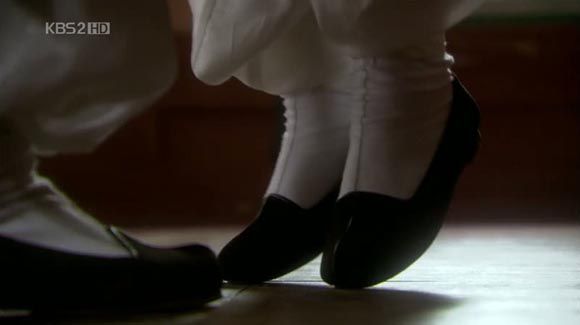 Dear red pill's erratically beating heart,
Be still. Else you'll overexert yourself and fail me. And I need you to be strong for the remaining stretch, to be a pillar through the love, angst, sadness and happiness forthcoming. Besides, "heart failure due to excessive excitement over cute love scenes" as the cause of death is just plain embarrassing.
Love, red pill
SONG OF THE DAY
Rumble Fish – 청혼 (Proposal) [download]
Audio clip: Adobe Flash Player (version 9 or above) is required to play this audio clip. Download the latest version here. You also need to have JavaScript enabled in your browser.
LESSON 16 RECAP
While Sun-joon is having the (twin) shock of his life, Jae-shin's enjoying a little quality time with Byung-choon and Go-bong. Since they want to have fun in the water, he tosses them right in and keeps them paddling. Yeah, that's what happens when you try to mess with Jae-shin's girl.
Yoon-hee regains consciousness to find that her bosom feels a little – well, exposed. And Sun-joon's beside himself with shock. Enter a merry drunken party, and there's no time to make Yoon-hee presentable so they hide (hello, episode 1!). Fortunately, the drunkards keep walking.
Once in the clear, Yoon-hee tries to leave the scene, but Sun-joon is adamant about keeping her with him ("I won't let you go." Squeee.)
Meanwhile, Jae-shin finds Yoon-hee missing again and runs around, desperate to find her. He ends up back at the camp, but no one's seen her. He's ready to comb the mountains, but Yong-ha informs him of the comforting(?) news that she's alright and with Sun-joon.
Surprisingly, Jae-shin doesn't go berserk like he did with the island set-up. He blows off Yong-ha's suggestion that they go to her and walks away, and his anxious expression breaks my heart.
Sun-joon and Yoon-hee find themselves trapped in his room when Soon-dol slides a spoon through the door handles and makes the flimsiest lock I've ever seen. His excuse? He needs Yoon-hee's help to persuade Sun-joon to return to SKK. The guy's been showing extreme signs of being lovesick, and Soon-dol's beside himself with worry.
Here's a cookie for you, Soon-dol.
Back to where the SKK students are staying the night. Yong-ha pushes Jae-shin's buttons, claiming that he should've just gone to Yoon-hee since clearly his heart and mind are with her. Jae-shin kindly adds an addendum to his catchphrase: "If jumping to conclusions becomes a habit, your arm could end up broken."
For once, Yong-ha gives him sound advice: He likes her, right? Then stop acting so cool and tiring himself out. Pretending he doesn't want her, that he's not jealous or he's too strong to be shaken by his emotions – it's all a waste of energy. Use that energy instead to make her his. As of now, Jae-shin's still got the upper hand on Sun-joon (or so Yong-ha thinks, but now the playing grounds are pretty even since the cat's out of the bag).
To be the silent bodyguard or the knight in shining armor. Decisions, decisions.
With only one set of blankets, Sun-joon insists that Yoon-hee sleep while he stays up catching up on his reading. She claims she'll read, too, and finds among the stack of books the little red book (courtesy of Yeo-rim). A little tug-of-war ensues, with Sun-joon successfully overpowering her and pinning her to the floor. Now's your chance! Do something!
But our upright Sun-joon backs off like the gentleman that he is. Oh darn.
This time they both try to sleep and Sun-joon's willing to brave the night without any covers. But Yoon-hee tucks the blanket over him, reminding him what happened the last time he got wet and was cold. Besides, she can sleep with just the bedding – and she rolls herself into a Yoon-hee kimbap. That breaks the tension and they both smile genuinely.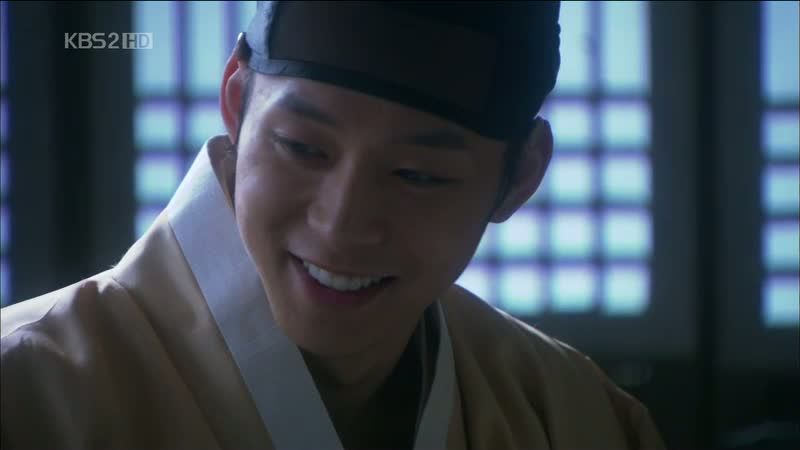 Sun-joon: Since when did you hide that pretty face behind the façade of being a boy? You don't have to answer –
Yoon-hee: I told you about my sick brother. To pay for his medication, I transcribed some medical books, and the physician found me more work with the bookshop owner Hwang. That was approximately two years after my father passed, so I was about twelve.
Sun-joon: So you borrowed 'Kim Yoon-shik' from your brother.
Yoon-hee: It ended up that way.
Sun-joon: Then your real name…?
Yoon-hee: Kim Yoon-hee. Kim Yoon-hee is my name.
Sun-joon: Kim… Yoon-hee.
Back at the capital, In-soo interrogates Hyo-eun about the events that transpired during what should have been an engagement. He knows Sun-joon too well to buy her cock-and-bull story.
She plans to wait. As long as she doesn't break it off first, she believes Sun-joon will eventually come around; he's too good of a person to make her the dumpee.
As any brother should be, In-soo's angered.
Morning comes, and our main couple begins the day bickering. Sun-joon (understandably) wants Yoon-hee to leave SKK, and Yoon-hee (understandably) doesn't want to. He tells her it's impossible, and she counters that he's the one who showed her how to make the impossible possible. She didn't get to choose her gender, just like one can't choose one's family; so gender's not a good enough reason to stop her. Besides, she's no longer afraid of the national law or the king's commands.
Sun-joon argues that she could end up in real danger, but she doesn't want to worry about things that haven't happened yet. Besides, there's no bright future at stake here if she gets caught. She wants to live in the moment and be happy right now; these times will never come again for her.
When she returns to the lodgings, the other guys rib her about staying out all night. Jae-shin walks in, and she apologizes for disappearing the previous day. He treats her a bit coldly and tells her to stop doing as she wants and worrying people.
On their way back to SKK, our boys (and girl) run into Cho-sun, who has been waiting for Yoon-hee to return. As Jae-shin walks past Cho-sun, something makes him stop short in his tracks. He smells the same perfume he did during his scuffle with the fake Red Messenger and learns from Yong-ha that this is a special scent worn only by Cho-sun.
At Moran-gak, Yoon-hee learns that Cho-sun plans to stop being a gisaeng – if Yoon-hee would have her. She doesn't dare dream to be Yoon-hee's first wife; she'd settle for being able to stay nearby as her mistress. All because Yoon-hee was the first ever to treat her as a woman with feelings and not as an object.
But of course Yoon-hee can't consent; she says she's too lacking to accept such a beautiful, strong-willed woman. And her refusal is so gentle and well-said that Cho-sun has no choice but to accept it (and probably falls even harder for her). Yoon-hee apologizes sincerely, even taking on the formal tone.
Outside, Jae-shin is waiting for her with a warning to keep her distance from Cho-sun. He plays it off as wanting her to protect her reputation (can't be seen as a skirt-chaser who's constantly visiting the gisaengs). She thinks he's still mad at her and reassures him that she can take care of herself; she's Dae-mool after all. Which allows Jae-shin to throw out a sentimental line: "I'm worried because you're you."
Back on the SKK campus, there's an announcement for hwang-gam-je: an examination in which the prizes are the offerings made to the king, which include rare fruit, such as tangerines from Tamra (Jeju) Island. First place gets a basketful of Tamra tangerines, and pretty soon, the scrumptious citrus has everyone in a drooling frenzy.
King Jeong-jo has come himself to donate the prize tangerines, and he runs into Minister Lee and Minister Ha. In a pretty telling moment, the king and the headmaster tell a clueless Minister Lee that Sun-joon has decided to return to SKK. Of course Minister Lee pretends it was his idea, but I don't think anyone buys it.
Do I see cracks in the father-son relationship?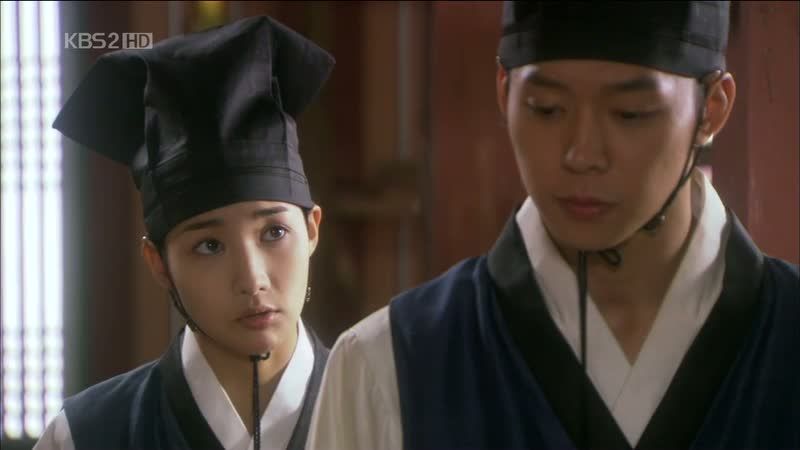 In the library, Yoon-hee runs into a guy who looks like Sun-joon – and lo and behold, it IS Sun-joon. Since he got her into SKK, he's come to get her out safely before anyone finds out her secret. He says he has an obligation to protect her, but she wants his help, not his protection.
And so they strike a deal: If she proves herself worthy by placing first at the hwang-gam-je (which is pretty darn complicated – basically requiring straight memorization of whole passages and books as well as a comprehensive understanding of said texts), he'll allow her to stay. But if he places first, she has to leave.
Yong-ha isn't very surprised to see Sun-joon ("So Dae-mool was the perfect medicine."), but Jae-shin gives Sun-joon a rather interesting welcome.
"Oy, Noron. Didn't I tell you not to confuse people? I said not to go back and forth, from this to that. It's distracting."
That night come bedtime, Sun-joon does some quick thinking and immediately claims the middle spot.
Jae-shin: Oy, Noron. That's my spot.
Sun-joon: There's no my spot, your spot. You're the one who said that your spot is where you lie.
At which Jae-shin KICKS Sun-joon's pillow. What follows is some major butt-action as Jae-shin tries to push Sun-joon back and Sun-joon holds his own. They get into a "What is wrong with YOU" exchange before they're interrupted by Yoon-hee's appearance.
(I'm surprised I'm writing coherent sentences at this point. THIS. IS. SO. CUTE.)
When both try to claim Yoon-hee's spot (Jae-shin gently tapping the spot near the door and Sun-joon whacking the spot near the wall), she declares that she'll decide where she'll sleep.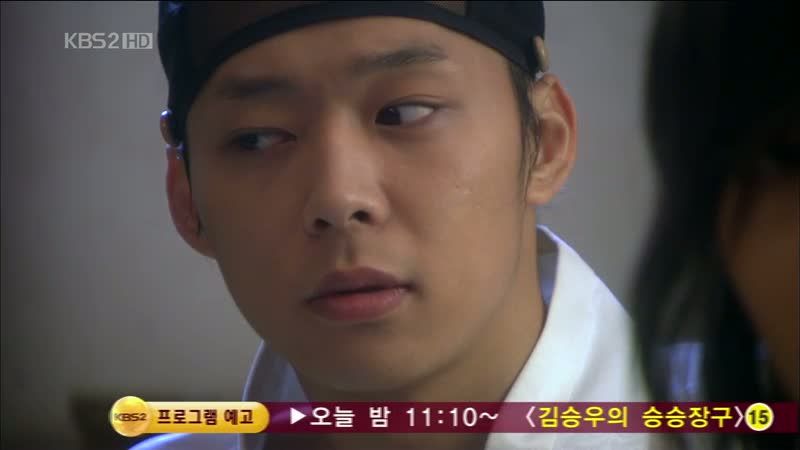 Sun-joon sends her some adorably not-so-subtle hints.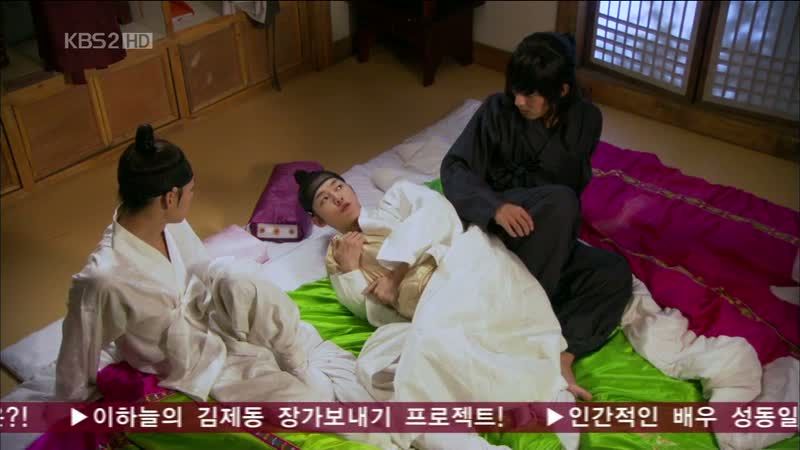 Yong-ha comes bursting in, claiming that he heard a gumiho (Woong-ah!) and he's sleeping between Sun-joon and Jae-shin tonight. Both boys protest, but Yoon-hee has already decided to go sleep in Yong-ha's room. Yoon-hee sleeps peacefully while Sun-joon sleeps scrunched to one side and Jae-shin is attacked by Yong-ha's wandering leg.
(I commented on Cassie's episode 13 recap that I don't think Yong-ha is a real coward. I just may have to take that back.)
All over SKK, the students are motivated to study for the exam by the mere sight of the tangerines. In the teacher's office, the professor's discuss who they think will place first, and the top two candidates seem to be Lee Sun-joon and Kim Yoon-shik.
Well, Sun-joon, if you keep staring at Yoon-hee's lips like that, you can forget about placing first. And playing footsie on top of that? To calm his hormones, he resorts to building a mini tower of books as a wall between them, raising it higher and higher until all he can see is her eyes.
Yoon-hee tries to be nonchalant as she mentions that he'll probably get married now that he's back. But he reassures her that he didn't get engaged that day and he'll never live a lie again.
In order to win Sun-joon's heart, Hyo-eun has come to ask Yong-ha for help. She's willing to do anything and everything. Yong-ha throws out a few suggestions (stop being so easy, read higher quality books than the tabloids, stop mistreating those you consider below you), but then he's quick to tell her to face reality: she's not the heroine of this fairytale. Better to give up now; that'll give her peace.
She thinks he's being cruel, but he's the one person who's straight with her.
In the marketplace, Jae-shin stalks Cho-sun, but she catches on. She leads him on a little chase through the alleyways until she successfully shakes him off. Then she lets fly an arrow with a red leaflet attached. It's another one of those "The Red Messenger will be here on this day" messages meant to trap him.
Before he can give chase, guards show up to take Jae-shin to his father. Minister of Justice Moon knew all along about his son's extracurricular activities, and he tells Jae-shin to stop. It's too dangerous with the two evil ministers on a warpath to catch the real Red, setting traps with the fake.
Jae-shin says he'll stop if his father passes on a message to the king: "My son died at the hands of the Norons while transporting the geumdeungjisa."
With Jae-shin spending the night at home, the awkward couple Yoon-hee and Sun-joon find themselves alone in the room. Still as gentlemanly as ever, Sun-joon makes a divider with the leftover blanket, warning Yoon-hee not to cross over. Boy, you're going about this all wrong. Sigh.
She's pretty confident about hwang-gam-je tomorrow, sure that she'll beat him and earn her place at SKK.
Sun-joon takes this chance to ask about what she was about to say at the stream before she fell in. She feigns sleep and he gives up questioning her. For now.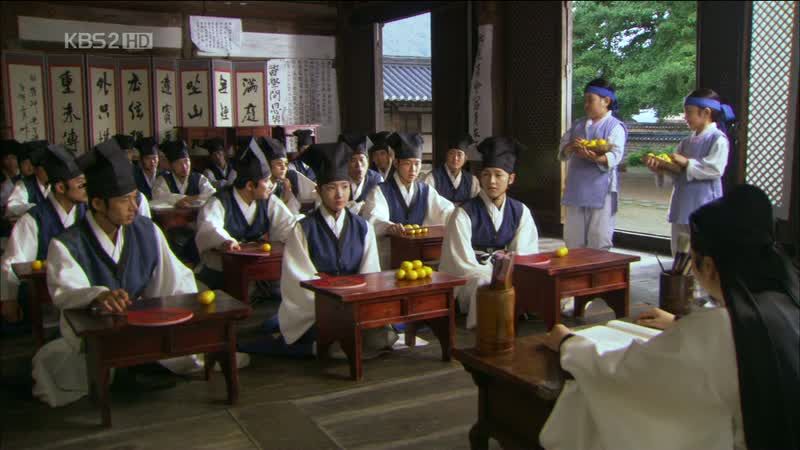 Hwang-gam-je. Test one, you're given a Confucian saying and you're expected to explain the meaning. Test two is a written test with short-answers. Test three is back to being oral. Answer the question right and you get a tangerine. Of course Sun-joon and Yoon-hee earn the most tangerines (and anyone else notice that Jae-shin only has one?).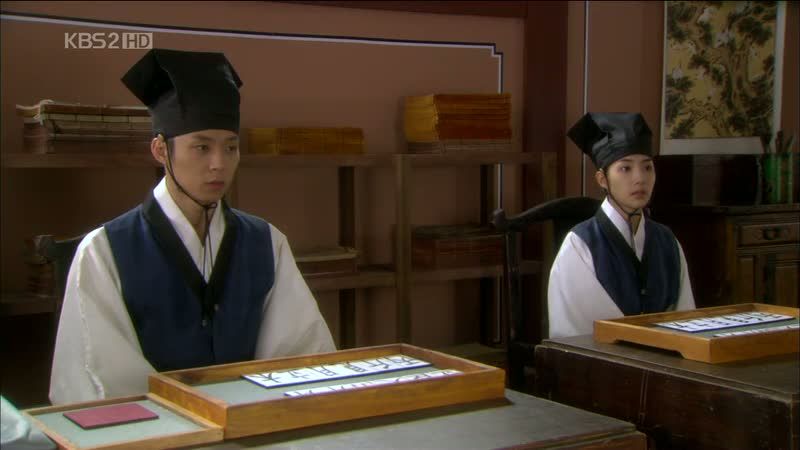 It's no surprise that Sun-joon and Yoon-hee end up the final two vying for first place.
(For this part of the recap, please excuse my lack of knowledge of Confucian texts.)
The final question, written by the king himself, is to explain the correct attitude the government officials must have when dealing with the people. Here's the hard part: they must recall a particular passage from Great Learning of the Book of Rites (Liji) and must amalgamate the given basic characters to form a word.
This test requires them to have read the book, recall it perfectly and input their own thinking. Yoon-hee has trouble recalling the particulars of the text while Sun-joon shows some but less hesitation.
Sun-joon's answer is shin-min ("new" + "people"), taken from the idea that the people's virtue must be renewed constantly. Government officials must educate the people and renew their lives.
Yoon-hee's answer is chin-min ("close/friendly" + "people"), taken from the idea that a wise man likes the words the people like and hates the words the people hate. Therefore, government officials must have friendly relations with the people.
Both answers are pretty darn good.
Bok-dong plays messenger and keeps Jae-shin and Yong-ha updated (is this all part of Yong-ha's intelligence network?). Upon hearing the two answers, Jae-shin immediately knows who won (which proves my sneaking suspicion that Jae-shin is actually the smartest guy in the entire school).
In-soo lumbers over to goad Jae-shin (camera, why are you focusing on Jae-shin's bracelet?). Oh, In-soo, give it up already.
The answer is revealed and Sun-joon is the winner, and the headmaster is thrilled. Yoon-hee not so much. Yoon-hee rushes to the library to check the answer, and of course Sun-joon shows up to remind her that she has to start packing.
Yoon-hee does what cute girls do best and turns on the charm (successfully flustering Sun-joon).
Sun-joon: I still don't accept that a woman can stay at SKK. And I've never given the time of day to a person who dismisses national laws. However – it can't be helped. I'd be interested in meeting a government official who wants to be friends with the people rather than rule them. So I'll have to let that person stay at SKK. On top of that, who knows what havoc this bold and liberal woman will wreak if left in the world, particularly when she has no care for laws or the king's commands?
Yes, that was Sun-joon speak for "You can stay." She's relieved and suddenly he's back to asking about what she was going to say at the stream. She hems and haws, and he persists.
Yoon-hee: Do I have to put it into words?
Sun-joon: How am I supposed to know if you don't?
Yoon-hee: You really don't know?
Sun-joon: I'm dying of frustration here –
K.I.S.S.
(Someone come scrape this goo previously known as red pill off the seat of her chair. Please.)
Yoon-hee runs out, surprised at herself for her bold action and thrilled at the same time. In the library, Sun-joon snaps out of his daze to go chasing after her.
Both are approached by dark shadows. Dun dun dun.
Fearless Jae-shin stands atop a pagoda, having come to meet the challenge of the fake Red though it's so clearly a trap. He fights them brilliantly (like always) and manages to not get hurt this time. He jumps a wall and loses the chasing guards, only to have the omniscient Gu Yong-ha show up and invite him to stay at his house to avoid getting caught.
Only… Jae-shin's bracelet is missing (argh!).
The bracelet is picked up by none other than In-soo (we saw this coming a mile away!), who immediately recalls that Jae-shin was wearing it earlier in the day. He puts two and two together and orders him to be arrested (I realize his father is the minister of war, but why does this schoolboy have so much power over the guards? It's a little ridiculous.).
Yong-ha tries to dissuade Jae-shin from going, but the bracelet is the only thing he has left of his brother's belongings. He goes running back but when he turns the corner, he's blocked by the mysterious shadows. Yong-ha encounters the same.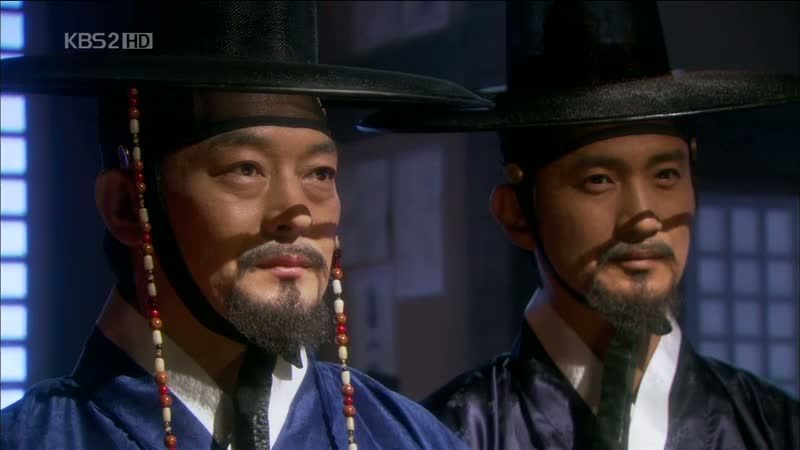 The Jal-geum Quartet's blindfolds are removed, and they're in some secret hideout. Someone comes walking down the stairs – it's the king himself. The king is soon joined by Professor Jung.
King Jeong-jo: I'm here to give you a secret mission. Fulfill my order and create a new Joseon.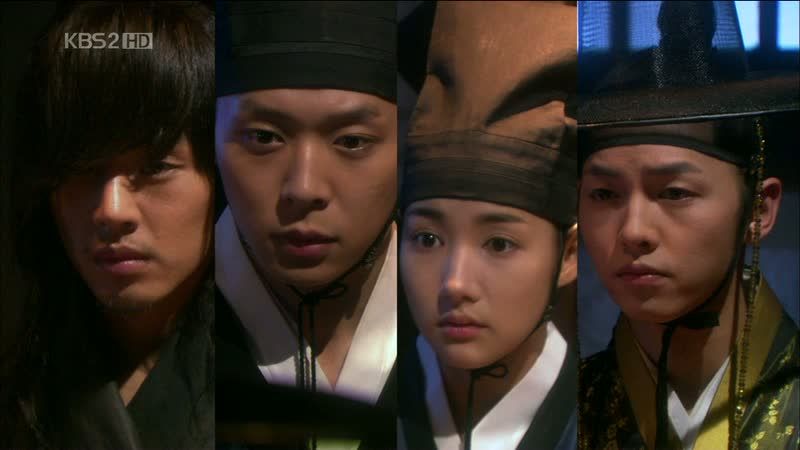 COMMENTS
red pill's personal thoughts on Sun-joon's relatively angst-less acceptance of Yoon-hee's secret:
First, this isn't Coffee Prince. Yes, I know everyone and their grandmother feels this urge to compare this revelation to the woeful angst of Choi Han-gyul when he discovered Eun-chan's secret, but other than the fact that both love cross-dressers, I find the two men different in every way. And I'm not just talking about their personalities here. Circumstance, society, social standing, consequences, etc., everything. Hence, comparing the two is unfair and illogical.
My theory is that Sun-joon is so accepting because this is 18th century Joseon. Let me explain. In a society open to homosexuality (at least more so than 300 years ago) such as ours, dealing with one's sexuality is a deeply personal, internalized problem. Meaning, if there are dire consequences to follow, those consequences are my burden to bear, not anyone else's. No one will be blackballed from society because I am gay (family may be an exception, but that's a moot point here since what's at stake here is a romantic love). Therefore, when the truth comes out, it's more about MY pain, the betrayal I feel, the I-can't-believe-you-made-me-go-through-hell. But in 18th century Joseon, I'm not just placing myself in danger by revealing my sexuality, I'm also forcing the person I love to experience ridicule, loss in prestige and being blackballed. Which explains why Sun-joon leaves in the first place: to protect Yoon-hee from being affected by his love. Meaning he's already come to terms with his sexuality and at the point that he discovers the truth, it's more about HER.
So when he discovers the truth, after the initial shock of seeing body parts he never expected, I imagine he felt a flood of relief first and foremost. His love will NOT hurt the person he loves. Betrayal, shock, hurt, and whatever else he might feel, is undermined by that relief. And so many doors spring open at once: he no longer has to ostracize himself from society, he doesn't have to worry that his love will affect her negatively, he's not gay, etc. Why should he be anything but glad that she's really a she?
I admit that a little more angst would've been more realistic, but I'm fine with the reaction he did give. Especially if it leads to adorable footsie and kissy scenes. Yeah, I realize I just undermined my own logical argument by going all fangirly. Whatever.
And at the risk of being bricked, I always thought Han-gyul's angst was a little over the top.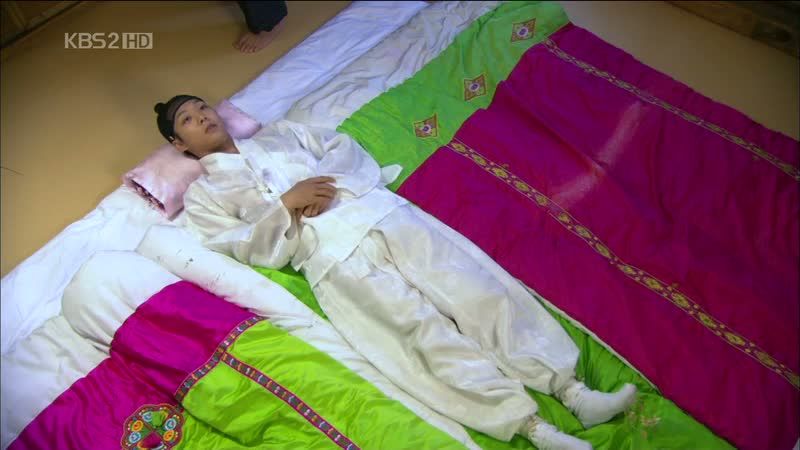 RELATED POSTS
Tags: featured, Micky Yoochun, Park Min-young, Song Joong-ki, Sungkyunkwan Scandal, Yoo Ah-in