Dr. Champ: Episode 16 (Final)
What?! I loved this moment!
Oh… The most beautiful (visually speaking – yes, I loved screencapping this one) drama of the year is about to end, and I'm as happy as a k-drama watcher can be, with a most satisfying ending after weeks of obsessing over such beloved characters.
I'd like to thank you avid DrChampers (?) who read and discussed throughout the series, hanging there, waiting for a resolution that would soothe your impending wrath or simply for a step forward in a drama that was almost always in the same place. And, obviously, a big hug and thanks to javabeans and girlfriday for lending us this space to write and spazz freely like two delusional fangirls or depressed emo girls in a bad day to boot (depending on the episode) *muah*
This recap is a little bit longer, it includes my awesome kaedejun sunbae's comments below, too!
Without further ado, onto the recap!
SONG OF THE DAY
Urban Zakapa – Crush [Download]
Audio clip: Adobe Flash Player (version 9 or above) is required to play this audio clip. Download the latest version here. You also need to have JavaScript enabled in your browser.
Episode 16 recap
The episode kicks off directly at the cemetery, where Ji Heon, alongside his sis-in-law and Yi Reum, are paying their respects to his brother. Placing some flowers, he asks for forgiveness for not going more frequently – and that's something that's not going to change in the near future due to his need to train.
(It's assumed he won against Go Bum, even when it's not showed)
With the Asian Games right around the corner, the judo team has no time to lose, especially the 73 kg. category (the one Ji Heon is in), since they've never lost the gold medal. Go Bum has to make sure Ji Heon trains harder than ever, more focused and professionally.
Meanwhile, Taek Woo's injury is healing as expected – but not at the rate he'd want. Yeon Woo points out that, while it can be healed in less than three months if his will power is strong enough, he can't overwork himself. After he leaves, Ji Heon enters with a slight thigh discomfort, which needs to be checked using ultrasound. As you know, the transducer needs to be in contact with the skin, so he has to pull his pants down.
In front of Yeon Woo.
Yeah, sure.
The guy is infinitely embarrassed and decides to go with the Director instead.
Yeon Woo: I'm a doctor.

Ji Heon: To me, you're a woman.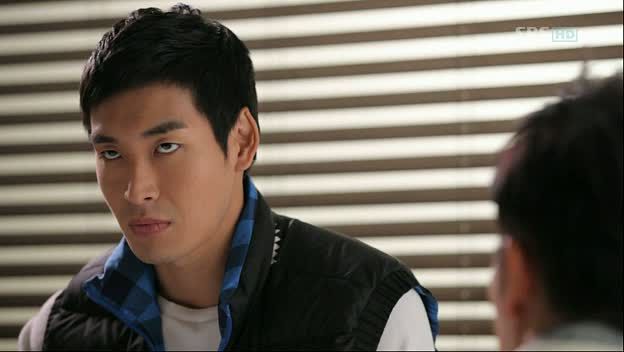 His problem turns out to be insignificant, he'll only need to use some hot packs and that's all. Do Wook takes the opportunity to congratulate him for being the national representative of Korea at the Games. Ji Heon, on the other hand, takes this opportunity to inform him that he's dating Yeon Woo, so he should congratulate him for this too.
Do Wook (smiling): I'm disappointed in Dr. Kim Yeon Woo. You're saying that she fell for this kind of man?

Ji Heon (flustered): What's wrong with me?

Do Wook (enjoying it): You're too stuffy. You don't even know how to use your head.
In a nutshell, Ji Heon's appeal. Do Wook is great.
Anyways, the doctor admits that they're both stuffy, so they should be quite compatible. On a serious note, he cheers him on, saying that he was pretty cool when he confronted him regarding Yeon Woo. Ji Heon's tendency to always give his all, putting everything at stake, is admirable in the eyes of Do Wook.
Do Wook: Don't fall for me though, since I'm leaving soon.
How can such a great character be paired with a bland girl like Hee Young simply blows my mind. That same day, she calls him to have a chat at a café. He purposely arrives late, in retribution for her past misdeeds (LOL). Her big news is that she's leaving the National Village once the Asian Games are over, so, if he was leaving because of her, there's no need now. At the beginning, he confesses that she was the reason for his departure, but not anymore – he wants to do something greater. Upon saying their final goodbyes, he looks for something more creative than the formal "Good bye", and chooses "Merry Christmas". They smile, their thoughts full of what has been and what could've been, as they eventually part ways.
The day has arrived, and Yeon Woo is ready for her role as the official doctor alongside the head nurse. Ji Heon is ready too, for the day he's been waiting for so long, and we get a bit of patriotic fervor, moving music included, while he remembers the most important moments of his long road till here – the first injury, Sang Bong's accident and final acceptance.
While Ji Heon is competing, little bits and pieces of a relevant flashback of unknown events are revealed. Originally, Ji Heon paid a visit to Sang Bong (who's recovering steadily), to ask him why he left the day of the competition againts Go Bum. Sang Bong explains that he wanted him to win – if he had lost, their last memories of judo would've been those of the accident. At first he's surly and unwilling to further talk, but Ji Heon's attitude, promising to dedicate his (possible) victory to him, is moving enough to make him give important advice for his upcoming match.
Armed with the best tactics, courtesy of Judo's Yoda Sang Bong, Ji Heon wins his two first games by ippon, much to his sis-in-law's pleasure (she's following the games even at work – aww).
Within the 82 kg. category, Dong Ho has a good performance, winning a gold medal and provoking such an ecstatic response from Taek Woo, that he even hugs Go Bum to celebrate. Dong Ho, in tears, calls Taek Woo, regretting that only he could win a gold medal. Next time, Taek Woo promises, they both will get a gold medal.
The bromanceeee!!!!
Do Wook, before leaving, has left a project to build a Sports Medical Center to replace the Hancook Hospital once their contract is over. The Vice President is still unwilling to accept Do Wook's departure, so he begs for him to stay, to the doctor's enjoyment.
Ji Heon's passage to the finals isn't for free. While watching the game, Do Wook found out that our lovely judoka has been injured. Upon hearing this information from him, Yeon Woo runs to the judo arena, only to confirm that Ji Heon has broken an intermediate phalange – if he continues with the match, he could get a permanent injury.
Gah, is the judo team cursed or what?!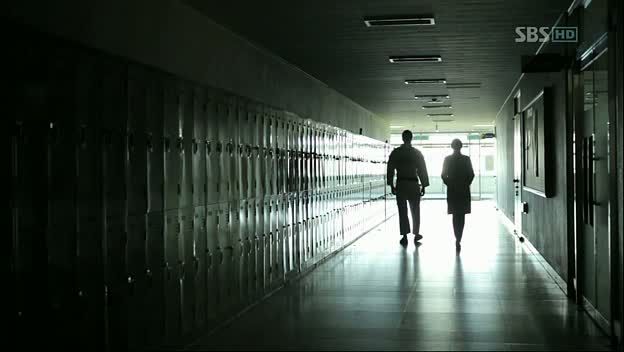 He believes he can endure it, even without anesthesia, so he'll continue as planned. Just before the match, they walk together the long corridor to the arena. She, as a doctor, asks him not to get injured; and as a woman, she promises to stay by his side.
It's peculiar how they decided not to show us both Go Bum's match and the finals, maintaining the intrigue and going forward with the characters. In the end, it's all about that, the people, not those ephemeral grand occasions.
At the airport, Yeon Woo and Do Wook are finally saying goodbye. As a farewell gift, he confesses that he fell for her when she showed her strong resolution right at the beginning, when she "betrayed" her previous boss – now that there's no longer that awkwardness product of her crush, he can say this stuff without feeling burdened. She was the first person who made him smile after the accident too, so he can confidently leave her believing she'll do a great job.
When she arrives home, all deflated for Do Wook's departure, Ji Heon is waiting for her (as he always does).
Yeon Woo: I've lost a cool colleague, a marvelous sunbae and a great teacher in one day.

Ji Heon: It's okay. Instead, you have a cool, marvelous and great man right next to you.
Aberdeen approves of this!
He's bought couple sneakers for the clear purpose of exercising together (I know, the couple stuff has always sounded extremely ridiculous to me, but it-is-just-too-cute in dramas), and gives them with a tone of voice close to a squeal. Not being able to resist his charms, she smiles and rubs his head tenderly.
Before and after knowing the truth about Ji Heon (those of us who have seen Giant know how scary she can be 😆 )
Annnddd, mum had to arrive just in time to discover their little affair. At first, she's utterly delighted by his physical appearance, and after Yeon Woo says he was the one who got her purse back when it was stolen, she's beyond euphoric. Her happiness is bound to be shattered – he's only an athlete. No matter he won the silver medal, she most coldly asks him to leave.
Once he's out (but still overhearing what's happening inside), mummy shouts at her mindless daughter for choosing such a lousy prospect.
That night, our ill-fated couple meets to have some drinks. Yeon Woo won't admit that her mother strongly refuses to the match, but he knows it well enough. It's not a problem, though, since he's the type to become more charming the more you know him – her mum will take some time to see him in a different light, but she'll fall for him just like Yeon Woo did.
That cheesy ahjumma from an early episode still has her eyes fixed on Ji Heon. However, this time is different; Yeon Woo won't allow her to touch her beloved boyfriend. Needless to say, he's beyond amused by the whole situation.
Tipsy and slightly swaying, Yeon Woo finds it impossible to take two steps forward without falling, so Ji Heon lifts her up to take her home. Once inside, she asks for water but falls asleep before he can give it to her. Seeing she's uncomfortable (YEAH, SURE), he attempts to take her coat off, jumping right over her. Having triggered the most hilarious reaction due to his inappropriate position, she kicks him out, shouting like their first time at that apartment (even the same neighbor witnesses the scandal). He tries to explain that he wasn't meaning anything wicked, but receives no response from her.
After some time, she goes out and finds him freezing outside (way to manipulate her heart, smart boy [in fact, it's pretty amazing how he's learnt how to handle her personality]). With a smile, she lets him in.
😉
It seems like some time has passed, Ji Heon's finger is cured by now, and his judo team has been dissolved. The former cutest judo team in drama history meets to celebrate Dae Sup's newfound path in life: he's opening a restaurant. Taek Woo, Go Bum, Woo Ram, Dung Ho and Ji Heon are all there to commemorate their friendship.
At 30, Ji Heon is finding it difficult to continue with his athletic dream – while as a person he's at his peak in life, as an athlete his efficiency has most surely decreased considerably and his chances of being accepted in a team as well.
But worry not!
Mr. Coach arrives just in time to offer a spot in the National Village, to train for the London Olympics. Woot to the woot!
Completing our overlook at everyone's happy endings, Sang Bong has finally reached mental peace, and is recovering at an amazing pace. He's even found himself a girl, a nice nurse (Min Hyo Rin) with whom he'll be going out that night, triggering Ji Heon's jealousy. Hahaha, I could watch a whole show based on these two's shenanigans.
The medical team has a new clumsy doctor (SHINee's Onew), and Yeon Woo is pretty much correcting all his faults (she even emulates Do Wook's half smirk). What she didn't expect, is that her marvelous sunbae has returned as the new Sports Medical Center's Director (talking about big plans for his future).
As a pretty neat way to tie things up, Yeon Woo and Ji Heon have decided to go to a balloon lamp festival that night. While he's waiting for her, she's convincing Do Wook to accompany them, as a welcome reunion. Ji Heon tries to act cool, showing no concern over his lady and her former crush arriving together. He can't keep up with the charade for long, and asks for a private conversation with her.
To his surprise, Yeon Woo has set up a rather interesting matchmaking meeting: she called Hee Young to the festival too, to test if her love story with Do Wook is dictated by fate itself. Therefore, they can't go back to where Do Wook was, and can't see how her plan was successful: both the doctor and the ex coach see each other from a short distance, and smile tenderly.
At last, Yeon Woo and Ji Heon can enjoy their date alone. Now that Do Wook has returned, him working alongside Yeon Woo makes Ji Heon a little uneasy – that they'll go back to their everyday relationship is a bit hard to swallow. However, he'll be by her side too, while training for London Olympics. She's surprised by this, but her amusement at his never-ending jealousy makes her smile sweetly.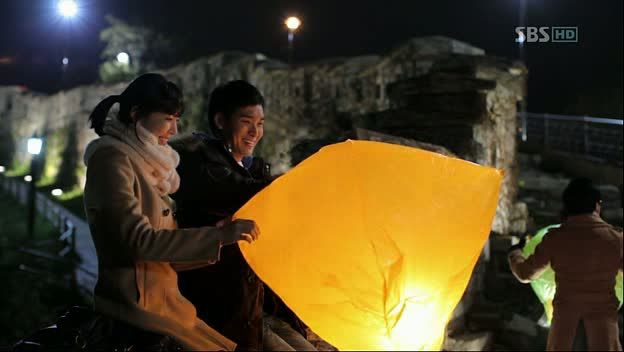 After letting their balloon fly, he wonders what she wished for.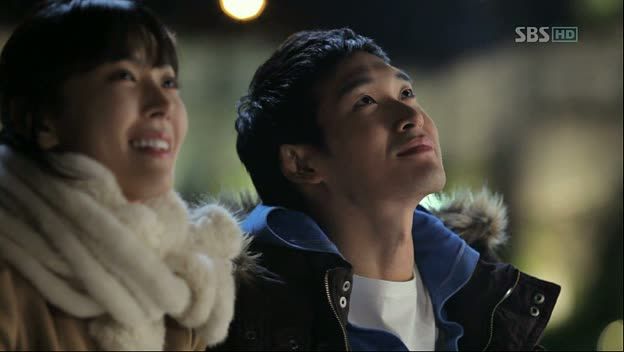 Yeon Woo: I probably wished the same as you. Gold medal?

Ji Heon: Not for me.

Yeon Woo: Then… What did you wish for?

Ji Heon: Kim… Yeon… Woo.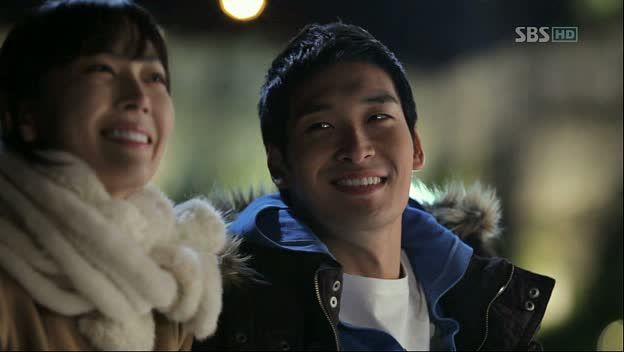 She wishes for him, he wishes for her; and my heart melts for one of the cutest OTP out there.
Aberdeen's comments
That's how you end a perfectly adorable episode! Dr. Champ's strength was never angst, but cute, down-to-earth little sweet and relatable bits. And the finale was full of those!
It's quite amazing, now that the drama is over, how much my love has grown for it in the last two episodes. I admit I had tough moments with this, when I felt confused, and didn't know where we were heading. Some middle episodes were indeed draggy, the plot was close to inexistent, and I grew tired – I remember referring to this drama as a roller coaster ride: sometimes it gave me shots of adrenaline, but I felt dizzy and disconcerted too. However, I never lost hope, because that natural, optimistic and subtle vibe that captured my attention in episode 1 was still there – maybe hidden, but not lost.
Why did I love so much the finale? Well, I found it genuine, non histrionic and utterly human. Frankly, neither of the characters changed radically (Yeon Woo experienced a nuanced evolution in an emotional journey from outsider to involved, but her core beliefs/ways are untouched), and I digged that. We merely accompanied their journey towards the (un)fulfillment of their dreams. It's a truth universally acknowledged that a "realistic rom-com drama" is a contradiction in terms, but this was as close as we can get, at least emotionally speaking.
For once, the leading girl was annoyingly cranky and the boy was super cute. Being by each other's side, her crankiness watered down (I love how she's still stubborn and somewhat difficult to reach), and he's grown up enough to make him more adult but keeping the inner child that makes him so unique. As for the doctor/coach, they never were so interesting to begin with, but their chances of finding what made their love so unforgettable again, gave me a cuddly feeling.
Then, what about their dreams? What does a dream mean, actually? When something you've wished for all your life, fueled by a tragic experience and a tough reality suddenly collapses, do you too? Because, in the end, Yeon Woo stuck with the job she took grudgingly, thinking about it as something temporal, Ji Heon didn't get his gold medal, and Sang Bong is still trying to rehabilitate. But, what was important about all these people was the bonds they found together, those which went beyond shiny medals or vacuous, distinguished jobs. When Ji Heon finally wishes for Yeon Woo, he's showing how much he's learnt about life, about what's important. Those things that seemed like his beginning and his end, were pushed back to a supporting role in his life.
After all, after the tears and the blood you shed while fighting for what's dear for you, a defeat can happen. The real question is what you do with that tragedy, how you decide to react and take it. Our characters moved on, forgave and forgot, and found new challenges and motivations to rediscover life.
And that, my friends, is commendable. They're no ones, they're anonymous people in a world full of anonymous people, just fighting everyday to be happy. Their end is not yet written, and I rejoice knowing that so palpable, admirable and, why not, adorable people could be walking by my side every day.
Kaedejun's comments
Quiet dramas are the sneakiest; they make you come in with little expectations and with a little Uhm Tae Woong, and then BAM your heart is ensnared, caught somewhere in between Sang Bong and Ji Heon while Yeon Woo tries to diagnose you. You struggle, wanting to scream, "YOU'RE DISAPPOINTING! YOU'RE NOT A HIT!", but you can't, because Yeon Woo is so stubbornly telling you that you love the drama. And you do. This drama with no lofty goals and no plot twists has successfully captured my attention for eight weeks.
To sum up – this drama was beautiful, Jung Gyu Woon and Kim So Yeon were so cute as a couple, and the bromance was the best relationship ever (especially Ji Heon's look of shocked betrayal that his buddy is actually gettin' a girl. In a wheelchair. Even he couldn't do that! Cue jealous rivalry all over again). Uhm Tae Woong was wasted in this drama, but he was excellent eye-candy foil to Jung Gyu Woon. He redeems himself and his character after halfway through the series, when he starts becoming matchmaker to Yeon Woo and Ji Heon, and he doubles his points with the glasses at the end. But again – wasted, save for being eye-candy.
I also can't say that the plot was great. It was a bit predictable. Ji Heon and Sang Bong's relationship was probably the only thing that was unpredictable, and that may be why I love it so much. Ji Heon as a character was also a little unpredictable, since he's the active pursuer, the kind generous typical "second male lead" that actually gets the girl. *And there's hope for you nice guys yet!*
But despite some reservations, I definitely enjoyed this drama for the small moments. Slice of life it truly is.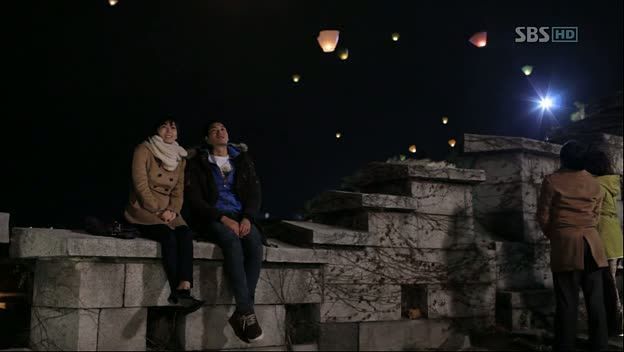 RELATED POSTS
Tags: Cha Ye-ryun, Dr. Champ, featured, Jung Kyeo-woon, Kim So-yeon, Uhm Tae-woong