Sungkyunkwan Scandal: Episode 19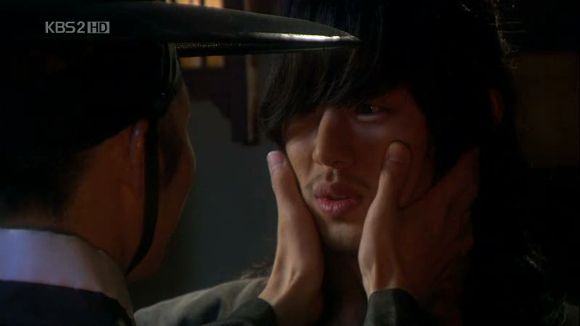 Hold onto your wide-brimmed hats, people. We've got a lot of ground to cover, and this train ain't slowin' down for no one. In this penultimate episode, Yong-ha gets outed, Jae-shin gets locked up, Sun-joon gets roasted as the sacrificial lamb, and Yoon-hee gets found out…FINALLY. Looks like we're headed into the finale with eyes wide open and hands in the air.

LESSON 19 RECAP
Yoon-hee searches the shrine, but comes up empty handed. Sun-joon races inside to find her, relieved that she's unharmed. As he goes in for a hug, he notes that she's wearing her couple ring around her neck.
Outside, Jae-shin is being filleted by the sword, trying to keep the soldiers at bay. He fights back, even while his chest is sliced open (Okay, I know you're a badass, but WTF, Show?) and somehow manages to slip away.
Yong-ha appears just in time with some backup, and has Jae-shin carried safely into Sungkyunkwan. He lays his beloved down oh-so gently. Sorry. I can't help it. It's just such a tender moment.
Yoon-hee waits impatiently outside, worry and panic setting in.
Meanwhile, In-soo and his father receive word that the Red Messenger has escaped, and In-soo decides to take matters into his own hands. He leads the soldiers and marches into Sungkyunkwan, laws be damned, to arrest Jae-shin himself. The Sungkyunkwan sentries protest, but In-soo pulls his weight as the student body president, and declares that he's given the soldiers license to enter.
He orders them to search for the injured Red Messenger, and the geum-deung-jisa while they've gained access inside. They turn the campus upside-down, putting all the students on edge, and feeling that their safe haven…isn't so safe anymore.
They finally amass outside of Yong-ha's room, and In-soo questions Yoon-hee about the Red Messenger. Yong-ha hears them coming and makes a move to head them off, but Sun-joon stops him. He tells Yong-ha that In-soo can't be stopped by sly words this time, and declares that he'll get arrested in Jae-shin's place.
Yong-ha can't believe that Sun-joon is willing to be framed as the Red Messenger, but he answers that it's his way of upholding his faith in the Joseon that he believes in. Aw, you should've just confessed your love for Guh-ro. We know that's the real reason.
Even Yong-ha is impressed with Sun-joon's love, devotion, er…sacrifice for Guh-ro, and that's saying a lot.
In-soo makes a move toward the door, but Yong-ha bursts out, telling him to stop. He grabs In-soo by the arm, and reminds him that all the students are looking on. In-soo doesn't care, and plans to abuse his power publicly. He nods for the soldiers to go inside.
They delare that the Red Messenger is inside, and then come out with Sun-joon as their captive. Both Yoon-hee and In-soo stare gobsmacked, and Yong-ha puts his hand on Yoon-hee's shoulder, to let her know that it's going to be okay.
They watch silently, unable to do anything as Sun-joon gets carted away to jail for being the Red Messenger. Even In-soo, who knows that Jae-shin is the man they're looking for, can't stop his father from taking Sun-joon in this power play.
Back inside, Yong-ha assures Yoon-hee that Sun-joon will be okay. He never would've agreed to the plan if Sun-joon wouldn't be protected by his father's political position. Jae-shin stirs awake and asks angrily what's going on. He's about as happy as you'd expect, to hear that Sun-joon got carted off to jail to protect him, and tries to get his sliced ass out of bed to go knock Sun-joon around for trying to be a hero.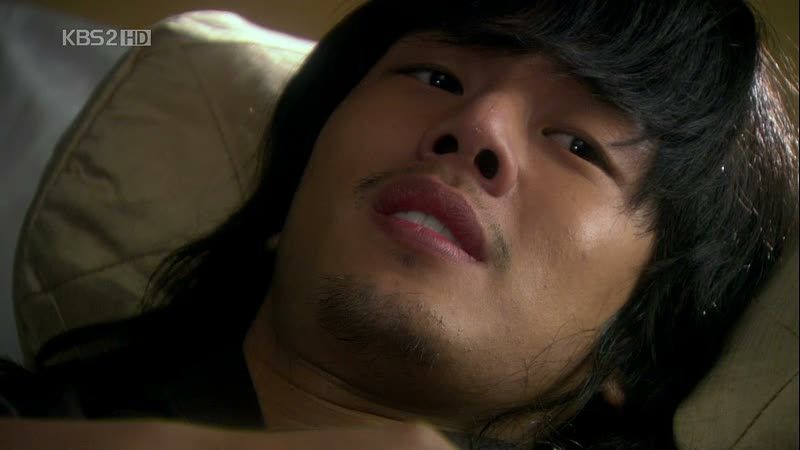 Yong-ha and Yoon-hee remind him that he is near death and would surely die if he were to spend the night in jail. Jae-shin pounds his fist, angry that his super-human body isn't…more super-human. Sheesh. Heroes.
Yong-ha adds that In-soo crossed a line, bringing soldiers into Sungkyunkwan. He'll see to it that this infringement doesn't go unpunished. After all, he's Gu Yong-ha.
In-soo discovers that his father plans to make Sun-joon into the Red Messenger, regardless of the truth. It's interesting to see him balk at that, because despite being Eeeeevil, In-soo cares that the real Red Messenger, Jae-shin, is captured and brought to justice. He may not be above breaking the rules to serve what he thinks is ultimately just, but he is above sending the wrong guy away for political gain. Good to know there are a few scruples in your bag.
Sun-joon's father visits him in jail. He notes the ring on his son's finger, and declares rather matter-of-factly that his son is choosing quite a rough road of rebellion, if all this is about what happened ten years ago to Jae-shin's brother and Yoon-hee's father. He says that he isn't the guilty party in that incident, which Sun-joon acknowledges, but adds that he did cover it up for ten years afterward. He says with no remorse that he is simply following the path that his father taught him. Ouch.
The next morning, Yoon-hee and Yong-ha pace back and forth over how to proceed, when Jae-shin appears, declaring that he'll go make it right, since no one would believe that the bumbling idiot they have in custody is actually the Red Messenger. Heh.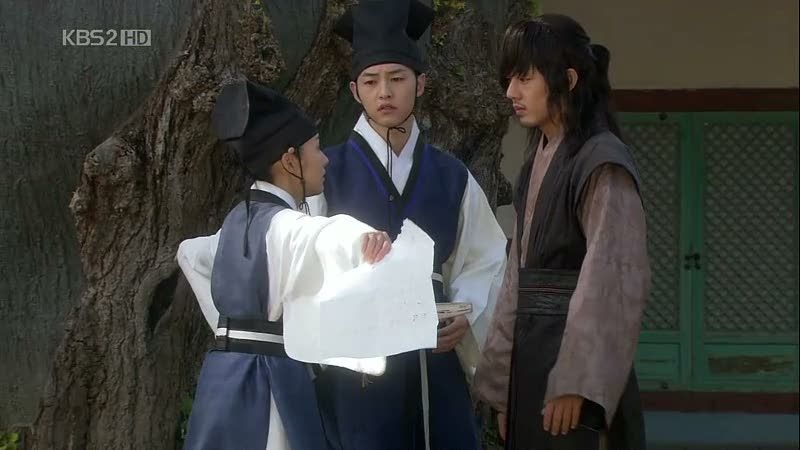 But Yoon-hee's not having any of that. She stands in his path, hands stretched as far as they reach. It's comical how cute it is, because physically it's ridiculous that she would actually be able to block his path, but it's not so much her size, but her gesture that gives him pause. She declares, tears in her eyes, that there's someone who took his place; she won't forgive him if he doesn't honor that sacrifice. Oooh. Nice. Good way to get it through his thick heroic skull.
She adds, "Because…for you…I would've done the same."
Siiiiiiigh. Why aren't you two making babies yet? You're killing me, Show.
Jae-shin smiles at her, moved, but ever still the oppa. He tells her to let him go anyway; someone's got to make things right, especially since he found out that In-soo's father, not Sun-joon's, was the one who murdered their family members. She looks up at him wide-eyed, as he lifts the giant weight on her heart. You're free to love him is what he says, but doesn't say.
As he walks off, he turns back to remind Yong-ha to set the overthrowing of President In-soo in motion. Yong-ha smiles, "Of course. I'm…" Jae-shin smiles back, "That's right. You're Gu Yong-ha."
Jae-shin heads for his father's house, to ask for his help in setting Sun-joon free. He begs his father not to resort to the same tactics as the enemy, and when Daddy is unmoved, he shows him the gash in his chest, declaring that he's going to confess to being the Red Messenger. Well that's not very smart of you, now is it? He gets stopped by Daddy's henchmen, since clearly he's not about to give up his only remaining son in place of his enemy's. Duh.
Yong-ha approaches In-soo in the schoolyard, and throws down the gauntlet. The student body is charging him with abuse of power in letting soldiers into Sungkyunkwan, and will be holding a hearing to strip him of his title.
In-soo doesn't get ruffled in the least. He leans into Yong-ha's ear to tell him that he doesn't think Yong-ha will be going to that hearing, since if he does, the world will know that he is nothing but a merchant's son dressed in a nobleman's clothes. Yong-ha trembles at the words, letting his cool façade down in front of In-soo for the first time. He's clearly shaken to his core, stunned to be faced with his biggest weakness, while In-soo smiles at him smugly.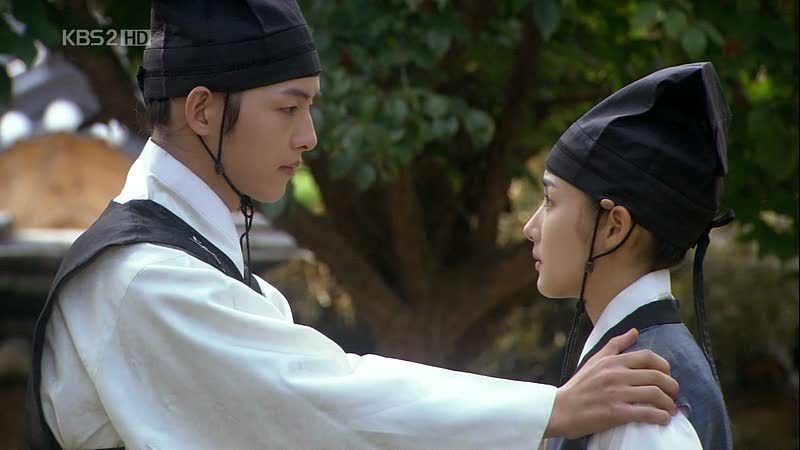 He hears word that Jae-shin is trapped in his father's house (gah, why did you even go there, stupid?), and Yoon-hee wonders if the student upheaval is their last resort. Yong-ha sighs, saying that even that might be a long shot now. He can't bring himself to disappoint her with the words, so he just says that they might not succeed.
It's time for In-soo's trial, and Yong-ha hesitates, knowing the tidal wave that's about to hit. But he remembers Sun-joon's brave words before going to jail, and Jae-shin's faith in him to set things in motion. He steels himself and walks out into the light.
In front of the student body, he faces off with In-soo, who does as he promised: he passes out evidence of Yong-ha's merchant-class background. Shaking, Yong-ha turns towards his classmates and confesses: "I…am not a nobleman." He admits to having been given the outer shell of a nobleman (metaphorically and literally, a nobleman's clothes) by his father.
The students reel from the news, and pretty much skewer him for lying, and not being of noble birth. They basically make a complete 180, treating him like he's the dirt beneath their feet. I know they're supposed to be bigoted and hateful, but still, I feel like I've been punched in the gut.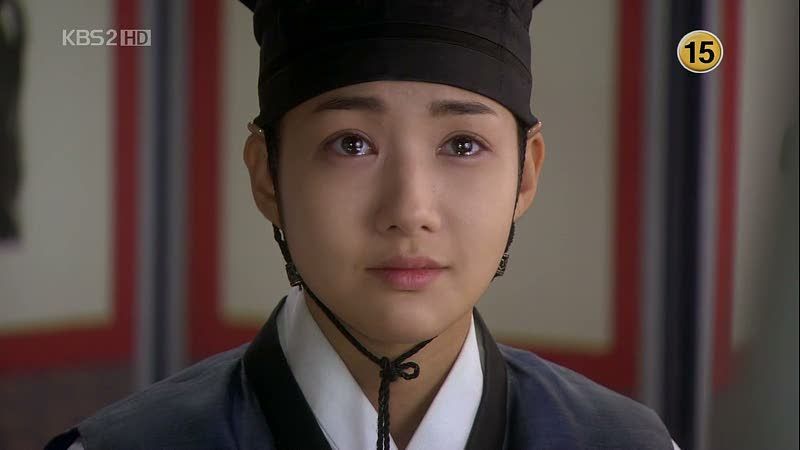 Stripped of the right to challenge In-soo directly, he passes the torch onto Yoon-hee. He says it's not because of his class, but because he was ashamed of himself. He grits his teeth, declaring that he's no longer going to live that way.
Yoon-hee looks up at him proudly, with tears in her eyes. With that weight off his chest, he turns to In-soo boldly, tears brimming, "Your threats mean nothing to me now, Ha In-soo. This is Sungkyunkwan. And I…am Gu Yong-ha."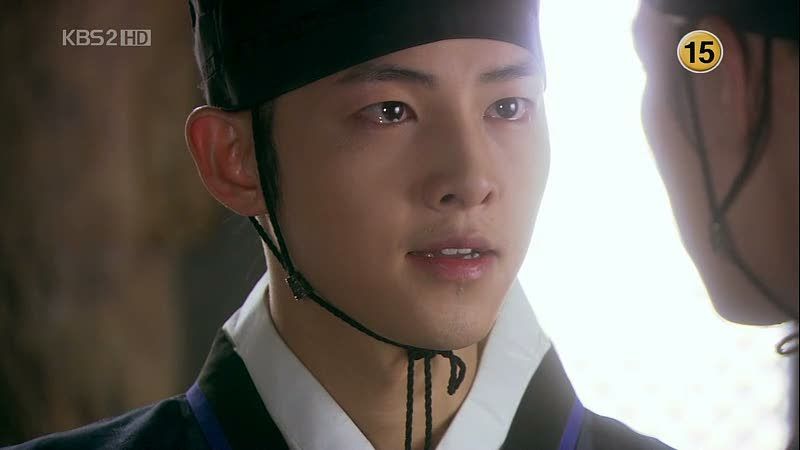 Gu Yong-ha! Gu Yong-ha!
I love this moment of personal triumph for Yong-ha, overcoming his own demons while stepping up to do the right thing to save his friends.
He's turned himself into an outcast, though, as he returns to his room and finds all of his belongings thrown to the curb, so to speak. Yoon-hee helps him clean up, and tells him that it must feel like a weight's been taken off his shoulders. He replies that to live a lie means that you're always prepared for some sort of consequence. This would be a great time for Yoon-hee to confess her own secret (not that he doesn't know), but sigh…she doesn't.
Yong-ha adds, showing a non-cynical side for the first time, that he truthfully helped look for the geum-deung-jisa in part because he really wanted to see, if that world where class doesn't matter…could actually be a reality. He worries that he's put too much on Yoon-hee's shoulders now, but encourages her that she can do it.
She heads out to try and rally people for the cause, but they all dismiss her soundly, knowing that Yong-ha is behind it. In-soo comes by to bully her out of it, stating proudly that the old adage isn't: "Where there's a will, there's a way." He decides it's: "He who wields power, MAKES a way."
Yoon-hee doesn't bat an eyelash as she spits back: "Then that power…I'll have to make it mine." Niiice. Love the cajones on this girl.
She asks Yong-ha how all the students could actually believe that Sun-joon is the Red Messenger, after having spent all this time with him at school. Yong-ha half-smiles at her, asking if she really thinks that time spent together means that people really know each other…when there are those who share a room, but don't know how the other person feels. Aw, poor Jae-shin and his wounded puppy heart. Yoon-hee, of course, remains clueless on the matter, further proving Yong-ha's point.
The headmaster sneaks over to offer his two cents: what they need is evidence, not to prove Sun-joon's innocence per se, but to prove that the Red Messenger is still about, and therefore NOT Lee Sun-joon. Well, I knew you'd finally be good for something, silly old man.
Yong-ha and Yoon-hee initiate Mission: Rescue Boyfriends that night, their only hiccup being that Yong-ha is decidedly unhappy in plain black clothes. Ha. But one swift compliment from Yoon-hee is enough to alleviate his fashion worries.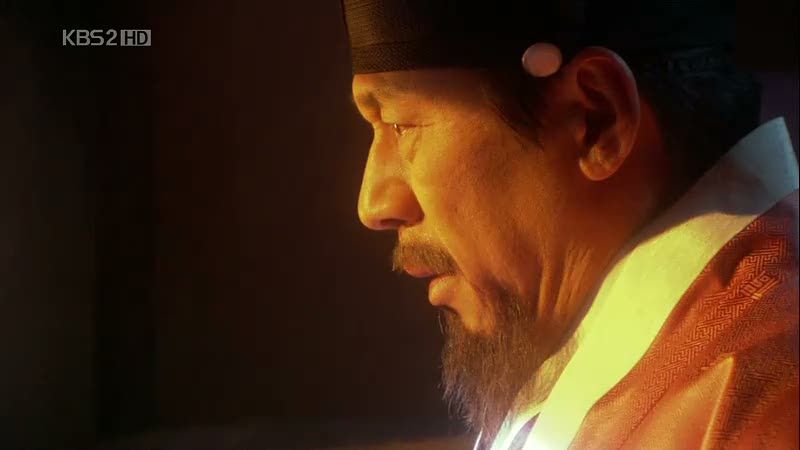 Their first order of business: rescue Guh-ro. He's being held captive in his father's house, and Crazy Horse really is going crazy. He tears the room apart, screaming at the top of his lungs and still bleeding out of his gaping chest wound. Daddy finally comes in to throw his weight around, but Jae-shin just pleads with him to let Sun-joon go. He adds that retaliating like this, by framing Sun-joon…just makes him one of them.
Daddy Moon shows the same Crazy Horse anger brewing underneath the surface (like father like son), as he says that he's been waiting patiently for ten years…for this day. It's finally time to wield his power and protect his son (this time he means Jae-shin, not his brother).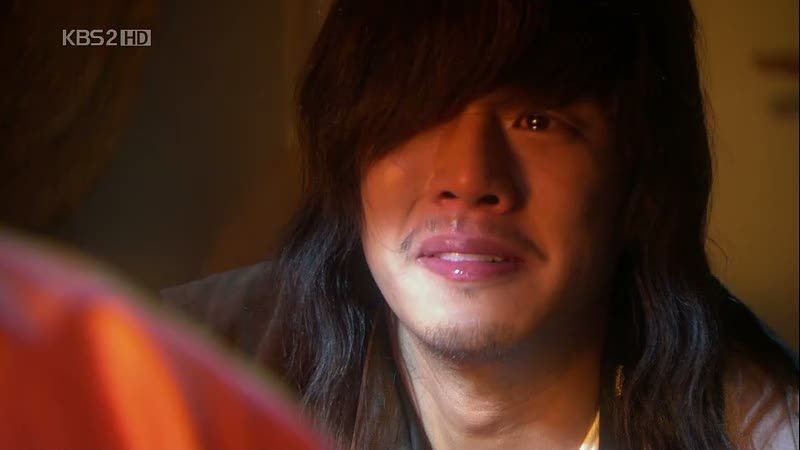 But Jae-shin has finally seen the error of their ways, and cries out, "Will doing any of this bring hyung back?" Tears. Those aren't mine, I swear. They're someone else's.
Tears streaming down his face, Jae-shin ekes out, "I…I was wrong. I was immature and thought that I was hurting more than you. I was wrong…Father." Utter heartbreak. He pleads with his father to let Sun-joon go, because the two of them have yet to start in life. Daddy Moon is shaken, but doesn't turn back or reply. Have you a heart of STONE, sir? Does everyone with Moon blood have to be a badass? Goddamn family of posturing males. Where's Mom when you need her? He walks out without a word, leaving Jae-shin clutching his heart in tears.
Thankfully, it's Gu Yong-ha to the rescue. He sends Soon-dol out as a decoy while he and Yoon-hee rush in to save the big hero from his daddy issues. Yong-ha rushes over, clutching Jae-shin's face in his hands. Omo, kiss?
Damn, no kiss. A hug will have to suffice. Jae-shin tries to get out of the bromance explosion before he loses cool points in front of the lady, but there's no stopping Yong-ha today. He clutches Jae-shin like it's been years, not 24 hours since they've seen him last.
Yoon-hee explains with a laugh that even for Yong-ha, he was especially awesome today. So cut him some slack and let him hug you, dude.
When the guards report that Jae-shin's friends have come to rescue him, Daddy Moon decides to let him go. Aw. You big ol' softie. That must run in the family blood too.
Jae-shin writes a new note as the Red Messenger, proving that he isn't Lee Sun-joon. They litter the town in red, stirring the soldiers.
The three of them head towards the jail to visit Sun-joon, and Yong-ha sends the other two ahead of him, to give them some alone time. Cute that he's still so doggedly on Jae-shin's side. Too bad that ship's already sailed.
Yoon-hee cluelessly rattles on and on the entire way about Sun-joon: what he's thinking, what if they're too late, blah-de-blah, until Jae-shin can't take it anymore. He finally stops her before he bleeds his heart out right in front of her, and tells her to go in without him.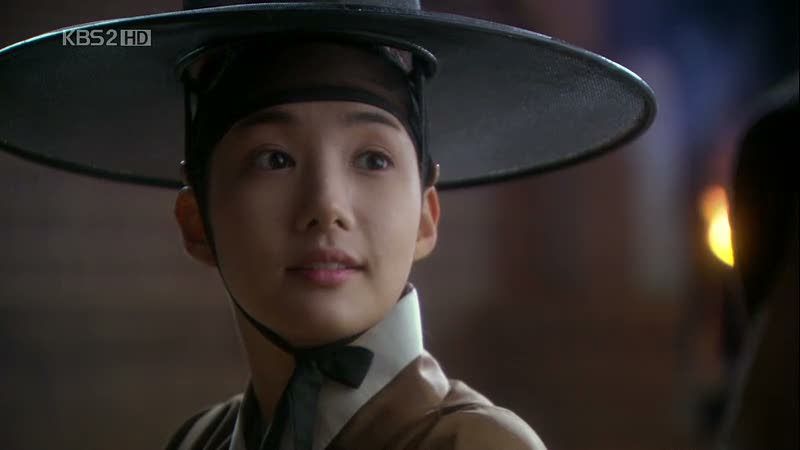 It's his final gesture to let her go. And it's KILLING me. He adds as she turns to leave…
Jae-shin: Kim Yoon-shik. Have I ever told you? Thank you.
Yoon-hee: For what?
Jae-shin: You. Thank you, for you.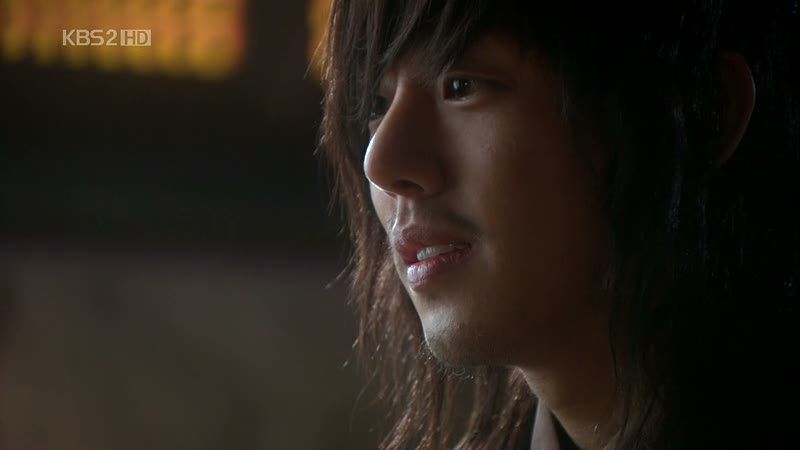 Sob. I mean, he's too perfect, it's almost ridiculous. Siiiiiiigh.
Yoon-hee finds Sun-joon sleeping in his cell, and looks at him longingly, dropping a silent tear as she gets up to leave. He stirs awake, rushing up to meet her. She cries as she touches his face, and he sees the ring, back on her finger. He asks for her forgiveness for his father, but she replies that forgiveness is not hers to give, because people can't choose their parents. Right on. Please take note, kdramaland.
She tells him that what she can give is her heart…the heart of a girl…
…which is exactly what Hyo-eun overhears when she comes to visit her betrothed.
Oh crap.
Outside, Yong-ha catches up to Jae-shin, sighing at his hopeless lovelorn friend. He tells him to stop now, before it becomes a habit, and tells him to forget her. "Make this the last time…that you watch her from afar."
The students gather to present their case to the king, and even Jae-shin comes dressed in his fancy Sunday best. Yoon-hee and Yong-ha take turns looking him up and down and it makes him so uncomfortable that he squirms. Yoon-hee's eyes practically bug out of her head to see him looking so nice. You should've dressed this nicely from the start. Perhaps if you had bathed with more regularity, you woulda gotten the girl!
In-soo and his toadies show up to block the procession, to no effect. Yoon-hee charges ahead, leading the pack. Yong-ha reminds In-soo that they didn't leave him; he threw Sungkyunkwan away first, even as Yong-ha warned him that the students were always watching. Even two of his most faithful lackeys leave him, the biggest sting coming from the bumbling idiot, who says that even he, the stupid one, knows that In-soo is wrong.
Yoon-hee leads the students to the palace, where they chant for Sun-joon to be set free, and plead their case to the king. Yoon-hee looks on at her classmates, proud and amazed at the power a group of vocal students can wield. It's akin to the feeling you have at your first student protest, when the world is open and full of hope, and you feel for the first time that with enough people on your side, you could move mountains and change the world.
In voiceover, Yoon-hee speaks to her father:
Yoon-hee: You asked if it was right, to plant a desire in your daughter's heart, knowing that she would never have the chance to see her dreams fulfilled. I want to ask: Here, today, as a woman, is it right to have the desires that I have? The new Joseon that you dreamt of, Father…what kind of world is it? In that place, are my dreams…no longer a sin?
She takes out her father's puzzle, and it triggers a memory. She remembers it, as a child, and asking her father if it represented her. He had replied, "It's you, and it's hope." With tears brimming in her eyes, she looks down at the solved puzzle to see an etching. It sends her running, to the door of Sungkyunkwan.
In-soo sits at home, brooding over his impending loss of status…that is until his sister arrives home, mouthing off about her shock that Kim Yoon-shik…is a girl.
Double crap.
Yoon-hee digs at the entrance to Sungkyunkwan, and she unearths…the geum-deung-jisa.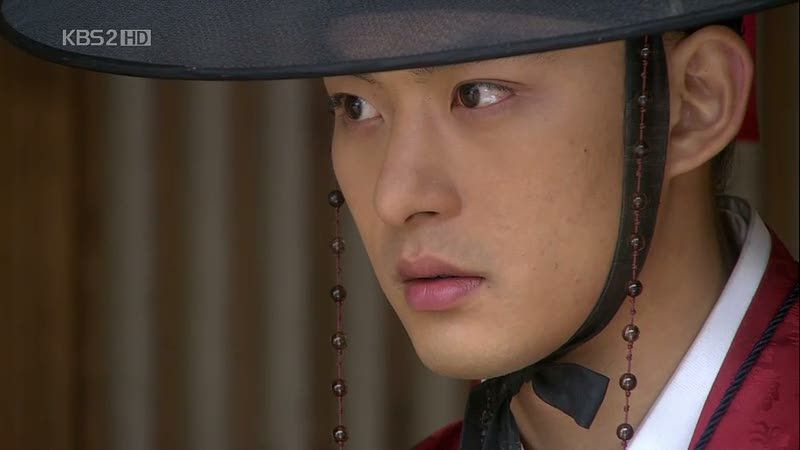 COMMENTS
Well, usually the penultimate episode isn't as strong, because it's a lot of setup for the finale, but this episode was actually really great as a standalone. I enjoyed the character beats for Yong-ha and Jae-shin, as well as Yoon-hee's moment of reconciliation with her father, as she begins to understand what it means to be a Sungkyunkwan scholar, in the world and not just in books and classrooms.
The cliffhanger is also great in this episode as well, because In-soo's discovery that Yoon-hee is a girl runs parallel to her questions to her father about what it means to have these dreams and ambitions in a world where they aren't sanctioned for her.
The problem is, though, that it bodes badly for the finale, because that means the outing of her female status is going to be resolved too quickly for my taste. This is a crucial part of the drama for me, and I can't foresee myself being happy with having only one episode to sweep this giant question under the rug. Here's hoping…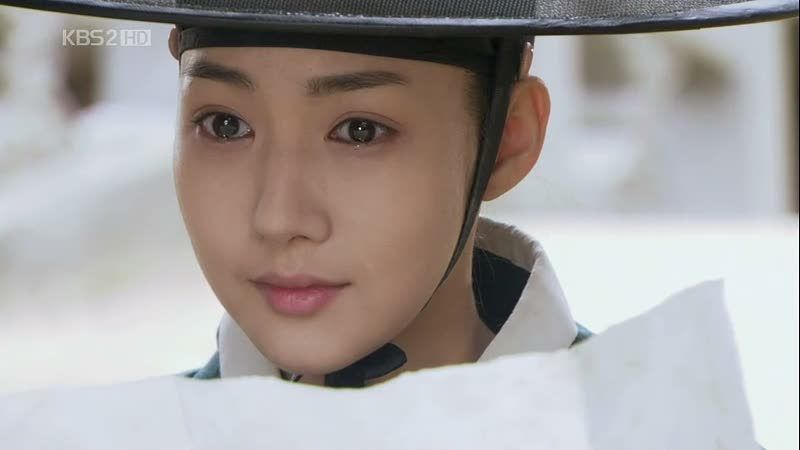 RELATED POSTS
Tags: featured, Micky Yoochun, Park Min-young, Song Joong-ki, Sungkyunkwan Scandal, Yoo Ah-in