Choi Kang-hee's sexy assassin transformation
What is Choi Kang-hee doing as a scantily-clad assassin on the cover of a comic book? It's apparently how Lee Seon-kyun's character imagines her, when he uses her as inspiration for his adult comic in their film Petty Romance. Well, we know what HE's got on his mind.
But my favorite part isn't even the machine gun in one hand and the rose in the other, or the latex dress the size of a napkin, (Because really, the actual Choi Kang-hee wore less in the real-life posters for the film. Let's be honest.) but the quasi-transliterated title. The meaning of the title [킬러본색] is Killer's True Nature, or Killer Nature, but it's written in English as Killer Born Sex, which are homophones for the title that have nothing to do with the meaning of the words. It makes me laugh though, because it's clearly trying to be a sexy-sounding title, ending with a mash-up of words that almost makes sense as a phrase. Almost.
The drawings were done by the comic artist/writer Seok Jung-hyun, and they're a pretty remarkable likeness to Choi Kang-hee, pictured below. Although she really already HAS a comic book face, so I don't know how hard it was to turn her into a manhwa heroine. Must be pretty cool, though, to be turned into a comic book character, if even for a movie prop. Choi Kang-hee reportedly posted the images on her personal homepage, saying, "He said mine was a difficult face to draw, but as expected, he's the best."
The comic book project is featured in the film as a collaboration between the two main characters, in tandem with their ongoing crazy, petty, bickering relationship. Lee Seon-kyun's character draws her likeness while she sleeps, using her as inspiration for a new series. She eventually helps him come up with the story for the cold love-'em-and-leave-'em heroine, who's a killer for hire. I guess Choi Kang-hee's character goes from fake sex columnist to just plain fiction writer. Awesome. Can't wait to get my hands on this movie.
Petty Romance is playing in theaters now.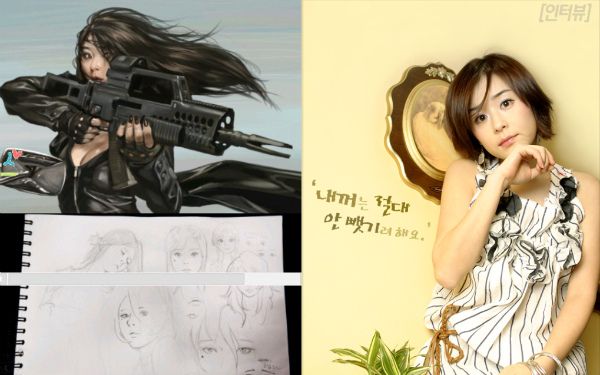 Via Sports Chosun
RELATED POSTS
Tags: Choi Kang-hee, Lee Seon-kyun