Secret Garden: Episode 12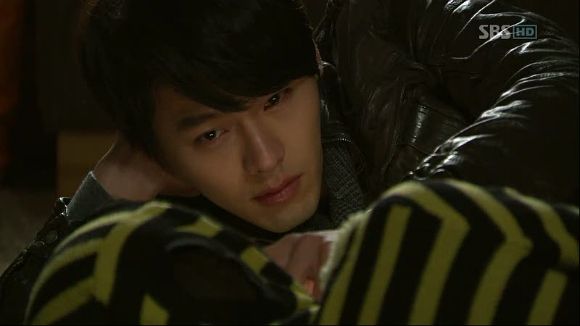 We're kicking it up a notch this week, as the love square starts to get going in earnest, thanks to Seul the Master Feeling Denier. Although I guess we can't really call it a love square, can we? It's more like an arranged-marriage-with-cousins-and-a-MerMistress-square. Yeah. I just grossed myself out.

EPISODE 12 RECAP
Joo-won declares in his ever-so-magnanimous way that he'll be the Little Mermaid then, and proceeds to toot his own horn about how cool and awesome he is for deigning to put himself at a disadvantage to be with her. Oh, god. I just realized it. You're THAT guy—the guy who wants so much to win the race that you don't even notice that you killed your horse to get there first. Tsk, tsk. You really know how to make a grand gesture all about you.
Ra-im just rolls her eyes at his cluelessness. She points out that in his grand scenario, either way, one of them has to disappear. "You like me that much, but a future with me…turns into bubbles?" And therein lies the problem. It's made extreme here by way of Joo-won's outlandish ego, but at the crux of the matter is the most common debate between men and women since dating began.
Joo-won acknowledges that it's the only way their story can end: that's their reality. He lays out the enormity of what his marriage means, to his business and his family. He even posits the fantasy scenario: let's say he gives it all up, for Ra-im, and they run away to go live in a tiny house somewhere. Sure, they'll be happy, but for how long? Will she be happy knowing what he gave up? He doesn't have the confidence to never resent her for it. Does she? Damn, well now you're starting to make sense and it's annoying me.
Suffice it to say, this is NOT the romantic speech Ra-im needed to hear to sway her.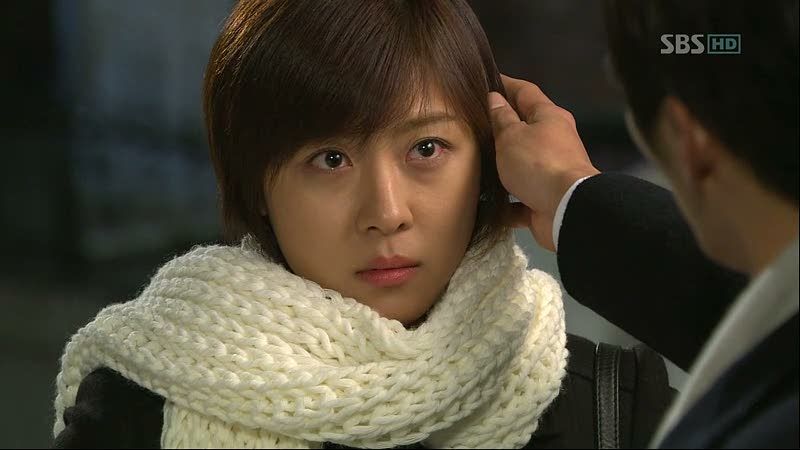 Ra-im: I'll say it again: you're right. Everything you're saying is right. But hey, Stupid, where on earth is a woman who'll jump at the chance to happily and beautifully cultivate a love that'll just turn to bubbles? Nowhere in the world is there a woman who will start a love, giving up the ending. That's why we'll never work. We have no answer.
Joo-won counters that there IS an answer…HE'll be the MerMistress! Did you not hear a word that she just said? Gah. He tells her that not everyone who dates gets married, so why should they let that stop them? Ha. Haha. Just because she didn't marry every guy she dated does NOT mean that she'll jump at the chance to be a MerMistress simply because the outcome will be the same. Do you know nothing about girls? I'd like to body swap with his therapist to knock some sense into him.
Ra-im tells him to get it through his thick skull—she doesn't like him, so he can take his MerBubbles and shove them up his arse. Or I'm paraphrasing. Whatever. At that, he pets her on the head, changing her expression in an instant. He calls her out for denying her feelings when it's abundantly clear that they're mutually attracted to each other. Well, he's got you there. He tells her to think about it sincerely before answering, and leaves.
Meanwhile, Ah-young and Secretary Kim remain at the dinner date, as they try to suss out the meaning behind Joo-won's concern over Ah-young's very intimate habits. Secretary Kim is in tears, hilariously having a fit over whether or not his boss and his girlfriend are having some secret affair.
She comes home and starts eyeing the chandelier in her apartment strangely, and declares to Ra-im that Joo-won must've put a secret camera in the light fixture. Otherwise, how on earth could he know the things he knows? Ra-im's eyes widen, as she asks if Ah-young went about her life as usual, sans underwear and all that, when she expressly warned her to be careful. Yeah, you warned her cryptically, as Ra-Him, so how is she supposed to know?
Joo-won's mother comes by his place to be debriefed by the housekeeper. She sees Ra-im's map of the complex, hilariously assuming that Joo-won made it, and wonders if he actually calls Oska "oppa." AHahahaha! I'd die happy if I could see that. It'd be better than the kiss.
She hears that Joo-won wears Oska socks, talks to himself, and gets frequent visits from Ji-hyun (his shrink). All causes for concern, of course, but the Oska socks shock her the most, heh. She also spies the fruit basket that Ra-im had brought to her house, sitting there. She orders it disposed of, but Joo-won comes home in time to save the tangerines from an untimely death.
Mother reminds him that this is still HER house, and that she can kick him out at any time. She tells him that she poured the best of everything into raising him; therefore, he ought to live up to that. If only raising children were like following a cake recipe. You can't put all the best ingredients in and then expect Perfect Child Cake.
She pushes him in the right direction with a little threat: either start going on blind dates again, or Gil Ra-im will end up in another country. He agrees to the blind dates.
He meets a new woman at the art gallery of course, and soon after Seul calls Ra-im to meet her there as well. She tells Ra-im that Joo-won was just here, and that either way, he'll meet and marry someone like herself. She'd rather that it be her. Oh, okay then. She acknowledges that Ra-im and Joo-won's feelings are sincere, and thus apologizes, as if she's already marrying the guy.
Ra-im wonders why she's doing all this when the man she really loves is Oska. Seul admits that she did at first, and that she even started all this to return to Oska. But now she doesn't even believe that he has a memory of their love, so she plans to do whatever she can to hurt him. So you admit that this is still ALL ABOUT OSKA. How is the wrongness of this whole plan not abundantly clear to you? I suppose you don't care is the point.
She tells Ra-im frankly that if Joo-won is back to going on blind dates, then both she and Ra-im them are as good as out. She adds that they've chosen a difficult target. Well, I'd say you've chosen a difficult target, whereas Ra-im is the target, from Joo-won's point of view.
Ra-im starts work on her audition tape for Dark Blood and ignores all of Joo-won's calls all day. Don't you know that's just going to send him to your front door later?
And sure enough, there he is, waiting for her to come home. He demands to know why she's been ignoring all his calls, and doesn't take, "Because it's annoying" as a hint to get out of her face. He whines that he couldn't get anything done all day because she wouldn't answer her phone, but she throws back that he apparently managed to go on a blind date just fine.
He's surprised that she knows, and she asks all the things she learned from Seul that day, about what he gleans about a woman's perfume use and whatnot, on a museum blind date. He counters with a glint in his eye, "Are you jealous? Does it make you angry? Should I stop going on blind dates?"
It's actually adorable how much he wants her to admit that she's jealous, but she doesn't oblige, walking right past him. He calls out that he came all this way, "Because I missed you."
That stops her in her tracks as he comes around to face her, wanting to stare at her face a little longer. Okay, that's cute. He tells her it's her fault for deleting the pictures of her on his phone, and makes her pose for another one. She makes an angry face, which of course just makes him hotter for her, since he said she's prettier when she's angry.
He tells her to hurry up and give him an answer, (to the letting him be the MerMistress question) otherwise he'll be back tomorrow. You guys do really have the strangest relationship.
Mom has a pow-wow with Oska's mom about how to get rid of an unwanted girlfriend. Oska's mother, who has lots of experience in this arena, says that you have to fight fire with fire; you can't go head to head with her, like Mom vs. Girlfriend. That'll never do. The answer is to pit her against another woman, one who's going to be a fierce opponent.
Enter Seul.
Mom brings her unannounced to the next family dinner, where Joo-won and Oska sit side by side, both stunned into silence by her appearance. Grandfather asks if Joo-won intends to marry her. He squirms for a second, then meets his mother's challenge: a spring wedding will be fine. Oh geez.
Mom introduces her to Oska, who she pretends to meet for the first time. Joo-won cries foul at that, prompting her to lie to cover it up, and for Oska to walk out. She goes to find him, and he asks her what she wants him to do, so that she'll drop this charade. She tells him to think about WHY she's doing all this.
Seul: The thing about women is, the most common of women can become a queen, and the most rarefied woman can become a maid…according to how she is treated by the person she loves.
Nicely put. But the statute of limitations on a broken heart only goes so far, honey. After a certain amount of crazy behavior, the rest can only be blamed on you.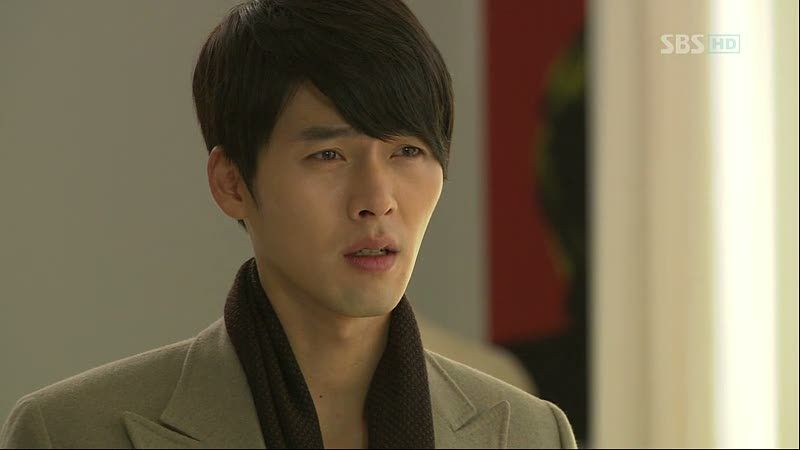 After the meal, Joo-won tries to talk his mother out of the match, insisting that Seul is in love with someone else. He doesn't mention that the other person is his cousin, which he really should, although I suppose that'd ruin Oska's chances of marrying her. But, then, what're the odds of that going down now? Mom decides that she's just perfect, (on paper, of course, which is what matters to her) and that's that. Joo-won leaves in a huff.
He goes to see his hyung, rushing to try and clear up the misunderstanding. He insists that he didn't invite her there, and that it's all his mother's doing. Oska knows but stays mad at him, making Joo-won whine, "why?" like a little puppy. I do love that Woo-young is the level-headed hyung to the ever-petulant Joo-won.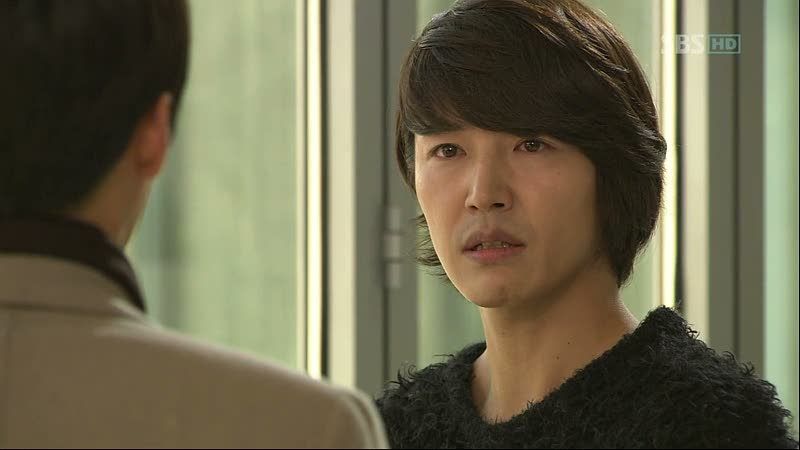 The reason he's mad isn't what he thinks: he's mad that Joo-won insisted on being rude to Seul and giving her a hard time in front of their family, by letting it slip that she knows Oska. He chastises Joo-won for always thinking only of himself, and never how his actions might hurt anyone else.
Ra-im happens to call him at that moment to move their training session around, and he takes the opportunity to rub it in Joo-won's face, and asks to see her. Joo-won's sparkly panties get in a bunch, as Oska says that Ra-im is the only person who can make him feel better right now, and runs off to meet her. Burn.
Joo-won retaliates by calling Seul and asking her to meet. Heh. He asks her what the real deal is between her and Oska, and she coolly replies that they're past lovers, nothing more. He doesn't think it's so much in the past, and tells her that Oska is still in love with her.
She's unmoved, declaring that she's over that hormone-driven era of her life. She doesn't see a problem with their marriage even with Ra-im in the way, as she isn't the type to meddle in a husband's "private life," making Joo-won's jaw drop at the extent to which she is a cold and heartless high society Bride Bot.
Over an open grill and pig skins, Ra-im and Oska have a chat, and he admits to having her meet him just to piss off Joo-won. HA. He tells her that he's dated a LOT of women, but still doesn't understand them in the least. The first and last woman he ever loved has returned as his worst demon, and he's at a loss for how to deal with it.
Ra-im tells him that all demons are wronged beings in some way, and that some women continue to show their love through their intense hatred. Well, that's certainly a true statement about Seul, although the spectrum of love/hate is all relative, eh?
There they sit, the four of them on each other's dates, opposite the wrong person, and brooding over the other.
Joo-won's sister heads to the department store lost in thought about her last encounter with Jong-soo, when she gets into an altercation with a guy who tries to smoke in a non-smoking area. He raises a hand like he's going to smack her (dude, take a chill pill) and Jong-soo appears out of nowhere to block the guy's hand and be the big hero. She swoons, and he exits, in a hurry to go yell at Joo-won.
It turns out that the action school was in a whole bunch of debt, and when Joo-won was Joo-wonda, he happened to intercept a debt collection call, and paid half of it off. He did it to keep Ra-im from finding out about the debt, and only paid half because he knew Jong-soo would have a fit about it anyway.
Well, you thought right, because Jong-soo ain't havin' any of your pity/help/investment or whatever. He demands that Joo-won take his money back from the bank and storms out.
There's other drama at the action school, as two newbies decide to drop out because the training just got too tough. Ra-im sends them off with good wishes, but fights back tears, as she feels personally responsible for not being there to help them stick through it.
Ra-im's sunbae Jung-hwan comes to see Joo-won and tells him about the action workshop coming up. The location hasn't been decided, so Joo-won volunteers to take care of that himself. Joo-won asks why he's helping him get close to Ra-im (because he has lots of money, of course) and also why he uses banmal with him. Jung-hwan: "I'm going to be 31 this year." Joo-won: "I'm 34." Whoops. He sits up straight and switches to jondae right quick.
Oska plans for his Christmas concert, and finds Tae-sun at Seul's studio to tell him that he'll be a guest performer onstage. He asks after Seul, but she avoids running into him, and watches him leave.
Joo-won heads to the mountains to do an inspection of the new resort that he's building, and the action school pulls up to the villa for their workshop. Joo-won greets them with a smile, while Ra-im and Jong-soo both look at him with the classic at-Joo-won look: surprise peppered with much exasperation. Jung-hwan uses the opportunity to switch right back to banmal with Joo-won, and takes the blame for planning the workshop with him.
Joo-won pulls Ra-im aside, asking her what her answer is, and why she's playing so hard to get. He asks what she did with Oska the other day, making mock cooing noises to simulate what the two of them sound like when they're flirting. Ha. She says it's none of his business, to which he shouts, "But WE'VE KISSED!"
Hahaha. You really are a five-year old about the kissing. She covers his mouth in a big hurry, and they go inside. Jong-soo announces to everyone that his post as the team leader will go to Jung-hwan next year, since the rule is that it rotates every year to make sure that the action school is never without a leader in case of injury or death. Well that's morbid.
Joo-won joins Jong-soo outside to say that he's a little bit cool, since as a leader himself he knows that giving up a position of power is difficult. Well, it's harder if you're a control freak.
He asks if it'll ever be Ra-im's turn, and Jong-soo replies that she has the potential, as he's been saying about her all this time. Joo-won asks if he can't just fire her then, before she dies some fiery death. Jong-soo says that he's thought about it, but action is everything to Ra-im, and he has no right to take that away from her. Joo-won decides that he'll have to do it himself then.
He heads back inside to find Ra-im already asleep on the floor, amidst all the other guys, some of whom are sleeping, while others stay up to drink. He steals blankets for her and himself, kicking the guy sleeping next to her to make room for himself. Heh.
He lies down next to her, just quietly watching her sleep, with the happiest look in his eyes, at just being able to look at her face. It kills me, that look.
As he watches her sleep, she starts to have a nightmare, and he puts his finger on her forehead to wake her up. She stirs awake and they lock eyes, suspended in the moment.
They have a conversation in voiceover, so essentially one-sided for both, although they answer back and forth as if they hear each other.
Joo-won: Why is it always so grim in your dreams?
Ra-im: Because in my dreams…you're there.
Joo-won: With me…even in your dreams…are you not happy?
Ra-im: Come anyway. Tomorrow. And the next day.

COMMENTS
Aw. So. Sweet. Hey, a girl can't help how she feels, no matter how much her head is saying no. Sometimes that just fuels you in the wrong direction, which is, as anyone can attest, the perennial problem with bad boys.
What's funny about this couple is that they've dug their own stubborn graves, and now they're totally stewing in their own feelings. They're falling ever so precipitously in love with each other, all the while declaring how it's never going to work out. Well, when you make it so difficult to even begin, how will you ever find your way out?
The best part about this episode is that it makes one thing very clear: words bad, silence good. Their banter is almost always a hindrance to them, as they usually end up saying the worst possible things to each other if given the opportunity. Joo-won especially has the WORST case of foot-in-mouth syndrome I've seen in a while. But when given a moment of silence, their feelings are undeniable, and no amount of babble can cover over that kind of sizzle.
Snap, Crackle, and Pop.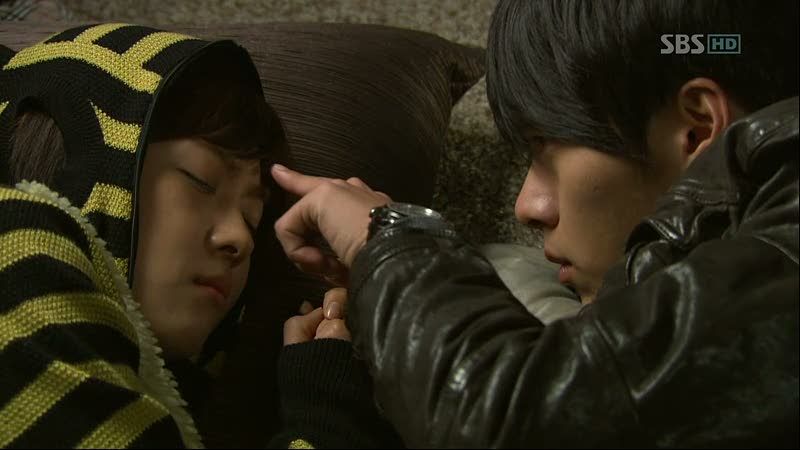 RELATED POSTS
Tags: featured, Ha Ji-won, Hyun Bin, Kim Sa-rang, Philip Lee, Secret Garden, Yoon Sang-hyun