Secret Garden: Episode 13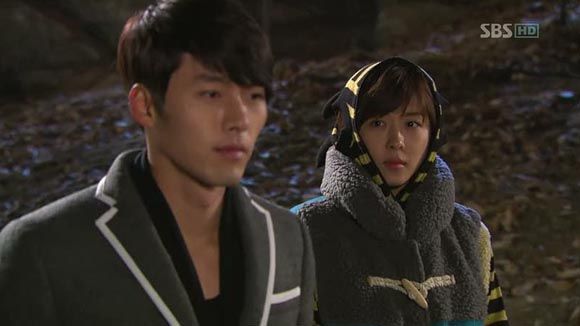 Some really nice moments in this episode, and some long-awaited movement on Ra-im's part (finally!), help mitigate some other bits that I hated. Or rather, one bit in particular. (I really wanted not to hate it, but it's one of those things that you just can't bring yourself to accept, y'know?)
SONG OF THE DAY
Jung Yeob – "Love You" [ Download ]
Audio clip: Adobe Flash Player (version 9 or above) is required to play this audio clip. Download the latest version here. You also need to have JavaScript enabled in your browser.

EPISODE 13 RECAP
My absolute favorite part of Joo-won staring down at a sleeping Ra-im is how, when she frowns, he frowns too. Despite his emotional stuntedness and his absolutely inappropriate ways of treating people's feelings, he's in tune with her feelings and dislikes seeing her experiencing a nightmare. (Too bad he can't make the mental connection and see that HE'S the cause of some of her waking nightmares, so to speak, with his harassment.)
When she awakens, they stare at each other and have a silent conversation (their thoughts are to themselves, but form a dialogue) which ends with Ra-im mentally telling Joo-won to come by in her dreams again. And then Joo-won utterly ruins the connection by whispering, "Uh, there's an empty room next door…"
Ra-im grimaces — men! — and shoves her pillow in his face, but both immediately duck down and feign sleep when Jong-soo enters the room. Seeing Joo-won cuddled up to Ra-im, he drags him away, then settles down on the ground to claim the spot next to her.
Not about to be outdone, Joo-won pretends to sleep-wriggle his way back up, wedging himself between the two. He allows himself a gloating smile and snuggles against Ra-im's back. One point, Joo-won.
In the morning, Ra-im and Jong-soo head out for a hike together, ignoring Joo-won's pestering questions. He manages to catch up to them on the trail, though he gasps along and asks them to slow down. Instead, Ra-im suggests upping their speed, and Jong-soo happily obliges. One point, Jong-soo.
At the summit, Ra-im declares that winter is her favorite season because the cold forces you to keep walking to keep from freezing to death, warming the body. Well, that's optimistic in a morbid sort of way.
On their way down, they find Joo-won huddled in the cold, notably opting for the exact opposite of Ra-im's hypothetical scenario. He sits and waits rather than moving, his body cooling instead of heating.
Grimacing in pain, he makes a big deal about twisting his ankle, and hobbles along with the aid of the other two. They're particularly annoyed with the way he leans all over Ra-im, using this as an excuse to slip an arm around her and pat her hair.
Finally Jong-soo has enough and declares that it'll be faster to just carry Joo-won on piggyback… and miraculously, Joo-won declares his ankle healed. Hur.
Disgusted with his cheap trick, Ra-im delivers a swift kick to the shin. Joo-won protests that he really was hurt, clutching his kicked leg while hopping on his good one… then loses his balance and goes toppling down the slope.
Oska calls Seul's social-climbing friend to ask her about things he should have frankly asked years ago. I suppose he was afraid to face the possibility that he'd been an ass, as he admitted to Ra-im, and now the friend confirms as much. Seul didn't actually study abroad with that douchebag, as he'd believed, and had even attempted suicide. The friend advises Oska to hear the rest from Seul, since it's not really her place to divulge all this. Yes, so discreet of her to share everything but one last detail.
Oska grows teary-eyed as she reminds him that Seul doesn't have a lot of friends because he'd been her everything. She was always there when he needed her, but he was never there for her. The truth, it hurts.
Seul's employee confesses to accidentally leaking Oska's plagiarized song, which is doubly bad for Seul because in addition to making her responsible for this professional gaffe, it also means Oska was right when he suspected her.
As Tae-sun watches interestedly, Oska comes barging in and takes her aside to talk. He doesn't say anything at first, just fixes his attention on peeling a plate of roasted chestnuts. Seul sits there awkwardly, her anger at being wrongly accused fading since the accusation wasn't so wrong after all. She admits to being responsible for the song leak, but he doesn't react much, just keeps peeling.
He offers her the chestnuts, having remembered how she liked them, but she shoots him down — he's mixed her up with someone else. Oops. Frustrated with himself more than anything, he asks why she ever dated a jerk like him in the first place. He promises to think harder about how he hurt her. (Geez, you still don't know? You declared that she meant nothing to you — to a guy who you thought she was with for a year — and can't put two and two together? He gets points for effort, not so much for brains.)
Back to the mountain retreat. Joo-won's business meeting will keep him behind for another day, so the stunt team heads down first. However, Ra-im isn't with them; she (reluctantly) stays behind to tend to Joo-won, since he was injured when she kicked him.
Given Joo-won's stunt about the ankle, Ra-im is reasonably suspicious that he's faking his injured back, too. As he rests up at his own quarters, he wants her to tend to the swelling, then pulls down his pants (pffffffffft!) to show her the bruise. Ra-im whirls around and squeaks out a protest.
He asks what she did with Oska that other night, and she answers that she went to eat pork skins with him. He grimaces at her pointed comment that he ate it "like a man," unlike some people.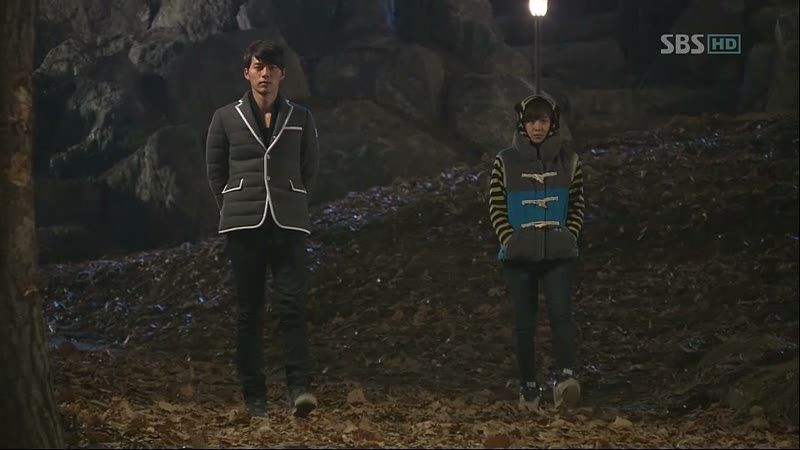 He insists on taking a walk with her, citing physical therapy, and they walk on in silence. I love that they walk in step with each other, like Ra-im did in his fantasies, and he tells her as much — that he's walked with her before, back when he kept imagining her appearing before him.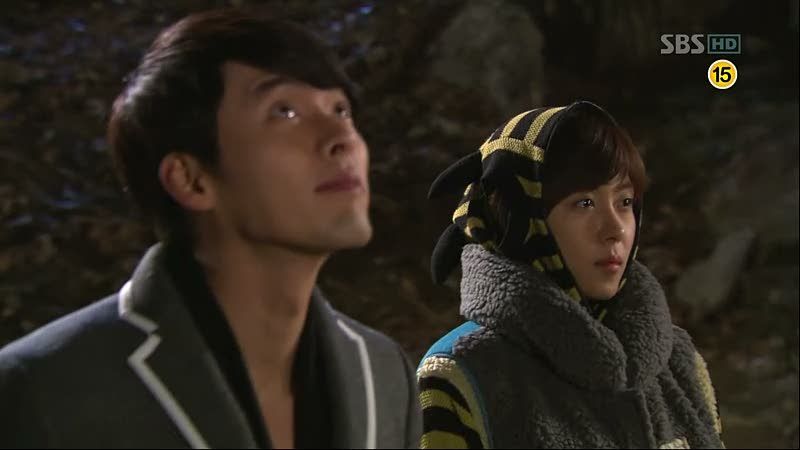 Ra-im looks at him as she thinks to herself:
"Ra-im's narration: There are things that are thought of as fantasies merely because they're far away. Starry bodies are like that. Just as it is with people who are too beautiful, they readily disappear."
The line is a quote from a book, and she continues, thoughtfully:
"In the books that I'd read to find out what he's really like, there was a passage that had long settled in my heart."
Joo-won faces her with a smile, and tears start to form in her eyes as she thinks:
Ra-im: "It's now that I realize it — how beautiful a person he is. And therefore, how far away he is from me. He'll disappear someday, too, like people do when they're too beautiful."
(It's a beautiful scene… but rehashes a sentiment I'm pretty sure has been shown before. It sorta sucks out the impact of this "revelation" when the point being made is an old one. Although it is nice that we finally see Ra-im's longing, on a level that's deeper than a purely physical pull.)
Joo-won barges in on Ra-im while she's trying to get a handle on her thoughts, pouting and making trivial requests (water, change the TV channel) just to stretch out their interaction. When he declares he's going to sleep in the same room with her, she's not having it and tricks him into stepping outside, then locks the door. Indignant, he tries to pick open the lock with a paper clip, unsuccessfully.
It's his turn to do the tricking: He talks as though Jong-soo has returned, which draws Ra-im outside, at which point he pushes his way into the room. Before she can shove him out again, he pushes her into bed, holding her to him, and tells her firmly to go to sleep.
Ra-im puts up a struggle, threatening first and then pleading for him to let her go. He doesn't loosen his grip, and eventually she settles down and stares up at Joo-won for a long beat.
After a charged moment of looking at each other — do you hear that crackling? It's the tension — Joo-won holds her even tighter and starts reciting his old familiar refrain, the one he used to ground himself in reality whenever his feelings (or hormones) got away from him. Only this time, his voice breaks and takes on a desperate tinge as he recites, over and over.
The next morning, they head straight to the doctor's office after Joo-won wraps his business meeting. Having assumed he was faking his pain, Ra-im is surprised to hear the doctor declare that the injury was fairly severe.
Joo-won's mother calls Dr. Lee (Ji-hyun) to ask about Joo-won's medication, ignoring Ji-hyun's comment about patient confidentiality and shrilly demanding to know the truth. Ji-hyun is spared a knock-down drag-out fight about medical ethics because Mom receives word that Joo-won was injured, and that Ra-im had been with him.
Ra-im has another stunt training session with Oska, who drives her home afterward. However, he recognizes the chauffeured car parked nearby, and guesses what's happening. Warning Ra-im to stay away until he calls, he hurries inside — where Mom waits in disgust with a nervous Ah-young.
He tries to get his aunt to leave, but like she's going to listen to him. Ra-im appears at the door (argh, does she not listen, ever?), and that gets Mom's hackles up. Oska defends her, but it doesn't help that Mom's just found the box of Joo-won's boxers — the ones he "returned" to Ra-im — and she dumps the box over Ra-im's head.
Ra-im tries to explain about a misunderstanding, but there's no easy way to explain Joo-won's sparkly underpants, and Mom rails against Ra-im's parents for bringing her up poorly, and raising her to mooch off a rich man.
It's that low blow that lands with her, and Ra-im says with tears in her eyes that it's true Joo-won likes her, and that she has developed feelings for him as well — but no matter, because she won't date him now, no matter what, because he's not someone she'd dishonor her parents to be with. Crying in earnest, Ra-im says that her father was an outstanding person, and demands that Mom take those words back.
Not bloody likely. Instead, Mom spits out that she can do a lot worse. Yeah, I believe you, viper lady. Finally, Oksa loses his temper and forces his aunt out. When he comes back to check on Ra-im, she's sobbing her heart out, crumpled on the ground with Ah-young attempting to comfort her.
Hearing that his mother paid a visit to Ra-im, Joo-won immediately heads to Ra-im's house, and then the action school, to no avail. He then confronts his mother angrily, asking her to back off Ra-im.
Mom declares that she knows he's taking pills, which to her is a Big Fucking Deal — because of how it would look to the world, of course. Nice of her to care about her son's health, isn't it? If word got out that the LOEL president was hopped up on crazy pills, it would look mighty bad.
Mom says the one bit of wisdom she's probably ever spouted in her life, in telling Joo-won to go for the relationship if he likes her so much. At his astonishment, she points out that he's not actually fighting with her over this — he's fighting with himself.
But if he chooses Ra-im, if he marries her and has children with her, he'll have to give up everything. Mom may eventually accept the child, but Ra-im will never be allowed one step into their hallowed halls. So if he thinks he can be content with only love to sustain him, by all means, go for it.
Finally! Mom graduates from Mere Plot Device and Angstmaker Extraordinaire™ to voice of (spiteful, malicious) reason.
Joo-won returns to Ra-im's door, this time knowing she's inside because he can hear her phone ringing. She refuses to answer the door, and in the morning finds him still outside — he sits in his car, having waited through the night.
Joo-won tries to say something, but he admits he doesn't know how to go about apologizing. If he's looking for a break, she's not about to cut him one — not when this is more proof of his arrogant privilege. Why can't he do something everyone else knows how to do? She's forever apologizing, and yet he doesn't even know how.
Ra-im tells him she has to keep living her life in that space where his mother degraded her and her family — so he ought to leave her to her own pathetic life, and return to his fairy tale. She walks away battling tears.
Meanwhile. LOEL is holding its annual VVIP party that night, which Seul plans to attend as part of her patented Piss Oska Off Revenge Plan.
After spending all day in a broody fit, Joo-won comes roaring up to the action school. Ra-im quickly asks Jung-hwan to say she's not here, but Joo-won knows it's an excuse and shouts aloud into the empty gym that she's a coward for hiding, that he's hardly even begun, that he won't give up. That if she's going to reject him, she ought to at least take his calls to tell him so.
Jong-soo comes up to her and points out that Joo-won has a point, and that hiding is the worst option. She bows her head but doesn't emerge from hiding, and spends the day hunched in the locker room lost in thought. She reads over the string of texts Joo-won sends her, each worried in tone, asking her to answer.
After sitting like that for hours, she finally makes a decision and heads out, arriving at Joo-won's compound that evening.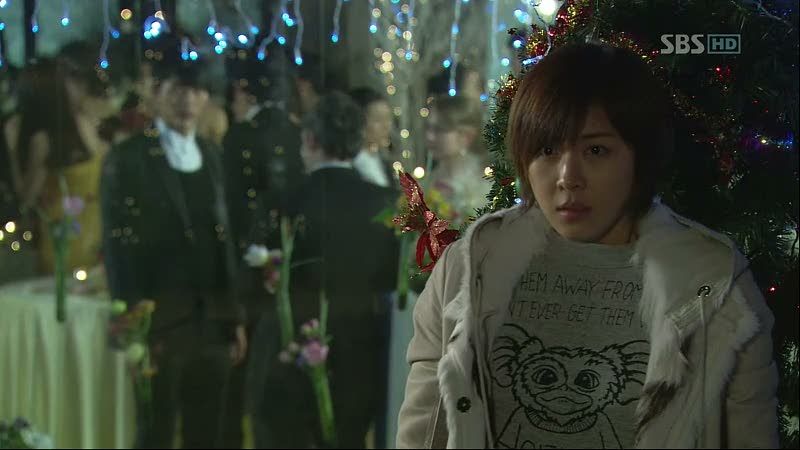 It's not till she's outside his house that she realizes there's a party going on. From outside, she sees Joo-won making the rounds, smiling and greeting his guests, and the scene hammers in her status as an outsider (literally) looking in (again, literally) on the unattainable world inside.
Remembering Joo-won's reaction to her shabby safety-pinned bag earlier, she glances down at her clothes, so unsuitable for this setting.
She hesitates when Joo-won calls, and finally decides to leave, unseen. However, Oska comes walking up at this moment, interrupting her escape.
He notices that she's freezing and invites her to his house for a warm drink. He urges her to make her presence known to Joo-won, but she's feeling self-conscious about her appearance and anxiously declines.
That's no problem: Oska declares himself her fairy godmother (heh) for the night and calls in a styling team to fix her up.
And so it's a very different, very glammed-up Ra-im who makes quite an entrance at the party, on Oska's arm. (Ha Ji-won looks hot, but let's just say that this moment might have had more dramatic impact had Ra-im and Oska not been wearing the same hairstyle.)
Seul glares — surprised, and also peeved to be upstaged just after declaring her intent to be the queen of every event — while Joo-won looks on in a mix of jealousy and shock.

COMMENTS
Is it me, or is the conflict getting really repetitive? I really liked much of this episode, but when you stop to think of what really went down in the big conflict scenes, it seems like the answer is, not much. The acting really kills the moments, whether it's Joo-won's viper of a mother being her poisonous self, or Ra-im being torn down by these hoity-toity folks, or Joo-won fighting with himself. But the actual facts of the matter? They've been long established and aren't really changing. Yeah, class differences separate them. We got it ten episodes ago, thanks.
In that respect, Secret Garden has always felt like a bit of an antique, premise-wise — something out of a prior age that has been dressed in modern clothing, but hasn't actually updated its themes or motifs accordingly. It's the classic mistress dilemma — the woman refuses to be a kept woman, but the man refuses to marry her because his wife must be his social "equal."
I get this conflict if we're talking about, say, 19th-century British aristocracy, or 16th-century Joseon classism, or old-timey fairy tales. But it's a stretch here in modern times. Chaebol families are the closest Korea has to a modern aristocracy and the thematic parallels generally work, but not perfectly, which is why these increasingly dramatic classist clashes are starting to wear thin.
Warning: Rant ahead. Regarding the bed scene —
This scene makes me so mad, because I'm so conflicted about it and it's aggravating that I even feel torn because I know I should just hate it outright, but I realize the chemistry is sizzling and our couple is just so damn electric together. But I can't enjoy it either, because the moment is just all kinds of wrong.
Yes, he's hot, and yes, I love Hyun Bin — who wouldn't want to be aggressively courted by him? But the fact remains that in this situation, a man tricks a woman, forces his way into her room, ignores her repeated protests, shoves her onto a bed, and restrains her body while holding her close. True, he doesn't attempt any further bodily violations… but really, isn't that enough? It's already assault. The fact that he's a dreamboat doesn't diminish the ick factor for me.
Perhaps you can argue that Ra-im actually likes him, that her resistance fades, that she's actually okay with it. But she says no over and over, and struggles, and asks him to get off her. It resembles a lot of the "forced seduction" scenarios of old romance novels, the kind of scenes that romanticized rape (hey, the hero got the heroine to like it, therefore his brute force was justified) — but which are, tellingly, no longer considered acceptable.
This is so close to the whole "She was asking for it" argument that gets thrown around, the lame defense of "It's not assault because she liked it, honest." I'm just… really, really torn about this moment because I want to like it, in fact I do sort of see the appeal and that drives me nuts. Because I also hate it. The very fact that Joo-won IS so appealing is not a mitigating factor but in fact an exacerbating one — it blurs the lines so that you want to cut him some slack, and that does everyone a grave disservice.
I'm more irritated with the drama itself than I am with Joo-won the character, because it's one thing for a flawed character to act in stupid ways. But it's a whole other thing for a drama to put forth this scenario and then romanticize it as sexy and moving, putting an uncomfortable glossy sheen on a situation that at its core is deeply problematic. Even if I hadn't personally known friends (yes, plural) who were raped by men who claimed after the fact, "I thought you wanted it," it would be hugely upsetting. Oh, it's okay to assault a woman if she likes you back? Okay, then. Swoon.
But still: Urg, drama, you just ruined Joo-won for me! He'd been teetering on the brink for a while, but had finally won me over with the awesome watching-her-sleeping scene in the beginning of the episode. I don't know if I can go back to rooting for him now — you can't un-sour milk, can you?
RELATED POSTS
Tags: featured, Ha Ji-won, Hyun Bin, Kim Sa-rang, Philip Lee, Secret Garden, Yoon Sang-hyun