Kim Joon cast as a cop in new drama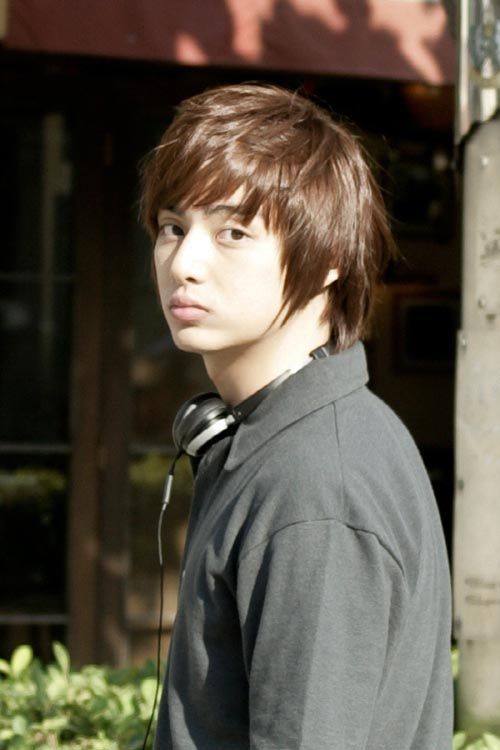 T-Max rapper and newbie actor Kim Joon (whom you may recall as the "Yo-yo-yo!" bro from Boys Before Flowers) is joining the cast of Serious Crime Squad, the cop drama starring Kim Seung-woo and Song Il-kook. With such big names at the top, I'm betting the still-very-unpolished Kim Joon will have a smallish supporting role, but I do love his character description: a cowardly cop. Ha! Bring it on.
Serious Crime Squad is a procedural police drama that is adopting the ripped-from-the-headlines tactic that has served Law & Order so well for years upon years. Each of the detectives has a distinct personality and the episodes will showcase various investigative techniques. The show is being promoted as "refreshing and satisfying, with a realistic feel."
Kim Joon's character is Shin Dong-jin, specializing in cyber-crime investigation. He excels in his field but has an innately timid and fearful personality; the sight of a corpse tends to make him faint, which is, unsurprisingly enough, frowned upon by his colleagues. As such, he's described as a unique character who's rather unpredictable.
I do think Kim Joon has a long way to go in terms of acting skill — he really benefited in Boys Before Flowers by being allowed to act as eye candy without having much to do dramatically — but I can't deny he's got personal charm. I can see him playing a comic, quirky character much better than one that's dependent upon a solid dramatic performance, so I hope this role suits him.
Sunwoo Sun has also been cast, and for a relative latecomer to the acting scene, she's proven to be pretty strong with roles as a spoiled chaebol in Queen of Housewives and a spoiled chaebol in Will It Snow For Christmas. Okay, that makes her sound limited in range, but her two characters were pretty disparate in personality, and I think she'd make a kickass cop. Joining her as the other female lead amongst a mostly-male cast is Park Sun-young, who played the feisty (and rabbit-toothed, lol) lawyer in Sons of Sol Pharmacy.
Serious Crime Squad will follow Dream High on Mondays and Tuesdays, and premieres on February 28.
Via Joy News
RELATED POSTS
Tags: Kim Joon