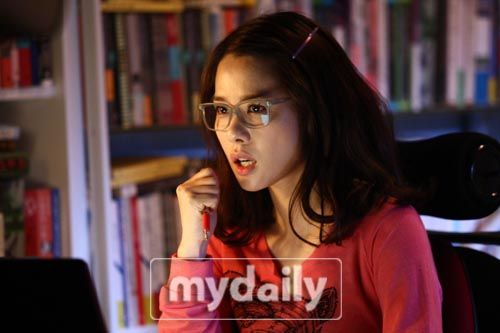 All That Glitters premieres today on MBC, taking up the slot formerly occupied by Gloria, and here are a few more stills and official posters for the drama.
Despite being a 50-episode weekend drama, All That Glitters is on my tentative watch list for one reason, and one reason only: director Noh Do-chul, who showed a stylish visual flair and a sharp ear for music in the witty Soulmate and the fresh comedy Hello Franceska. I'm not pinning my hopes on this being another Soulmate, but I do have hopes that he'll be able to do something zippy and engaging with what sounds like a fairly standard premise.
(I do like lead actress Kim Hyun-joo as well, but she alone isn't enough to get me to watch a drama that doesn't otherwise interest me. Case in point: Partner. Another plus is writer Bae Yoo-mi, who penned two enjoyable rom-coms, Who Are You? and Really Really Like You.)
The drama centers around Kim's workaholic character, the daughter to a publishing chaebol who is determined to succeed on her own merits rather than depending on her family wealth. Her life is suddenly overturned when she her situation is reversed with the daughter of a poor family, making All That Glitters a female version of the ol' Prince and the Pauper storyline, told as a "bright and cheerful success story."
That other woman is played by Lee Yuri, whose character fills the role the femme fatale villainess. Kim Seok-hoon (Iron Empress) is cast as the prickly leading man and an editor-in-chief, with supporting cast including musical actor Kang Dong-ho, veterans Go Du-shim, Park Jung-soo, and Gil Yong-woo, and Micky Yoochun's younger brother Park Yoo-hwan in his acting debut.
The drama airs its first episode today, February 12.
RELATED POSTS
Kim Hyun-joo
,
Kim Seok-hoon