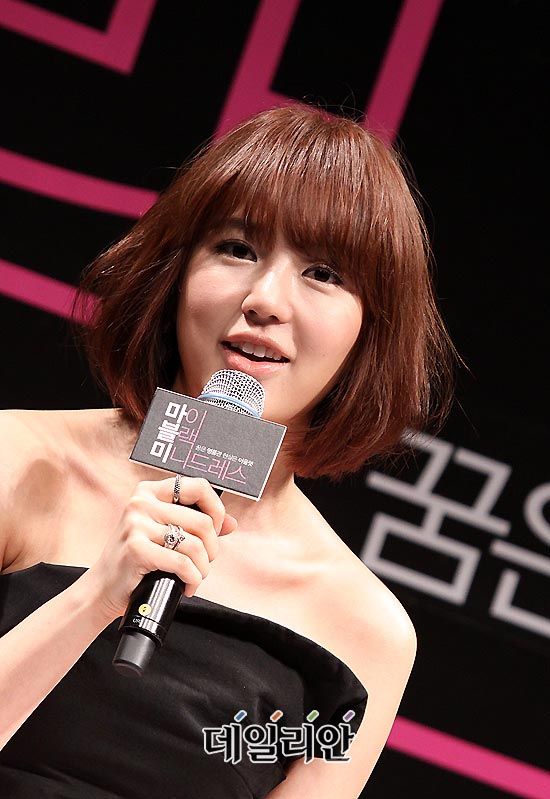 …may be greatly (or at least slightly) exaggerated. But still, even though the talk is still in the rumor stage, where there's smoke…
If we choose to take the optimistic approach, Yoon Eun-hye may be making her return to television this year, according to reports that she's considering the project Sweet Scandal, which had previously gone by the title Lie To Me.
Sweet Scandal is a romantic-comedy drama planned for a post-Midas broadcast on SBS, and Yoon has been linked to it in the press before. It seems both sides (her management and the drama's producers) are a little exasperated with the press's preoccupation with her casting, and the PDs have stated that Yoon's casting news is premature. Her rep also stated, "She has considered the project, but there has been no decision. Reports that she's been cast have come out three times now. With the reports coming out every time she's considering a drama, it makes it difficult to actually consider the drama."
But it's tough when you're Yoon Eun-hye, whose every movement — however minute and/or insignificant — tends to draw huge amounts of attention. She's also something of a hitmaker in dramaland, even more so than other, bigger, A-list-ier stars (like, say, Sohn Ye-jin or Jung Woo-sung, whose names alone haven't been able to save sinking drama ships) — I think Yoon manages to hit that perfect sweet spot of big-name recognition, popularity, cross-generational appeal, and likable public persona. Even her lesser series have performed better than average, and her attachment practically has HIT! written over a project. (Goong and Coffee Prince were uber-hits; Vineyard Man was one of the only dramas to survive the Jumong juggernaut; and My Fair Lady still pulled in upper-teen ratings despite being a dismal wreck of writing and acting.)
The drama has two noted directors onboard: Kim Soo-ryong of the short melodrama series Father's House and Kwon Hyuk-chan of this year's body-swapping melo-fantasy Secret Garden. That would be right up Yoon's alley, since I think she's at her best in rom-coms with a few melo moments, rather than, say, straight-up drama like Love Song, the melodrama remake of Comrades that she signed up to do last year, but which has understandably stalled since Park Yong-ha's suicide last summer.
There have also been rumors placing Yoon in contention for KBS's upcoming Maids, the follow-up from Pasta's writer, and MBC's Discovery of Affection, the Hong Sisters project that also teased a Gong Hyo-jin possibility. Frankly, I'd be happy to see her in any of these dramas. She's not the most skilled actress out there, but she's just so darned likable — she puts so much of herself into her roles that what she lacks in technical ability, she makes up for with her big, open, enthusiastic heart.
Currently, Yoon Eun-hye is promoting her rom-com movie My Black Minidress, which releases this month.
Via Star News
RELATED POSTS
Yoon Eun-hye