1 Night 2 Days: Episode 328
Boys dressed in suits! Frolicking in a flower meadow! Getting sly and outsmarting their captors tormentors PDs! Can it get any cuter? (Well, I suppose they could've brought back the monster teddy bears…)

EPISODE 328. Broadcast on April 3, 2011.
girlfriday: The suits! I love that having Tae-woong on the show is an excuse (a totally arbitrary and flimsy one) to get them suited up. A girl could get used to this.
javabeans: There was absolutely no reason for them to need be-suiting that day, right? Other than to make me happy, I mean?
girlfriday: That makes two of us. There's something very strange about suits. They're the opposite of the great equalizer. The second they get dressed up, Tae-woong and Seung-gi look totally different from the rest of the guys. Ho-dong looked like he hadn't worn his suit in five years.
javabeans: I don't think he had. It would barely button! I kept expecting them to re-create that scene from Reservoir Dogs, with that telltale riff, in slo-mo.
girlfriday: They really did look like a couple of gangsters, especially with Ho-dong leading the pack. But then I cracked up at Seung-gi's comment to Ho-dong, that he looks like he's draggin' his ass home after an all-night bender.
javabeans: Everyone else looked a little out of place, but when the camera landed on Tae-woong the captions were all, "Ah, now here's the Uhm Tae-woong we're used to seeing."
girlfriday: It was especially cute how excited the guys were to see each other suited up. Their runway-walk-meets-Soul-Train intros were awesome. Na PD: Get dressed up in suits…so you can dance at the camera! I love Ho-dong's aegyo dance.
javabeans: That must be Ho-dong's theme song — I notice they've used it a few times when the lyrics go, "You're cute, you're so cute." (It's Humming Urban Stereo's "Hawaiian Couple," for the curious.) I'm also learning that Jong-min likes his demented cartwheels. He looked like a turtle trying to tumble.
girlfriday: The cartwheels always come out of nowhere too. I think he thinks spinny = better. But the funnier part is the other guys' reactions, like someone let the air out of their tires.
javabeans: This is Tae-woong's third outing for the show, and you can see that he's still pretty self-conscious, from the way he did his little jig and then beelined for comfort in the arms of his Ho-dong hyung.
girlfriday: You can see everything written plainly on his face, from the fear to the embarrassment. And as he hides, the caption reads: "Why did I do that?" The guys congratulate Tae-woong on his popularity (His first trip has aired by the time they're filming this episode, so they're aware of the great response he's getting.) He confesses to acting more innocent in front of people now, like picking up litter and being a good boy.
javabeans: There's such an oddly funny dissonance with this — Tae-woong is starting to settle more into the idea of being on a variety show, with his actions being analyzed and interpreted by the viewership, and he's aware that "innocence" can be a strategy. And yet, he ANNOUNCES this on television, making it this meta-on-meta moment, like he still sorta missed the point of having a behind-the-scenes character concept versus an in-front-of-the-cameras one. For him, there's no division. It's kind of awesome.
girlfriday: I like the other meta confession from Na PD, that it's one of his wishes that the press writes one those "airport fashion" stories about them. And lo and behold, that's exactly what happens. Seriously, HE's the chun-jae.
javabeans: Now, the show just has to mention the media articles in their next episode to lock them in an unending cycle of meta. It's a press exercise worthy of MC Escher. Or what happens when you put two mirrors opposite each other.
javabeans: How about their reactions when they were debriefed on the trip, and couldn't wrap their heads around the lack of hardships built into it? They were so wary of possible traps. Somebody's learned that there really is no such thing as a free lunch.
girlfriday: Keh, the shock on their faces when they're told they all get to take a plane to Jeju, and get to eat first thing when they land. Ji-won: "Why are you doing this to us?" LOL. To top it off, they each get an envelope with 50,000 won inside, making them even more suspicious. Ho-dong: "If we did something wrong, just punish us." HAHA.
javabeans: It was a brilliant way to take them off-guard. I giggled when Seung-gi held his money up to the light to check that it wasn't counterfeit.
girlfriday: And Su-geun's question to Na PD: "Is there a reason you need to get rid of some money in a hurry, or something?"
javabeans: The flashback to Jong-min's scouting trip with the staff the week before was great — you can literally see the moment he has this change of heart. At first, he was so eager to make things as tough as possible — taking a dinky boat, sleeping on a scratchy reed patch — and then he saw the crew eating the lavish lunch. It was like it hadn't clicked that his team didn't have to suffer as badly as they regularly do. That the choice to give or withhold is right there.
girlfriday: I think the moment was when he realized that Na PD gets to eat everything that he later tempts them with, on the show.
javabeans: After that, he had a total about-face: "We need to make this a humanism trip!" Talk about swinging from one extreme to another. All of a sudden it was plane rides and comfort.
girlfriday: And suits.
javabeans: I still don't get the suits. All episode long, I was thinking, "This is going to make sense, right?"
girlfriday: It came from Jong-min's brain. That's unlikely.
javabeans: He just wanted to look like a spy. It cracked me up when they called him "Secretary Kim" instead.
girlfriday: Hahaha. Seung-gi was immediately dubbed Young President Lee, and Jong-min became Secretary Kim.
javabeans: And the creepy-eyed ghost!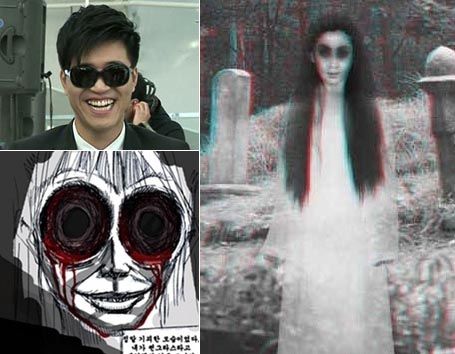 girlfriday: It's like his own idea to look cool backfired on him.
javabeans: The guys kept trying to suggest to him that the sunglasses didn't work, but he stubbornly refused to give them up.
girlfriday: So they arrive in Jeju, and as expected, the boys lose all focus when presented with food, giving Na PD plenty of time to put his evil plan into motion. During lunch, Ho-dong and Cho-ding have one of their classic Papa Bear / Baby Bear moments, as he tries to get Ji-won to eat the fish bones with his fish.
javabeans: That totally gave me flashbacks to conversations with my dad, when Ho-dong was insisting Ji-won try it his way, and Ji-won was shooting him skeptical looks. Even to this day, that's how we are. I've learned to just nod and say, "Yes, Dad" to speed things along.
girlfriday: Usually if I make that sour/skeptical face that Ji-won makes, my dad just de-bones the fish for me, to save himself the aggravation.
javabeans: This episode had a particular meta element to it, because they had to point out the very process of producing 1N2D in order to fool the guys.
girlfriday: Like the army of staff it takes to produce the sucker?
javabeans: Yeah, and how many cameras have to roll to get all that coverage. And how even in the midst of a challenge, the guys are thinking, "If we get no footage, we have no show. Ergo, we must get the footage ourselves." (Below: Jong-min and Ji-won get their timestamp and check the cameras.)
girlfriday: They've been ditched before, and I think they've learned a few things each time. Last time there was a whole segment by the river that they filmed…without SOUND. It was actually the funniest part of the episode.
javabeans: HA! Like we said the last time, it's the unexpected hiccups that give the show its extra little magic.
girlfriday: To make it even funnier, the PDs edited in the part in the beginning, where they clearly show Seung-gi and Ho-dong how to operate the cameras, and then cut back to silent footage. Hur.
javabeans: Lol. Highlight their ineptitude, eh?
girlfriday: I giggled when Na PD came out of the room and started herding the entire staff out. They always use food to distract them when getting ditched.
javabeans: The best part was when they flashed back to Na PD preparing his staff for the eventual ditching, and you could see their reactions of surprise and glee. If the staff is thinking this is pretty extreme, then it makes it that much funnier when they do it.
girlfriday: Yeah, it's the first time they do it with the entire staff like that. They once got ditched by a camera team up in the mountains, but that was maybe twenty people, tops. But there's one thing that Na PD always does when ditching them: He writes a note starting with "I love you." Them be dangerous words, coming from Na PD.
javabeans: I have to say that the editing of the episode really worked to its advantage. During the entire first part, I was watching the seemingly benign events unfold, filled with unease the entire time, waiting for the other shoe to drop. It was strangely suspenseful. And then when Na PD sprang into motion, I could finally relax — "Aha! So that's it!" Now the game could begin.
girlfriday: In the letter, he tells them that they have a mission to complete, all on their own…and that they ONLY have to pay for their own meals. HA.
javabeans: "We paid for our food. Wasn't that so nice of us?" I loved punny Ho-dong — this only makes sense in Korean, but Ji-won complained, "Is that in-gan-jeok?" (In-gan-jeok = humane.) And Ho-dong quipped, "It's in-gan JEOK" (meaning, enemy of humankind).
girlfriday: These guys LOVE their puns. So the challenge is a three-set photo mission: (1) a Miss Korea pose in a flower field, (2) one member being tossed in mid-air, and (3) head-to-toe matching outfits. Reward is next trip starting at noon, punishment is next trip starting at midnight, making it a full 48-hour shoot. This guy knows his punishments/rewards, I tell ya.
javabeans: It's like he has a perfect understanding of how much to dangle in front of them to tantalize. I'm sure a midnight shoot isn't so bad…but he gives them a few moments to imagine the alternative. Like they're tasting it.
girlfriday: It's the illusion of choice. Because as the PD, he can just force them to start at midnight if he wanted to anyway. Oh, the power of gods. So the guys leave, cameras in tow, to begin their missions. And Na PD stalks them, of course. I love that he gets all James Bond about it too, telling the driver not to ride their tail. Meanwhile the boys don't know where to go, and Jong-min, who came on the location scout, is all, "It's by the ocean!" And Seung-gi: "Hyung, Jeju is an island…"
javabeans: The guys figured they could use the GPS on Tae-woong's phone, which the producers hadn't taken into account. Na PD, who was following in the car behind them, was bewildered at how smoothly they were navigating the mission.
girlfriday: They're usually not allowed to use their smartphones, which is reinforced by the presence of a PD. But no PD means no rules. It's the upside to getting ditched.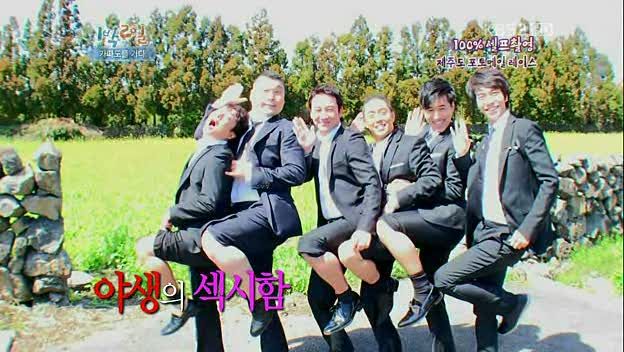 javabeans: Haha. It's like their petty little revenge — "Oh yeah? Well, we'll do things our way, then!" And then Su-geun caught sight of the car on their tail, and Na PD got made.
girlfriday: By Ji-won, of course. He really should be a spy.
javabeans: It was awesome that they actually turned the car around, rolled down the window, and looked straight at the PD's car. And the crew was all panicky, like, "Oh shit! They saw us! What do we do??"
girlfriday: "DUCK!" Haha. They can't control the reflex to hide, like they're guilty of something. And then it occurs to them that they're not doing anything wrong. This whole episode was pretty much a stick-it-to-Na-PD episode. I loved his bewilderment that the boys stopped for ice cream, and seemed to be in no kind of hurry. And then when he sees the flower field where they stop, you can actually hear the whiny tone in his voice: "But there aren't even a lot of flowers there!"
javabeans: Actually, all the while I was thinking with dread, "Uh-oh…the next trip's gonna be a doozy. There's no way Na PD's gonna let them off the hook so easily after this, is there?"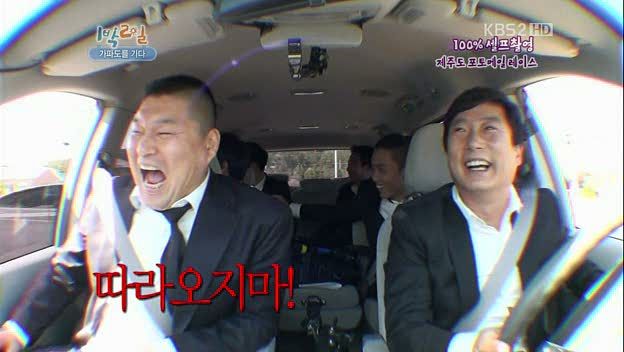 girlfriday: Nope. I think this trip put Na PD through the wringer more than the boys. So they ditch the PD tail (like a car full of rebellious boys), basically saying, You wanted us to do it ourselves. We don't need babysitters!
javabeans: Though I haven't seen too many episodes prior to this recent batch, I got the sense that this is when the members sort of evolved to the next level. Because of the attention to the meta, you saw them thinking like members, and simultaneously thinking like PDs. They were trying to figure out the mission, but also looking big-picture at things like getting appropriate footage.
girlfriday: They were sent on a trip all alone before (but with fixed cameras at the ready), and they worried about it, to an extent. There was a lot of stress involved, especially concerning the cameras. But this time was different, because they were better prepared for it the second time around. It is a really great meta setup to have them be staff and star, all at once.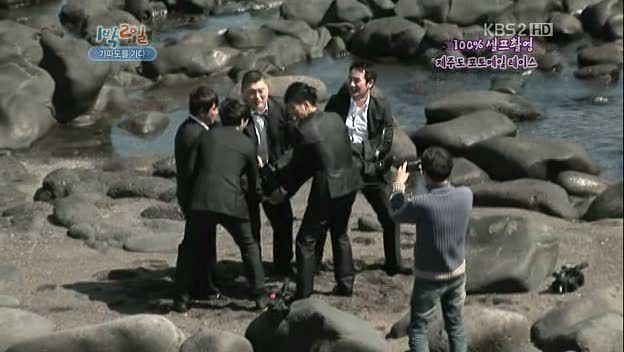 javabeans: They were also conscious of withholding info from the PDs, for instance. They'd photo-texted their first completed photo right away, but it was sneaky of Ho-dong to decide to hold back the second photo, so they'd have an element of surprise when they unveiled it later. I wondered if they thought they were completing their tasks too easily, and wanted to make sure the producers wouldn't throw in a last-minute wrench. Hence: Pretend we're falling behind!
girlfriday: It's because Ho-dong knows variety through and through. He knew it'd be the more dramatic finish, so he saved the best for last.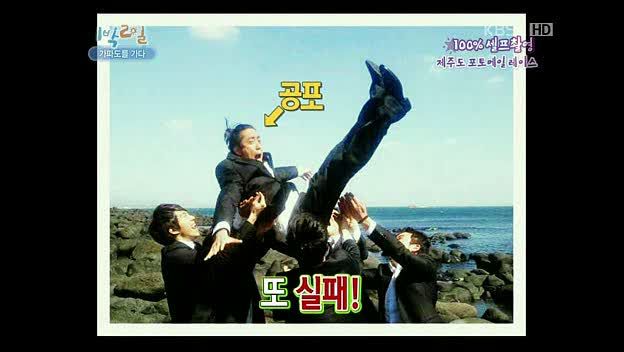 javabeans: That was a pretty impressive photo, though. I love how Ji-won's expressions grew progressively more scared the higher they threw him. (Caption above reads: "Horror")
girlfriday: At first I was surprised at how little lift he had, what with five strong guys tossing him. But in the end, I was amazed, especially since they dropped him before they even got started.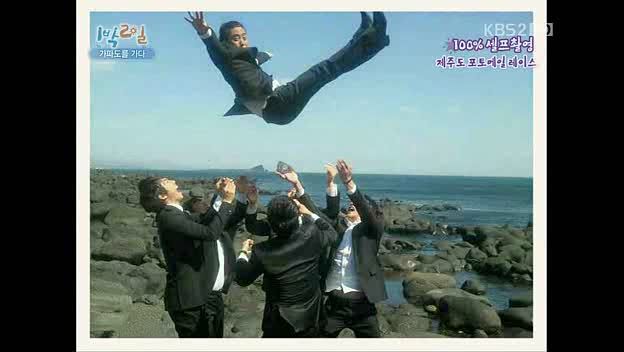 javabeans: And then, we had even more meta awareness because the show's film crew was getting footage of background scenery while the guys were getting their photo. The crew spotted the guys, who didn't know they were being filmed from afar, so you got to see them through multiple sets of cameras.
girlfriday: It's really funny when they "discover" them mid-mission, or when Na PD is trailing them, with commentary: "What are they doing? Are they at least holding cameras?"
javabeans: To be honest, the better the boys did on this challenge, the more worried I got. Na PD seemed surprised at how easily they were accomplishing their goals, as though his robot creation had suddenly developed independent thought. I'm sure he was expecting more difficulty at each step of the way. And I wondered if he'd watch the footage feeling dissatisfied that he went too soft on them.
girlfriday: Yeah, the head-to-toe matching outfits challenge was supposed to be a lot harder, I think. But leave it to the boys to always find a loophole.
javabeans: It seemed difficult until they came up with the idea to borrow uniforms. Light bulb moment! Even if they hadn't found the divers, they could've asked anybody and I think they'd have gotten ready agreements.
girlfriday: But the ill-fitting diver suits were just extra awesome.
javabeans: That they were. The ajummas and ajusshis were so cute, all excited to recognize that they were in the middle of a 1N2D mission. It's in moments like this that I really notice how good Ho-dong is at his job as leader/host, because he's so natural and genuine when he engages the folks, but simultaneously ensures they get good moments and appropriate footage. For instance, how he engaged the diver ajusshi on camera so smoothly so that you almost don't even notice he's directing the situation the whole time. It just flows.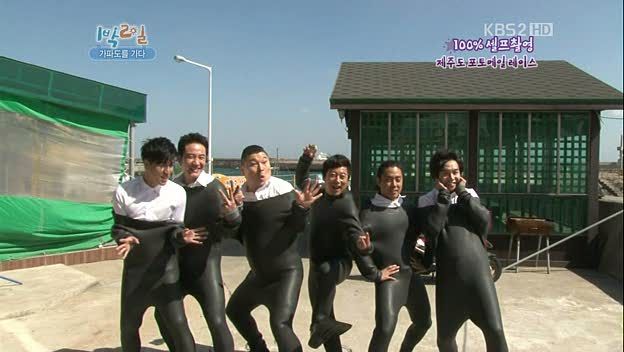 girlfriday: He's so good with people. And you can see him doing tiny things to help the other guys too, whether it's set them up for lines or jokes, or packaging everything for the cameras.
javabeans: I've definitely noticed that about Seung-gi, too. He's extremely well-mannered and polite, just 'cause he seems like a genuinely good egg, but he's also shrewd about the television aspect. I mean that in a good way — it's not that he's an evil manipulator, but that he (and Ho-dong) bring out the best in the people they meet, and know how to position them to look good.
girlfriday: Yeah, he's the best of Ho-dong's pupils, in that way. Seung-gi's a natural MC. He's got the smarts to be the "host" (in control of the situation) while being disarming and good natured, which puts people at ease. Sometimes the best moments on 1N2D are really when the boys interact with local people. That actually makes me miss MC Mong a lot. He was good with strangers in a way that literally brought tears to my eyes. It was so surprisingly genuine and so different from his public persona. He was the kind of guy who threw tantrums every week, but then if he met a grandma in the countryside, he'd treat her like his own mother, and feed her with his hands.
javabeans: Ji-won's sort of like that, isn't he? I can see him having that duality too.
girlfriday: Yeah, they were always the most similar in that respect (the childish but endearing son), though Ji-won is a little more guarded around strangers.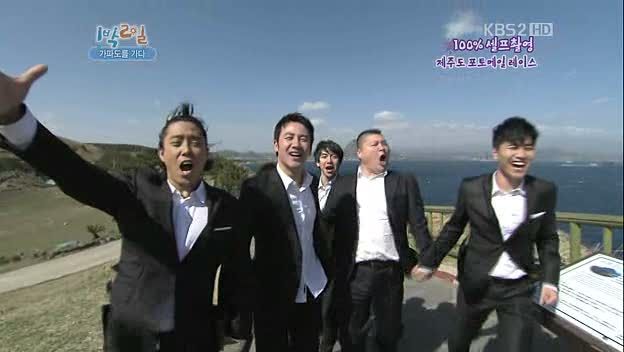 javabeans: I actually appreciate how he can get kind of sullen sometimes, because it seems a lot realer than if he were always "on." But then, when a guy with that image — the idol, the cool guy — is considerate of a stranger, you see the manners underneath the persona. Like, he may be a star in Seoul, but momma still taught him to bow to his elders.
girlfriday: And he has that Baby Bear cuteness thing going on too. All the boys have such good manners. It's one thing I love about Korean culture — that you can call a stranger omoni or aboji (mother, father) and forge a kinship with them over the most basic of social relationships. On the flipside, of course, that means that if you're say, dressed in a high school uniform and doing something you shouldn't, any neighborhood ajusshi can scold you. There's always a downside.
javabeans: The closer an audience feels to you, the more they feel they can do that — they start feeling like they know you as a person, not just as a celebrity. It harks back to the issue about reality television that we mentioned previously — we know that the "reality" is constructed for television, and shaped by editors and strung together for entertainment value. But there's also that element of the unexpected, the sense that the at least some of the times, the cameras happen to capture a genuine moment. That's hard to fake.
girlfriday: And always more rewarding when found.

RELATED POSTS
Tags: 1N2D, Eun Ji-won, featured, Kang Ho-dong, Kim Jong-min, Lee Seung-gi, Lee Su-geun, Uhm Tae-woong