Ghostly rom-com Chilling Romance wraps shoots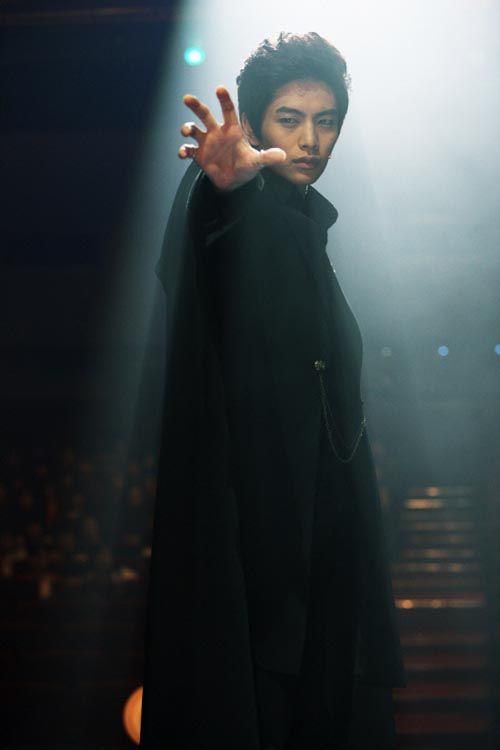 After three months of shoots, Lee Min-ki and Sohn Ye-jin have wrapped filming on their new movie, romantic-comedy-with-a-twist Chilling Romance, which gives us these new stills.
In the film, Sohn plays a woman who starts seeing ghosts. Lee conjures ghosts. The dilemma in their romance is clear. (Korea really does love diametric opposites, don't they? The better with which to beat you over the head with its themes, I'm sure.)
At the outset of the story, Sohn's character is your average, normal woman — until she has an accident, experiencing death for a brief moment when she almost drowns. After that, she's freaked out by the ghosts that appear to her, and shuts herself off from people. Lee, on the other hand, is an illusionist whose conjuring of ghosts forms the centerpiece of his horror-magic show.
Those magic scenes are purported to provide a quite the visual spectacle, which suggests that they're impressive large-scale productions. Although really, Lee Min-ki could be twisting balloon animals as a birthday-party magician and I'd still find him awesome. It's been too long since we've seen him onscreen; he's got a lot of projects in the pipeline, but they're all still in the works and aren't slated for release for a while. On the upside, I guess that means we'll be getting a ton of Lee Min-ki all at once! My homework: Learn patience.
Chilling Romance is now entering post-production and plans for a fall release.
Via E Daily
RELATED POSTS
Tags: Lee Min-ki, Sohn Ye-jin