I Am Dad features Kim Seung-woo as world's worst dad
I Am Dad is the new crime thriller starring Kim Seung-woo as a badass dad out to save his daughter, which opened today in Korea. And…I can't help but think that it looks a little…familiar.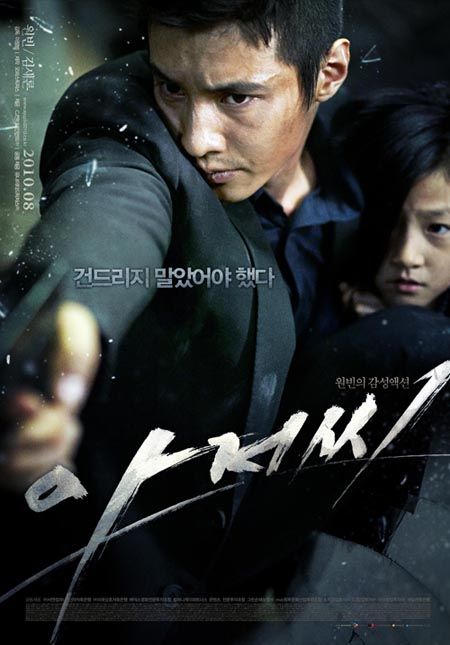 I Am Dad has already attracted lots of comparisons to last year's crime thriller Ajusshi (aka The Man From Nowhere), which starred Won Bin as a reclusive ex-badass who emerges from seclusion to rescue a young neighbor when the girl is kidnapped by gangsters. Especially since both movies star the same young actress, Kim Sae-ron.
The movies aren't actually that similar in plot, which is why it's too bad that I Am Dad is being marketed in the same way. For instance, the posters sure hammer in the point, don't they? (Above: I Am Dad. To right: Ajusshi.) And really, ya couldn't pick a different font?
In I Am Dad, Kim Seung-woo plays crooked cop Jong-shik whose daughter Min-ji is sick. In order to save her, Jong-shik takes dirty money from a crime boss dealing in black-market organ trafficking and looks the other way on a related murder case. As a result, one innocent man, Sang-man (Sohn Byung-ho), loses everything when he's made the fall guy and vows to claim revenge. (You may recognize Sohn from his current role playing the restaurant manager in 49 Days.)
(The trailer below starts out with the voiceover: "I'm a father…the worst father in the world." Cheery! Also, probably true.)
Sang-man is released and cleared of charges two years later, and that's when he tracks down Jong-shik's detective colleague to reopen the covered-up murder case… just as Jong-shik receives word that his daughter has finally found a suitable heart donor — belonging to his dead wife. (Presumably Sang-man's work.) Backed into a corner, he vows to get rid of Sang-man once and for all.
It's actually a pretty intriguing setup, although perhaps the story is more interesting than the movie itself, which is looking like standard crime-thriller stuff. But I like the moral ambiguity in play — our hero's crooked, but he's motivated by love, and then he becomes a victim. The innocent man is sympathetic, but then he turns twisted in his bloodthirsty revenge. So how much can we root for either guy?
Kim Seung-woo was reportedly so immersed in his role as tormented father that the sight of Kim Sae-ron prompted him to tears, and he made efforts to avoid looking at her at times. The stress of the role also made him sick enough to miss a few shoots. He said that he took the film because he identified with the fatherly role (he has two children with wife Kim Nam-joo), "But this is the most difficult project I've done."
He also praised his young co-star, who's currently off being adorable in the weekend drama Do You Hear My Heart? He said, "Sae-ron is an acting genius! She's a heavenly actress." She explained the basic differences between her co-stars: "Kim Seung-woo ajusshi plays a dad who can do bad things for the sake of someone important to him, even sacrifice himself. Sohn Byung-ho ajusshi wants to protect his daughter, but he's a dad who also wants to protect other people too."
Based on early reports and online ticket orders today, initial sales estimates are looking good for I Am Dad, which is expected to top the box office today.
Below is a related music video from singer KCM, with the song "그대라는 이유" (You're My Reason):
Via Asiae
RELATED POSTS
Tags: Choi Jung-yoon, Kim Sae-ron, Kim Seung-woo