1 Night 2 Days: Episode 333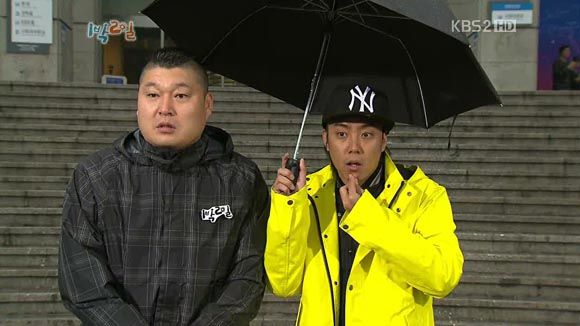 Woot woot! This episode is nonstop amazing, because this is the kind of stuff you just can't make up. Nonstop laughs, constant reversals, and a keep-you-on-the-edge-of-your-seat cliffhanger make this one a hoot and a half, particularly for fans of our resident Chun-jae, Genius, Cho-ding Ji-won.

EPISODE 333. Broadcast on May 8, 2011.
javabeans: Today, Ji-won is first to arrive, and gets a special Mission Impossible-esque intro screen. A bit to note: One of his nicknames is Genius Won, which is because of his cunning streak but also doubly funny (er, punny?) because it's derived from JI-(nius)-WON. Puns, puns, puns!
girlfriday: Hee hee. I LOVE Ji-nius-won! And his specialty is listed as: "Tardiness, but today, strangely, first on the scene."
javabeans: Second is Ho-dong. How random and funny is it that Song Il-kook pops into his frame? Must be at the KBS studio for Crime Squad duties.
girlfriday: I know. I love it when worlds collide that way.
javabeans: Na PD announces that they'll begin, since everyone's arrived. Ji-won: "Everyone? But it's just two of us." Ho-dong: "Did the others quit?"
girlfriday: It's so funny how awkward they feel, doing the opening just the two of them. When Ji-won arrives, one of the PDs asks: "Did you even wash your face today?" Ji-won: "No," like it's an obvious answer to an obvious question. Sigh. Oh, Cho-ding.
javabeans: The mission for today: Team Babo versus Team Scary. The leaders have to grab the other group members, who will be unprepared for this early shoot time (they were told 11am) and will therefore take a little time to gather. Then, a series of clues will lead them to a capture-the-flag scenario, and the first to take the flag wins a huge benefit.
girlfriday: The hilarious thing is that Na PD begins the whole explanation of the game by asking the question: "Do you know what kind of people you are?" And that stumps them. I don't think he meant it to be an existential crisis, but they're both like, "Buh…."
javabeans: In describing Ho-dong, Ji-won calls him a leader, and that's what Na PD informs them that they both are: leaders of Team Babo and Team Scary. Ji-won attempts to defer leader duties to Tae-woong (traditionally the way it's done, based on age).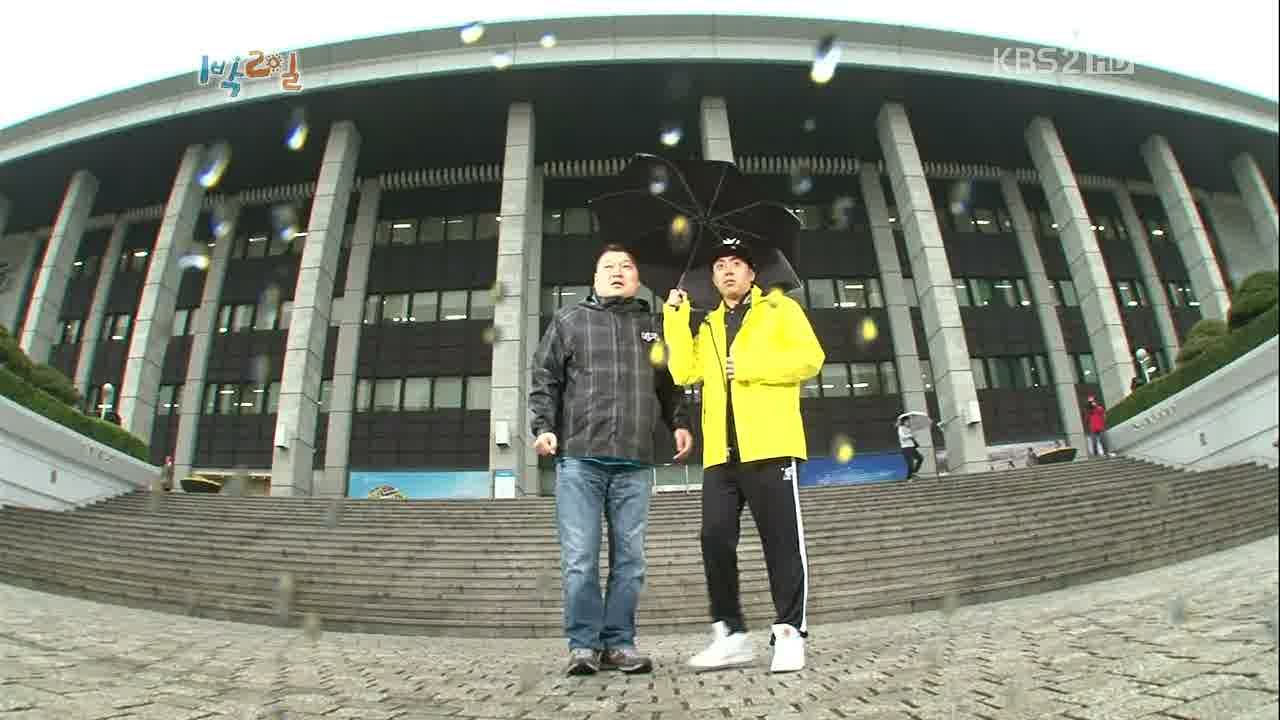 girlfriday: But we all know that Ji-won is the leader of that team. He's the brains. He also has the history of being the leader of the YB team, or Sup-Sup-Dang, for most of the show's run. Na PD calls it an all-out war, and the prize is a biggie this time: two of the winning team's members get to go home early, as soon as the race ends. And it's up to the leader to decide who gets to go.
javabeans: I'd be suspicious of that setup right away — like, shouldn't the leader automatically get to go home? Unless…there's a reason he'd want to stay? What's the catch?
girlfriday: You know there's some crazy catch. The thing is, there's no way that Ho-dong's going home, either way. There's no show without him. Na PD tells them to find their teammates wherever they are, whether it be home in bed or at the hair salon, and Ho-dong surmises: "There's no way that Su-geun and Jong-min are at the salon." Pffft.
javabeans: Ji-won and Ho-dong immediately dart for their cars and get on the phone to alert their teammates as to the rules of the race. Ho-dong calls Su-geun to find out where to pick him up, while Ji-won calls Tae-woong and then Seung-gi to coordinate.
girlfriday: And then? He calls Su-geun, to initiate Plan Bait n Switch…
javabeans: This is when THE AWESOME begins. He pretends that Ho-dong is up to no good, and that Su-geun is really on Ji-won's team. He begs, "Don't believe what Ho-dong hyung says!" He even asks Tae-woong to call Su-geun to "confirm" that this is true. GENIUS.
girlfriday: SO GENIUS. So now, both boys are headed towards one objective: Lee Su-geun.
javabeans: Ho-dong manages to make some ground traveling to pick up Su-geun, but Ji-won finds himself driving around Yeouido for ten minutes. Na PD: "You've been driving for ten minutes, and you've only managed to go from the KBS building to MBC." HA.
girlfriday: Hahaha. Leave it to Ji-won to be the genius… minus that ooooooone percent. It's worth noting that this whole pick-up-your-teammates-war concept is one that's been used a number of times on Running Man, though there it's more of a race to see how many members you can get on your side. Ho-dong seems to have the upper hand, as far as navigating goes. He really does seem like an ajusshi when he's self-narrating his drive. And I especially love how strong his regional dialect becomes when he's frustrated or in a hurry.
javabeans: Tae-woong reports that Su-geun seems confused, since both team leaders called him. Ji-won sighs, feeling disappointed that his evil plan may not have worked. However! When Su-geun calls him to say he knows he's being tricked, Ji-won puts on such a convincing show of anger/frustration that Su-geun seems to believe him. He assures Ji-won that he hasn't met Ho-dong yet, and Ji-won says he's almost arrived to pick him up.
girlfriday: It's because that's Ji-won's actual personality — to be so frustrated that he's yelling and throwing tantrums. It makes his act extra genius. And OMG, that expression on his face when Su-geun falls for it? Priceless. Did I mention how much I LOVE THIS??
javabeans: When Ho-dong and Su-geun talk on the phone next, it sounds like Su-geun is stalling, and Ho-dong starts to feel panicked. Especially when Su-geun says that he knows that Ho-dong tends to get worked up when he's lying. So Ho-dong tries to calm his voice down, even as Su-geun tells him that Ji-won told him to not trust Ho-dong. Su-geun's actually in the neighborhood waiting, but isn't showing himself yet because he hasn't decided who to trust. HAHAHAHA. I love the looks on Ho-dong's face as he's trying to keep his emotions together.
girlfriday: I know! It goes from I can't believe this punk doesn't believe me, to marvelling, Ji-won really is a genius. And he just keeps repeating, "Waaaaaa, Yaaaaaaa, Waaaaaaa," in amazement.
javabeans: Man, Ji-won really IS super-genius! Especially when Su-geun explains his confusion, and how Tae-woong called him to confirm. He says, "You know how Tae-woong hyung doesn't lie." If only he knew!
girlfriday: Seriously. Ji-won even uses Tae-woong's innocence against him. I love Ho-dong's attempt to be calm too, because Su-geun won't believe him otherwise. Pfft.
javabeans: I wondered why Ji-won didn't also call Jong-min to try to fool both of the opposition teammates. Why only Su-geun? What if he didn't believe him?
girlfriday: Because he loves Su-geun. I think maybe he just went for him first because he knew that's where Ho-dong would go first, guaranteed. Maybe Operation Jong-min would've happened with more time.
javabeans: Ho-dong arrives at the school where he's to meet Su-geun, and OMG it's hilarious how they do the whole Sandglass parody, to indicate how lost and lonely he feels. He yells into his phone that I'm your hyung, why don't you believe me?? HAHA: "THIS is why we're called Team Babo!!!"
girlfriday: Pwahahaha! "Babo-ya! That's why we're babos!" Love it. Omg, I DIED when the Sandglass soundtrack started. I love these PDs.
javabeans: Su-geun tentatively agrees to meet Ho-dong, but when Ho-dong impatiently starts running after him, he flees. Hee! And then talks with Ji-won, who says he's almost there and asks for directions. OHHHHH and this is where I finally realize — Ji-won isn't trying to TAKE Su-geun, he's just trying to stall the other team for as long as possible while he gets a head start! I was wondering how he was going to explain everything if/when he picked up Su-geun, but now this makes so much more sense!
girlfriday: I know! I totally thought he was on his way to pick him up, and I thought, is he just going to kidnap him for the whole ride? But then what happens when he gets Seung-gi? He'll be outed! Turns out the Chun-jae is smarter than me. Go figure. I love how Ho-dong freaks out that Su-geun is just strolling over, blender full of juice in his hand (which is so cute, like he was in the middle of breakfast, so his wife handed him juice as he was running out the door). God, I busted a gut when Su-geun started running away from him. Ho-dong gets so upset that Su-geun is so distrusting, but dude, you've done your share of tricksy things, enough for Su-geun to be suspicious. The great thing is that Tae-woong is what tips the scales in Ji-won's favor. Keh.
javabeans: Su-geun finally realizes that he's been lied to, and Ji-won cackles in glee to himself thinking of the havoc he's wreaked.
girlfriday: It's like watching an evil cartoon villain. He's so pleased with himself.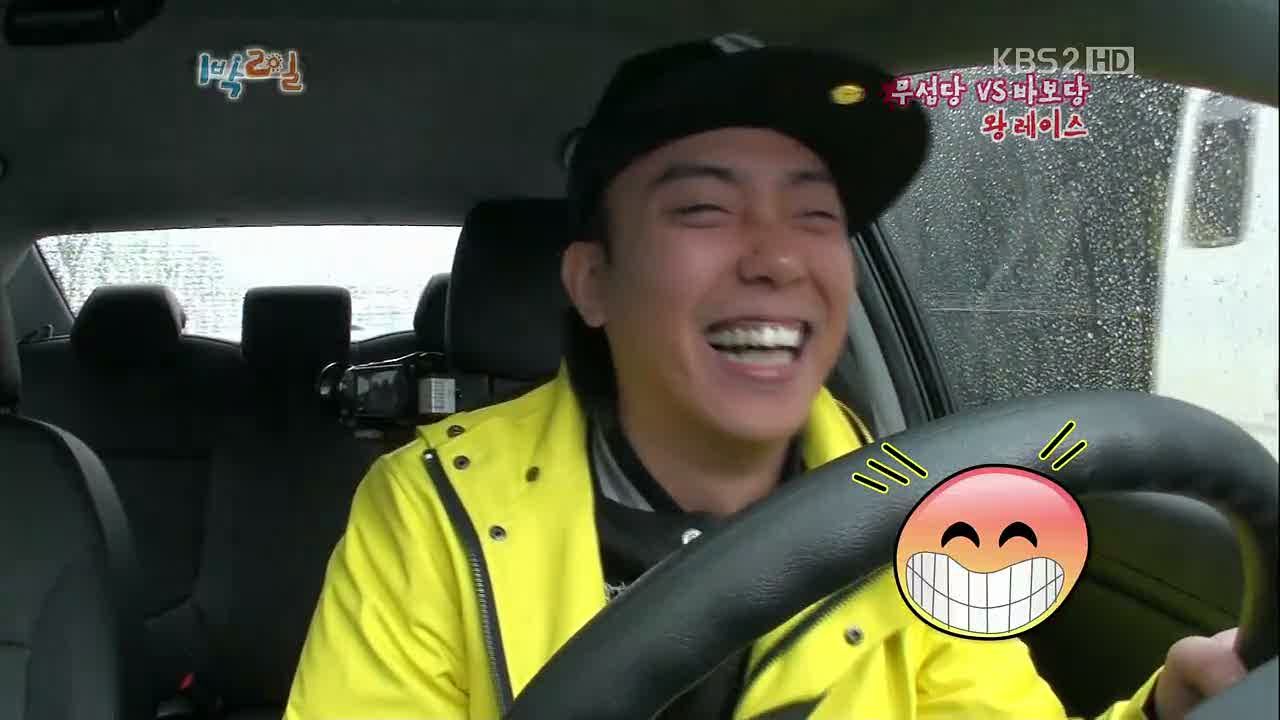 javabeans: The first hint comes when a team has fully assembled its members. Team Scary is first, and the hint is just consonants. Sort of like saying "K B K S D R R T S O." It's an acronym of some kind, probably of a location, and within seconds, Ji-won guesses the name of the expressway it indicates. Seung-gi marvels, "You're really a genius! Really, it's not a bad thing to be fooled by a genius of this level."
girlfriday: Seriously, my jaw dropped at how fast he decoded that thing. Also, once he has Seung-gi, Ji-won decides to grab Jong-min on the way, and ditch him on the highway. Hahaha. That's so mean! They decide against it though, because ditching him on their way would reveal where they're going. Dastardly.
javabeans: The second hint comes when they've hit the expressway, and is another riddle: "A red pouch full of gold coins." Again I'm sitting here scratching my head, thinking it's some kind of special ornamental bag, but Tae-woong immediately guesses, "A pepper?" They start throwing out locations that are correlated with peppers. Seung-gi actually calls the Ministry of Food, Agriculture, Forestry and Fisheries for famous locations, and get back Cheongyang county in South Chungcheong Province. But they also get back Eumseong county in the north, where they hold pepper festivals, and head that way.
girlfriday: I love that Seung-gi is so earnestly straightforward. The hint is peppers, so he calls the Ministry of Agriculture? Hahaha. Who does that? It's like something a fifth grader would do.
javabeans: Thirty minutes after Hint 2, they get the third, which is a puzzle: BALL (square root of 16) 노동. They quickly figure out that BALL is gong in Korean, and the square root of 16 is 4, or sa. Okay, so they have gong sa. But what's the last one mean? (The word means manual labor.) This one's tricky because gong sa means construction, and this could lead them down the wrong path if they interpret it wrongly… But the GENIUS strikes again because labor also means work, and put together, gong sa il also happen to be numerals, which happen to equal an area code!
girlfriday: It's so fun watching them work out the clues, and seeing how each team approaches things differently. Team Babo sees root 16 and just sighs, finally calling Yoon Jong-shin for help.
javabeans: I know! Famous songwriter Yoon Jong-shin….what's the square root of 16??? The problem with Team Scary is, because they've been driving so far ahead of the other team, they've traveled a bit of a ways toward Eumseong before solving this clue…which tells them they should have gone to Cheongyang instead. Eek! So now they have to backtrack and make their way back to the original expressway. It's just like Ho-dong says about them: "They do well all the way, but at the very end they always mess up." True words.
javabeans: Meanwhile, Team Babo is well behind in terms of hints, but they're on the right road when they get it, so they quickly make up their lost time. Hint 4 is simply: "Bean patch." Tae-woong is the first to think of an old song with the words in it, and the mountain Chilgapsan in the province they're heading to.
girlfriday: They really are quick with the clues, this team.
javabeans: They're lightning-fast, it's kind of amazing. The problem is execution. Team Babo, on the other hand, takes a while to get their clues, but don't mess up as much along the way. For instance: They're working on the 041 clue for a lot longer, probably because they spend some time thinking the English word BALL is BELL. Hee!
girlfriday: It really is the Tortoise and the Hare. I love the montage of Team Scary: "They don't know roads [gil]" vs. Team Babo: "They don't know words [geul]." Pun-happy PDs strike again!
javabeans: Aw, how mean/hilarious. The song in the background is "I'm A Fool" from the Goong soundtrack.
girlfriday: Kekekeke.
javabeans: But I'm pretty sure this applies to both teams. Team Scary is already onto Hint 5, but…again take the wrong road. Argh! Somewhat surprisingly, it's Jong-min who's getting all the answers right on Team Babo. Meanwhile, Scary's Hint 5 itself consists of three names, Lee Moon-sae, Lee Juck, Ok Joo-hyun. All singers. Seung-gi guesses a radio show, which all three have done: "A Night When the Stars Shone." Stars, night, shining…an observatory? Ding-ding-ding! They find out that there's one right at Chilgapsan. Isn't it so cute how Yoon Jong-shin gets really into the riddle, and yells when they figure it out? It's just like Dokko Jin in Best Love — totally random phone call, but somehow, he gets sucked into it.
girlfriday: It's the inescapable pull of quiz questions. Must be human nature. Team Babo actually gets ahead of Team Scary on the road, but then they decide to stop for food. Crazy thing is, Team Scary gets hungry right around the same time, and head into a rest stop… and it's THE SAME ONE! I mean, what are the frickin' odds of that? As soon as they pull in, Ji-won notices a car that looks like Jong-min's, and starts getting suspicious.
javabeans: They totally luck out, because the crowds milling around the stars tip Team Scary off that their opponents are here, and they're able to slip out quietly, taking the lead. Tae-woong is like a little boy, giggling, "This is so fun!"
girlfriday: They get so excited at their chance encounter, because now they know exactly how far the other team has come, and have time to get ahead. But then, true to the fable, Team Rabbit gets cocky, and decides to stop at the next exit for some snacks…
javabeans: They assume they have time, not knowing that Team Babo has decided not to wait to eat and take to the road soon. They only stop to grab snacks for the road, but it's enough time for Team Babo to re-take the lead.
girlfriday: I love this reversal-on-top-of-reversal thing. It's so entertaining. And Seung-gi with his walnut pastry is just so damn cute!
javabeans: I love the meta aspect of 1N2D, because it's so widely known that the bystander reactions can factor into the game, like at the rest stop. When Team Babo stops at the toll booth, the clerk recognizes them — and then tells Team Scary, just behind them, that she just saw their teammates passing through.
girlfriday: And it's the same for Team Babo, when they realize that the woman at the toll booth would've said something had Team Scary already been there.
javabeans: At the second toll gate, Team Scary is literally just two or three cars behind Team Babo. Now it's a race to the mountain observatory to capture the flag.
girlfriday: It's crazy how close they are. Aaaaaaack! The beating heart soundtrack isn't helping matters either. I'm a nervous wreck.
javabeans: It's like the soundtrack from The Bourne Identity. Team Babo stops to ask for directions, while Team Scary sees them parked and ducks out of their car to get a jump on the footrace. "Run, run, run!" Team Babo sees their opponents running and panic, but they've got proper directions now and drive on to a different parking lot. And…Team Scary has run up the wrong hill. AHAHA. It's like the Heo-dang Principle! Every time they get the upper hand, they lose it through their own actions.
girlfriday: Hehehe. I know, right? I love how panicked everyone is now.
javabeans: Ho-dong: "I can't breathe!" Hee. His car arrives at the observatory parking lot first, so Ho-dong, Su-geun, and Jong-min make their way up the hill to claim the flag, jog-walking. Close behind them are the Scaries, who…just might catch up! They're the athletes, no?
girlfriday: I thought they were farther behind, but the footrace is really where they catch up. Ho-dong turns around… and they're RIGHT on his ass! Eeep!
javabeans: And…..end of episode! Curses, cliffhangers!
girlfriday: Nooooooooooo! Goddamniiiiiiiiiiiiiiit!
RELATED POSTS
Tags: 1N2D, Eun Ji-won, featured, Kang Ho-dong, Kim Jong-min, Lee Seung-gi, Lee Su-geun, Uhm Tae-woong