City Hunter: Episode 4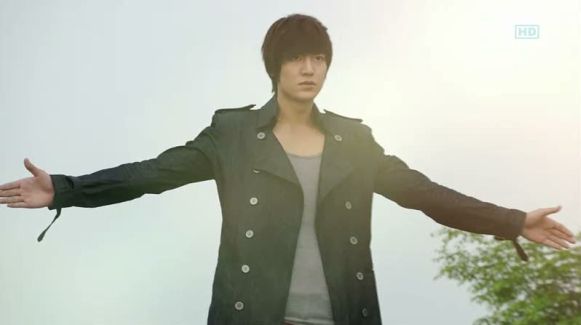 HUZZAH. Well that seals it. While the first two episodes were great fun, with Episodes 3 and 4, I'm in LOVE. Maybe it's something in the water, but this drama hits me right in that comic-book action-hero sweet spot: caped crusader fighting against the system, and growing up in the process. Just not, yunno, literally with capes. But trenchcoats are a fine substitute. They flap in the wind, and don't require tights to round out the ensemble.

EPISODE 4 RECAP
Kyung-hee meets with the President, who greets her familiarly. He tells her that he's been trying to get her husband's name cleared for merit, which shocks her—wasn't he declared missing (also implying dishonorably, as far as secret service/military is concerned)?
Her shock in turn shocks him. He probably assumed that she was in on whatever revenge plot is closing in on those involved with the black ops cover-up, but here she is, asking him what he knows about Mu-yeol.
He wonders if she knows Jin-pyo's whereabouts, and she simply asks him the same question, adding that he stole her child with nothing but a note twenty-eight years ago. She breaks down, crying for him to let her see her son just once, and the President realizes that she knows nothing, and that he's done nothing but open up old wounds for her.
Yoon-sung has just missed seeing her meet the President by a hair, because Jin-pyo has tracked him all the way here, in a rage over Yoon-sung's decision to turn Target No. 1 over to the prosecutor's office. He screams bitterly that his instructions were to kill him, not hand him over to a corrupt system that will never serve justice.
Yoon-sung: "I told you that this is my method of revenge. I'm sorry. Blood shedding blood is not the revenge I want." Jin-pyo challenges him, "If you're my son…"
Yoon-sung: "If you were my real father, would you have told me to take this kind of blood-letting revenge?" Oooooh. Dude's got a point, Dad. A damned good one.
He adds that he wants to tear apart those people too, but if he kills them, will their sons leave him be? No, they'll just repeat the cycle, over and over again. Yup. That'd be the Circle of Vengeance there, kiddo.
But Jin-pyo's heart is too hardened and too far gone to be reasoned with, so he swiftly declares that Yoon-sung is out of the revenge game; he'll simply take care of them himself.
Yoon-sung: I'll do it. It's MY destiny! But I will make them know — that living is more painful.
Jin-pyo smiles to himself and relents, adding the caveat: "How's this: If you find Target No. 2 first, you can handle it. If I find him first, he will die by my hand." Damn. As if this wasn't hard enough already, is it going to turn into a race against Daddy? May the best assassin win? *clappity hands* I love this.
Jin-pyo turns to go, and adds that he's come this far; he might as well meet the mother who abandoned him. Ouch. Yoon-sung sighs, having bought Jin-pyo's lies hook line and sinker. But his curiosity gets the better of him, and he heads down the steps to find his mother sitting alone wearily.
She tells him to sit down and puts her apron back on, which he watches near tears. He orders a ramen and sits in silence, watching her, until Nana shows up at the next table over, with First Daughter Da-hae and her partner.
She tells them that this is one of her favorite spots to eat, and they finally notice Yoon-sung sitting there. Da-hae lights up and asks "Professor Lee" to tutor her again, and his mother muses, "You're a doctor, at such a young age? Whoever your parents are must be proud."
It hits too close to home, and Yoon-sung gets up abruptly and leaves. Nana worries that he seems even more crotchety than usual, and they watch him go.
Later that night her dinner (also of ramen—I'm starting to worry for these people's health) gets interrupted when he calls her for a designated driver pick-up. She sighs and heads out.
He's drinking at a bar, while simultaneously keeping tabs on Prosecutor Young-ju. What? A hero can brood and spy at the same time. It's like walking and chewing gum. Whilst looking hot, no less. Seriously. I'm thinking bad thoughts.
He eavesdrops on a superior telling Young-ju that his job is to find that City Hunter who's got everyone's hackles raised. He's operating outside of the law, and yeah—we know the drill about vigilantes. Yoon-sung sighs, realizing that he's now got the prosecutor's office to worry about. As if Militant Dad weren't enough.
Nana shows up, and Young-ju immediately perks up at the sight of her, and then his face falls when he sees that she's here to pick up Yoon-sung. Aw.
Yoon-sung complains that she's late, and they bicker about who's drunk and who's late, as she leads him out by the arm. They trip and her wallet goes flying, and she stoops down to pick up her loose change, her hand meeting with Young-ju's.
He helps her, offering that her nails are probably too short to pick them up (okay, random detail guy) and Yoon-sung nearly vomits in his mouth from the display of flirty cuteness going on literally at his feet. Well, can't say I blame the girl. A prince you are NOT. He practically steps on the pair of them as he walks out, and Nana chases after him, leaving Young-ju staring woefully.
I love it when he gets stupid from jealousy. She drives his broody ass home, and jabbers on in the car about what his parents must think, when they clearly raised him with kid gloves and silver-spoon-fed him, only to have him spend his days going from bar to bar and girl to girl.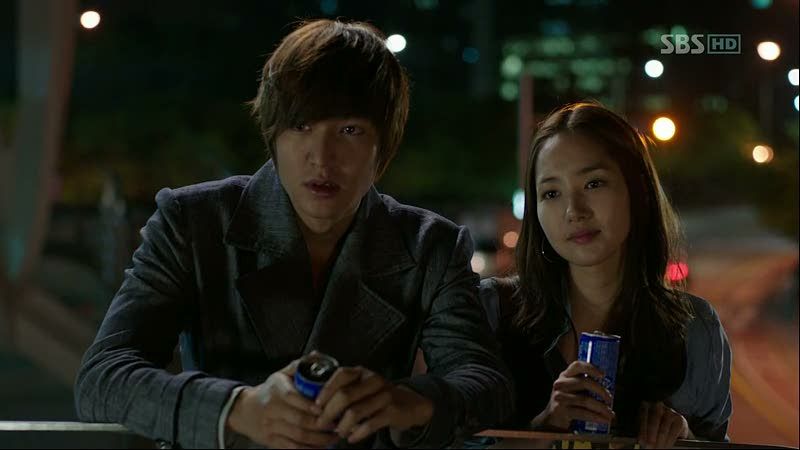 Nana: "Do you speak to your mother that rudely?" Yoon-sung finally snaps: "I don't have a mother to be rude to! I'm like this because I don't have a mother, okay?!" He turns away, his eyes filling with angry tears, and tells her to pull over.
He looks out over the highway, and says aloud (addressing his mother, but muttering to himself): "You're supposed to be happy. You're supposed to live well. Don't like that you're suffering. Don't like that you've aged." Aw.
Nana joins him and apologizes for her rash words earlier. She thinks they have something in common now, both not having moms. He tries to brush her off, asking why she keeps attempting to build some sort of bond with him. Uh, 'cause she's human?
She says she feels bad and thinks that they might be able to understand each other. He snipes back that he doesn't care to understand her, and can't—her poor, upbeat, getting-attached-to-any-man self is nothing he wants to understand.
She takes a pause and then tells him he can keep blathering on, just for tonight. She tells him, "Well, I got to live with my mom for seventeen years, so my heart is about 3cm wider than yours… Some days I miss my mom too, so today I'll give you a pass."
Yoon-sung: "And when today is over?" Nana: "Then you're dead. I can put you down with less than a fist." He finally breaks into an adorable smile. She relents, "I don't think much of you either, but that smile… I think it's okay." Oh, you are totally smitten.
At home, Yoon-sung tells Ajusshi that Dad's in town, and Shik-joong immediately darts to attention, asking WHY, WHEN, WHY, HOW, WHY. Haha.
Shik-joong freaks out, knowing that Dad would react badly to their turning the senator over rather than putting a bullet in his head. "Did you apologize? Did you beg? Did you say you were wrong? Otherwise you and I are dead!"
Yoon-sung says with an uneasy smile that it looks like he and Dad are now rivals. That puts the fear of god into Shik-joong, but Yoon-sung thinks that he's got more motivation for revenge than Jin-pyo, who lost a brother, while he lost and was abandoned by his parents. He adds knowingly that if Ajusshi wants out, he'll understand. Shik-joong asks why he didn't just kill the bastard senator.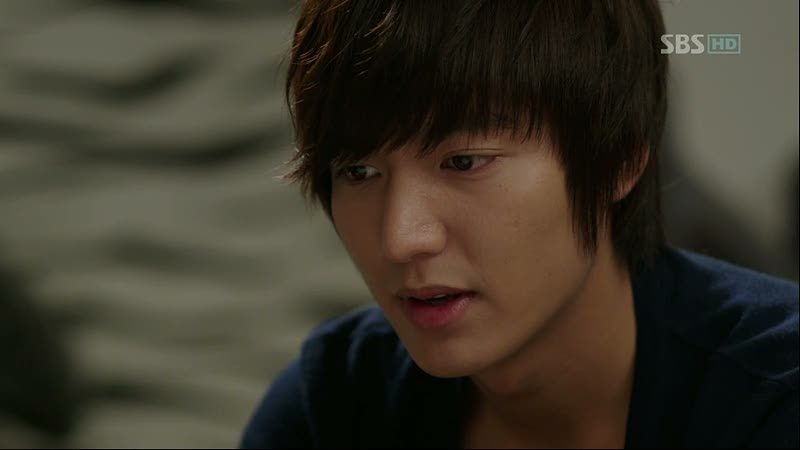 Yoon-sung: When this is done, I want to live like normal people do. If I'm a murder… after killing someone's father, someone's husband… Do you think I'd be able to be happy?
Aw, what a good boy. Shik-joong thinks so too, and tells him so. I'm relieved that despite being brought up by Jin-pyo, he somehow managed to retain such humanity. It's that very humanity that saved Shik-joong all those years ago, and he knows it—he declares his life forever indebted to Yoon-sung, and therefore always on his side.
Yay, for the trusty sidekick! It's more Alfred the Butler than girl friday, but I adore this dynamic too.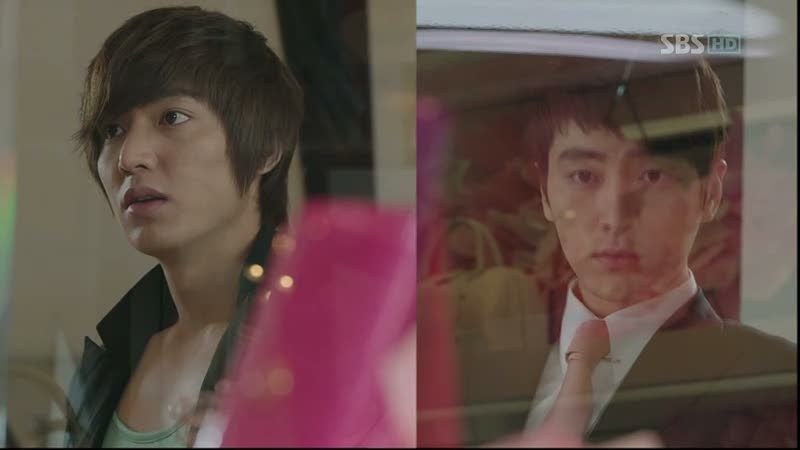 Yoon-sung thinks back to Nana's change purse spill from earlier that night, and decides to buy her a shiny new designer version to replace it – only that's exactly what Young-ju is doing. Heh. It's so amusing how predictable they are.
They have a macho contest, fighting to get her the same wallet, and end up walking out with two of the exact same item, wrapped exactly the same way. Gah. BOYS. You couldn't have picked two different colors, at least, so she could trade off once in a while? Such impractical gift givers. Though clearly, this is not about her, so much as it's about THEM.
Yoon-sung muses that Young-ju sure does have lots of time on his hands, despite prosecuting a senator, and Young-ju counters that Yoon-sung must've moved on from one-night stands, since he's not wont to shower a girl with gifts if he's not going to call her in the morning. Yoon-sung: "True. Mostly I'm on the receiving end."
Pfffffffffft. Show, you are making it really hard for me to be mature.
Public sentiment goes as expected, and protestors chant outside Congress that the government is starving its children. Senator Lee is set to be made an example of, and the ledgers and video confession are rock solid, enough to indict. (Though isn't that kind of confession inadmissible in court? Oh, what do I know; the closest I have to a law degree is reruns of Law and Order.)
Conveniently, Targets 2, 3, and 4 (or as I like to call them, The K-drama Daddy Convention) are gathered together to discuss the situation. They do as expected, and cut the chaff loose, fearful that aligning themselves with Lee Kyung-wan will just drag them down with him.
Jin-pyo heads to the ocean and remembers Mu-yeol fondly, from their training days all the way till the tragic end. Moments like this make me feel bad for Jin-pyo, because it was his loyal love and bond with his brother in arms that got twisted into his bloodthirsty vengeance.
There, he meets a new contact: KIM SANG-GOOK (Jung Joon), a cop who happens to be the younger brother of one of the men who died with Mu-yeol in '83. Jin-pyo knows that he's been searching for the truth about his brother's death and subsequent cover-up (because he's simply declared missing like all the others), and uses the connection to recruit him.
Both Yoon-sung and Dad set out to find the identity of Target No. 2, and Yoon-sung gets called into the President's office to be tasked with discovering how the City Hunter hacked into the Blue House's network. Um…
Well I suppose it's good that this is your job and not someone else's? Though Ki-joon seems a little too eager to do a good job. Hope you covered your virtual ass.
On his way out of the President's office, he crosses paths with one of the Council of Five, Seo Yong-hak, who's gotten wind of the military dog tags around Lee Kyung-wan's neck. He asks the President if this has anything to do with the '83 incident, and the President is quick to deny that anything is confirmed.
Nana's financial situation has finally hit the crapper, and she runs out of work when she receives an official notice that her home is going up for public auction. Yoon-sung sees her run out and tells Ajusshi about her situation, "because I thought you should know," but seemingly not caring himself. Yeah, right.
Shik-joong frets over Nana's dire straits, and keeps watch over her, as she struggles to stop the sale and buy some time. Yoon-sung asks once again what his relationship to her is, but he doesn't say. Only Ajusshi calls later, unable to just keep watch.
Yoon-sung shows up to see Nana pleading with the man who made the winning bid on her house, only to be chased out angrily. She stands on the sidewalk, at her wit's end, when Yoon-sung calls.
She wipes her tears and tries to sound cheery, which he can see from his car. He tells her he needs a pick-up, and when she tries to makes excuses, he tells her that he'll wipe her debt clean if she just shows up tonight. (He means their debt for the hospital bill, not the house.)
So she goes running to the fountain, where she takes a whiff and notes that he hasn't even been drinking; so why the designated driver? He takes out a can of beer, "I'm going to start now," and takes a leisurely sip. Gah.
It's enough to strike a nerve on an already maxed-out stress meter, and she launches into a tirade about how he does whatever he pleases, but she didn't think he was a bad person… "Or I did, but…" Hahaha. She at least didn't think he was evil.
But she decides tonight that she was wrong, and that he really is what her first impression of him seemed. He does nothing to disprove her, or defend himself, of course, and just takes it all.
It seems she did nail one thing on the head—he clearly does NOT know how to express his emotions. He just watches her silently as she drives him home, unable to say a word. She drops him off and walks away, and he does nothing to stop her except look back at her regretfully.
He gets halfway up the stairs before coming right back down, and ends up catching up to her just as she gets on the bus. He drives alongside her, looking in at her through the window, as she cries a single tear.
I love the motif that he's always watching over her, but from afar, and unable to be close (and the visual metaphor of them in separate vehicles traveling down the same road). It's gonna really make me crazy with heartbreak as the series goes on, but in that great way that all superhero love stories are bittersweet. I'm SUCH a sucker for the maudlin Duty and Honor vs. True Love in the realm of superheroes. Gets me every time. This isn't to say that they can't have a happy ending, of course—many heroes get to have both, so no need to panic.
He watches her go up the steps and into her house, still not making his presence known. She takes out her family picture and talks to Mom, telling her that the man who bought their house at auction was just investing extra income. She wryly points out that the same money is to one person an investment, and to another, a lifeline.
She worries that she's supposed to protect their home, for when Dad comes home from the hospital, which just about kills me. She tells Mom about Yoon-sung's offer to clear her debt, confessing now that she ran like the wind, in case he'd change his mind. "You're pathetic, Kim Nana."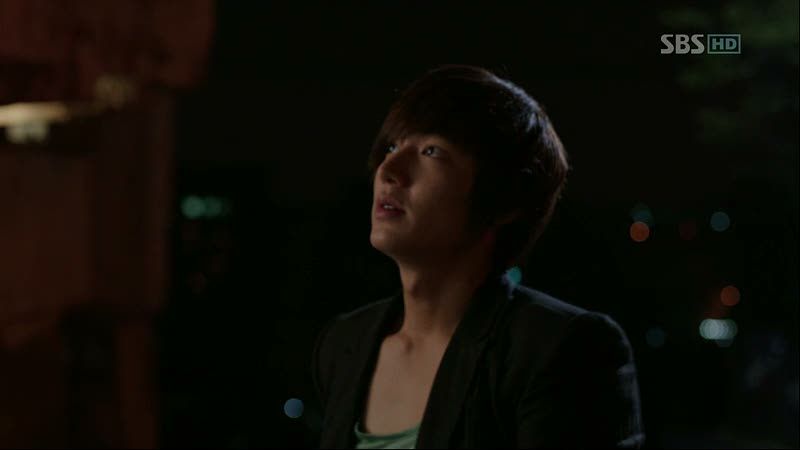 "But Mom, I'm having such a hard time. Without you, surviving all on my own… it's so hard." She clutches her family photo as she cries, carrying such a heavy weight on her shoulders with no answers in sight.
Yoon-sung stands down below, looking up at her window, but he can't bring himself to go any closer.
On his way home, he comes across a commotion in the street, spilling out of Sae-hee's vet office, where she's being badgered by a disgruntled customer who's upset that his wife had his puppy Sam-soon spayed. Pfft.
Yoon-sung wrist-holds the guy with one hand while calling the cops with the other, and has the guy hauled away. She thanks him for his help and they make their introductions.
At the Blue House, Nana and her partner get tasked to Seo Yong-hak's office, because he's a frontrunner to be the next presidential candidate. At the same time, Jin-pyo closes in on Seo Yong-hak as the most likely to be Target No. 2, as Lee Kyung-wan's close ally for over twenty years.
Yoon-sung's keeping tabs on him as well, and Shik-joong snaps photos as he trails Seo Yong-hak, discovering that Nana is now on his protection detail. He tells Yoon-sung, who does NOT like this news. Shik-joong asks if something happened between him and Nana the other night. Ajusshi: "You were weird when I called!" Heh.
They agree that Seo Yong-hak seems the likeliest lead so far, amongst the collection of Korea's most powerful officials taking up real estate on their Big Board. Yoon-sung worries that they have to beat Dad to the punch, otherwise we pass the point of no return, with Nana in the crosshairs no less.
Shik-joong sighs that it's not like they can just ask somebody who was there, and Yoon-sung perks up. "We do know someone. Lee Kyung-wan." Shik-joong: "But he knows your face." Yoon-sung: "Yes, but he doesn't know YOURS." Ajusshi counters that he's got to be nice to Nana then, if he's going to do this for him.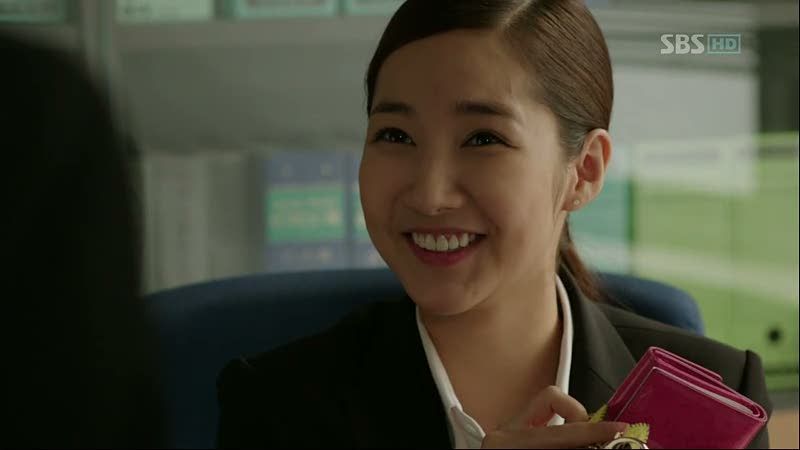 Nana has a computer malfunction, so they call Ki-joon for a favor to come fix it, only he's too busy. Yoon-sung agrees to go after he hears that it's Nana's computer, thinking that it's a good opportunity to give her the wallet and make amends.
He gets a chilly greeting and an even chillier thank you for fixing it, and Yoon-sung picks up the tidbit that Seo Yong-hak is celebrating his wedding anniversary tonight, for which he's asked Nana to help him pick a song.
Yoon-sung leaves and then texts Nana to bring him coffee, waiting with his gift and grinning to himself like a fool. Only Nana receives a package, just before coming out to meet him, and it's the same wallet with a keychain (the exact thing that Young-ju bought in front of Yoon-sung the other day). The return address just says, "Ajusshi." She tells her partner that it's from her Daddy Long Legs.
Well then it can't be from Young-ju, yeah? I think Young-ju's the intended red herring, but he's not her daddy long legs. Well YET anyway.
She comes to bring him coffee, and he asks for her book to put a stamp in it. She reminds him that he said he'd clear her debt if she showed up in thirty minutes that night, and makes him hand over the stamp. Aw. No more designated driving?
He tries to stop her from going and then finally notices her new wallet, his face falling at the sight of it. "From w-who?" She tells him that it's from "Daddy Long Legs, the person I like most in the world. After my dad." Hm, Shik-joong, maybe? I love that whoever this Ajusshi is, he picked the exact same wallet as the two knuckleheads, so they're both gonna assume it's from the other. Pffft.
Yoon-sung leaps to that very conclusion with a sour face, complaining to himself that it's not like he WANTED to buy her a gift. No, not him. "What?! 'The person you like most in the world'?!" He shoves it back in his desk with a hmph.
Shik-joong is denied his request to meet Lee Kyung-wan, because he's being transported today. He gets loaded onto a bus by an officer…
Oh. Crap. It's Jin-pyo.
Yoon-sung is parked outside waiting for Shik-joong, and in the few seconds as the bus passes him by, he sees his father's face in the window. He spins his car around and speeds after them.
Jin-pyo puts a gun to the driver's head, and tosses him out of the moving bus, taking control of the wheel. He looks out of his window to find Yoon-sung racing along beside him, with a determined look.
Finally unable to stop him or make him swerve, Yoon-sung speeds ahead on a narrow two-lane road, and stops. He then gets out of the car and STANDS ON TOP OF IT, ohmygod, arms outstretched as if daring Dad to run him over. It's literally "over my dead body, Dad."
Jin-pyo sees him ahead and keeps speeding up, and Yoon-sung doesn't budge. Jin-pyo's face hardens as he gets dangerously close…
…And then he PLOUGHS RIGHT THROUGH!
HOLY SHIT! Are you insane?! Thankfully he only sideswipes the car and Yoon-sung jumps off in time to land safely, but what are the odds he wouldn't get squashed? Worst. Dad. Ever.
Yoon-sung watches him drive off, realizing just how hell-bent on revenge he is. Dad does look in his rearview mirror to make sure that Yoon-sung is okay, and drives on. He stops and confronts Lee Kyung-wan, telling him that twenty-eight years ago, he witnessed friendly forces murder his soldiers and then watched as the government declared them missing and erased any trace of them.
He takes out photos of Lee Kyung-wan's family, threatening to kill them too, if he doesn't reveal the Council of Five. He starts for him: "Seo Yong-hak?" He looks up in surprise, "How did you–?" Dammnit. Target No. 2 confirmed, by Dad.
He reaches for his gun, but the police have found them, and they get there in time to stop Jin-pyo from killing him. He slips away just in time.
Yoon-sung has picked up Ajusshi, and he worries that they have to find a way to stop Dad. He thinks they ought to put a trace on him too, while they're at it. Shik-joong nearly has a heart attack at that idea. "Then we'll really die! Let's just turn around now, and beg for forgiveness." But Yoon-sung is determined to stop him.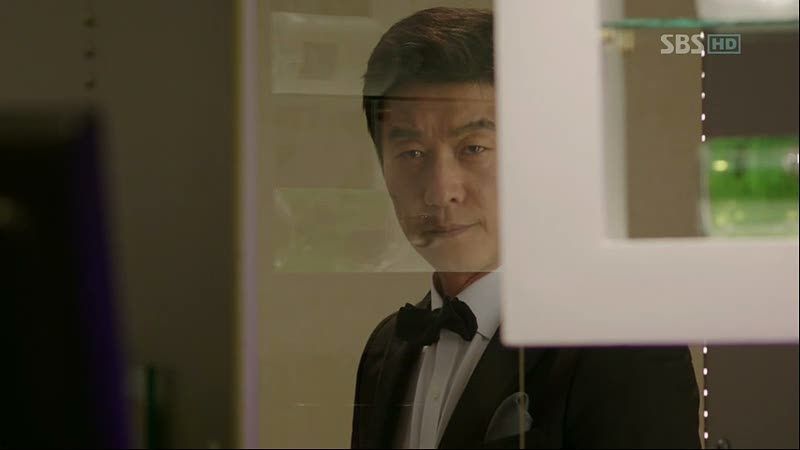 Jin-pyo has already moved on to Target No. 2, and appears in his James Bond finest as Seo Yong-hak celebrates his anniversary with his family.
He calls Yoon-sung and tells him that he's made good on his word—the first to find the target can handle him however he pleases. Yoon-sung hears the song playing in the background, and Jin-pyo notes wryly that the music fits the anniversary well.
Yoon-sung instantly remembers where he heard the song—when Nana was choosing it for Seo Yong-hak's anniversary dinner. Convenient, that. He races over to the restaurant she had mentioned earlier that day.
Jin-pyo goes to the roof of the next building over, and steadies his sniper rifle. He points it at Seo Yong-hak, finger on the trigger…
Yoon-sung arrives and runs into the building…
Jin-pyo's scope suddenly turns black, and he looks up. The power's gone out. Seo Yong-hak panics and Nana calmly tells them to get under the table, which thankfully gets them out of harm's way.
Only when she stands up, the sniper's laser target is pointed right at her forehead.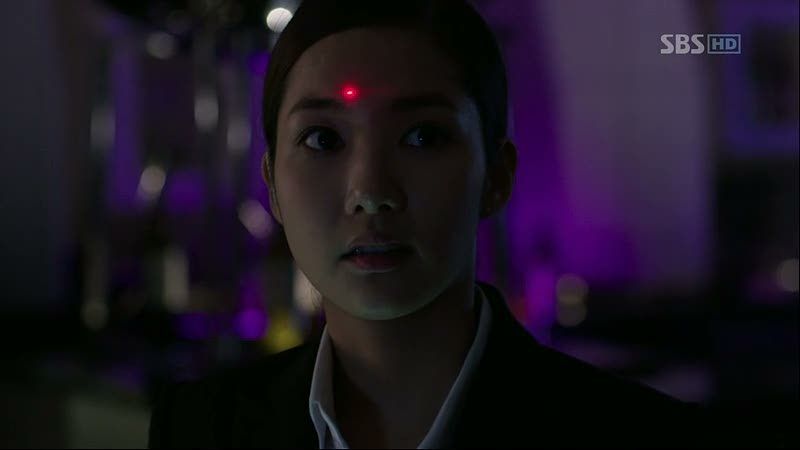 Jin-pyo pulls the trigger…
(…is where this episode should've ended…)
The shot comes firing through the window, and someone pulls Nana down, just in time to save her life.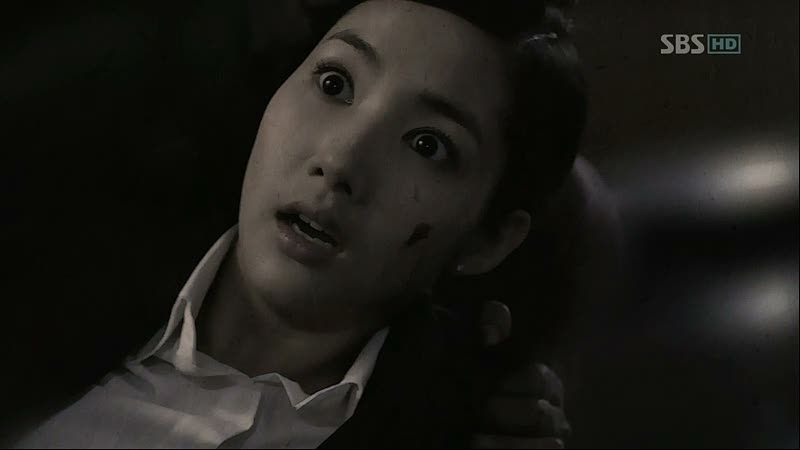 COMMENTS
What a fun, adrenaline-fueled climax to a great episode. I still want to send Show to Cliffhanger Academy, seeing as how it always seems to fall short of that perfect crack-laced send-off that would bring each episode up just a notch higher. Oh well. It's getting better with every episode, so perhaps we'll get there eventually.
I'm really happy with the speed of the revenge plot, and in contrast the slower pace of the developing romance(s). It's usually the other way around in a lot of dramas that insist that they're based on intrigue, but actually don't do anything to move the story forward. Here the Daddy Dilemma gets put on the table right away, once Yoon-sung's position in the revenge game becomes clear, and they get set up as rivals without back-pedaling or biding time. It's awesome.
I mean, running over your child with a bus isn't exactly as far as I expected the tension to go in one episode, but hey, the eviler the better, as far as Jin-pyo goes.
What I love about Yoon-sung's growing relationship with Nana and its attendant misunderstandings is that it sets up something he constantly has to sacrifice, to be who he is. Right now it starts out small—he loses face, he sacrifices pride, he gives up the chance to be by her side—but eventually it'll grow into the central conflict, which is a setup I love.
This drama is on paper a weird combination of things—slick, badass, epic, but also youthful, idealistic, and fun. (Which might explain the neither here nor there marketing of the thing, though I still contend that it was just poorly done.) I'm hopeful that they'll take the hero thing to its full potential, which is where it seems like we're headed. At its best, this drama might end up being a superhero origin story, which is my favoritest thing in the Whole. Wide. World.
If this show can actually deliver on that promise, I won't even have to watch the rest of this year's dramas to know which horse I'm backing.

RELATED POSTS
Tags: City Hunter, featured, Lee Min-ho, Park Min-young