City Hunter: Episode 5
So much cuteness, it'll keep a smile on your face almost all hour long. This is a drama where I'm quite happy letting the romance take a backseat to the action and intrigue, since those are done with such style and deft handling, but who am I to turn down some adorable bickering, petty jealousy, and incipient flirting?
SONG OF THE DAY
City Hunter OST – "It's Alright" [ Download ]
Audio clip: Adobe Flash Player (version 9 or above) is required to play this audio clip. Download the latest version here. You also need to have JavaScript enabled in your browser.

EPISODE 5 RECAP
Yoon-sung pulls Nana out of the rifle's scope just a second before the bullet shatters the glass, barely missing her. Yoon-sung slips away while it's still dark…but leaves behind his bullet necklace. In the aftermath, Nana picks it up and tucks it away.
Yoon-sung races for the next-door building while the SWAT team moves in on the scene. Jin-pyo packs up, having missed his shot, smart enough to send an elevator to random floors while getting in another — but authorities put a lock on the elevator buttons, meaning that they know he's in there and are preparing for confrontation.
Jin-pyo takes out his handgun, readying to burst out guns blazing, not knowing that a veritable wall of artillery awaits him on the ground floor. For some reason I still think he's slippery enough to manage a successful out, but thankfully for him, the task is made easier when the ceiling panel swings open and a hand reaches out. Gah, why so cool, Lee Min-ho?
Together, father and son climb down the elevator shaft and are picked up outside by Shik-joong in their getaway car. Police and SWAT officers are held up by a traffic accident nearby — a truck that has been strategically crashed by Jin-pyo's new revenge partner, ex-cop Kim Sang-gook.
Jin-pyo is angered that Yoon-sung didn't abide by their "first one to the target wins" rule, but Yoon-sung replies that it's fair to use irregular methods in pursuit of a goal: "I learned that from you." Touché. Although methinks I'd be more wary of telling Bad(ass) Daddy I told you so.
Dad says he ruined a perfectly good chance to kill the guy, but Yoon-sung counters that if Seo Yong-hak had been killed today, he'd have been turned into the victim of an assassination plot, hailed a champion of democracy by the press, his true nature concealed.
Yoon-sung: "He'll have more bodyguards posted, and the revenge will become harder from here on out."
Jin-pyo: "Are you saying you want to give up?"
Yoon-sung: "If I was going to give up at this point, I never would have started. Father, help me."
Despite the assassination attempt, Seo Yong-hak's immature son says he wishes he'd been shot — not killed, just injured enough to be excused from military service. To which Seo Yong-hak tells him he must go, no matter what, given that he's a general AND the former minister of national defense. Yeah, it might look bad to have his son come off as a draft-dodging rich boy. Er, another son, since the two older brothers were both excused.
Seo thanks Nana and her partner Eun-ah for their good work, then takes his aide's advice to admit himself to the hospital before taking interviews, to work the public sympathy angle.
To everyone's surprise, Jin-pyo agrees to help Yoon-sung without putting up a fight, "Because our revenge goal is the same." (Shik-joong cheerily offers the pair a ginseng drink, which was so popular it sold out on TV within 5 minutes. How much do I love that he's become a home shopping addict? He really is like Yoon-sung's errant wife.)
Dad warns that Revenge Target No. 2 will be harder to take down than the first, because Seo has a solid reputation and has been lauded for his defense ministry reforms. Yoon-sung isn't cowed, and reminds his father that the bigger the enemy, the bigger the victory: "There is a way."
The key? Combat boots. Complaints are running high among military personnel about their faulty boots, produced by a company affiliated with Seo. The nail in the coffin: his three draft-averse sons.
Cohort/driver/minion Kim Sang-gook asks Jin-pyo if he really means to hand over the reins of revenge to Yoon-sung. Jin-pyo replies that once Yoon-sung has caught the target, "I'll punish him in my own way." Aha! I knew Bad Daddy wouldn't put aside his thirty-year revenge mission just 'cause his son asked nicely.
Young-ju's boss in the prosecutor's office receives an anonymous letter, tipping them off to the secret relationship between Seo Yong-hak and the American military complex, and their large-scale arms deals that include the faulty combat boots. Multimillions of dollars are involved, but broken into small contracts of $30K or less to avoid scrutiny, with Lee Kyung-wan involved in the lobbying.
His boss puts Young-ju on the case to investigate secretly. Young-ju suspects a connection to the sniper incident, and reviews the tapes of the suspect. Jin-pyo was careful to cover his tracks, keeping his fingerprints off the doors and obscuring security cameras with smoke. There are too many fingerprints in the elevator to isolate one, but Jin-pyo is seen on camera pressing a particular floor button, which gives them a lead.
Yoon-sung stops Nana at work to comment on her brave rescue yesterday, trying to engage her in friendly conversation. She's still angry about his thoughtless stunt (calling her to drive for him when she said she couldn't, and basically treating her like an unimportant lackey) and tells him that her injury is none of his business.
Nana receives a letter from the court notifying her of her home's seizure. She calls her aunt — Young-ju's colleague — for advice, but it doesn't look good, and if she doesn't move soon, she'll face eviction.
Young-ju overhears her aunt's side of the conversation and hurries out to do what he can, tracking down the home's new owner to try to buy the place himself. No luck.
Yoon-sung does the same thing, but he has a more solid plan and sends Shik-joong to make the deal. The two buyer offers make the owner suspicious, and wonders what's so great about this place that all these people suddenly want it.
Shik-joong spins a tale about growing up there; his father sold it to cure him of an ailment, and now insists he has to die there. What he's got that Young-ju doesn't is a briefcase full of cash (the equivalent of tens of thousands of dollars), which succeeds in sealing the deal.
Young-ju can't help Nana tangibly but he tries to cheer her up emotionally, popping a postcard in the mail that reads:
Young-ju: "Ms. Kim Nana, how are you these days? When I'm having trouble, I think of these words: Do not fear a shadow, for it means light is nearby."
Oh, this is innnteresting. Nana obviously doesn't know Young-ju that well — she mistook him for a club-hopping party boy in Episode 1 — but Young-ju (and the vet) both know her. The wallet she received was from "my second favorite person in the world" and yet Nana's clearly not that close to Young-ju as we know him. So…has he been writing to her from afar?
Young-ju receives an invitation in the mail to a child's dol birthday, with a note to come with veterinarian Sae-hee. This gives us a window into the backstory about their relationship, as they were once a couple, though it seems they've been split up for a while.
Nana and Yoon-sung see off the two children, Mi-jin and Do-jin, whose father has returned to claim them. How the reunion of these kids with such a negligent father can be happy is beyond me, even if he supposedly sees the error of his ways, but the kids are happy to have the family back together. Do-jin gives the two adults a couple of Pororo trinkets (does that penguin's reach into pop culture have no bounds?), his prized possessions, and then the three head off for hopefully greener pastures.
Yoon-sung takes the Pororo band-aid and replaces the one on her face, which puts the two in close proximity that leads to a moment of awareness on both sides. Hot. Swoon.
So Yoon-sung overcompensates by scolding her, saying, "I don't like women who don't know how to value themselves or take care of their appearance, who just live carelessly."
In covering up, he goes too far and Nana bristles, telling him it's none of his business. She storms off and he knows he's put his foot in it. But then she sees the postcard in the mail that makes her smile ("Oh! It's my Daddy Long Legs"). She turns back around, making Yoon-sung smile at the thought that she's turning to see him.
Only, she breezes right by, leaving him to try to appeal to her in the only way he knows how: stalking her by car. He's all, I'm totally heading this way too, while inching along at a crawl to match her pace. Lol.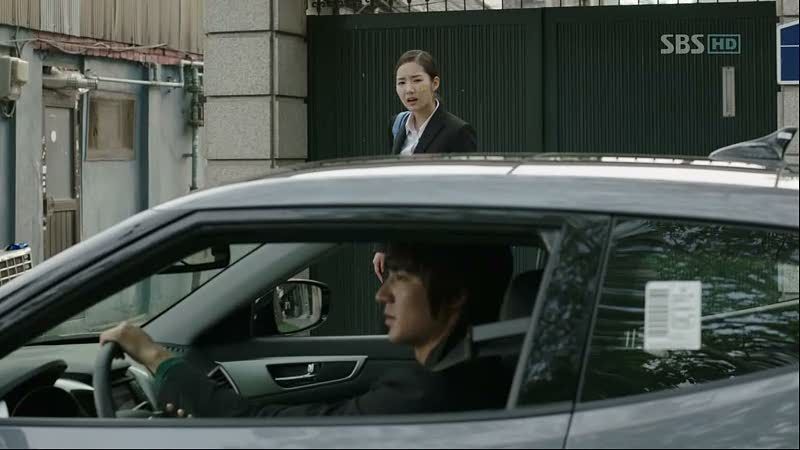 Arriving at the vet clinic, Nana greets Sae-hee cheerily as "unni." Recognizing the vet, Yoon-sung uses that as an excuse to join them, to Nana's annoyance. Ha, for a guy with a player image he's actually pretty bumbling, which makes him that much more adorable. Particularly when his motives are so transparent.
Yoon-sung totally puffs up when Sae-hee explains that he'd been a great help to her the other day, wanting Nana to take note. She ignores him and gushes over the postcard to Sae-hee, especially his line about shadows indicating light. She marvels at how he could know her feelings so well from afar, meaning she doesn't realize that it's because he knows her situation a lot better than she thinks.
Yoon-sung scoffs at the line, saying that it's typical for men to say that to score with girls. And then Young-ju exits the vet clinic, instantly bringing the level of awkward up a few notches.
Nana is surprised that Sae-hee and Young-ju know each other, and they fumble to say that they're just "friends" from ten years ago. For whatever reason, they're not telling her about their past relationship, although Sae-hee seems to sense that Young-ju's interested in Nana. She pointedly brings up the postcard, which makes Young-ju shoot her a look of alarm, since he has to pretend he has no idea what it is.
The foursome step inside for coffee, and Yoon-sung requests to read the postcard. She refuses, saying, "It's from my Daddy Long Legs — I won't show it to just anyone," which makes Young-ju fidget nervously. HA. I love this four-way awkwardness.
The TV news features a story about another member of the Council of Five, Kim Jong-shik, the trustee of a prestigious university and former minister of education. The sight of his face onscreen causes different reactions from everyone (such as Yoon-sung, who recognizes a potential target), but it's most pronounced with Nana, who has a sudden flashback to a car accident and changes the channel, saying she doesn't like that man.
OOH INTERESTING.
This is the man I'm almost certain is Young-ju's father, and the accident must be the one that killed Nana's mother and turned her father into a vegetable. This would explain why Young-ju is keeping his distance, and why he's been taking care of Nana from afar without revealing his identity. Attraction conflicting with guilt? The plot thickens.
Exiting from the clinic, Yoon-sung offers Nana a ride home, which she turns down. Young-ju offers the same, leading to a round of Mine! No, mine! between the two men (ahh, why are they so cute when they're being so petty and competitive?), and this time Nana chooses Young-ju.
Yoon-sung follows in his car, watching as they stop at a pharmacy. Young-ju insists on buying Nana ointment to reduce scarring and removes her Pororo band-aid to apply it — which happens to be the thing Yoon-sung has been bugging her to do all day, only he did it in the I'm-poking-you-aggressively-because-I-like-you-but-don't-know-how-to-be-nice-about-it way, whereas Young-ju is just, you know, nice about it.
Jealous and annoyed, Yoon-sung tosses aside the tube of ointment he'd bought — that's strike two, buddy. Gotta up your game if you want to outmaneuver Daddy Long Legs! Then again, your father probably didn't kill her mother, so you're already ahead of the game.
That's why Young-ju looks uncomfortable when Nana asks if a ten-year-old accident can be reinvestigated. He tells her it'll be difficult, though there are circumstances where it might be possible. He offers to look into the possibility, while playing dumb about the specific case she's talking about.
At home, Nana looks through a scrapbook containing news articles she's collected over the years, detailing Kim Jong-shik's illustrious career as minister of education. She blames him for everything, saying, "If it weren't for you, my family wouldn't be like this."
Then she adds her postcard to her box of correspondence — which, from the looks of it, has been accumulating steadily over the past decade, the letters signed simply "Ajusshi."
That night, Yoon-sung texts, "Are you asleep?" Nana ignores it, but he follows that with, "Really, are you asleep?" And then, "The Pororo band-aid looked much better." Oh, you. Just tell her you like her, already! Yoon-sung adorably tells his phone to text him back, grumbling when she doesn't.
In a conference call with Dad, Yoon-sung reports about Target No. 2. Apparently, the Korean military had contracted with U.S. military company Mars (spelling uncertain) when Seo Yong-hak was still minister of defense. Seo has recently taken a line against them for their defective material, but it's a strange turnaround from his previous stance. The director of the company is scheduled for a visit to Korea soon, and Yoon-sung will look into his meeting with Seo.
It's only now that Yoon-sung reaches for his bullet necklace, and realizes it's gone. Nana has it, and contemplates her unknown savior.
In the hospital, two of the Council of Five discuss who could have made the attempt on his life. I love that they list potential enemies and only hit upon the correct source on the third attempt — these hands, they be not clean.
As-yet-unnumbered future target Chun wonders if it was someone from Mars, because Seo had proposed changing contracts after two planes crashed in Russia. Seo shoots down that idea as outlandish.
Seo has an inkling it may be connected to the dog tags that had been hanging on Senator Lee's neck when he was delivered to the prosecutor. His research has found that they belonged to special forces agents with links to that October 1983 incident. The possibility that this could be connected to that old mission has both men alarmed, because if news went public that they killed 21 of their own men, they'd all be destroyed.
Chun recalls the two children brought in to Senator Lee's book launch, and the mysterious City Hunter who appeared shortly after they left. He orders his Right-Hand Man to track down the kids, and orders another 20 men added to his own bodyguard force. Does this mean the greater the protection, the guiltier the conscience?
Meanwhile, President Choi has already deduced that Jin-pyo's the one on a revenge mission, and wonders how far he's going to take it.
Judo session turns out to be quite the breeding ground for romance, with Eun-ah taking advantage of the training to flirt with Ki-joon. He isn't the smoothest about it, jumping back in alarm and ready to tattle to his boss about the inappropriate advances of the bodyguard, only every time he tries, Eun-ah tosses him over her shoulder to the mat. Ha.
Over on the other side of the gym, Nana attempts to teach a disinterested Yoon-sung some moves. (Alas, only of the judo variety.) He does the whole careless playboy thing, saying he doesn't need to know this stuff, and that if it's so important that he be protected, she can protect him.
Nana laughs and says, again unaware of the irony of her statement, "What a difference. Somebody is working hard all night to try to catch the sniper — aren't you embarrassed at all?"
He gripes back that she sure took that somebody's advice about the face ointment when she was so adamant with him about not caring. He's irritated, so when she tries to flip him, he counters and pushes her instead to the mat — unconsciously mimicking the move he'd used to drag her out of the line of fire.
As that physical memory comes into clarity for Nana, Yoon-sung continues to pester her jealously, asking, "I guess that means you must want to be seen as a woman by that somebody." I don't know that Nana has fully connected Yoon-sung to her rescuer, but this new idea rattles her for a moment and she hurriedly pushes him aside, saying that yes, she'd like Young-ju to see her as a woman.
The communications network is taken down in another hacking attack, and Ki-joon reports that they can't do much to counter it. Yoon-sung offers to counterhack, and swiftly manages the task, to Ki-joon's chagrin and his boss's elation.
Yoon-sung approaches later to ask why Ki-joon had deliberately held back, "Because it's inconceivable that someone with your skills wouldn't be able to do it. What was your reason?" Ki-joon denies it, but from Yoon-sung's reaction, we can see he's not buying it.
Chun's Right-Hand Man arrives at Nana's apartment complex looking for the two children, only to hear that they've moved out of Seoul. On his way out, he spies Nana arriving home, and remembers seeing her at the book launch with the children. He files this useful bit of info away for future use.
Yoon-sung impresses everyone by updating the security on the network and calls it a day, eager to go home, only to get roped into a department dinner. He tries to wriggle his way out of it but ends up reluctantly at a noraebang; he jumps at the first chance to leave by offering to take home a drunk, gloomy Ki-joon.
Something about today's events has put Ki-joon into a funk, and as Yoon-sung drags him out, he lets loose his emotions. Ki-joon admits that it's true he purposely didn't block the hacking, bursting out belligerently that his younger brother, a former Taekwondo athlete, was injured while serving his army duty.
He cries, "Why the hell was he given defective army boots, with the soles falling out? Why was he told to use them while hammering nails? My little brother got tetanus from a nail and lost his leg!" Hmm, so he harbors a grudge against the military, is that it? Convenient to our plot, yes, but also intriguing.
Just then, the designated driver arrives, and it's Nana. Problem is, she's not allowed to have side jobs now that she works for the Blue House, so when Ki-joon asks why she's here, she freezes. Ki-joon guesses that the two are dating, and crows at this "discovery" — a statement Nana can't deny if she wants to keep her job.
Yoon-sung plays designated driver as they take Ki-joon home, although not without some difficulty since the extent of his directions are "Just go!" Haha.
And while Yoon-sung may not feel romantically threatened by Ki-joon, he sure doesn't like to see him slumping all over Nana. He swerves sharply to dislodge Ki-joon's head from her shoulder, and when that fails, he swerves sharply the other way until the two are forced apart. HA. So delightfully immature.
When the door opens, Nana and Yoon-sung are startled to see that the man standing there is missing a leg — Ki-joon's brother, crippled by the army. As they put him to bed, Ki-joon mumbles about his poor brother whose "days of kicking are over," crying in his sleep. It's a difficult thing for his brother to see, as well as Yoon-sung and Nana, who excuse themselves.
On the way home, Ki-joon's anguished words ring in Yoon-sung's ears, while he sits there with eyes closed. And then it's time for him to try the same thing as Ki-joon, by letting his head fall on Nana's shoulder.
Her attempt to push him off her is hilarious, because it just makes him feign sleep even harder, and he pushes his head more firmly to keep it nestled against her. It's both absurdly sweet and completely comical.
Nana finally gives up, finding it amusing, and lets him win.
I love that this is what he learned from Ki-joon's drunkenness, and that there's a level of calculated effort that went into preparing the moment. Hee.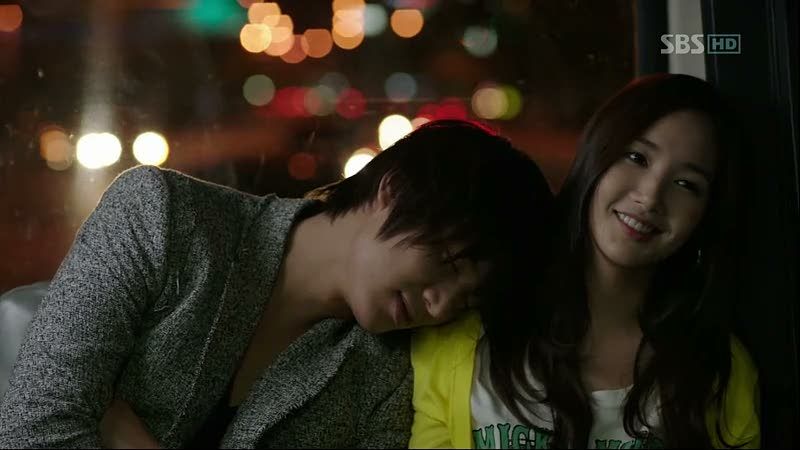 As they walk to her apartment, Yoon-sung teases knowingly, "You purposely didn't wake me up so you could have more time with me, right?" What's that saying…about he who smelt it…dealt it?
I love their bickering/flirting, now that Nana's no longer peeved; he announces that she's bound to be thankful to him for walking her home, so how about more of that kimchi she packed for him last time?
Nana: "So now I'm your kimchi supplier?" Yoon-sung: "Who said to make it so delicious?"
What they don't know is that at that very moment, Chun's Right-Hand Man is rifling through Nana's things, and finds her folder of clips on Kim Jong-shik. Ooh, this should provide some interesting complications, if they assume she's keeping tabs on Kim for reasons entirely separate from the truth.
The couple flirts their way to the door (Nana: "This is the home of a single woman! Stay out!" Yoon-sung: "I'm sure you see me as a man, but I totally don't see you as a woman, so move!"), their voices alerting the intruder. Nana wonders if she forgot to lock her door, but that immediately gets Yoon-sung's Spidey sense tingling — and as he watches Nana enter her room, the intruder lurks outside it.
Mr. Right-Hand Man readies a switchblade to use on Nana, so to keep from entangling her in the fight, Yoon-sung calls out her name loudly, which makes him slip away. Yoon-sung follows him into the stairwell, grabs his baseball cap to cover his own face, and stays in the shadows to fight.
He evades his attacker's knife skillfully, and in the scuffle the intruder drops Nana's Kim Jong-shik folder. Yoon-sung picks it up and knocks the man unconscious with a flurry of jabs to the chest, then returns oh-so-casually to Nana's apartment to claim his kimchi. He quickly replaces the folder without her detecting it.
Yoon-sung warns her about the dangers of living here with the faulty front door, but Nana just says she'll fix it when she has time. He yells at her for not being sufficiently afraid, and tells her to sleep with the windows closed.
She interprets his concern in a different way, which is cute enough on its own since she's starting to warm to him. But she's not all the way there yet, for instance sending him off saying, "Go carefully…or not, whatever." Like she has to qualify her concern by acting nonchalant. Suuuure, we believe you, or whatever.
Mr. Right Hand reports to Chun about Nana's file on Kim Jong-shik, and Chun tells Mr. Right Hand to investigate her further. Right Hand mentions possibly having encountered the City Hunter as well, but won't say more until he's confirmed it.
Yoon-sung belatedly recognizes Right Hand Man as the attacker on the yacht who'd tried to kill Senator Lee, and feels even more unsettled upon leaving Nana's place. So instead, he decides to stay here all night, and spends the next several hours standing there in front of her building, just hanging out, keeping an eye out for baddies.
Meanwhile, Nana starts an embroidery project — a sign intended for a car, which reads "Flower boy on board." Aw — how can that be so cute and hilarious at the same time?
At work, Nana's supervisor asks about the wage garnishment that has been implemented on her paycheck. He warns her to fix this situation or risk losing her job, because the Secret Service can't have their credibility put on the line.
Nana promises to figure it out, and goes to the new owner (or rather, former new owner) to assure him that she'll move out soon — only to hear that he sold her place.
Nana races to find Yoon-sung at the Blue House, where he's grimacing over his own coffee, wondering how to re-create the Nana taste. He lights up to see her, but she confronts him indignantly about meddling with her life: "Who are you to buy my house?!"

COMMENTS
What a delightful surprise to find such a light-hearted episode amidst the action-packed, intrigue-filled storylines. I hadn't expected this much of a romantic-comedy vibe but I fully welcome it, since these characters are just so cute together. And while I'm not sure if what I'm sensing is raw romantic chemistry, I do buy their attraction to each other, but more importantly, the conflict keeping them apart. He's got that whole superhero identity/mission to maintain, while she has seen him act enough like a playboy ass to be wary of falling under his charm as well.
I'd been confused about the Young-ju connection till now, but I'm pretty sure we were meant to be fuzzy on the details prior to this point. And what I see, I like — it's a really nice echo of Yoon-sung's own conflict with Nana, because Young-ju also has a secret identity, and he also has a vested interest in keeping that knowledge from Nana. Both men are holding back part of themselves, and as a result Nana will probably feel drawn to both of them in pieces — because she doesn't have the picture of the whole. I just love dichotomies like this.
But in addition to the parallel of that, there's also a nice contrast, when you consider the motives of the two men. Yoon-sung can't reveal that he's a better man than he appears, because that would endanger the work he's doing. Young-ju seems to be afraid of outing himself partially because it would pain Nana to know he was linked to that accident, but also because of what I interpret as selfish fear that she'd hate him. And while Yoon-sung is bound to his outer cool act, despite his inner warmth, it's the opposite for Young-ju, who gets to be as kind and caring as he wants to but has to face potentially dropping in her esteem once the truth is out.
Or at least, that's my speculation based on the details dropped in this episode. The facts may in fact change in the future…
RELATED POSTS
Tags: City Hunter, featured, Lee Min-ho, Park Min-young