Eom Ki-joon joins Scent of a Woman
Dream High's dorky-cute idealistic teacher, Eom Ki-joon, will be fighting for Kim Sun-ah's affections in SBS's upcoming weekend drama Scent of a Woman — although he'll be losing out in the end to the drama's hero, Lee Dong-wook (in his post-army comeback, yay!).
Scent of a Woman is centered around a woman (Kim) who is told she is dying, and decides to live her remaining months to the fullest. Lee plays the restless and aimless heir to a top travel/tourism company, who meets our heroine, a lowly employee, after he fights with his fiancée and quits the company; his interest in her sparks a total turnaround in his life.
Meanwhile, she meets her old childhood friend (Eom) as a patient; he's a cold, cynical doctor who starts to thaw out because of her, and gradually loosens up to become a caring Daddy Long Legs.
It's a bit pat to have everyone undergoing 180 degree changes, but it speaks to the theme, so I'm going with it. I also love the casting, as all three leads are awesome at both comedy and drama. Kim Sun-ah has a knack of making you laugh and cry, often in the same breath (see: My Name Is Kim Sam-soon and City Hall), while Lee Dong-wook has shown quite a bit of range from the light-hearted (My Girl) to the dark (La Dolce Vita).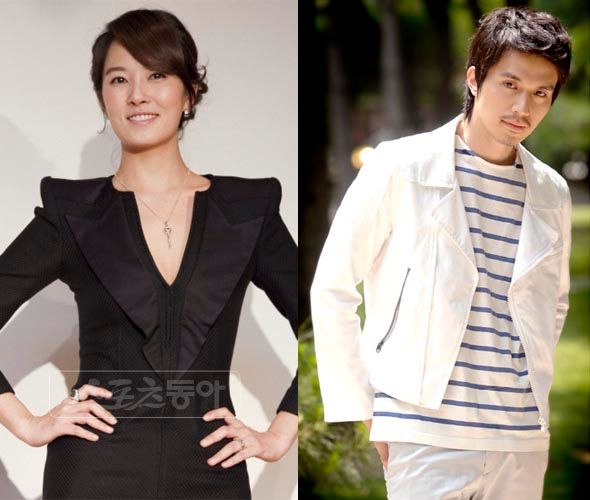 Kim Sun-ah, Lee Dong-wook
Eom Ki-joon, meanwhile, may have been sweet in Dream High and Good Job, Good Job, but he's actually pretty well-known for playing cold bastards (and he does 'em so well!), having earned raves for portraying the delightfully assy director in The World They Live In and a cool reporter in Hero. He admitted that he's gotten a lot of offers to play cold characters which made him think hard about whether to join this series, "But this drama's different from previous ones, where the character changes as the story develops and even causes changes in his surroundings, which I'm looking forward to."
This drama comes from the writer and director of last year's slice-of-life sports/medicine drama Dr. Champ, which I enjoyed as a low-key sort of refresher in between more dramatic and/or angsty fare. More importantly, though: Can they steal the camera from Dr. Champ's team? 'Cause that thing alone made that drama a feast for the eyes.
I'm sure we can all see the general trajectory of the drama, which is described as a "romantic comedy with a message," which is that happiness can be found in living true to yourself in the moment. I'm thinking of the last two episodes of 49 Days, except funnier and hopefully more satisfying to those of use who felt suckered into a different drama than we'd been promised. Normally these terminal-illness dramas are too melodramatic for my taste (A Rosy Life, 90 Days' Time To Love), but I'm feeling hopeful given that this, unlike 49 Days, IS specifically calling itself a rom-com.
Scent of a Woman will follow New Gisaeng Story and premieres on July 16.
Via My Daily
RELATED POSTS
Tags: Eom Ki-joon, Kim Sun-ah, Lee Dong-wook, Scent of a Woman