Lie To Me: Episode 10 Open Thread
Weecap!
Both sides have acknowledged their feelings for each other, so to keep the drama going for another three weeks, Episode 10 introduces a grab bag of manufactured conflicts. Warning: Don't think too hard, or head hurty.
So Ah-jung acts demure on her mat-seon, Sam-soon style, and Ki-joon drags her outta there, Sam-shik style. She admits she likes him, and asks him not to like that other chick. His stance: I don't like her, but I don't want to hurt her, hence I will hurt you, the one I do like…. He asks if she could like him if he were so wishy-washy as to renege on an old commitment. No, I'm sure she loves ya because you're wishy-washy about your feelings. Ugh, this is the Full House conflict that drove me batty. It's like the opposite of having your cake and eating it too. It's…purposely buying your cake, setting it out to look at all day, and then giving it away and watching someone else eat it.
Manager Park rips Ki-joon a new one for his stupidity (yay!) and tells him to grow a pair, and that trying to let Yoon-ju down easy will hurt her more. Yoon-ju does her share of crazy by announcing her wedding, without telling her groom. She lets that drop in Ah-jung's lap triumphantly.
Ki-joon tries to explain that it's a misunderstanding, and tags along on Ah-jung's work dinner, buying out the restaurant and toasting her co-workers from the next table over. She gets drunk and drops her phone, which he picks up and returns, but not before recording a video clip where he calls her "Ah-jung-ah," which she listens to on repeat.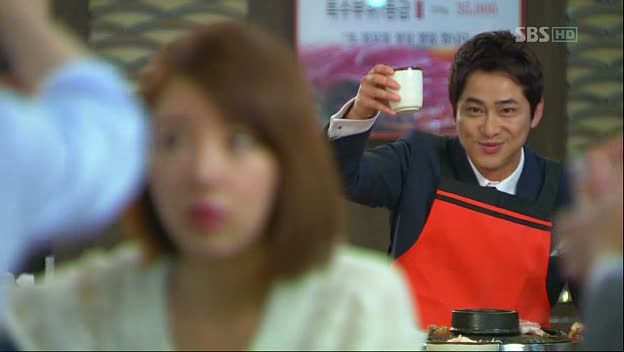 So-ran's Catty Crew buys friendship rings, and So-ran buys one for Ah-jung. Is reconciliation in the picture? But no, Jae-bum drops by and gets all handsy with Ah-jung (hands of concern!), and So-ran sees and misunderstands.
Ki-joon offers to wait until Yoon-ju has gotten over him before starting with Ah-jung. Sure, why not? We need the conflict, even if it's nonsensical. Yoon-ju apologizes about lying about their wedding, but says she may never get over him — will Ah-jung wait for him forever? You two geniuses are ignoring the more pertinent question: Does Ah-jung know she's waiting? Ki-joon instead asks for "some time," because he just can't cut the cord. JUST BREAK UP, YOU LILY-LIVERED WUSSYPANTS.
Sang-hee sulks, drinks, and throws a hissyfit over falling for another girl his brother likes. His tortured broodfest is horribly uncomfortable to watch. Sorry, honey, you're super cute but you're not nearly a good enough actor to pull this off, cringe.
Ah-jung plans some big tourism conference — at a World Hotel resort, natch — and who should show up but Chairman Chen? Oh god, this old chestnut? AGAIN?
She worries that she might be fired — another colleague was let go because of the messy handling of his personal relationship, and civil servants are apparently supposed to be free of any and all scandal, not that this makes any sense, but hey, we need more false conflict! So Ki-joon promises to divert Chen and scrambles to intercept him, only Ah-jung (of course!) runs into him first. Chen is like, Hello there Mrs. Wife! And her minister boss is like, Uh, Wife? They wait expectantly and ask if she's married or not.
Ah-jung is torn — tell the truth and preserve her job? Or say she's married and save Ki-joon's investment? The power of love compels her to lie and say she's married, only that's when Ki-joon appears and announces, "No. I'm not married."
Wha—? Are you a Noble Idiot, or just an idiot? It's hard to say.
SONG OF THE DAY
Lie To Me OST – "I Belong To You" by MBLAQ [ Download ]
Audio clip: Adobe Flash Player (version 9 or above) is required to play this audio clip. Download the latest version here. You also need to have JavaScript enabled in your browser.
RELATED POSTS
Tags: featured, Kang Ji-hwan, Lie To Me, Yoon Eun-hye