Lie To Me: Episode 12 Open Thread
EPISODE 12 WEECAP
At the Jeju resort, Jae-bum arrives to declare himself lost without So-ran, who's moved by his admission that her departure sparked suicidal thoughts. Peas in a pod, these two. They think they're Ike and Tina, but they're really Spencer and Heidi.
Lurky Yoon-ju calls Ah-jung for a drink and tells her all about why she broke up with Ki-joon the first time and asks if Ah-jung knows what it feels like to have your first love stolen from you by another woman. Oh god, are they really going this route to make Ah-jung feel bad? Okay then.
Ki-joon comes clean about his marriage lie (again) to Chairman Chen, only this time he believes him. Chen walks out of the deal and starts chatting up Great Hotel instead, and this is our Big Conflict for the rest of the hour. Yeah, it's just as exciting as it sounds.
In cuter news, Ki-joon and Ah-jung start dating like a real couple and he calls them a needle and thread, which might be a cuter metaphor if one of those things weren't stabby. They do coupley things that go duly noted by a sulky Sang-hee and a bitter Yoon-ju, but at least the former is more mature than the latter and tells her to Let. Go. Already. Dammit. So the older brother got the brains, and the younger brother got the balls?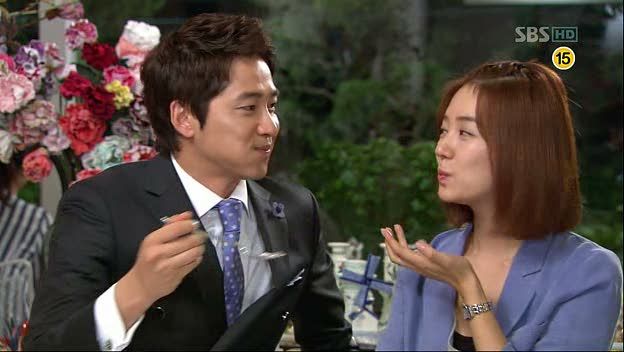 Ki-joon finally musters the wherewithal to cut ties with Yoon-ju, explaining things in terms of Fate. Because of Fate, he loved someone he shouldn't have loved, and had to break up with someone he couldn't bear to break up with. So Fate is doing shit you don't like? He tells Yoon-ju it's her turn (to obey Fate, or do shit she doesn't like, same diff), and declares that he loves Ah-jung. Ooh! And also, errr what? This couple is totally trying to sell the love angle, although I'm only seeing lust. Not that lust is bad. Kang Ji-hwan and lust? I am there. It's just…let's call it what it is, shall we?
Ki-joon surprises Ah-jung at home with a meet-the-dad ambush, which are two terms you'd think he'd be wary of putting together. Dad sizes up the boyfriend in the traditional Korean way: Drinky duel! Shots, glasses, and bowls of soju later, both men pass out and then insist they won in the morning.
Now it's Aunt's turn to change her mind (again) and push Ki-joon towards Yoon-ju, 'cause conveniently, her congressman stepdad happens to be chummy with Chairman Chen, and they need his association to save the hotel. Aunt is totally giving me whiplash — I like Yoon-ju! You can't marry her! Wait, never mind! I'm not telling you to marry, just get in good with her! This is business, not personal!
The stress of hearbreak sends Yoon-ju to the hospital, because this writer has been watching way too much Sam-soon and thinks this is adequate conflict. Aunt orders Ki-joon to her bedside, and he goes, but she thinks he doesn't, and gets all pissy.
Ah-jung is put in charge of a tourism event/traditional cultural performance which is selling poorly, then all of a sudden sold out. She's proud of herself until she sees Ki-joon sitting there in a mostly-empty theater, and guesses he intervened. Bicker, bicker, make up.
Aunt gives Ki-joon one last chance to get in good with Yoon-ju's stepdad and sets up a dinner. Ah-jung's feeling crappy because her boss has found out about her marriage lie and warns her not to mess up again. So Ki-joon's big decision: Business or love? Ah-jung or Yoon-ju?
We're not really surprised by his choice, are we?
SONG OF THE DAY
Lie To Me OST – "You Are My Love" by Kim Yeon-woo [ Download ]
Audio clip: Adobe Flash Player (version 9 or above) is required to play this audio clip. Download the latest version here. You also need to have JavaScript enabled in your browser.
RELATED POSTS
Tags: featured, Kang Ji-hwan, Lie To Me, Yoon Eun-hye