Lie To Me: Episode 9 Open Thread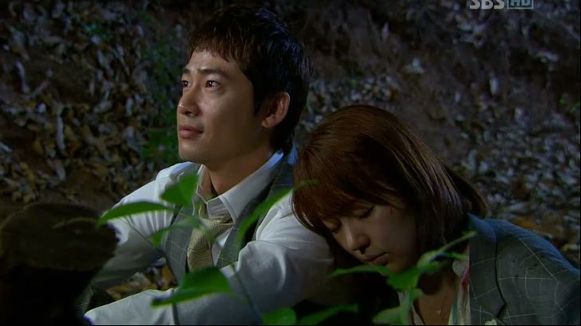 The Lie is finally outed, though to no discernable difference as far as Ah-jung's frenemy-ship with So-ran is concerned. They even seem to be closer for it, which pretty much solidifies the fact that this is a relationship I will never come to understand. Seriously, can we introduce this girl to other girls who are actually, yunno, NICE? And cool? They exist! They do! I swears it!
Basically The Lie gets replaced by The Denial, wherein Ki-joon and Ah-jung both know that they like each other, but refuse to tell the other. Even with a very dramatic and very unnecessary rescue in the woods to throw them together, she rebuffs his attempts to clear up the misunderstandings that are starting to build. (Now he thinks SHE was just "acting," despite the fact that she was the one who was constantly asking HIM that very question when they were "married." Gah.) There's a lot of pride and hurt feelings to stop them, though it seems the biggest obstacle is Ki-joon's refusal to clean up his past with That Girl.
He FINALLY says something to her — "I like another woman" — (that took you WAY too long to say, dude) and she clues in to something going on between him and Ah-jung. The problem is that Ah-jung herself has no such luck in reading Ki-joon's mind, and decides to forge ahead and start going on blind dates as suggested by Dad.
Her heart's not in it, of course, but no worries. Two big heroes to the rescue… only they're, um… BROTHERS.
What's that they say about history being doomed to repeat itself?
RELATED POSTS
Tags: featured, Kang Ji-hwan, Lie To Me, Yoon Eun-hye