Myung-wol the Spy's poster and promo stills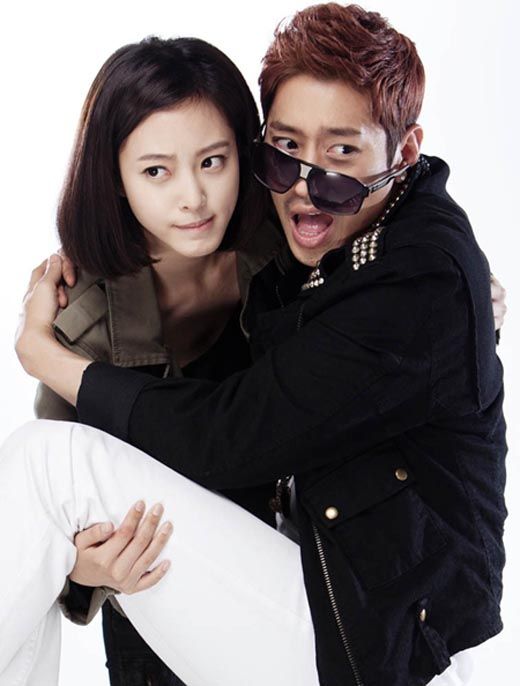 Poster shoots were recently held for upcoming quirky romance Myung-wol the Spy, and my first impression is to laugh, which is always a good thing in a comedy, no? It's looking pretty cute, with Eric, playing Mr. Big Hallyu Supa-star, cowering as he clings to North Korean undercover spy Myung-wol Han Ye-seul.
Bye-bye, Prince Charming and Daddy Long Legs, long live the scaredy-cat Beta Male! I loved this dynamic in My Girlfriend Is a Gumiho, so while the poster composition is looking a little familiar, I'm looking forward to the chemistry here. I've mostly seen Eric playing tough guys and badasses, but I know he's got the comic side in him so I can't WAIT to see how this plays out.
The second poster image includes Lee Jin-wook (Rivals), fresh out of the army and playing Han's fellow spy. It doesn't include the fourth leg of this romantic rectangle, Jang Hee-jin (2009 Hometown of Legends), but you can see her in the photo below, taken while the cast gave an interview on photo shoot day.
Jang plays a hotel heiress in a "Paris Hilton-esque" role who has to confront the rare scenario of not getting what she wants when both the men she's been eyeing turn to Myung-wol instead. This means she'll either be the irritating and meddling type of second lead, or amusingly antagonistic. I'm hoping for the latter, a la Lie To Me's So-ran, since at least she provides laughs.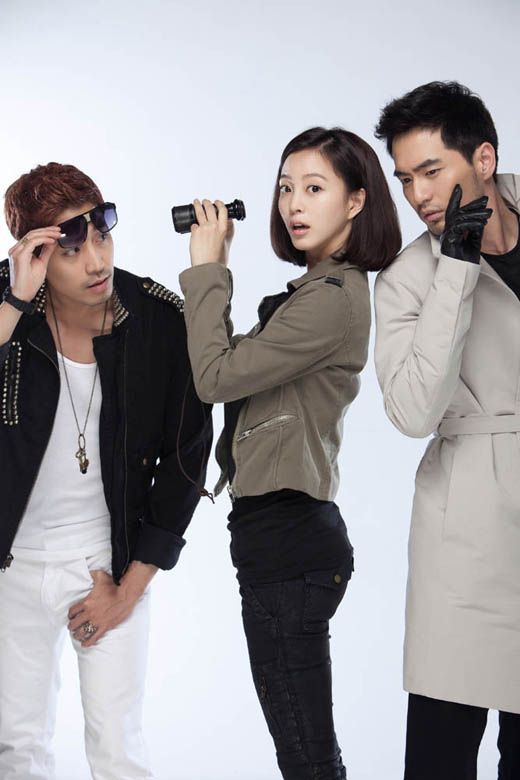 The promo stills below, released last week, show Myung-wol in action as a spy, while Eric looks his sharpest in his Hallyu star duds.
Eric explained that he finds a number of similarities between his character and his real self. His explanation makes me giggle, 'cause you've got to hear it in his dryly funny voice as he explains, "There's the fact that we're both singers and actors. In particular, we're similar in appearance." HA. He added, "But in real life I don't treat people coldly like he does."
Han described her character as differing from the usual image we have of North Korean spies from other works (no surprise, if you think back to Shiri or IRIS, where the ladies were badass and cold), and said, "She's proficient in foreign languages, and represents a modern type of spy." I guess that'll give her a chance to speak English, which I enjoy because she's the rare Korean star who is actually fluent in it.
All in all, Myung-wol the Spy is looking fresh and cute. The drama is part of the busy July drama lineup (which'll replace May Madness), as it follows Baby-Faced Beauty on Mondays and Tuesdays. Its first episode airs on July 4.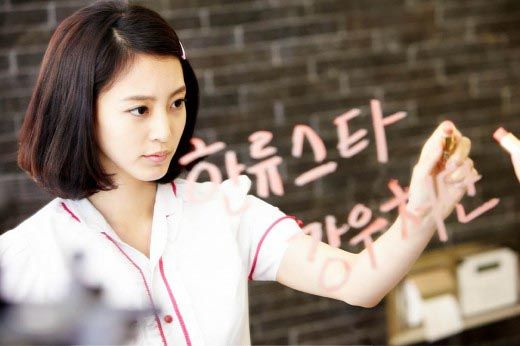 Via Osen
RELATED POSTS
Tags: Eric, Han Ye-seul, Jang Hee-jin, Lee Jin-wook, Myung-wol the Spy