City Hunter: Episode 15
The prosecutor is hot on his trail and it looks like someone's secret identity isn't going to be secret for very long. Could the City Hunter maybe just take a wee break from saving the world so that he can focus on maintaining his cover? My blood pressure would surely appreciate it.

EPISODE 15 RECAP
Yoon-sung rescues Young-ju from being gassed to death, and pulls him out of the car in time just as he's lost consciousness. He stirs awake and reaches out to grab Yoon-sung's ankle, and tries to make out the silhouette.
Yoon-sung stops, and then turns toward him… just as Young-ju loses consciousness again. Yeesh, playing it close there, buddy? He calls the police to report a man lying on the ground and leaves.
Meanwhile Target No. 4 Chun Jae-man has already burned the top secret book that would've served as proof of their involvement in the October '83 incident. Argh, it pains me that Yoon-sung had to give that up to go save Young-ju, though of course I wouldn't have him choose differently.
His secretary alerts him to a possible intruder, since the desk guards are knocked out. He guesses quickly that the City Hunter was here, but no matter—he's too late now.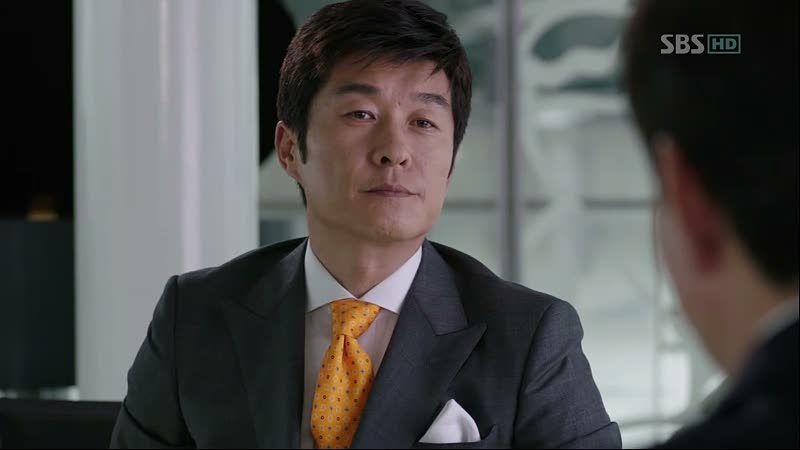 Well he might be, but Daddy is always one step ahead. He acquires the original book, having paid for the man to deliver a duplicate to Chun. Sometimes I LOVE Evil Daddy!
In exchange for a car full of cash, the man gives Jin-pyo the original copy along with the tidbit that a prosecutor has been requesting to see this book for some time now. Jin-pyo guesses quickly that it's Young-ju.
He calls Yoon-sung to warn him about how close Young-ju is getting to their case. He even knows about Jin-pyo's real identity and reminds him that because Yoon-sung drove his father to the brink, the prosecutor won't go easy on him. "Because no matter what, a father is a father." Coming from you? Am I supposed to laugh or cry?
Yoon-sung defiantly tells him that he'll never get caught (says the guy who turned his face towards him not twenty minutes ago!) and that he'll protect his own, no matter what. Dad thinks it foolish of him to think he can have it all—love, family, a normal life.
Yoon-sung swears fiercely that he will protect them, and Dad says to himself that love and a normal life are not things that they can have.
At home he goes over the security footage in Young-ju's garage and discovers Mr. Creepy. He recognizes him right away as Chun's right hand man, who came after Target No. 1, Nana, and now Young-ju. I think you also stole his hat once.
Nana asks if he's working on Target No. 4, and Yoon-sung tells her she cannot participate this time, no ifs ands or buts. "You saw me going into a hotel room with another woman. Do you still want to help?"
He says he doesn't want her getting mixed up in dangerous business anymore ('cause her being a presidential bullet shield is less so?) and she's forced to back down. She asks if he has to continue, the answer to which she already knows. Aw, it only makes sense now that it's not personal for her anymore, she's wondering if he'll ever get out.
They get ready to head to the hospital to visit Mom and bring Ajusshi back home, but then he walks through the door, bag in hand. He says he couldn't stand the hospital anymore because he couldn't even watch the home shopping channel (HA) and so cut out early.
Yoon-sung's face lights up like a Christmas tree (aw), and wonders if Ajusshi really almost died, since he looks so normal. Ajusshi: "Die? Why would I die? And leave the home shopping network? There's so much more I have to buy!" Hahahaha. Leave it to Shik-joong to fight death to shop another day.
Yoon-sung and Nana head to the hospital and come across a little boy in the waiting room, digging around for loose change. Nana helps him by lifting the couch whole hog, like she's got super-strength. How much do I love that in regular life, Nana's the hulk and Yoon-sung's the prissy one?
The kid, Kim Yoon-shik, says that he's here visiting his mom in the same ward, and Nana wonders why his name sounds familiar. She muses that it must be because of Yoon-sung.
They visit Mom, who's doing well, and Nana leaves them to talk alone. Mom thinks that Nana is pretty and nice, since she's known her for a long time (technically much longer than she's known her son). Yoon-sung scoffs that she's not that pretty (heh).
Mom takes out a ring, "Your father gave this to me. Give it to Nana." He tells her that they're not in that kind of relationship, but Mom sees through the crap and asks why he's being so cold and rigid when he clearly likes her. She tells him that she wants him to be happy.
He mentions her ridiculous super-strength earlier with the kid, and Mom asks if it was Yoon-shik. His mother is receiving the same treatment that she is, and she used to work for Haewon Labs (Chun Jae-man's company, I'm assuming the pharmaceutical division).
Ding dong. New case for Yoon-sung.
He comes out to find Nana dozing off in the hallway, and stares at her lovingly for a while, contemplating the ring. Oh man, that ring's gonna be the source of my TEARS, isn't it? It's just perfectly rife for a tragic twist—Mom's ring for Nana. Aaaaaaauuuugh. Why'd ya have to do it, Mom?
She stirs awake and he quickly hides the ring, covering up his awkwardness with the complaint that she sleeps anywhere, calling her Nana Bear. She looks up at him with a smile and tells him that she won't insist on being part of his cases anymore.
"But in exchange you have to be careful. And careful. And more careful. And you have to call me whenever you need my help. You know that there's no partner like me, right?" Aw. He can't say anything and takes her by the hand to walk out.
Young-ju finally wakes up in the hospital, and his assistant hilariously fawns about how this is so unlike him, to give up and off himself. Maybe it's not so funny in the words, but it's his over-the-top sincerity when we know he's misinformed.
Young-ju insists that it's not what he thinks, but his minion is too fraught to listen, which is kind of adorable. He checks his phone, and on it is a video message of the same footage that Yoon-sung was looking at earlier.
He recognizes the man as Chun Jae-man's lackey right away, and has Chun tailed immediately. He tries to remember who saved him, and he flashes back to the man's blurry profile… "Lee Yoon-sung." EEEP!
He rushes out, only to find Yoon-sung standing in that very hospital lobby with Nana. He happened to stop to translate for a Thai man who couldn't explain his symptoms, and Young-ju watches curiously.
His assistant remembers that the day Young-ju had gone to get Yoon-sung's blood tested against the City Hunter's, he had lost Yoon-sung's tail because of Nana's interference. Oh no… he's closing in!
Young-ju gets back on the City Hunter case full force, rules be damned. He tells his assistant to look into Yoon-sung's family—he's already pieced together that he's probably Mu-yeol and Kang-hee's son (I love that he's smart!), but lacks proof. He also knows that Jin-pyo is connected somehow, but doesn't know why.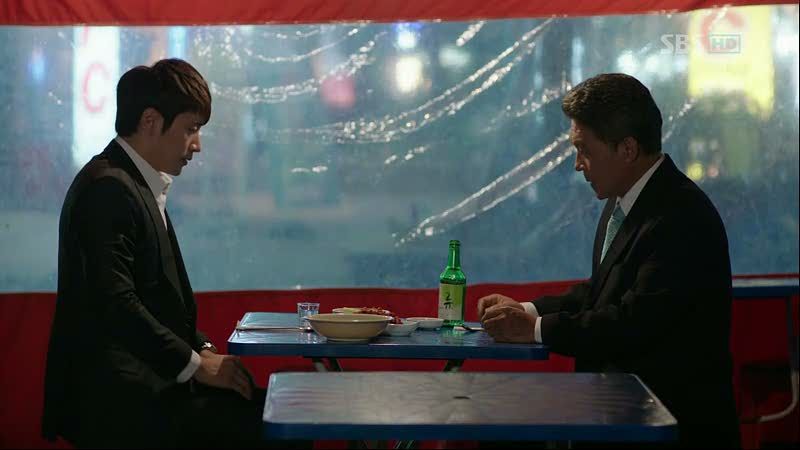 Lackey: "Is this because of your father?" Young-ju: "I'd be lying if I said it wasn't." He vows to chase the truth about the City Hunter and the October '83 incident to the end. I'm so torn! I want him to succeed, but then, I don't!
He returns to the hospital to see his father, and jumps at the sight of the President sitting by his Dad's bedside. They go out for a drink (Dude! You're at a pojangmacha! With the President!) and Young-ju expresses regret at not being able to stop the City Hunter or persuade his father to turn himself in.
The President sighs that turning yourself in is the hardest thing to do, and relates a story about stealing a friend's lunchbox as a kid, and then not having the courage to confess even when the teacher had offered him an out.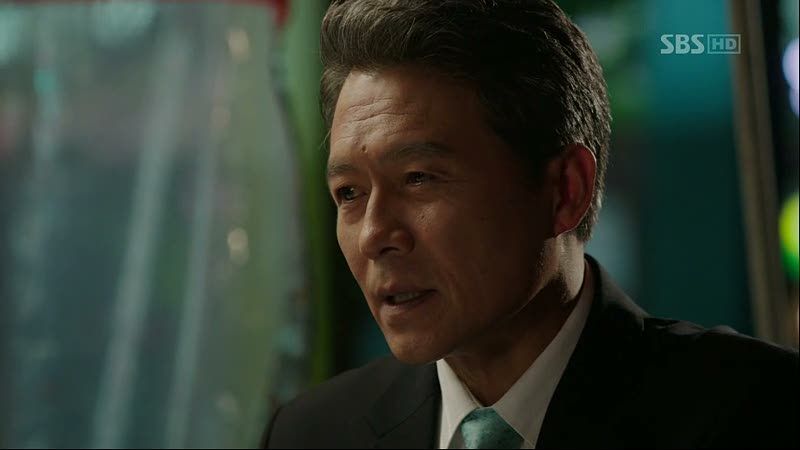 President Choi: The more time passed, the more I couldn't confess. That's what it is to surrender. It's the same for your father, and I'm no different. To lose your timing… what a frightening thing that really is.
It's so interesting that he's the only one of the Council of Five to be this self-aware and therefore so full of guilt… and yet that doesn't make him any less responsible. It's almost worse that he knows what's right, and hasn't the courage to face it. The others can be called immoral or delusional or lacking conscience, but he is none of those things… making him simply a coward.
Young-ju comes home to find Sae-hee there, setting out dinner for him. Aw, she's worried about him. She clearly feels awkward about being there, but says she just came in since the lock code was still the same.
She says he looks lonely, and he sighs, "I feel like an island." Crush my heart, why don't you? Sae-hee is concerned to hear him talk that way, since it's so out of character, and adds that she's worried about his father but didn't want to upset him by visiting since he never liked her.
Young-ju: "I messed up everything with Dad. And you and me." She takes his hand, "Be strong, Kim Young-ju. An island doesn't suit you. You're a bridge. A bridge between people."
That gets him to smile and she tells him that she's always wanted to be his strength, even though he used to pour all of that back onto his work, leaving her peeved. Aw. It's sweet that they can at least be friends now, despite their marriage failing. And I'm sure it means a great deal to her, to have him admit that maybe he's the one who took her for granted in the past.
Ajusshi asks Yoon-sung if he really needs to carry out his revenge. His perspective has changed after his trip to death's door, and he wonders now if the three of them (with Nana) can't run away from Jin-pyo and this life for good.
Nana turns to Yoon-sung expectantly, but he shuts down the idea right away. "If I don't finish this, I'll never be able to live like a normal person." Turns out you're not that different from Daddy yourself.
Did you ever think that maybe doing this is what makes it impossible to ever live normally? It's sweet that you think seeing this through means you can walk away cleanly, but though Jin-pyo's perspective is darker, it's probably more realistic, truth be told.
He stalks off and contemplates the ring again. He says to himself: "When I finish all this. If I'm still alive then…" What? IF? No IF! Goddamn that ring! I wasn't scared until that ring came along. Now it just makes me nervous!
Nana brings him tea and tells him to be strong. "No matter what you do, I trust you and I'm cheering you on. You know I like you, right?" He laughs, "How can you just say that you like someone so easily?" She thinks there's no reason to hide her feelings, since he already knows. It's great that the guy who can't say how he feels on pain of death gets told all the time how much he's liked, and that it embarrasses him to no end.
Young-ju listens again to his recording, with references to "Mission: Clean Sweep," and wonders, "Lee Yoon-sung, what kind of person are you?"
At the Blue House, Nana and her co-workers chat about the City Hunter over coffee, and everyone shares their opinions on the mysterious figure. Ki-joon thinks that he's a hero like Hong Gil-dong, while Eun-ah thinks he's shady.
Nana's boss thinks the City Hunter is on the side of good, and when they wonder if Chun Jae-man's statement about the City Hunter being a menace to society is right, Nana blurts out that she doesn't trust Chun. She quickly adds that it's because he did nothing when his own lab workers got sick from exposure to chemicals.
Da-hae shows Nana and Eun-ah her collection of Yoon-sung stalker photos, which is impressively large. Eun-ah sighs for poor far-gone Da-hae with her pipedream crush… because she's under the impression that Yoon-sung likes HER. Ha. You might want to save some of that pity for yourself.
She finds one where she accidentally caught Nana in the shot, the two of them laughing together, and gives it to Nana.
Yoon-sung trails Chun Jae-man and does research on his minion Creeps McGee, also known as Suk Doo-shik. In the middle of his stakeout, Yoon-sung gets a text from his credit card company for another purchase on the home shopping network for 149,000 won. He shouts, "Aaaaaiiiieee this ajusshi!" Hee.
Chun goes to see that kid Yoon-shik's mom, in an attempt to strongarm her out of her lawsuit against the company. Haewon is refusing to acknowledge that they're making their employees sick with hazardous chemicals, while the employees are rallying together in an effort to bring everything to light. So basically, Chun Jae-man is the devil.
He then offers her a bribe—money, college tuition for her son, and even a job in his company for him when he gets out of school. All she has to do in return is sign a little bitty document stating that her illness is wholly unrelated to her work at Haewon. He gives her a day to think about it, adding that if she doesn't sign, she'll have to leave the hospital. Wow. Just wow.
His secretary comes by to give him a list of the factory's chemicals used, as requested by the employees for their civil suit. He freaks out that they can't get their hands on this, and rips it up in an angry panic. He tosses it in the trash can beside him.
Okay, it's way too convenient that he throws such incriminating evidence in the trash, but I suppose Yoon-sung could use a break.
At the same time, the little kid Yoon-shik finds another coin and knocks into Chun in his excitement, losing the coin under his shoe. Chun calls him a beggar like his mother and tells Creepy to "get rid of it" like he's a piece of garbage to move out of the way. Geez, let's just give the guy a pitchfork and call it a day.
Yoon-sung comes home and tosses the paper scraps to Ajusshi, asking him to piece it together. I love that Ajusshi immediately turns off the TV when Yoon-sung comes home, so that he won't be caught in the act of home shopping. At least he knows it's an addiction?
Yoon-sung finds Nana in his office, and she happily presents their new framed picture. He reacts badly because he's incapable of not being a feeling-repressing doofus, and pretends to be angry because the picture was taken without his permission.
She thinks he ought to just leave it on his desk anyway and starts getting interested in the Haewon case. He barks at her to stay out of it, accidentally knocking the picture to the ground. The glass shatters, and now there's a giant rift between them in the photo. Wah.
She storms out angrily, wondering why he's always so nasty about everything, and tells him that he can throw it away if he wants.
Once she's gone he sighs and takes out the ring again. Dad's words swim around in his head:
Jin-pyo:You put your life on the line every day – what can you protect with that? Loving, and protecting your love… do you really think it'll go the way you want?
He finds that Nana didn't even leave, and is instead helping Ajusshi piece together the document. She really does win the award for pluckiest girl ever. He leads her out by the hand.
Outside, he apologizes for being so rude and explains that he really hates being in pictures. She asks for the photo back, but he says he already threw it away. Lying liar. Why can't you just tell her you're going to sleep with it every night?
She picks up a gold twisty-tie lying on the ground, and puts it on her finger like a ring. She of course has no idea that putting a ring on her finger is all he's been obsessing about lately, and flaunts it in his agitated face.
He gets a call from the hospital with good news: he's a match for his mother and can give her the marrow transplant she needs. Yay!
Young-ju gets the report on Yoon-sung's past, aka his cover past as John Lee. Apparently his parents are alive and well in Texas, though his school records indicate that he wasn't exactly MIT material. They smell the fishy, but can't quite catch it.
At the same time, a bunch of Thai immigrants are escorted in from a recent drug bust, and Young-ju notes it in passing but thinks nothing of it.
A nurse brings a cd player into Kyung-hee's hospital room and offers that music will help lift her spirits. Kyung-hee sits up at the music, startled to hear a familiar old song, wondering how someone so young could know a song like that.
Oh, it's Jin-pyo isn't it? Gah, why are you simultaneously being sweet AND devious? It's adorably sweet that he sends her a familiar song, and that it really does lift her spirits… but a) that stereo's probably got a bug on it, and b) he's now got info on her condition and the fact that Yoon-sung is preparing to give her a transplant. This can only end in tears.
Nana comes to visit Mom and makes her feel better about all the things she can do with Yoon-sung once she's better. Mom peers at Nana's hands and asks, "Did Yoon-sung not give you a ring?"
What? Moooooooooom! WHY would you say that? If her fingers are naked, then he clearly didn't give it to her! GAH. I know you're facing death, but are you trying to take romance with you?!
Nana comes in to tell Yoon-sung (who is upset about the lack of style in his hospital clothes, heh) that she asked the doctors for a favor and got permission for him to sleep in his mom's room that night. Aw. He doesn't do his usual garbled hate-as-love thing, and just sincerely thanks her.
She starts to ask something and then says nevermind… as she clenches her ringless hand. God, I KNEW that ring was trouble. Why Drama, why?
That night he gets to sleep in Mom's room (so sweet) as she holds his hand and talks about all the things she wants to do with him. He tells her that all he wants is for her to be healthy and happy.
Mom: "I'm already happy." OH GOD, she's gonna die, isn't she?
She sings him to sleep with a song that his father used to sing all the time – it's the same song that Jin-pyo sent to her earlier. Aw, that breaks my heart for Jin-pyo too.
Young-ju doggedly follows the John Lee trail and confirms that it's a stolen identity, since the real John Lee died in a car accident. He calls John's parents to ask why they lied that their son was still alive, and she tells him that a man came from the Triangle and gave them money to buy their son's identity.
That sparks an idea in Young-ju's head and he bursts into an interrogation room, demanding to speak to the culprits of the drug bust.
Yoon-sung starts the transplant, and Nana brings him the pieced-together file that Chun threw away, along with research on the current strike at Haewon, and their difficulty in prosecuting Chun. She also found stories speculating on Haewon's illegal disposal of hazardous chemicals.
He looks up at her, impressed. Nana: "Why? Since I did your work for you, do I suddenly look pretty in your eyes?" Yoon-sung: "Hey, didn't I tell you? Look in the mirror! Have you already forgotten? You… Chicken Nana." Nana: "What am I, an animal farm? Why am I always a bear or a chicken?" Keh. Why are they so cute?
Da-hae has taken on a part-time job at the coffee shop so she can buy her dad a birthday present, since "there are no rules that a President's daughter can't work a part-time job." Aw, that makes me like her.
She's almost given up on getting into college, deciding that she could be a barista because Yoon-sung likes coffee. Ha. Oh, honey, he only likes Nana's coffee, and it's not really about the coffee.
Eun-ah continues to think she's dreaming the impossible dream because Yoon-sung is madly in love with her. Shik-joong shows up to visit Eun-ah and offers to buy her a coffee, and then pays with his credit card… which gets declined. HA.
He tries card after card after card, but Yoon-sung's put a block on all of them, so he's left totally on the spot in front of his crush. Ki-joon spots them and swoops in with his card, totally deflating Shik-joong.
He storms into Yoon-sung's hospital room, blathering incessantly, "How could you? How could you?" He throws down his wallet in a huff and Yoon-sung yells, "I told you to quit home shopping!"
He insists that he was buying things for Nana, not himself, and Yoon-sung calls him out on making up excuses. He tells Ajusshi that he'll be given a cash allowance from now on so that he can't use his cards.
He blubbers back, stricken, "You… you… really… You've changed!" Hahaha. Yoon-sung laughs to himself, calling him a grade-schooler.
He goes straight home to pack his bags, still in utter denial about his problem. Yoon-sung calls, and how cute is it that his number is saved as: ♥ Yoon-sung ♥ ? He hrmphs and doesn't answer.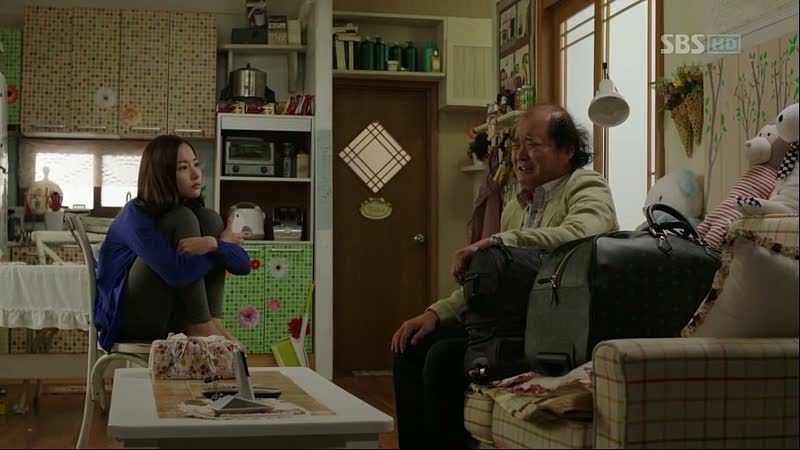 Yoon-sung scoffs at the phone rejection and then Nana calls (Her number is saved as: Nana Bear. Awwwww). Nana: "Ajusshi is at my house, and there's a problem… I think he ran away from home… he has bags." Keh.
Yoon-sung flips out and heads over there. Meanwhile Ajusshi vents his side of the story to Nana, like an unappreciated wifey who's left home to teach hubby a lesson. He insists that Yoon-sung has changed.
He wails to Nana, and then Yoon-sung shows up and tells him to get up and go home. But he refuses.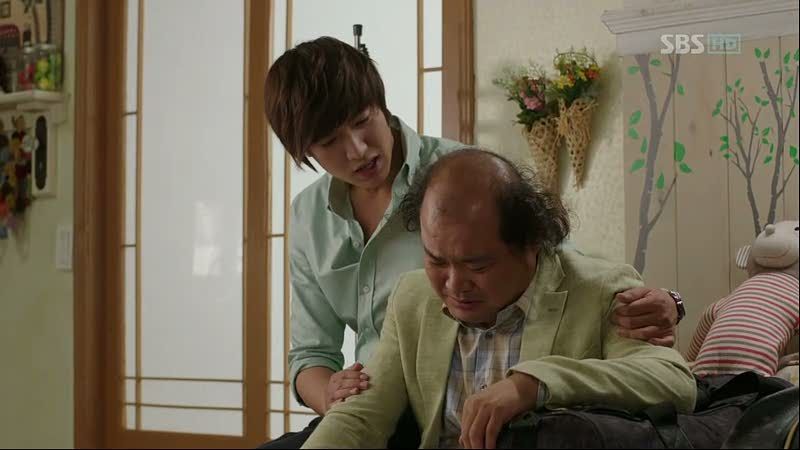 Ajusshi: You promised that you'd make me happy here and that I could do whatever I wanted, but all I ever do is get beaten up by strange men and pose as insurance salesmen for a con, and… I'm going back to the Triangle!
Yoon-sung: Go? Where do you think you're going?! You know I can't live without you!
Ajusshi: What do you mean you can't live without me? You're always nagging me! Like you can't live without me.
Yoon-sung: I can't live without you. I was wrong.
Ajusshi: I'm not doing any of this for me. I'm just trying to feed you and take care of you.
Yoon-sung: I know, I know. I was wrong. I'll let you use your cards, okay?
Nana: Um… maybe you could have your marital spat at home…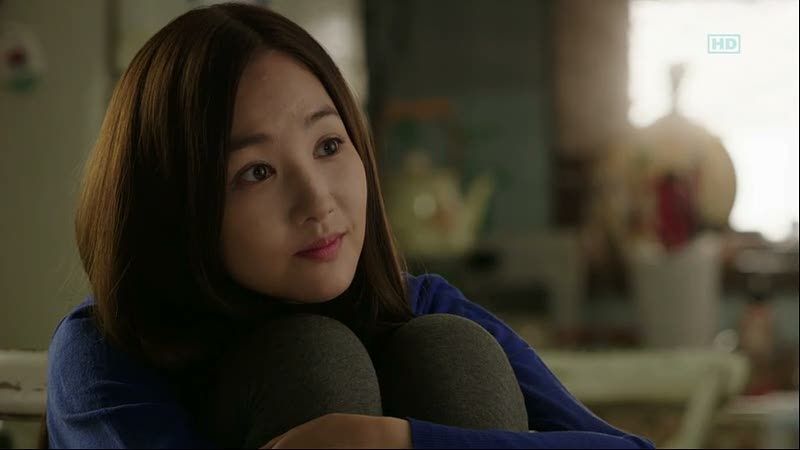 HAHAHAHAHA. That's what I was gonna say!
Yoon-sung basically dies of embarrassment and drags Ajusshi out of there. Hee. I love his relationship with Ajusshi So. Much.
Nana sends Ajusshi back home and comes to see Yoon-sung back at the hospital. He's running a fever and doesn't feel well, which makes him just weak enough to give in and lean on her a little, which I love. Please be sick all the time.
He pulls her down on the couch and leans on her shoulder, telling her not to move while he cools down his fever. Uh… that's not how to cool down, or do you not know about hormones?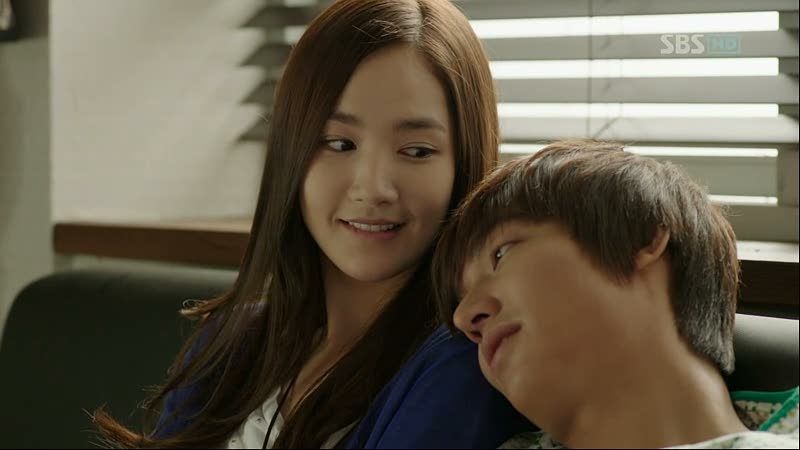 She tries to fill the awkwardness with chatter, asking about his life in the Triangle, and then he catches her making moon eyes at him.
Yoon-sung: "You just looked at me with sexy eyes, didn't you?" She darts up, totally caught red-handed. Rawr!
He crosses his arms, all judgy, "If I think about it, you never lose an opportunity. Do you like me that much?" She laughs at the ego of it all, but bounces back in her Nana Bear way: "Yes, I do. This is why the person who confesses first always loses. Why don't you tell me that you like me? Tell me now."
I love so much that she's so direct and spunky. He turns to her, serious all of a sudden. "'I like you'… I can't say those words to you. Don't expect them." Aw, just stab her with a blunt blade, why don't you.
She covers up her heartbreak with a laugh saying that she was just joking, and that she's got some pride. She asks him to fulfill one wish for her this winter instead and walks out.
She says aloud to herself: "That's right, Kim Nana. It's not like you didn't know. Let's not get hurt." Sob.
Later, Yoon-sung gets dressed to go out as the City Hunter and looks in the mirror, "I have to live like this. So how can I tell you… that I like you?"
He infiltrates Haewon Labs and takes samples of the toxic chemicals. Without a moon suit? Are you crazy?! People are DYING because of their exposure to this crap, and you don't even have a gas mask on? Okay, somebody get this guy a Q, stat.
The guards open up the chemical valves and try to gas him out, but he fights his way out and barely gets away… but the exposure weakens him severely.
He has to stop and get out on the side of the road, heaving and gasping for air. Nana calls with plans to spend New Year's Eve together, but he can't respond. She realizes that he isn't answering and just hangs up, while I scream: Have you forgotten that he's the City Hunter? He could be bleeding out in a ditch somewhere! Track his phone!
He sits like that in the street for a while, and then finally makes it home… where Young-ju is there waiting for him.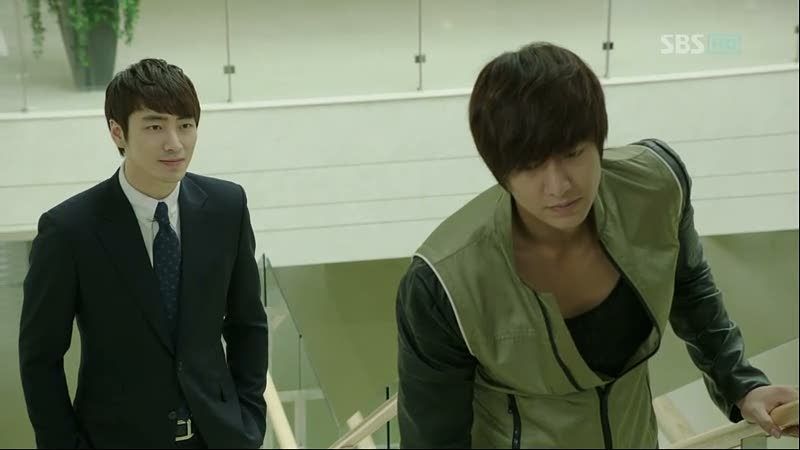 He notes that Yoon-sung looks tired, and he replies that he's been clubbing all night. They're used to this back and forth now, and keep up the smiling banter. Young-ju tells him that the City Hunter sent him a video of Chun's man making the attempt on his life.
Young-ju: "I should be grateful, if he's helping the man who's chasing him."
Yoon-sung tells him that if he ever meets the City Hunter, he'll pass that along, and turns to walk away.
Young-ju smiles, just giddy to drop this bomb…
"You look tired. Get some rest… Puchai."
Yoon-sung stops in his tracks to hear Young-ju call him by his Triangle nickname, the one his surrogate mother used to call him by.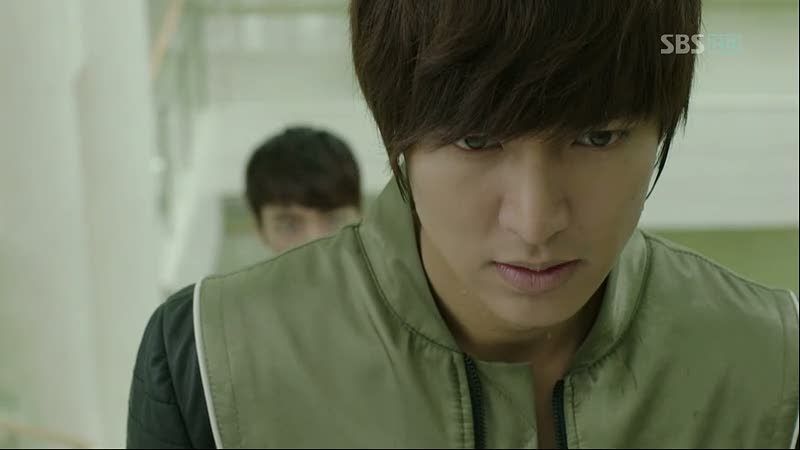 COMMENTS
I really love this cat-and-mousing between Yoon-sung and Young-ju. It's escalating in a great way, and I'm so torn between wanting the prosecutor to succeed and wanting Yoon-sung to keep his cover from being blown.
I'm so curious to know how far Young-ju's going to take this, and the awesomeness of the setup is that both men are in the right. It's just a relative kind of right, and on two sides of the law, which keeps the stakes high.
What makes the ongoing battle between them so compelling is that they're both so idealistic and so fiercely sure in their own code of honor that neither is ever going to back down from the other. If you know that Young-ju's just going to cave and join the team or that Yoon-sung is going to play by the rules, it's a moot game. But we know they'll each fight to the death for what they believe in, putting them forever at odds. It's the most compelling "relationship" (if you can even call it that) in the show, despite the fact that there's no real movement beyond a stalemate.
I was ecstatic to have some down time for Yoon-sung with his personal relationships in this episode, despite the fact that he continues to be a Noble Idiot Extraordinaire by refusing to admit how much he loves Nana.
I could pretty much kill Mom for giving him that ring, let alone telling Nana about it (grar), because now it's just going to hang there, in the balance, taunting us with its unfulfilled potential as a trinket o' love.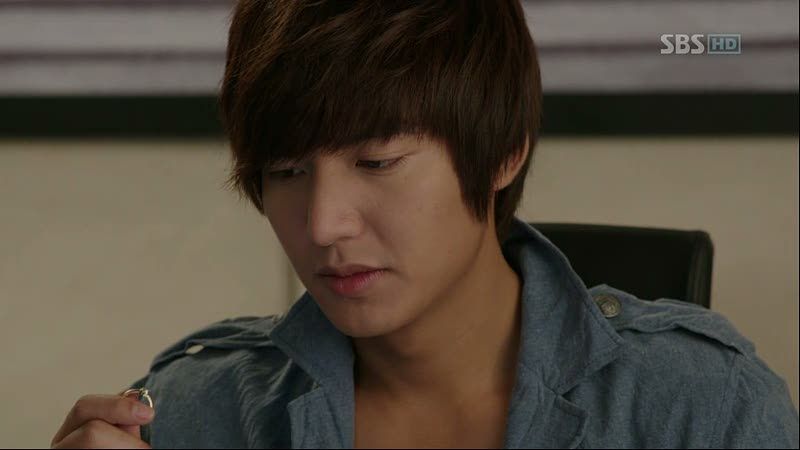 RELATED POSTS
Tags: City Hunter, featured, Lee Jun-hyuk, Lee Min-ho, Park Min-young