City Hunter: Episode 16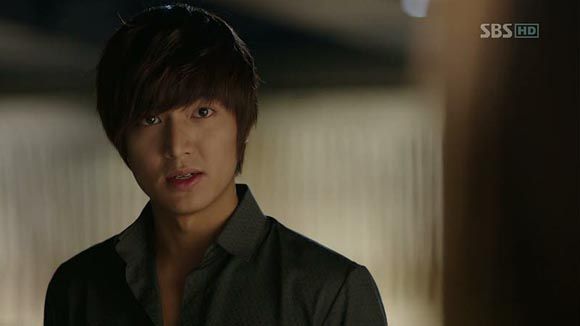 Ooh, the big secret's out — to us, at least, not to the characters — and the story takes a bit of a twist accordingly. It's a point I thought I'd hate, but which actually turns out to work pretty nicely, in a symbolic and thematic sense. I think. I'm still waiting on full confirmation before I decide that I like it.
SONG OF THE DAY
Vodka Rain – "지워지지 않을 것 같아" (Something that can't be erased) [ Download ]
Audio clip: Adobe Flash Player (version 9 or above) is required to play this audio clip. Download the latest version here. You also need to have JavaScript enabled in your browser.

EPISODE 16 RECAP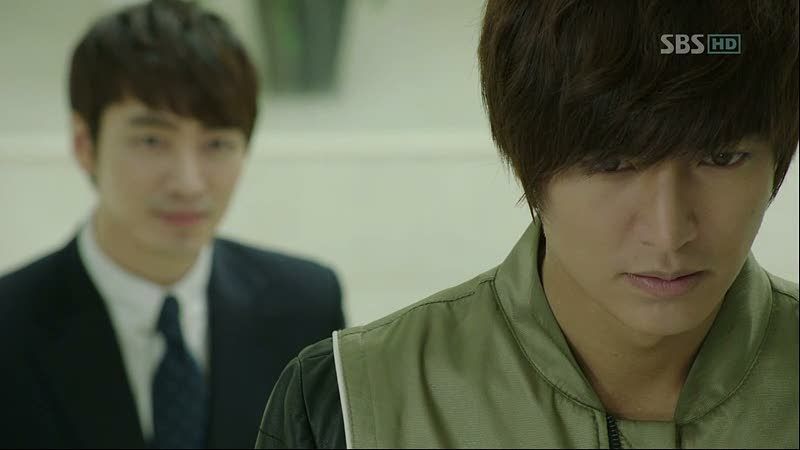 Young-ju's use of Yoon-sung's Thai name stops the latter in his tracks. He doesn't expressly deny Young-ju's assertion, just evades it by telling him to bring proof if he's so sure he's the City Hunter. Young-ju vows to catch him in the act.
Yoon-sung maintains his composure until he's out of sight, then collapses, weakened from the toxic exposure. He awakens in bed with Shik-joong tending to him, and with the memory of recent dangerous events impressed firmly in his mind, he hands over his bank books and house deed to Ajusshi.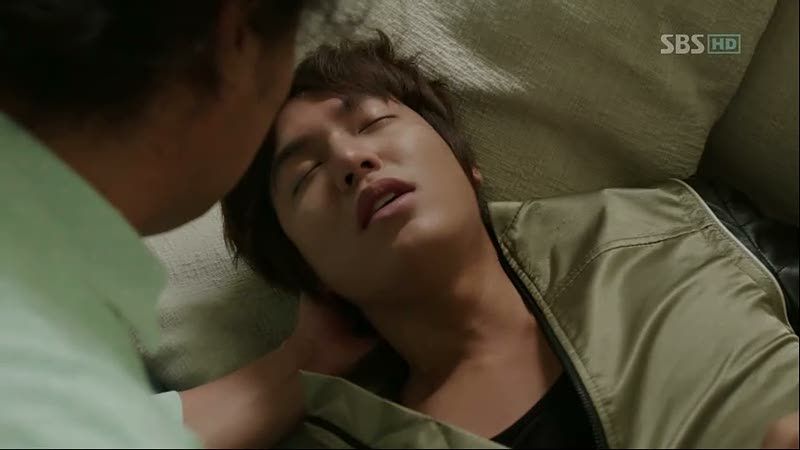 He speaks as though his death is a foregone conclusion, advising Shik-joong to use the money to return to his hometown and asking him to check in on Nana and his mother periodically. His matter-of-fact words unnerve Shik-joong, but Yoon-sung tells him, "I'd forgotten who I was for a moment."
It occurs to Nana later that night that something may have happened to Yoon-sung, so it's with relief that she takes in his arrival at her apartment. He looks at her with a grim expression, and asks if she could ever throw away the kitchen table and chairs left her by her parents. Not understanding the meaning behind it, Nana wonders why she'd do that, since she'd rather treasure it forever. That both proves his point and upsets him.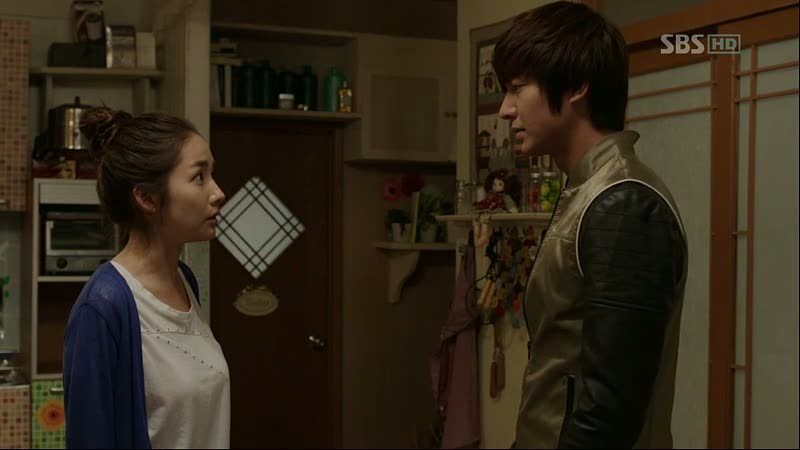 He asks, "How long are you going to dwell on the memories of people who are no longer with you?" Oh, so sad — the thought of Nana never getting over him pains him, and makes him lash out at her. Noooo, don't be cruel to be kind! That is just about the stupidest way to be "kind" that man ever devised.
He tells her in his firm, sad way that he's never once imagined falling in love, but that he can't bear the thought of her hurting because of him: "I don't even want to leave you with any memories of me. Kim Nana — I like you. But I don't think I could let you go." (Then don't doooo it!) "So you let go of me first."
With that, he grabs his bullet necklace from her neck: "You know who I am, and how I lived."
She hurriedly tells him to forget what she said if her words are too burdensome for him. But he says he can't do that, because he likes her: "This is my first and last request."
She refuses to accept that request, but he asks her with a heartfelt "Please." He adds that if he ever goes looking for her, he wants her to reject him. If they're to meet in the street, she should pretend not to know him. Yeah, this is an insane request, but how can she resist when he says so sincerely, "I'm sorry…that you had to know me"?
Yoon-sung: "I've realized with a certainty why Father warned me not to love."
Aw, man. I can't even hate him for doing this, because he's being so candid and open about it — it's not so much noble idiocy as just good-old-fashioned noble. Yes, he could just choose to embrace happiness — but he seems so sure of his death that I suppose he's trying to do the responsible thing.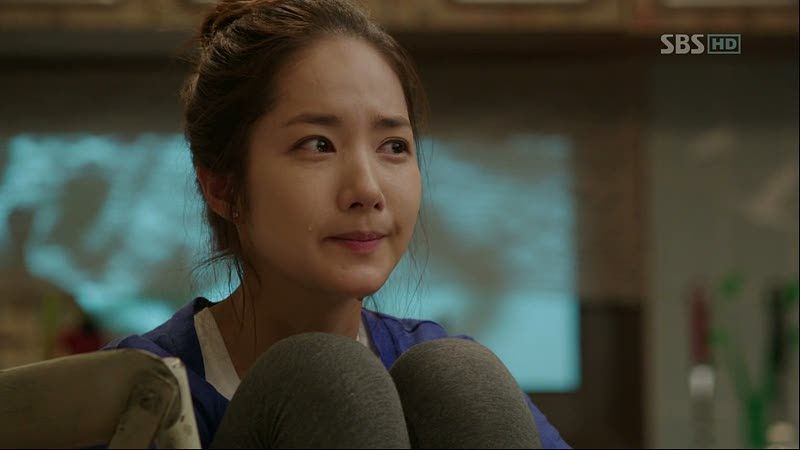 Nana cries for a bit, then pulls herself together and tells herself she won't cry. And since Yoon-sung asked her to forget him because their feelings are causing him such turmoil, she decides to abide by his wishes, "Because instead of him hurting, it's better that I hurt."
Young-ju studies his City Hunter chart, which is alarmingly accurate. Nana's aunt comes by to give him words of encouragement, telling him that she's made the decision to wipe the slate clean. She's still upset that her brother and sister-in-law were victims of his father's accident — interesting, so she knew the truth, but kept that from Nana — but she's not going to hold that against Young-ju. Given that Nana's aunt has been quite friendly and warm all this time, this is a tacit admission that she's harbored resentment, which she now has let go of. She adds that Nana probably feels just like her, suggesting that she doesn't really hate him but is keeping her distance out of hurt.
Assistant Pil-jae delivers the startling news that the confidential file on the 1983 incident has disappeared, right from under the NIS's nose.
Setback No. 2: They receive a report from the Thai police confirming the identity of the drug lord from the Triangle, and it's not Jin-pyo. Young-ju had had confirmation from those arrested drug runners that Jin-pyo is the guy, but they're no longer around for questioning, because they've been sent back home to face trial in Thailand.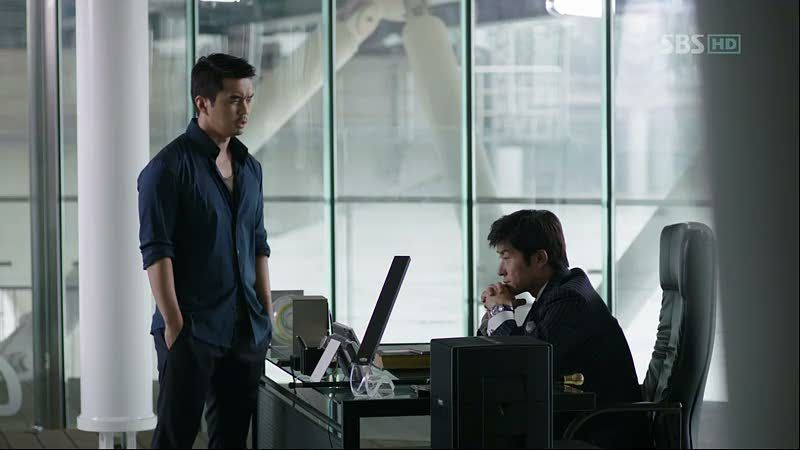 Unsurprisingly, Jin-pyo has a hand in this, and exerts his pull with the Thai police to stall Young-ju. Minion Sang-gook points out that the mere fact that Young-ju is on the Thai drug trail means he's sniffing close to the truth. He urges Jin-pyo to make the confidential file public, now that they know who all five targets are and have the proof. He reminds Jin-pyo that he joined up with him partly for revenge, but mostly to restore his brother's good name.
Jin-pyo says it's not time yet to play the hidden card — because Yoon-sung has to finish this off.
At the Blue House, Nana's decision holds firm when she runs into Yoon-sung in the hallway. Per his request, she ignores him and walks by.
Jin-pyo (posing as investor Steve Lee) meets with Chun Jae-man, and asks about the TV interview Chun had given about the 1983 incident. Chun asserts that those men were thoughtless traitors out to sell their country, unaware that he's just dug his grave a little bit deeper.
Jin-pyo asks about the sit-in at the Haewon Chemicals factory, since the protest is causing a stir; they're demanding that the company acknowledge the hazardous conditions, to declare them victims of an industrial accident. This would, at the very least, allow them certain legal rights and protections, but it's no wonder that money-grubbing Chun is loath to part with a single penny to pay for their medical bills.
He declares himself a cool-headed businessmen, not one to irrationally give away money, and plans to skirt that responsibility by pushing through a bill privatizing health care. And here we were, calling socialized medicine the devil.
The president, on the other hand, urges Chun to do the right thing and declare the site hazardous, get his factories up to code, and let his employees work in safe conditions. Chun doesn't want to deal with the endless lawsuits (he's lazy and greedy!), since that would lead to his ruin. One can hope.
Chun declares that he has not flouted one bit of the law. Famous last words. You mean aside from the toxic dumping, right? He tells President Choi that if he continues to oppose him, he'll not only hold Operation Clean Sweep over his head, but also the president's Big Secret, the one that nobody knows but him.
Nana visits Mom in the hospital, who wonders why she's not with Yoon-sung. Not wanting to upset her, Nana just says that he's been so busy that they haven't been able to coordinate schedules, and Mom tells her how thankful she is to have Nana with Yoon-sung. Words to inspire guilt.
She finds the boy Yoon-shik crying outside his mother's room as doctors rush in to revive her, and Nana puts on a smile to assure him that Mom will be fine. She accompanies him to buy his mother a gift with the coins he'd been saving for months; he wants to give her cosmetics, to brighten her up.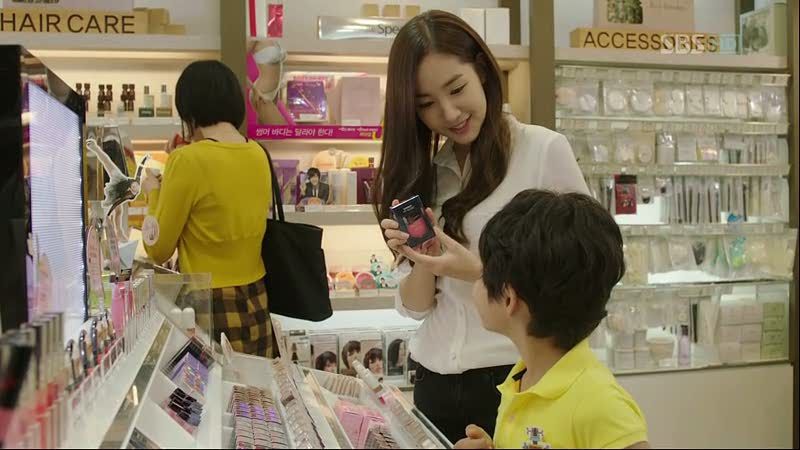 They pick out a blush and present the jar of coins, but the cashier rejects payment, saying that it's too time-consuming to count out what are essentially a pile of dimes. At first she's polite about it, but when Nana offers to count it all out for her, her attitude turns snooty, as though their store is above selling dime products. Nana gently corrects her, reminding her that 100 won coins are still money, which gets the cashier muttering under her breath.
Yoon-sung walks by the store window — he's just completed reconnaissance work of his own, following around Chun Jae-man — and assesses the scene. He steps in and presents a bill to pay for the purchase, and the cashier's polite facade falls back into place.
However, she doesn't have the change for such a huge banknote — 10 million won, or about $8,000. I love the point this makes, which Yoon-sung articulates:
Yoon-sung: "You look down your nose at pennies and dimes, when you can't even make change for this? Before you take offense, start by apologizing. If you can't even bother to consider what the boy's buying this for, why sell the product? It seems to me the quality of your service doesn't amount to a dime's worth. There's no such thing as a dime-value person in this world. Discriminating among people is cowardly and pathetic."
The woman apologizes immediately, but he means to the child. With a little less enthusiasm, she apologizes to him as well.
They make the purchase after all, and Yoon-sung takes the boy back with him, but tells Nana not to visit the hospital anymore.
Chun's minion Mr. Creepy returns to terrorize Cancer Mom. If we weren't convinced yet that he was evil, that sentence sure does it, no?
She refuses to betray her colleagues and sign the form giving up her complaint against the company, though she's shocked when he tells her that all her so-called friends have already signed, and she's the last holdout. Man, I don't know if that's the truth, but if he's lying to get her to sign, it's a pretty clever tactic. He adds that her misplaced loyalty will get her dead and make her poor son poorer, when she could ensure his safe future instead.
He guides her hand in sealing the contract with her thumbprint, and she doesn't have the heart to resist.
But no, it was a lie, and the demonstration continues at the factory. Not for long, though, since Mr. Creepy orders a team of thugs to wipe out the protest, which they do with cruel efficiency. How sad am I that the ensuing riot — more like slaughter, though the aim is maiming rather than outright murder (glass half full!) — is altogether too familiar a scene in Korean history.
Into the fray stalks the City Hunter (yay!), who beats up the offenders with ease. In fact, it's almost so easy that I'm a little disappointed…until he turns around and sees Mr. Creepy standing there in his head-to-toe black and guyliner, ready to face off. Awwww, yeah!
Creepy's got a baton/nightstick/pipe, so empty-handed Yoon-sung picks up the first thing he gets his hands on — a water bottle — and beats him furiously with it. Korea must not have switched over to those leaky bottles that collapse under the weight of air. Enjoy that while you can.
This should not be so cool, but it is — and how much do I love that even with bodies strewn on the ground, the injured protestors still look up with moony eyes at His Hotness?
Yoon-sung delivers the final blow directly to the head, which isn't enough to knock out the guy, but does get him down for the count. Yoon-sung plucks the signed contract from Creepy's pocket, and tells him to convey the message to Chun Jae-man that he's gonna have to give in on the whole my-factory-is-a-toxic-wasteland point.
Da-hae goes shopping for her father's birthday present, and worries about the anti-fan cafe that sprang up after her public fight with the girls who insulted her father. Apparently they've declared that they'll come after her, and Da-hae's elevated profile makes her fairly easy to locate.
Sure enough, a mob of anti-fans greets the ladies when they pull up at the cafe, who are here for a study session with Yoon-sung, who's waiting inside. They're armed with eggs, and start slinging them Da-hae's way.
Nana leaps in front of Da-hae and takes the brunt of the assault, being pelted with eggs and fruit, until Eun-ah and Yoon-sung both arrive and interrupt the disturbance. Yoon-sung asks worriedly if she's okay, but Nana maintains their distance and rejects his help, saying curtly that she'll clean herself up.
How does it feel to get what you asked for, Mr. Noble (Okay, Possibly A Bit Of An Idiot)? All throughout his tutoring session, Yoon-sung can't keep his gaze from straying over to Nana, who stands a distance away.
At the hospital, Yoon-sung puts on a cheery front for his mother's sake, but she's attuned to his moods and knows that something is troubling him. He says he can tell her once it's all over, and assures her that it's not that big a deal. Oh, you know, moonlighting as a vengeful vigilante, taking on society's corrupt, wreaking justice with the cold fury with which others wreak havoc…ho-hum. All in a day's work.
He evades her concerned questions, then muses to himself, "Mom, liking somebody isn't always a happy thing, I think."
Yoon-shik asks Yoon-sung to read to him, which turns out to be a bedtime story about an elephant. That makes him think back to the comment he'd made about Nana resembling his Thai "friend" who liked skinship — turns out he DID mean his elephant, ha.
Surveillance time: Yoon-sung spies on Chun Jae-man meeting with Jin-pyo and a couple other men, then texts the photos to Young-ju. Immediately, Young-ju smells something fishy — why would Chun be meeting with two Seoul district prosecutors?
As the men dine, Yoon-sung sits in the next room, listening through the (literally) paper-thin walls. It's an old boys' club in the making, with Chun treating them to the lavish meal and greasing the wheels. The prosecutors are flattered and basically agree to sweep his problems under the rug, and Chun gives them gifts of some premium seaweed as thanks.
Into this scene of budding corruption flies Young-ju, who turns his righteous indignation on his superiors. One of them keeps his head down in chagrin, but the other hotheaded prosecutor takes the offense-as-defense tack and loses his temper, saying that Young-ju's hardly one to lecture them on propriety, He Who Covered Up His Father's Corruption.
Now the prosecutors are suspicious, wondering if Chun arranged this meeting to set them up for a fall. Mood soured, they walk out — and Young-ju orders them to leave behind the seaweed gift lest they also leave behind their sense of justice.
Chun blusters that he's being pretty high-and-mighty over some seaweed, but Young-ju spills the contents of the box on the ground, revealing the wads of cash stuffed inside. He lets Chun know he's wise to his attempt to kill him: "Faked suicide — that's no fun."
Chun feigns ignorance, but Young-ju's next words have both Chun and Jin-pyo on alert: "1983. Operation Clean Sweep. You said in your interview that they'd all been shot to death in open waters. When I brought up the Nampo incident you'd tried to hide, it must have been very uncomfortable for you."
Young-ju shares a theory, that perhaps not everyone had died. With a look at Jin-pyo, he asks Chun if it's possible someone could have survived. He leaves him with a warning: "I'll be waiting to see if you're still this confident once I've uncovered the full truth of Operation Clean Sweep." Damn, Young-ju really does get the best exits, all righteous passion.
This incident gets him in hot water with his boss, though, who has heard the account and reprimands Young-ju for hiding his tipoff by the City Hunter. Young-ju is ordered off the Chun Jae-man case, and told that his future will be decided at an upcoming meeting.
It's the opposite for Nana, who gets promoted at work. With recent events and a recommendation working in her favor, Nana is assigned to presidential guard duty. Ah, let the final face-off begin! City Hunter vs. City Hunter's One True Love, as she guards his Target No. 5!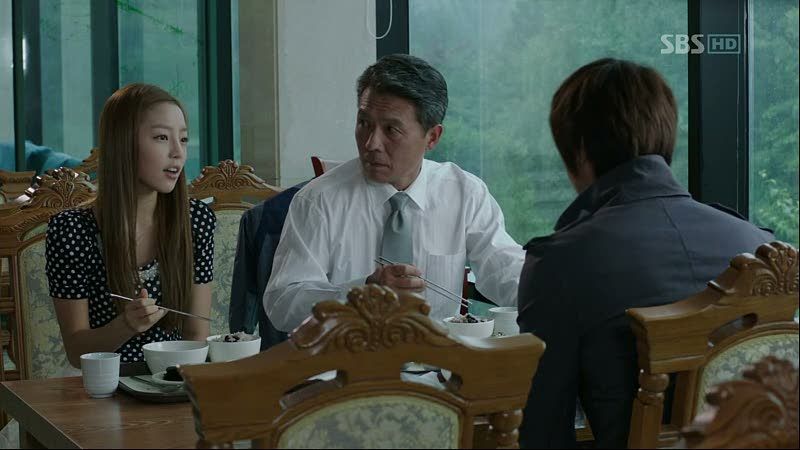 …who may just be the City Hunter's father?
Yoon-sung has lunch with the President and Da-hae, and the three of them all pick out the beans from their rice. (Ahh, I knew those beans would have to mean something! I was hoping against birth secrets, but sigh. I suppose it works, since it points to an epic final conflict.) President Choi asks Yoon-sung if he thinks Da-hae has a shot at going to university, and Yoon-sung truthfully answers that it doesn't look likely.
That gives Da-hae the opening to admit that she hasn't the head for studying, and that she'd rather work. She was afraid of disappointing him, but she'd rather come clean now than embarrass him by going to a third-rate school.
President Choi accepts that, and apologizes to Yoon-sung for wasting his time with the tutoring lessons, even as he praises his ballsiness for being frank with his assessment of Da-hae. (From aluminum… back to steel, then?)
The president muses that he was quite like Yoon-sung in his youth, but that living in the political world has curbed that side of him. Oh, this birth secret's gonna hurt, isn't it?
In another hallway encounter at work, Nana tries to walk by without a word, but Yoon-sung stops her to give her grief about the scrape on her face, and for not taking care of her appearance. Aw, they're back to the overcompensating assiness, which is mitigated a very tiny bit by the knowledge that they're both forcing themselves to act this way. But only a very little bit. Mostly it just makes me sad.
It's harder to deny his feelings than he'd like, and Yoon-sung broods at home, taking out the photo he totally didn't throw away, and then going out for a walk.
That takes him to the public park where he'd once run through fountains, where he sees Nana sitting, alone.
To his chagrin, she spots him and approaches, so he warns her to keep her distance: "Coming here to reminisce pathetically on old memories — I'll do it alone. No need for you to do it too." He tells her to be her usual plucky self rather than playing the naif, which doesn't suit her.
Yoon-sung: "Every day I blame myself hundreds, thousands of times. Why did I meet you? Why did it have to be you? To me, you're someone who makes me hate, blame, and regret myself. You're like a nightmare I don't want to remember. I told you to go back to the time before you knew me. Go back and meet a better man, and live every day joyfully. Forget me, and live happily."
He turns to go, and Nana splashes into the fountain between them, mindless of the water, to catch up to him: "Is that all you can say to me? Telling me to break up, to let go of you, to forget you, to disappear from your life — I could understand that. But how could you say this to me? How could you tell me to meet another man?"
Voice trembling, Nana says she'll wait till this is over, "So can't you come back to me? I'll forget these words you've just said. It's not a difficult thing — can't you just say you'll come back? If you don't answer now, even if you come back to me later, I won't take you. I really, really won't. So can't you tell me that you'll finish this and come back to me? Please."
With tears in his own eyes, he turns silently and walks away.
Young-ju hears that the NIS employee who'd been in charge of the lost confidential book has since resigned and is preparing to leave the country. They put a flight ban on him and track him to his home, where he lies in a daze. The man, fading fast, says that the file is with Chun Jae-man and Steve Lee.
Sang-gook expresses more misgivings about this continued revenge plan, which shows that he's growing balls of his own. Now that they have the records, why are they conspiring with Chun Jae-man? Doesn't this suggest that they're no better — that they're contributing to the corruption in Korea?
Jin-pyo is displeased to have his orders questioned by yet another subordinate, and says that if the tarnished agents were ever going to have their good names restored, it would've happened ages ago: "The last enemy is someone you can't even imagine." He tells Sang-gook to leave if he can't work with him.
Instead, Sang-gook calls Yoon-sung to tip him off about Jin-pyo possessing the confidential file, which contains info on Operation Clean Sweep as well as the last target. Sang-gook admits that he's tired of this revenge, and gives Yoon-sung his chance to steal the file: Dad is out in a meeting, and Sang-gook will buy some time. But he must move quickly.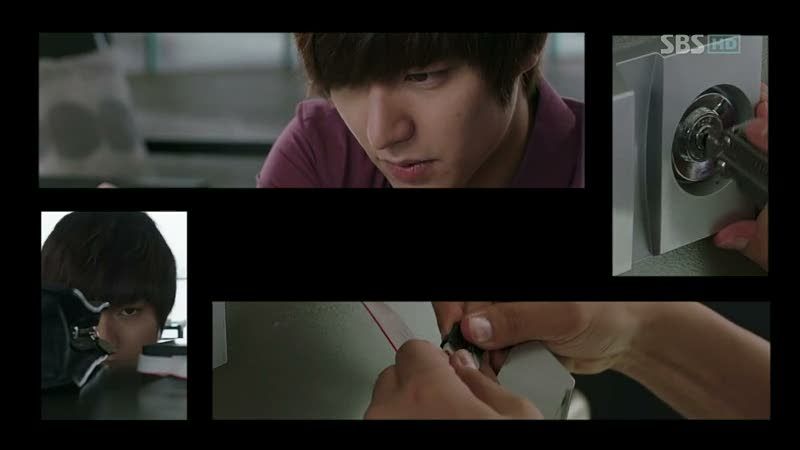 Yoon-sung arrives at Dad's lair and gets to work unscrambling the safe's code, which takes some time to decode.
Pulling a plug from under the car's hood gets the car to stall, but Jin-pyo is sharp enough to see that the problem is stupidly simple to correct, which makes him immediately suspect that Sang-gook did this on purpose. Hurrying home, Jin-pyo mutters, "Yoon-sung can't know yet." Frankly, I'm just glad he didn't kill Sang-gook on the spot for insubordination.
The safe-cracker unscrambles the passcode, and Yoon-sung clicks opens the safe just as a suited figure steps into the room behind him. Oh shit, oh shit, oh shit.
But it's the prosecutor's voice, not Dad's, that asks, "Shall we look together?"
Yoon-sung faces Young-ju and assumes his cover, saying smoothly that he's here to find the contract he signed with Steve Lee, because he feels he's getting scammed. Young-ju tells him his days of slipping away with those excuses are over, and lays out what he knows: Jin-pyo is the sole survivor of Operation Clean Sweep, and Yoon-sung is the City Hunter who delivered Senator Lee into his hands.
Yoon-sung reminds him that he has no proof, and Young-ju returns that the proof is in that safe. If it contains the NIS file on Operation Clean Sweep, he's proven himself correct. Oh crap, he has a point.
And then…Jin-pyo's angry voice booms, "What the hell are you doing in here?" Oh good lord, I didn't think his arrival would ever make me happy, but I'm simultaneously relieved that Yoon-sung has slipped out of the prosecutor's clutches, AND disappointed that Young-ju has failed to capture his quarry. Oh man, this is like the Dokko Jin/Pil-joo quandary all over again: How can we get both men to win, when one man's victory necessitates the other's defeat?
Jin-pyo points out that Young-ju's currently on probation, and asks pointedly whether he's come armed with a search warrant. He addresses Yoon-sung as a business partner — a lie that Young-ju refuses to let distract him.
Young-ju declares that he will prove right now that all his allegations are true, and heads for the safe, shoving Yoon-sung out of his way, which sends Jin-pyo reaching for his sword-cane.
Except…the safe is empty. And from the shock on all three men's faces, this was not a part of the plan. Although it's a lucky thing for Young-ju's own safety that it wasn't here, judging from Jin-pyo's response.
The book turns out to be in the hands of…Chun Jae-man? Wut now?
It turns out Chun isn't quite such a blind fool for money, because he'd smelled something fishy about Steve Lee from the start, and now he has his confirmation that he's involved in all this. He tells Creepy Minion to research Steve Lee, because he's likely to be related to the dead agents — or may even be that survivor Young-ju mentioned. If he's the City Hunter, he'll be back to recover the confidential file.
Not surprisingly, Chun's also responsible for the dead NIS employee. Young-ju had arrived in time to talk to him, but the man died before the ambulance arrived.
Dayum. I kind of like that Chun Jae-man's a slippery fish. The only alarm he displays is upon hearing that Kyung-hee appears to have been sent abroad. He orders Mr. Creepy to find her, explaining merely that she's "my last hidden card."
Secret affair alert!
At home, Yoon-sung muses that Chun is behind the theft, and also the NIS employee's murder. He admits being disappointed that he wasn't able to see the file, because he'd been curious to read about his bio-dad. He asks Shik-joong to buy a picture frame off home shopping so he can frame a photo of his father to give to Mom. She'd said she had no pictures of him left, and he figures he can find some in the Secret Service records.
Jin-pyo decides that people see him as weak, which makes me shudder to think what he thinks he's capable of, if we're all underestimating him. He declares that it's better that the confidential book disappear than fall into Yoon-sung's hands.
Yoon-sung goes to the Blue House library in search of the appropriate Secret Service facebook, only to find 1983's volume missing from the shelves. A man asks, "Are you looking for this?"

COMMENTS
I'm not the hugest fan of birth secrets. Even when they're used well, I feel like they're such a familiar trope in K-dramas that they've lost their narrative punch. So when the hints of Yoon-sung's paternity finally crystallized in this episode — all but confirming President Choi to be the true bio-dad — I was partly disappointed. It's not set in stone, but in addition to the bean aversion and Kyung-hee's shiftiness when Yoon-sung asks about his father, we have the two "hidden cards": Chun's card against the President is Kyung-hee, and Jin-pyo's card against Yoon-sung is the President's identity as the next target. It adds up.
That said, if we must have birth secrets, I appreciate the narrative purpose this one serves. It's not mere makjang twist, because the hints have been laid into the story along the way, and the revelation actually heightens the conflict as we approach the climax. I'd always assumed that the final battle for Target No. 5 would culminate in a fraught father-son struggle. I just had the wrong father.
Now that President Choi is (almost assuredly) Dad, that means Yoon-sung is his greatest weakness. And while we know that Yoon-sung is unable to kill, he's been satisfied with bringing corrupt men to their own ruin. Will he be able to do the same with President Choi? Especially since it seems, from what we've seen, that he probably doesn't have a closet full of embezzling, backdoor-dealing, toxic-waste-dumping skeletons as the others did. He's a good man who collapsed under pressure, who "missed his timing" to do the right thing, as he explained in the last episode.
Jin-pyo has been determined to keep Target No. 5's identity from Yoon-sung all series long, which made me wonder whether it was to shelter him, or if there was a darker purpose. I'm not convinced Jin-pyo still has a heart — he's got trace remnants of it, maybe, but he's mostly cut it out or let it blacken into a rage-filled rock of vengeance — so I'm going with the latter. Especially since he's equally insistent that Yoon-sung must take out the last target with his own two hands.
Perhaps Jin-pyo is just saving the best (i.e., the cruelest) for last, so he can destroy the president using his very own son, revealed at just the right time for maximum hurty impact. It would probably destroy Yoon-sung, too, of whom I do believe he is genuinely fond — but seeing his willingness to run him over to make a point makes me think he'd get over that. He's raised Yoon-sung with single-minded purpose, perhaps intending all along that he should die at the critical moment, like a tool. Sort of like Dumbledore, without the soul or the good intentions.
This is also why I'm not actually annoyed at Yoon-sung for pushing Nana away, or with her for abiding by his wishes. In most other dramas, the reasoning is pretty weak and doesn't quite support the act, but in this one, Yoon-sung's all but convinced he's headed toward death. He knows it would hurt Nana to be left behind loving him, but it's also for his own sake that he has to keep his distance, because it's like he feels it would be selfish to be with her now, only to ditch her later. I don't like them apart and depressed, but I get why they're doing it. Urg! Why do you hurt me so, City Hunter?
RELATED POSTS
Tags: City Hunter, featured, Lee Jun-hyuk, Lee Min-ho, Park Min-young